In general, the new 'V' versions "are bigger, better, faster, lots more stripes", when compared to previous versions. They use a 64-bit 'bitboard' engine that introduces elements of parallel processing into the artificial intelligence within each game. Here's what's new:
Checkers Pro V:
now supports over 10 different types of Checkers games, such as Std American, Italian, Russian, International (10x10 board), good 'olde' Draughts, Pool and Suicide Checkers.
Chess Pro V:
has a new engine (derived from the PC version - the old Chess Pro engine was from the original Psion version!), and is substantially stronger at higher levels, easily challenging many PC products.
now has over 20 levels of game play, including many 'time limit per move' ones.
has many new graphical layouts.
Chinese Chess Pro V:
is substantially stronger at higher levels.
has over 20 levels of game play.
has an updated UI.
Each title apparently supports up to 17 languages, making them applicable to customers just about anywhere in the world.
---
Here are a couple of shots of the new Chess Pro V in action. Pretty, eh?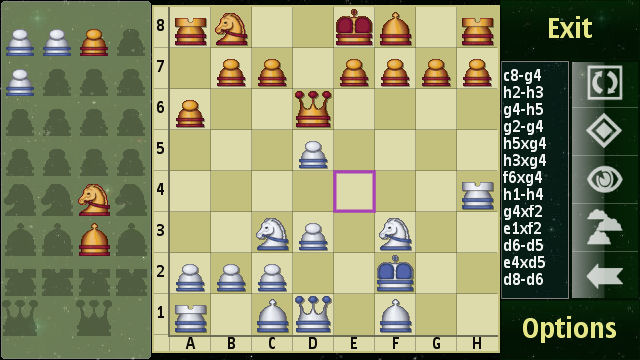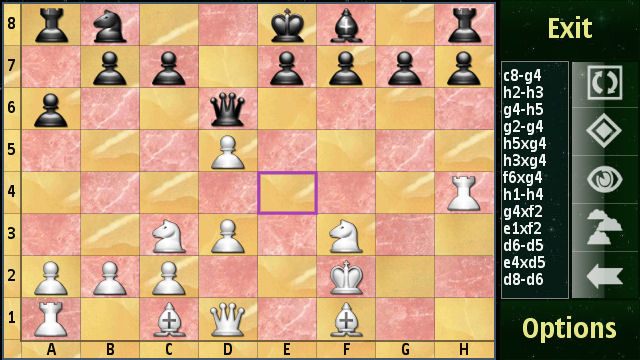 ---
One warning is that the upper skill levels are now much higher but there's a corresponding increase in 'thinking' time by the AI. So experiment with the turn time that suits your own skill level and time available. And if you do decide on an 'Expert' game, you might want to both play with the display timeout settings and not stray too far from a charger 8-)
For each of the games, the familiar quirky ZingMagic toolbar has two modes, cycling in cosmetic options (for pieces, backgrounds, layouts), plus the traditional 'take back', Help and About functions.
The range of customisation options, the ability to switch between multiple games at different skill levels, plus the stronger game engines, all add up to the best ZingMagic board conversions yet.
In free (ad-supported, slightly cut-down) versions, you'll find the games at:
Checkers V - FREE - http://store.ovi.com/content/120238
Chess V - FREE - http://store.ovi.com/content/120240
Chinese Chess V - FREE - http://store.ovi.com/content/120468
In paid for versions (no ads), you'll find the games at:
Checkers Pro V - http://store.ovi.com/content/120237
Chess Pro V - http://store.ovi.com/content/120239
Chinese Chess Pro V - http://store.ovi.com/content/120449