From the Ovi Daily App blog post:
"With so many apps available, people can pick the ones most relevant to them," Pinch said. "The intimacy we share with our phones stamps our personality onto them. They know our tastes, our needs and even our secrets. If you ever want to really know someone, take a look at their apps – you may be in for a surprise!"

The research shows that it is not about the number of apps people have, but about finding ones that are the most useful. More than 70% of users surveyed have up to 30 apps on their smartphones, with 20% saying that they delete all similar apps from their handset if they hear about a better one.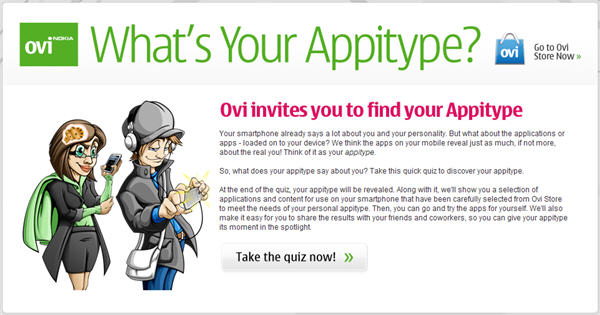 Having tried the questionnaire myself, I think the algorithm might need a little polish. For example, as a power user of social networks, I'd have expected to see Gravity in the results, but it did manage to come up with the Trill Twitter client for me. I'd also have hoped to see Pixelpipe appear, based on my stated preference for sharing photos. Still though, take a look, as anything that helps users to find new applications is worth a try!
Apparently my ideal phone is the N8, which I wouldn't argue with! Still though, I'm uncertain on the wisdom of suggesting a Nokia phone to people searching for applications to download from the Ovi Store - perhaps preaching to the converted?
David Gilson for All About Symbian 1st February 2011