The overall performance of the Social application has been improved, with faster refreshes and most pages appearing to load quicker than before. However as with other web-heavy application, performance may be limited by the speed and quality of your connection.
In previous versions of Social, Contact Card integration was limited to a shortcut link to the profile of the contact in the Social application. This meant you had to wait while Social opened before seeing any status information. In the new version, the shortcut remains in place, but the text has been replaced by the last status update (Twitter or Facebook) for that contact. This means that the most recent status update for a contact is available within the Contacts application; making it more accessible (e.g. view before you make a call).
Linked contacts (those which have status information in Contacts) are now more obvious in the Social application. In lists, an indicator icon shows which contacts have been linked.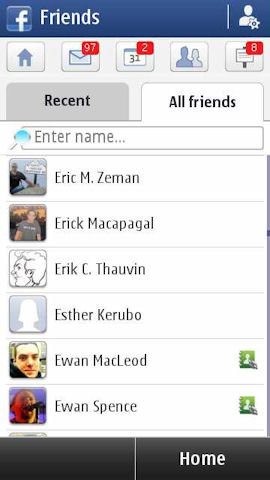 Shared images are now uploaded at a higher resolution (up to 4MB max size), which should give better sized and higher quality photos. When uploading an individual photo it is now possible to add a caption. The first screenshot below illustrates how this is done when sharing from the Camera or Photos application. The second and third screenshots illustrate how this is done from within the Facebook module of Social, which also offers the ability to tag a photo (identify the person in it).
Unfortunately, in a somewhat bizarre oversight, the captioning feature is not available if you upload more than one photo at at time.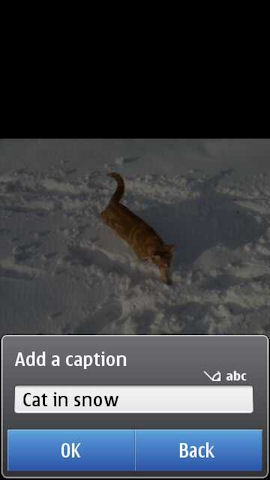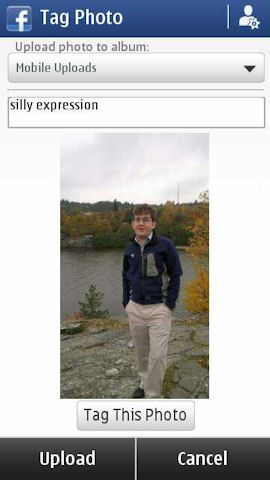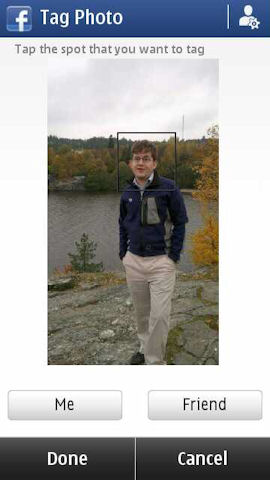 Below is the same cat photo, as shown on Facebook, complete with caption. You can view this photo here. Notable is the inclusion of a link to download a high resolution version of the photo. This download is just over 400kb in size and gives a photo with a resolution of 2048 x 1536 pixels. This is still smaller than the original (1MB in size, 4000 x 3000 pixels), but this is due to resizing on the Facebook servers, not within the Social application. For Twitter uploads (to Twitpic), your images are left alone by the destination server (Twitpic) and can be downloaded by others at full size if needed.
This single tweak is a very significant improvement on the sharing capabilities of the previous version of Social.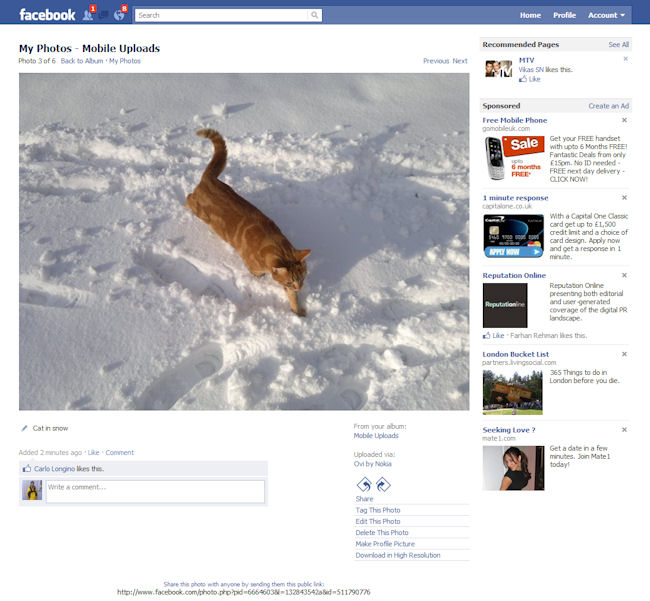 The Twitter module of Nokia Social has been updated and now supports retweeting via the context sensitive menu. It's good to see this addition, which means Social now has all the basic Twitter functionality and should be sufficient for light users. Power users will likely remain with Gravity.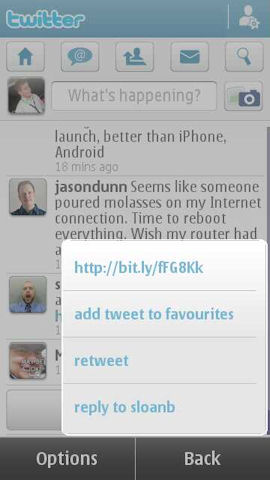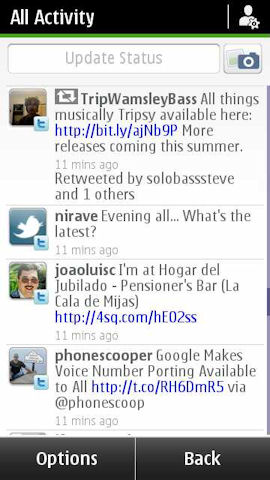 We've been playing with the new version for an hour now and would say that scrolling and general UI responsiveness is a good 50% better than with the previous version, kudos to Nokia's programmers for getting such good performance out of what is, at heart, a heavyweight Web Runtime application.
Ultimately though, in terms of performance, Social does seemed to be the type of application that would, in the long term, benefit from moving to being powered by the upcoming new web core (wrapped in a Qt based client and integration skin). Hopefully a move in this direction is something we will see as the application continues to evolve and the enabling technology matures.
Seemingly trivial, but a nice touch is that the old, horrible full-on white Ovi splash screen has now been replaced with a tasteful green and blue affair. This is much easier on the eyes when you boot up Nokia Social late at night - and does its tiny bit to help keep OLED display power down too? Nokia, we perhaps now need a 'dark theme' option in the main application, for more significant battery savings?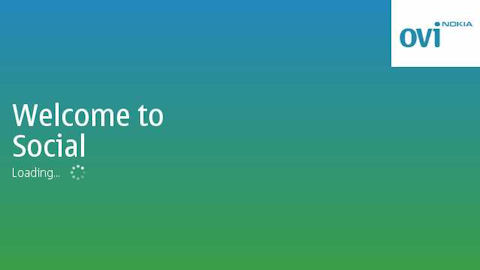 Nokia Social will automatically update to the new version when you next start the application. The update is 3.13MB in size and is downloaded through the Web application.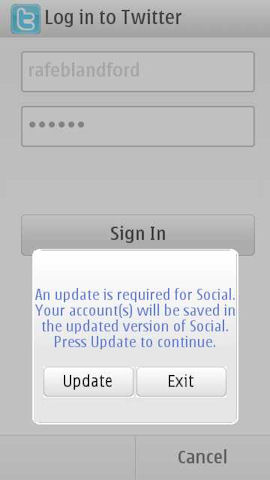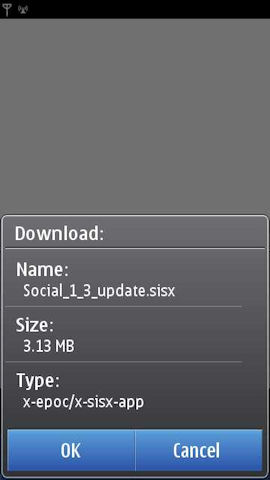 More information is available on the Ovi Blog.