The Nokia E73 runs S60 3rd Edition Feature Pack 2 and features a thin QWERTY mono-block design, a 5 megapixel camera, integrated GPS, WiFi and Bluetooth connectivity and the large (1500 mAh) BP-4L battery. The press release says the WiFi can be used for voice calling, suggesting that the E73 will be pre-configured for T-Mobile's UMA service.
It will ship with a range of Nokia services, including Ovi Maps (free, worldwide car and pedestrian GPS navigation), Ovi Store with integrated T-Mobile billing (for downloading applications and games) and Ovi Files. US operators have traditionally been somewhat reluctant to ship Nokia devices with Ovi services (e.g. E71x), but T-Mobile seem to have embraced the idea in both the Nokia Nuron and Nokia Mode. Nokia needs to place more handsets with US operators if it is to prove its position in the US market.
The device will cost $69.99 on a two year contract, but as with the similarly priced Nokia Nuron, it is likely to be available for free on a contract through third party retailers such as Amazon.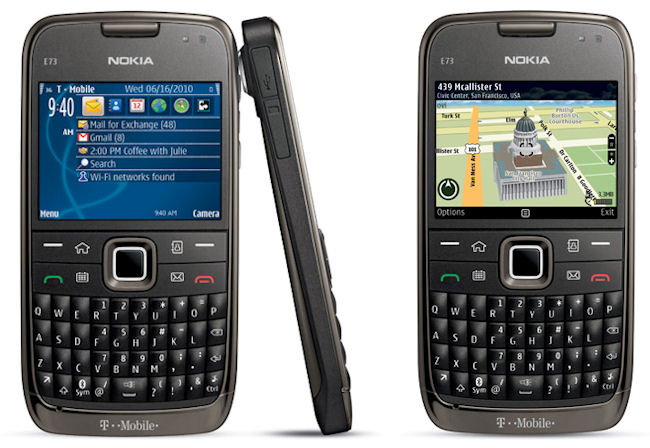 The 'Mode' name comes from the 'switch mode' functionality of the E73, which allows the user to have two separately configured homescreens. T-Mobile and Nokia are playing up the dual nature of the device by suggesting it is ideal for those wishing to maintain a healthy work-life balance.
The enterprise capabilities of the device are also highlighted - it has support for both Microsoft Exchange and IBM Lotus Traveller and attachment handling applications such as Quickoffice (Microsoft Office viewing and editing), Adobe PDF viewer and Zip Manager. There's also easy access to Salesforce.com and Bloomberg through third party applications.
The E73 is being pushed as a stylish (it will be T-Mobile's thinnest QWERTY unit) but professional device for those who need to stay connected all the time:
"T-Mobile is committed to providing a variety of devices that serve our customers' needs to stay connected to the central people in their lives including family, friends and even colleagues from the office," said Travis Warren, director, product marketing, T-Mobile USA. "With the Nokia E73 Mode, we're excited to offer a premium device at an attractive price that helps Mom and Dad put work aside and make their family the top priority."

"The Nokia E73 Mode brings style and function in an affordable device without compromise," said Mark Slater, vice president, Sales, Nokia. "Working together with T-Mobile, the Nokia E73 Mode enables us to bring our customers a 'Work & Life' solution that allows consumers and businesses to be as productive as possible, while still providing an exceptional consumer value and performance."

[Source]

Differences between the Nokia E72 and Nokia E73 Mode
3G bands - the E73 includes support for T-Mobile's 1700/2100MHz 3G network

Rearranged and redesigned control cluster - the one-touch shortcut keys are group to the right and left of the softkeys send/end keys, rather than in-between them. The send and end keys are now coloured green and red respectively.

Curved keyboard - the E72 has its keyboard laid out in a slight curve, compared to the squarer layout on the E72.

Larger metallic bottom lip - the E73 has a thinner plastic strip below the keyboard and, consequently, a larger metallic bottom lip.

The E73 ships with an up-to-date set of software. These updates are available via firmware and/or download for the Nokia E72.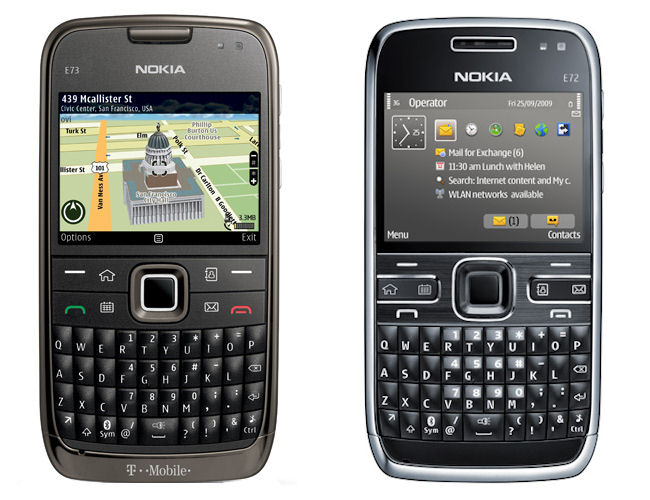 Nokia E73 Mode for T-Mobile USA versus Nokia E72-1