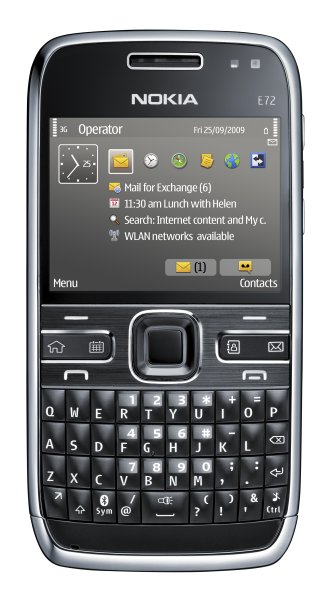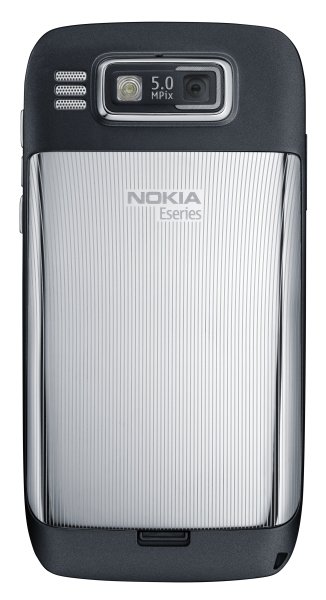 Key changes from the Nokia E71
The E72 runs S60 3rd Edition Feature Pack 2, which gives performance (speed and battery usage), usability (middle softkey, improved multitasking, FOTA with UDP, re-arranged settings and menus) and software architecture (Open C, PIPS, WRT, wider multimedia support, security enhancements) improvements.


The messaging software suite has been updated (similar to the Nokia E75). Nokia Messaging and Mail for Exchange are now fully integrated into the Messaging application and there's support for multiple email account identities. For the consumer this means a new email client (based on Nokia Messaging), push email for consumer accounts (Gmail, Yahoo Mail, Hotmail, ISP) and updated Microsoft Exchange functionality. The device includes a lifetime subscription for Nokia Messaging.

Additionally, Ovi Chat, Nokia's instant messaging software, is pre-installed. It is accessible via the Contacts application, includes basic location features and supports Ovi accounts, Google Chat and Yahoo Messenger.


Upgraded version of Quickoffice (version 5.3), includes full editing mode and support for Office 2007 documents.


Support for Nokia N-Gage (via soical media press release, unconfirmed - see comments).


Ovi Store will be pre-installed on the Nokia E72.


The layout of the bottom row of the QWERTY keyboard has been changed. With a smaller space bar, there's room for two extra keys. The bottom row now consists of: function, shift, symbol, @, space bar, ?, !, ', Ctrl (previously: function, shift, @ space bar, ', ? and Chr). The control cluster has been redesigned, with the one touch keys made out of etched aluminium (similar to the E55). The D-pad now features a Optical Navi™ Key (optical 'track pad') for eaiser scrolling.


There is a 3.5mm audio jack (previously 2.5 mm).


A magnetometer (compass) has been added as a compliment to the GPS. Ovi Maps is included, along with a lifetime Explore license (pedestrian) and a trial (10 day) Drive license. The device ships with Ovi Maps version 3.0 (instead of Nokia Maps 2.0).


Support for USB charging via microUSB port.


The specification indicate that UPnP is supported, but it is unclear whether this would include the Home media software.


Increased internal flash memory - up to 250 MB from 110 MB. Free RAM is expected to be around 80MB.


Faster up and down connection speeds with support for 10.2 Mbps HSDPA and HSUPA (whether you can use these will depend on operator support).


Call sound quality has been improved, with the addition of active noise cancellation.


Here's a video from Nokia Conversations:
Nokia say:
"The latest full-QWERTY keyboard Eseries tunes into the needs of busy working people. The Nokia E72, fast, full of resources, sports a slim profile. Many of its biggest strengths are around the richness of the out-of-the-box email and instant messaging experience.
The E72 develops on the huge success and popularity its predecessor, the E71, by adding great new features and improvements. It now provides the desktop-like interface so popular in the E75, as well as combining multiple business and personal email
in-boxes into one. You can now also connect to your favorite IM accounts direct from the home screen.
There is improved speed of Internet up- and down-links too - plus enhanced navigation with compass, integrated Nokia maps. Add to that a 5-megapixel camera, standard headphone jack - plus lifetime licenses for some email and navigation services - and you can see the Nokia E72 raises the bar for quality and performance in a business-focused mobile companion."
Further information
More information on Nokia Conversations and Nokia Social Media Press Releases.
Nokia E72 product pages (includes specifications)