The E5 is very similar in size to the E63 (115 x 58.9 x 12.8 mm versus 113 mm x 59 mm x 13 mm), but slightly smaller by volume (75 cc versus 86 cc) thanks to its more rounded profile. Due to the lower price and resultant materials the E5 is bigger than the E72 (114 x 58.3 x 10.1 mm and 65 cc). The keyboard's bottom row has been slightly tweaked with a return to the larger space bar with three (E5, E71), rather than four (E63, E72), buttons on either side. The control cluster has also been redesigned, as has the back of the device, with a mixture of plastic and metallic materials.
At €180 before taxes and subsidies, the E5 is Nokia's cheapest ever Eseries. It compares with launch prices of €199 for Nokia E63, €245 for the Nokia E52 and €350 for the Nokia E72. In the UK it should have a SIM-free street price of around £180, but, as with other products, this will fall in time.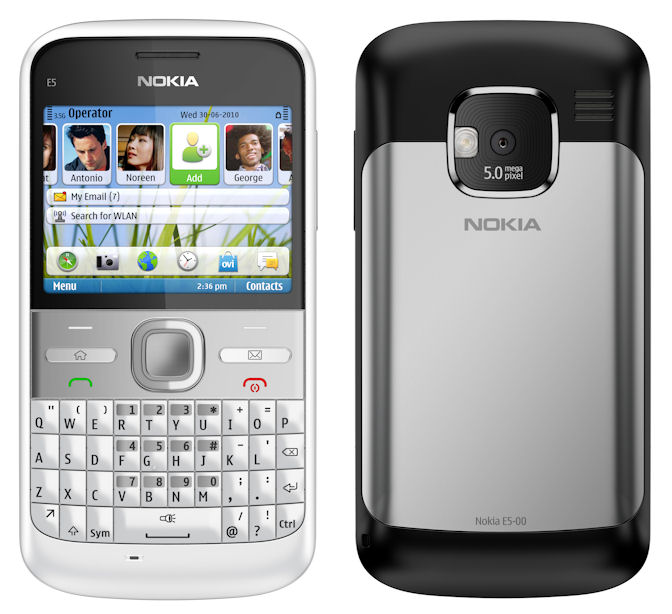 Nokia E5 front (white variant) and back (black variant)
From the press release:
"Designed for those that want to be productive in both their professional and personal lives, the Symbian-based Nokia E5 follows the successful blueprint of devices such as the Nokia E72 and Nokia E63. The Nokia E5 combines high quality business features with all of the personal networking and entertainment capabilities that a busy professional expects from a smartphone.

The Nokia E5 is perfect for managing busy schedules with a variety of productivity applications available in the Ovi Store. And with direct access to over 90 percent of the world's corporate email through Mail for Exchange and IBM Lotus Notes Traveler, it's easy to keep in contact from anywhere."

Key hardware features
115 x 58.9 x 12.8 mm in dimensions (75 cc volume), 126 g in weight; QWERTY candy bar form factor.

2.4 inch screen; 320 x 240 pixels resolution


5 megapixel 'full focus' (EDoF) camera with LED flash.


Integrated A-GPS


3.5mm AV connector

BL-4D (1200mAh) Li-Ion battery, support for both microUSB and 2 mm power port charging.

Quad band GSM and tri-band WCDMA (900/1900/2100 or 850/1900/2100) with HSDPA (10.2 Mbps) and HSUPA (2 Mbps).

Up to 250MB of internal memory, 256MB of RAM (up from 128MB on the E72, for example), microSD card slot.


Initially available in five colours: Carbon Black, Chalk White, Sky Blue. Copper Brown and Silver Gray.

Sales package: Nokia E5-00 phone, Nokia Battery BL-4D, Nokia Connectivity Cable (CA-101), Nokia High Efficiency Charger (AC-8), Nokia Steri Headset (WH-102), Nokia 2GB microSD card (MU-37).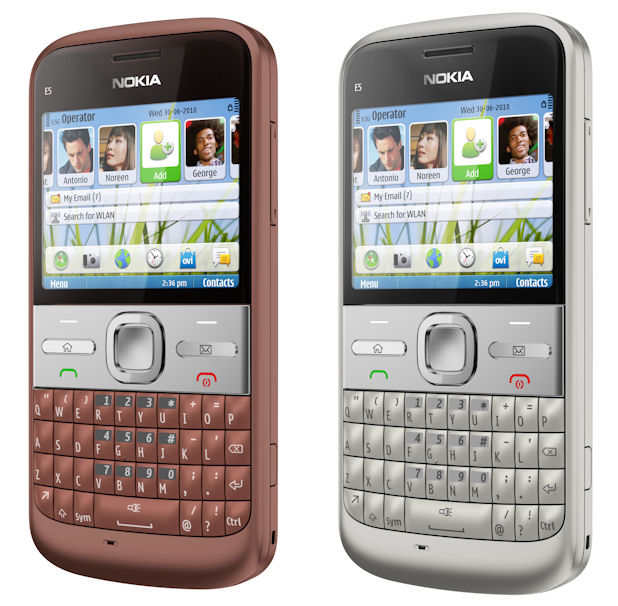 Nokia E5 - Silver and Copper colour variants
Key software features
Runs S60 3rd Edition Feature Pack 2 (S60 3.2.2) on Symbian 9.3.


Customisable homescreen, featuring 'Contact bar', 'App Shortcut bar' and various plug-ins (email, WiFi, Music).


Ovi Maps 3.4 (including free life time navigation).

Nokia Messaging with easy set-up (wizard based), for both email (Ovi Mail, Yahoo Mail, Gmail, Windows Live Hotmail, Microsoft Exchange, and IBM Lotus Notes Traveller) and Instant Messaging (Yahoo Messenger, Google Talk, Windows Live Messenger and Ovi Chat).


Facebook status features in the phone's address book (see your friends' current status messages) and one click access to social network sites such as Facebook and Twitter (a combination of web shortcuts and client applications).

Ovi Store pre-installed, to download additional applications, games and content.

Our thoughts
Combining, amazingly, (nearly) all the features of the slightly more expensive E63 and the much more expensive E72, the E5 looks set to do very well indeed. Aside from battery size, the E5 matches the other models on almost every count (5 megapixel cam, WiFi, GPS, torch mode and so on), while bringing back the E71's longer space bar (hooray!) and introducing a new social home screen, previously only seen on devices like the 5730 XpressMusic.
On the tech front, the QVGA screen remains from the E5's predecessors, but in other respects the E5 leaps ahead of its predecessors, with a very welcome extra 128MB of RAM, meaning about 160MB after booting. Also interesting is the quoted 250MB of internal storage, implying that, as on the N97 mini, Nokia are finally recognising that they need to allow plenty of room for user-found and Nokia-supplied apps and patches on the "C" (system) disk.
The use of EDoF (Extended Depth of Field) technology for the camera is interesting - this is the first 5 megapixel EDoF unit that I've seen. Photo results from the E52 and E55 (both with 3.2 megapixel EDoF) were surprisingly good (see our E55 review for photo samples and an explanation of EDoF) and I'm cautiously optimistic about the unit in the E5.
As with other recent Nokia launches, the price is again the real star though. To bring all of the above in at around half the price of the E72 is simply stunning. The market for QWERTY candybars is burgeoning, as more and more people find themselves wanting to type decent amounts in Facebook and Twitter status messages, plus email and SMS, and the E5 will do very well here - we'd expect to see it on Pay As You Go, subsidised by various carriers for, for example, £140 or less here in the UK.
Watch this space for a full review of the E5 here on All About Symbian in the summer.
Steve Litchfield and Rafe Blandford

Nokia E5 in video