Review:
Nokia E55
Score:
83%
It's, hand-down, the smallest and lightest and - almost - most powerful qwerty smartphone ever created. But is it any good?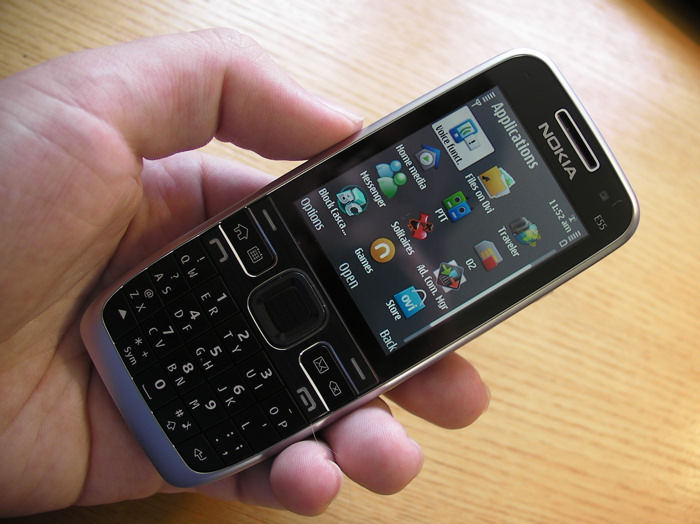 As is traditional with All About Symbian's reviews, there's a little required reading before you progress to my opinions below. Have a scan over Rafe Blandford's Nokia E55 - first look review and our original reporting of the E55's launch at MWC 2009. There's also Rafe's great new video review, which covers some of the material below in more formal fashion.
In a nutshell, the E55 is the thinnest, lightest S60 smartphone in Nokia's current lineup and manages to acquit itself well in almost all areas. At under 10mm thick, 54cc and 98g, the specifications are astonishing.
The E55 shown on top of the E75 (a QWERTY slider)
Tri band 3G, quad band GSM, Wi-Fi, A-GPS plus magnetometer, Bluetooth, 3.5mm audio and a cutting edge EDoF camera, are all impressive enough, but consider the fact that about half the E55's meagre bulk is the juggernaut BP-4L battery that normally powers the likes of the E90, E61i and E71 and the miniaturisation is even more staggering. Then notice that the main keypad is qwerty, not numeric. Gulp.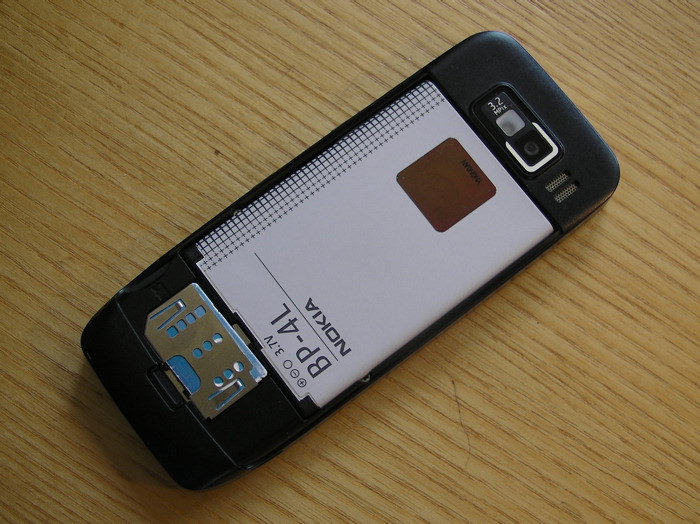 Putting all this into perspective, you've got something with most of the power and functions of the huge E90 in a tiny form factor that's just over a third the volume. As you might have noticed from the superlatives, it's hard not to be blown away the first time you pick up the Nokia E55, but there are also quite a few downsides and there's also plenty worth discussing and testing, not least the keyboard and one of the first EDoF cameras in Nokia's smartphone range.
The E55's styling follows that of the E51 and E71 before it, though with slightly less metal in the construction: you do get a metal battery cover and brushed aluminium fascia around the control keys, but much of the rest is plastic. The result still feels solid in the hand and you'll enjoy the feel very much on account of the aforementioned thinness, the 'interesting' texture on the battery cover and the uniquely textured d-pad.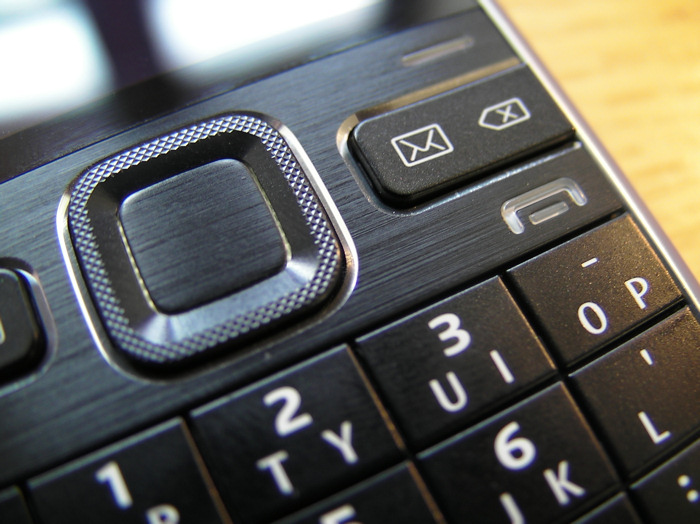 Working around the E55:
There's a basic camera shutter button on the right hand side, along with volume/zoom/voice command keys

There's a power button (nice to see this separate and not built-into the 'hang up' key) and 3.5mm audio jack on the top

There's a microUSB port extremely neatly recessed (I missed it at first!) on the left. And yes, as with all Nokia's latest, charging is also via microUSB, whether from the supplied mains charger or via data lead from a desktop.

There's a microSD slot too, but this is concealed by the battery cover - not a bad design decision as this keeps the sides of the device cleaner and stops dust or damage to the card.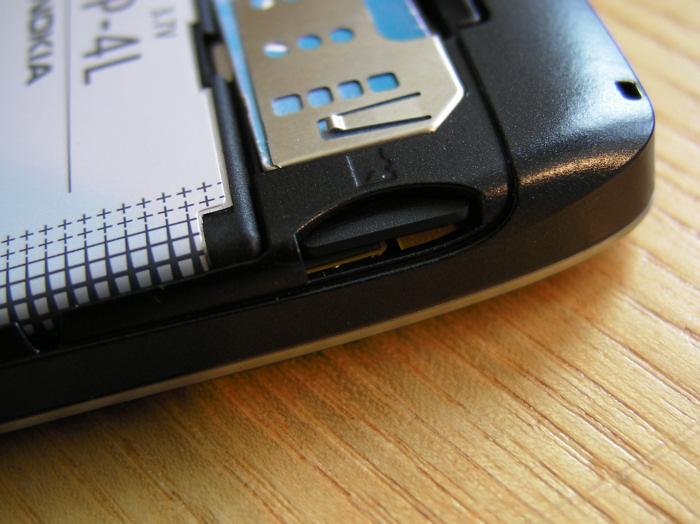 In terms of software, the E55 is very recognisably S60 3rd Edition Feature Pack 2, the package is very similar to that in the familiar E75, though in the intervening months Nokia has upgraded its Webkit-based browser: v7.1, here is much faster and has a more streamlined interface (though still no way to copy text from a page or open a new window - sigh). The new Eseries PIM apps have been optimised, Nokia Maps has become Ovi Maps 3.0 (complete with lifetime pedestrian navigation - and 10 day 'drive' trial) and 'Home media' has appeared, to provide UPnP functionality. Oh yes, and Nokia's Eseries team has licensed a whole bundle of third party software, of which more later.
On the downside, and quite inexplicably, both Podcasting and Internet Radio are conspicuous by their absence - I can only think that they were left out of the initial firmware because of a last minute show-stopping bug and that they'll appear again soon. I hope so, since Podcasting is a deal breaker for yours truly. Interestingly, the review E55 arrived in a state in which Over The Air firmware updates weren't working, but a PC Suite update later (to v21.013) got update checking working properly and we all now await the missing applications and (doubtless) the odd bug fix or two.
The biggest Unique Selling Point (USP) of the E55 is, of course, its keyboard. Squeezed into the same space as the E52 gets for its standard 12-key keypad, the keys aren't huge. And each has to do double-duty in terms of letter assignments, in a system that Nokia calls 'half QWERTY' (and which RIM/Blackberry call 'SureType').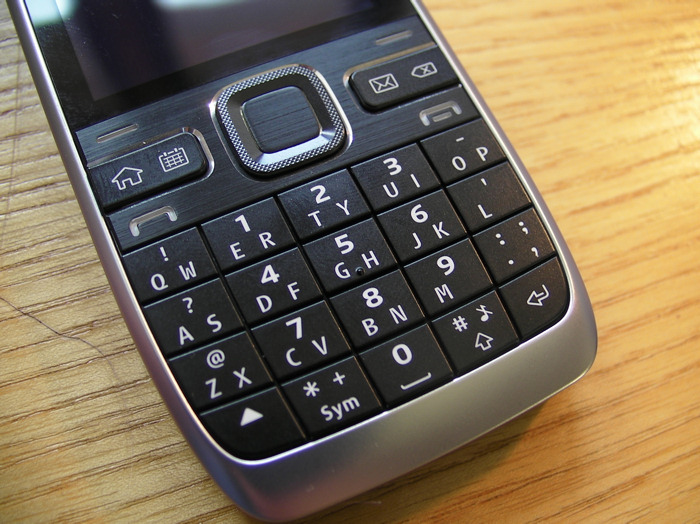 The idea is that you type away as normal and the predictive software in the E55 then works out what word you wanted to type based on the dual-letter keys kit. Compared to predictive text on a numeric keypad (which have 3 letters per key, of course), there are far less 'wrong' words suggested, which is an excellent start. Tempting though it is while typing to peer around for the next letter you want, I found it much faster to trust (iPhone-style) the software to get it right, to tune out of exactly what you're hitting and simply type as you would on a normal QWERTY thumb keyboard. For normal prose the system works fairly well, although it's easy to get your fingers in a muddle trying to enter words like 'here', which involve hitting the same key three times in a row!
However, things start to really slow down when you need names and non-English words, for which you have to toggle out of predictive mode and go into a multi-tap mode. This works as on a numeric keypad, except that here there are only two possibilities per key. Things also slow down a lot (in predictive mode) when you need to enter punctuated words like "it's" - you enter "it" and then hit the apostrophe (a shifted character), followed by hitting the 'AS' key. The screen shows "it'a" (what kind of predicted word is that?) so you press the 'AS' key again, figuring that the word should be completed in multi-tap mode. You then have "it'as". Frustrating. [update: after a few iterations, the system is now showing "it's" as the first suggestion. Sanity has prevailed - thankfully]
Similarly, entering a simple comma requires grinding out five keystrokes - entering a period and then picking the alternative predictions for this one-character 'word' from a list - a comma is not even the first or second alternative offered! Or you can append a comma to a word, but the first suggestion is then a period and you have to do the same picking-the-comma-from-the-list thing - surely this system can be tightened up somehow?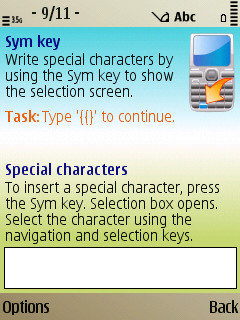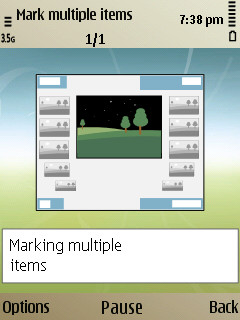 The Help system continues to get more and more polished in S60, complete with a tutorial to guide users round the new keyboard - though it still couldn't help me find a quick way to enter a comma in predictive mode!
In short, the predictive QWERTY system works about as well as predictive numeric keypad input overall - it's inherently more accurate but isn't optimised as finely yet for common input patterns (as above). As you might perhaps expect, text input speeds aren't anywhere near those of full QWERTY keyboards (of any size) - after some practice on the E55 I managed to get to 24 words per minute on my test sentence pair. This is up to 20% faster than predictive input on a numeric keypad, but it's not perhaps enough of an improvement to warrant the retraining necessary to move from the likes of the E51, especially when the standard keypad-equipped E52 has everything else the E55 has, but with the added advantage of familiarity.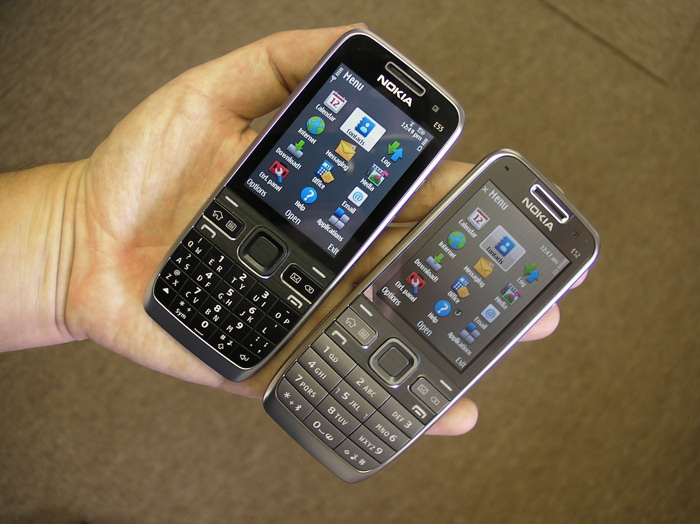 As Rafe pointed out in his preview (link), the danger here is that the E55's layout is just a little too different and the device may find itself being squeezed between some of its sister phones: the E52, and the E63/E71/E75, not to mention the upcoming E72. This would be something of a shame, but would be a scenario I can quite understand.
Now, onto the second USP, the EDoF (Extended Depth of Field) camera. This is a new idea, borne of the digital age. Rather than having a bulky and expensive auto-focus mechanism, the idea is that a cheaper fixed focus camera can be dramatically improved by using a custom lens which has been designed to focus the RGB components of light differently. When an image is captured (effectively three 'photos', one for each of the RGB components), every part of the photo's viewing area is analysed, with the sharpest of the RGB images determining the detail used for that part, with the other image supplying appropriate coloration. In this way, the normal depth of field for a fixed focus camera is extended and objects a metre or so away can be captured fairly sharply, something which wouldn't be possible with a vanilla fixed focus camera.
In reasonably good lighting, the results can be tremendous for such a small camera/sensor unit. Here are some samples, click each to download or view full-size:
Note the depth of field, the EDoF works well in good light conditions!
More EDoF examples... Objects both close and far away are all in 'focus'
And here's where things break down: firstly, it's still a small camera with small sensor and in dim/indoor
conditions you'll be struggling as with any other similar unit - the E55 is not an N95...; secondly, there's a limit
to how far EDoF increases the depth of field - get within about half a metre of an object and it will start to get blurry...
Ah yes, my new car [you wish - now get back to work! /Crack - Rafe]; and a snap of a sign, taken from about
a metre away - note how this is within the EDoF (range) and how the text is pretty crisp as a result,
despite there being no actual focussing involved
Some motions shots - the EDoF camera seems to take photos with quite fast shutter times. The first photo was with both my
boat and the object boat moving, while the second is of a train going through the station at high speed
(estimated 80 to 100mph) - the shutter speed was so fast that the train almost looks stationary. Impressive.

Notably, the E55's camera also includes a panorama mode, in the same manner as in the new N86 -
except here you get to stitch five photos - here's an attempt of mine, taken in cloudy conditions.
The actual stitching together takes around a minute, so don't expect to shoot panoramas quickly, back to back!
The extra image processing can't work miracles however, and once the light levels go down you get the same reduction in depth of field, the same sensor noise and the same blurred subjects as with any other small-lensed fixed focus camera. It's also worth noting that because the lens is fixed focus, there also can't be a 'Close up' (or 'macro') mode, so anything closer to the E55 than about half a metre is destined to stay blurry and out of focus.
That said, I was impressed by the EDoF camera and would be happy using it as an ad-hoc snapper on the family day out - the results are usually quite good enough for even a discerning family album.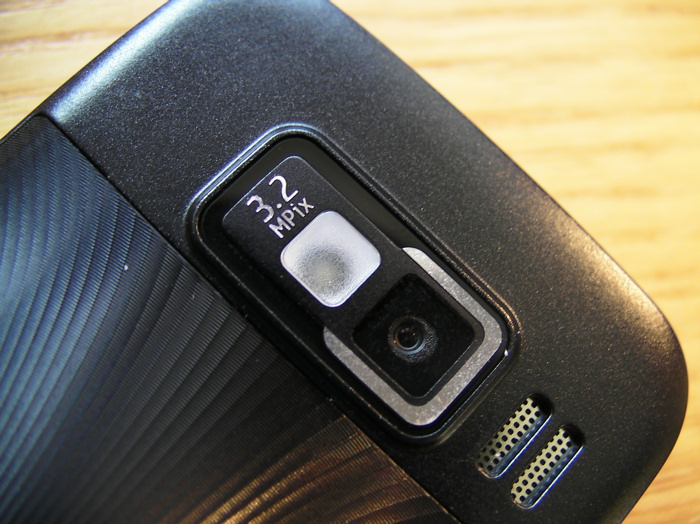 Video capture is at VGA resolution (the new standard, it seems in phone cameras) and at 15 frames per second. I was impressed by the colour handling here, by the pre-focus in video mode (to a couple of metres, something which the N97 still can't do, to name but one device) and by the quality of the captured audio. Again, for personal use, I don't think any user could complain about performance in this area.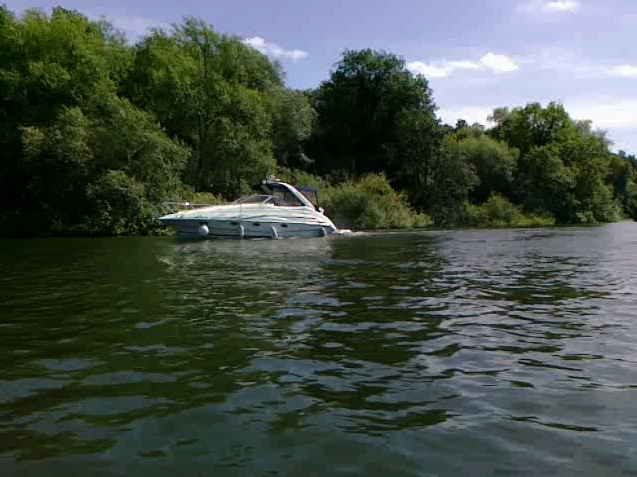 Here's a sample video (4MB, click the photo to play or download) - one of
the E55's strongpoints, I think, despite the 15fps frame rate
And so to other aspects of the E55. The front panel keys are elegantly sculpted and a pleasure to use, while the 2.4" display is the same as the E75's - small for a 2009 smartphone, but well formed in the context of such a small device and, most importantly, transflective, meaning that it's beautifully clear in sunlight - as with the E75's and E71's (etc.) displays, there are no lighting no-go areas for this screen (unlike those on the 5800, N97 and many competitors).
The (mono) loudspeaker on the E55's rear is thankfully crystal clear and loud - great for listening to podcasts around the house. Music sounded clear but without much quality or bass over the supplied 3.5mm '4-way' stereo headset/mike, though plugging in a 'pro' set of headphones showed that the tinny sound wasn't the phone's fault. Nokia do sell high quality in-ear headsets with microphone breakout box, if you really want to pursue hi-fi-like music on the move on the E55.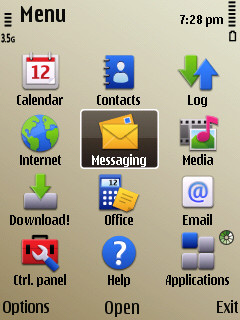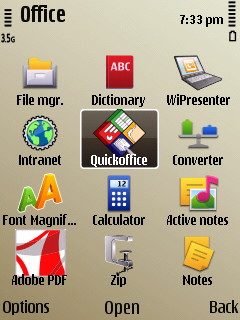 Nokia's Eseries application set seems to have stabilised (with the aforementioned temporary omissions) - it's worth noting that at long last elements of the Nseries photo gallery have made their way into an Eseries phone, with the slick, tag-based carousel now popping up when you click on 'Gallery | Images'. Unfortunately, the list of items then presented includes videos as well. Along with Gallery | Videos and Video centre, there's now three near identical ways into your videos. Nokia, the way you present media is just appallingly messy these days - please sort it out!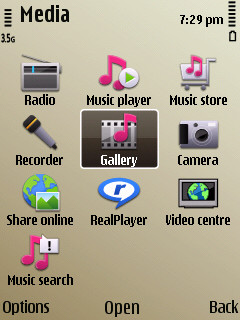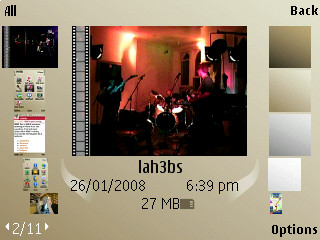 Gallery leads to Photos, which leads to - ahem - your photos AND videos
As mentioned elsewhere, video playback in S60 3rd Edition Feature Pack 2 is pretty mature now and virtually every MP4, 3GP and FLV video I threw at the E55 was handled without issue. WMV proved slightly more erratic, but as ever, digital video codecs are an utter black art and Microsoft is the dark wizard, WMV is never trivial to handle.
In terms of business software (this is an Eseries, after all), there's the new Nokia Messaging email system, incorporating pseudo-push email from POP3 or IMAP accounts. As I've remarked before, this is something of a love it or hate it solution, but it's certainly an easy way into mobile email for most, if not all, people. The full, editing version of Quickoffice v5 is supplied in the firmware, though the usual upgrading option to v6.2 wasn't present, curiously - maybe this will come as well in an imminent firmware upgrade?
The two one-touch application shortcut keys work well, I love the way assignments can be made to a 'long press', effectively giving you four hardware application buttons and speeding up common access significantly. One thing that doesn't work so well is the removal of the application grid shortcuts - on every previous S60 phone, you can press the appropriate number key to access the corresponding application in the menu grid on-screen. Admittedly the number grid is complicated here by the surrounding columns of QWERTY edge keys, but I still missed being able to hit '5' for the centre shortcut, etc.
The 'new' S60 tweaks introduced for the E71 are here on the E55 as well, of course:
the Business/Personal home screen 'modes' (most useful, IMHO, for quick theme switching!)
the quick matching of contacts when typing in a name on the home screen - quite useful day to day
word auto-completion when entering text - the suggested word is shown completed in pale blue and a tap on the space bar accepts the suggestion. This is a little gimmicky - in almost every case where a long word is being spelt out, a shorter long word is popped up first and you end up tripping over yourself to make it right. For example, "communications". "communication" is suggested only, leaving you to either spell the word out in full, or accept the singular and then backspace to fiddle around adding an extra letter. Similarly with "difficulty" and many, many other long English words.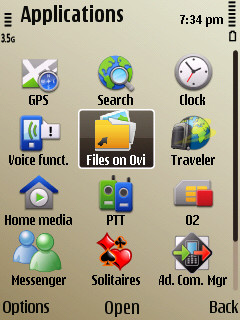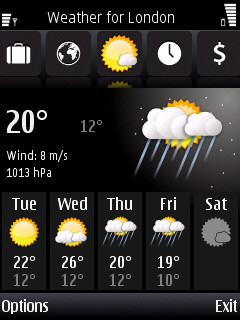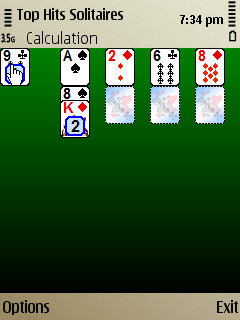 Of special interest is that a number of third party applications have been fully licensed by Nokia for the E55. WiPresenter (from Psiloc) lets you use both Bluetooth and Wi-Fi to control a Powerpoint presentation on a PC, while Font Magnifier (also from Psiloc) does exactly what it says, allowing system-wide font substitutions (between 50% and 140% of the original font size) to make text easier to read (or to fit in more text on-screen) in any application. Psiloc World Traveler (sic) is actually freeware anyway but it nice to see included here, providing Worldmate-like weather, currency and time information. Top Hits Solitaires (from Epocware) is a first class set of hundreds of card solitaire variations and one of my favourite commercial S60 games. Advanced Communication manager (from WebGate) is a call filtering application and Block Cascade is a Flash-based 'Columns' clone from Gamelion. Overall, a worthwhile set of extras, even if it does mean more icons for the new E55 owner to assimilate!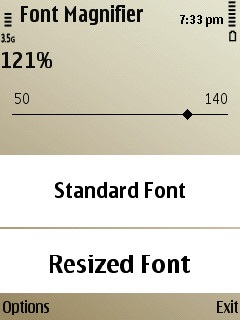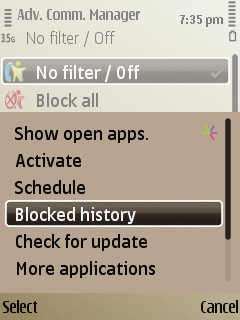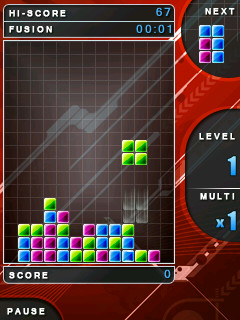 Also hinting that the current v21 firmware is incomplete is that the Ovi Store client and the N-Gage client were also missing from the E55. Both can be easily retrofitted if needed though - indeed, N-Gage had been added to the device, outside of the firmware, at the factory (and then got lost when Rafe wiped the device prior to sending it to me for review!). I'd expect both Ovi Store and N-Gage to be in the very next firmware image. Interestingly, the old Download! application is still present and on the front menu, although it does now seem to be free again from the scam that was the old Jamster ('one of your three apps for the week', etc.) system. Oh, and there's no Ovi Store download link yet within Download!
There's accelerometer-driven display rotation in almost all applications (including the home screen and menus) but, somewhat strangely, I couldn't find an explicit way to turn this behaviour off - turning ALL sensor operations off does the trick, thankfully. Although clever, I end up disabling this on any phone I use, and I can only think that adding a dialog line to control this is another small omission. As it is, I lose the 'flip to silent/snoozing alarms' function if I don't want display auto-rotation, which is annoying.
And so, for what seems like the umpteenth smartphone in a row, I'm tempted to issue a 'this will be really good when the manufacturer fixes it up in firmware' disclaimer. Don't be too put off though, 99% of the E55's functionality works as advertised, but the omission of Podcasting (to which I'm utterly addicted) and Internet Radio have meant that I, for one, couldn't use this as my primary phone - yet.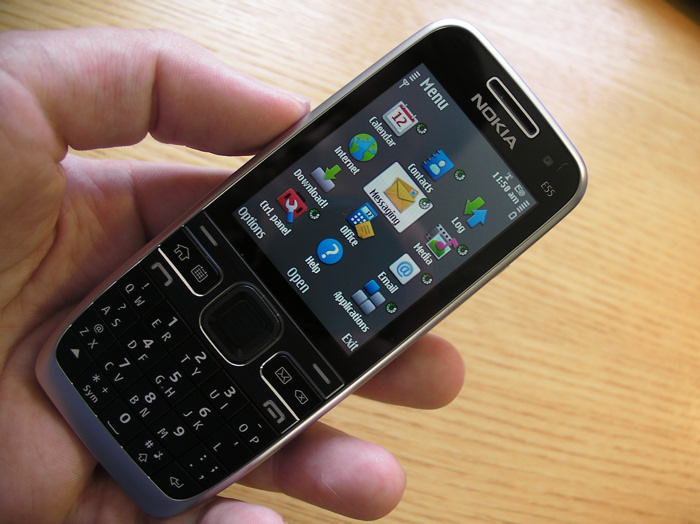 The pairing of the E52 and E55, with near identical hardware, does make a lot of sense from Nokia's point of view, in terms of economies of manufacturing. It also makes sense from a customer's point of view, giving everyone the chance to choose their text input system. Like Rafe, I wish 'Half QWERTY' well but have a sneaking suspicion that the majority of buyers will veer towards the more conventional E52.
Like the upcoming E72, the E52 promises to be something of a landmark device, something so perfect that you couldn't really envisage it being implemented any better, within the form factor. The E55 falls in between and, while it's certainly going to appeal to gadget fans by virtue of the cleverness of the QWERTY miniaturisation, I'm not sure it's going to sell to the same degree.
Steve Litchfield, All About Symbian, 19 August 2009 [Device photos and one photo sample by Rafe]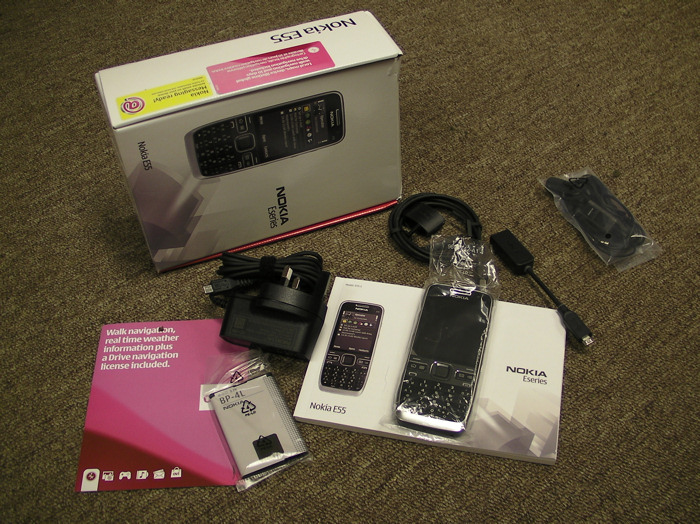 Reviewed by Steve Litchfield at