"The process of making the latest version of Ovi Maps available for existing devices is quite involved, but the team managed to include complete navigation functionality. Due to technical constraints in back porting the app to existing devices, unfortunately, it wasn't possible to offer further premium content such as the Michelin and Lonely Planet guides."
The announcement is a follow on from January 21st, when Nokia announced that Ovi Maps was going free.
In the press release, Nokia note that the E71 and E66 will be "the last of our S60 3.1 and older devices to sport this version of Ovi Maps". This means we will not be seeing free navigation support for the Nokia N95 and other S60 3.1 devices. However, as we noted in an earlier story Nokia have reduced the licenses prices significantly for pre-3.3 versions of Ovi Maps, which means navigation is available for older devices at a very low cost.

Ovi Maps 3.3 (3.03) on the E71 and E66
Ovi Maps is a relatively large install and will be placed on the C: drive, so you will need to ensure that you have enough free disk space (recommended 10MB or more) before installing the new version. It will replace any existing version of Ovi Maps or Nokia Maps that is installed on the device.
In usage there are occasions, as with earlier version on the Nokia E71, when Ovi Maps can feel somewhat sluggish compared to more recent devices. However the streamlined user interface is a significant improvement and the new version is a recommended install for all E71 and E66 users, not least for the availability of free car and pedestrian navigation.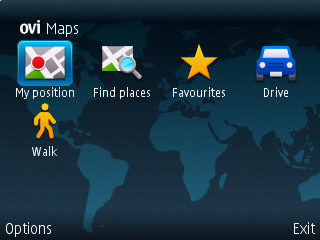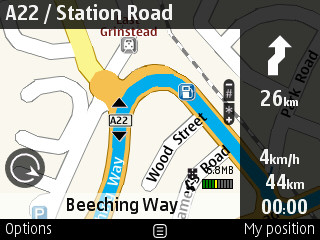 Ovi Maps running on the Nokia E71
Ovi Maps for the Nokia E71 and E66 will be made available via the maps.nokia.com website. It will also likely appear in the Ovi Store shortly.

Compatible devices for Ovi Maps with free navigation
"Nokia N97, Nokia N97 mini, Nokia 5800 XpressMusic, Nokia 5800 Navigation Edition, Nokia E52, Nokia E55, Nokia E72, Nokia 5230, Nokia 6710 Navigator, Nokia 6730 classic, Nokia X6, Nokia N86 8MP and (with slightly different functionality) the Nokia E71, and Nokia E66."