I don't know, you wait years for an S60 Wikipedia application to turn up, and then two appear at once! Wikipedia has a mobile site which is adequate for the task. Although many of us have been awaiting an application that would add something more to our encyclopaedic experience.
The first to be released was the Java-based J1ck Wikipedia client, which offers an experience optimised for small-screen, low-resolution phones. Next along in January 2010, in a rather organic fashion, came a native S60 widget, from a discussion dating back to October 2009 on the Symbian Ideas forum. However, compatibility is an issue with this widget. The project page states it will work on all S60 3rd Edition FP2 phones, and indeed it worked with my E55. However, for FP1 phones, you need to have the latest firmware; my v300.34.56 E51 could not run this, and there are also mixed reports for the N97, representing the 5th edition models.
The key question is, do either of these applications significantly add to the mobile web site experience? I answer that question below by comparing the three key steps of using Wikipedia on a mobile device.
Search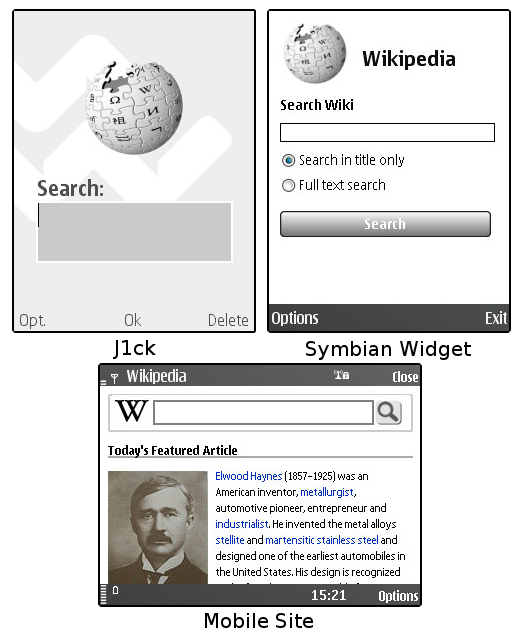 The search form for each application.
The J1ck client opts for the clean user interface characteristic of all/both J1ck applications, offering a simple search box and nothing more. While the Symbian widget also has a simple layout, it offers the option of searching in full text or titles only.
The mobile site mimics its desktop counterpart's design instead, by having the search box shown along with a featured entry. Note also that the mobile site has to be used in landscape mode. Wikipedia's search box and button are too wide for a 240 pixel screen! I know 320 pixels is small, but there's little excuse for having a mobile site that can't quite fit into a 240 pixel width screen. Fortunately, this is the only instance of such an issue on Wikipedia's mobile site.
Search Results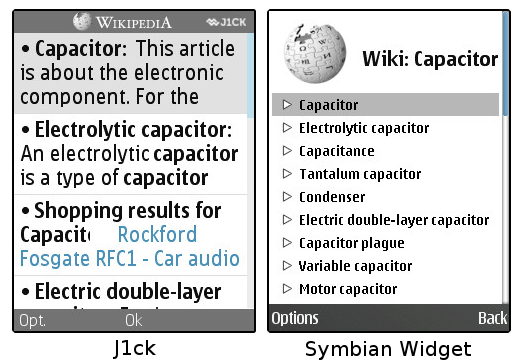 Presentation of search results in J1ck's client and the Symbian Widget
Here we see the J1ck client showing less results-per-screen due to its small screen optimisation, as opposed to the long list of results in the Symbian widget. This is where we find the Symbian widget's first bug - at the end of the page, there is a "Next Page" link, which doesn't work. Mind you, the first page of results should be more than enough. J1ck's Wikipedia client returns less search results than the Symbian widget, although I would anecdotally say they are more focused. These are both in contrast to the mobile site, which behaves just like the desktop web site, sending you directly to the most likely page you were looking for, with a disambiguation link as and when necessary.
Content View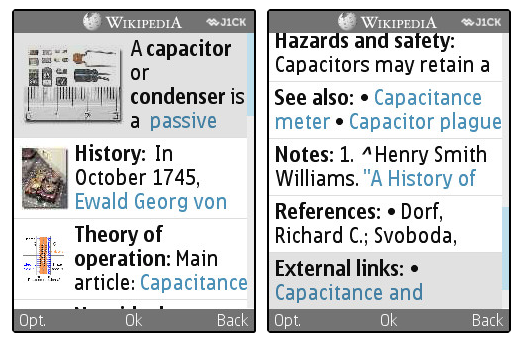 Presentation of page content in J1ck.
As you can see, the J1ck client presents Wikipedia entries in the form of a list with thumbnail images, rather than showing the full text. According to J1ck's Jon Beltran de Heredia:
"Here is a summary of the thinking behind this: one desktop/laptop screen-full of text, when formatted for a mobile screen, takes 40 pages. What you see at a glance on your PC, requires you pressing "down" 40 times! And this is on a hand-held device, where you are most interested in getting the facts quickly.

But then we realized that you don't need the full text of a Wikipedia page to provide that "big-picture" view of the article. We selected the things that really characterize when you visit a Wikipedia page, and those we *could* put into a mobile screen. Allowing them to link to the full content of each section, and making sure you never have to scroll to reach anything important, we arrived at what is probably the best way to format content for a small screen."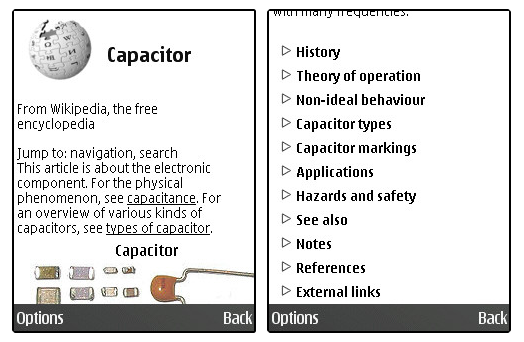 Presentation of page content in the Symbian Widget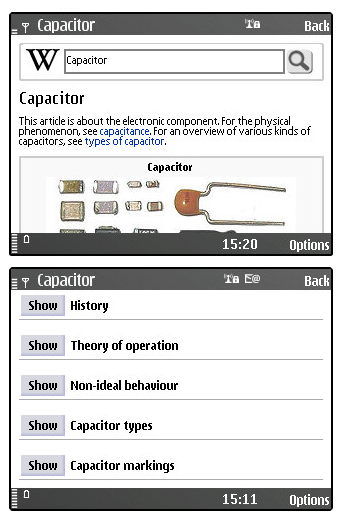 Presentation of page content on the mobile web site.
The Symbian widget and the mobile site take a different approach by containing the full text on a single page, but concealing sections behind collapsible headings. This is where another possible bug in the (admittedly alpha-status) widget appears. I found on an E55 keyboard that the select button only revealed a section for a split second. To keep a section open, I had click on the headings with the #/Sym key. The caveat of your mileage may vary applies here, as it may well work differently with different input-type phones.
While the J1ck client may be optimised for screens smaller than the typical QVGA on Symbian devices, I think their navigation method wins here. In the page per section model, to switch from section to section only requires you to press back, and then to select the next section you want. At least the mobile site has a "Jump back a section" link, but the Symbian widget requires you to scroll everywhere.
Conclusion
I started off this article by saying we had been awaiting an application to add something to our mobile Wikipedia experience. My preconception of what I would find included a healthy dose of contemporary time-saving and social features. Similarly to the mobile YouTube application, I thought their search boxes might remember past searches and offer these as drop-down auto-complete options. I thought there might be a search within page feature. I also thought there might be some social media options, such as send this page by email/SMS or add this page to your social bookmarks (e.g. Delicious).
Both of the mobile Wikipedia clients fail to include any of these features, and, ironically, the mobile site has some of these features by virtue of running inside a web browser. Functionality-wise, J1ck's client seems to make more smart choices on how to present Wikipedia content, even making foreign languages more accessible. Although I think J1ck's client also needs to be smarter about the screen size of the device it's working on. While it is optimised for screen widths as small as 128 pixels, these screens are only going to become less common, especially with the near standard QVGA resolution of Symbian devices. As such, users may prefer the greater amount of content displayed on screen by the Symbian widget and mobile site. Then again, Symbian users with less than optimal close-up vision may appreciate the large text presented by J1ck.
The features endowed by using a browser to view Wikipedia seem to win the day. Mind you, there's something to be said for having a dedicated icon to access Wikipedia, if you use it frequently enough. On a closing note, it has to be taken into account that both of these applications are still at an early stage of development, so we will have to watch this space, and reassess them in due course!
David.R.Gilson for All About Symbian, 11th January 2010
You can find me at my blog and on twitter, @davidgilson.