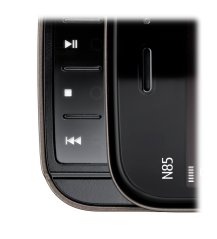 Have you noticed something about the new N85? Specifically about how it looks? That's right, it looks remarkably like the N81. Or the N96. Forget about the sliding action for the moment and the N78 slides into the copy book as well. In fact, the look of the N85 is the least surprising thing about it - assuming that looking the same as everything else is meant to be surprising.
A few sites have commented on this, and while my first thought is to agree with them and ask "but why???" in a whiney teenage voice, after a few minutes thinking about it, I reckon this is a smart move from the Finnish designers.
Henry Ford allegedly joked that you could have any colour of car you like as long as it was black. It seems that Jorma Ollila and Olli-Pekka Kallasvuo are of the same opinion when it comes to the design of the latest Nseries devices. Hand on heart, I'm not a committed fan of this look - especially the little silver horizontal key (no matter if it's called the Ovi button, the share button, or the multimedia key). It has never felt intuitive, I've always had to focus on what I'm doing rather than let muscle memory deal with the controls, so do keep that in mind.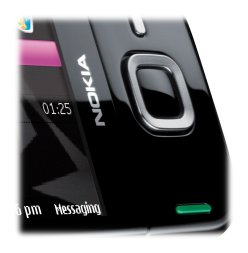 But I'm thinking there is some method to this consistency. In the competitive world of retail (as opposed to the rarefied 'lets talk about every device' world of the internet) most people only change their device every 12-18 months. When they walk into a store, they'll have a rough idea of what they want in terms of features, and they'll probably remember a phone that they saw online, or that a friend had down the pub. Salesman pulls out the latest Nokia Nseries device, customer thinks "that's the one" and everyone leaves happy.
The consistent styling is the key to this effect - if something looks like the multimedia computer that is expected, then it will be readily accepted by the end user. It makes sense for the Nseries devices to look very similar to each other. Yes, the reviewers and industry watchers might go 'same again, is it?', but that average consumer (you know, the ones who buy 99% of the world's phones) won't have been watching the new phones that come out every few months. They don't care that the design has been consistent for most of 2008. If Nokia have done four different styles of hardware in that period, then three of them are wasted because the consumers won't generally be aware of them.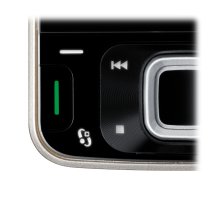 So from a retailing point of view, it makes sense to have a design with a much longer lifespan, and that is naturally going to encompass a number of different models. From a cost to design point of view, you can spend a lot more time and focus if the time between changes is over 18 months, compared to the 3 months that you might have between new handsets if you were to change the look of each one. And from a marketing point of view, you always want to be providing a simple language, and have everything 'speaking' the same words, even if those words are represented by glossy black plastic.
Simply put, why waste time and money on a multitude of designs every year when the Nseries range benefits from consistency?
What it does push the focus onto is the specification list, and again I don't think this is the major problem that people might think it is. Even with the number of Nseries devices, and the dizzying range of devices with slightly different RAM sizes, camera resolutions or screen sizes, consider that not every network is going to sell every Nseries phone. At best they'll carry two (maybe three) devices. Any network is going to want to carry a high end media smartphone, and probably something for the mid-range as well.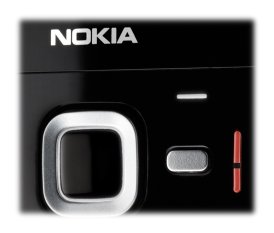 If every Nseries device looks roughly the same, then each network is going to have an easy presentation matter - there's a regular version of a Nokia N-whatever, and a super-sized version if people want to splash out.
Going back to Henry Ford and the car market, look at the large number of variations on a regular model of something like the Ford Focus. There are five different body styles (with different number of doors and boot spaces) alongside eleven engine types (diesel, zetec and turbos in various sizes). Are Ford quite happy to have these slight variants, but advertise them as the Ford Focus? Of course they are, and there's no customer confusion either. So why should there be in the Nseries range? Because we've been fans of limited run phones before? If that's our thinking we should stick with our TVR's and kit cars.
As the smartphone market matures, we'll see more and more rationalisation of model lines, making marketing and promotion easier - that doesn't mean that the range is weakened or poor, it means that it is changing as it leaves the tight confines that the first half of the decade required (small runs, dedicated and technically focussed users) and is immersing itself in the mainstream. Methods need to change, and this is a smart call on the part of Nokia.
Let's face it, other consumer electronics companies already have similar strategies - Sony's range of MP3 players all look remarkably similar, as do players (and 'internet devices') from another popular music and media player manufacturer called Apple.
The similarity of the Nseries is down to the success of the smartphone, and that means that us old-timers are going to have to get used to a slightly slower pace for the radical changes to come along, while watching for the underlying hardware to change. Don't expect any major design changes for a while, Nokia have found something that they think will work for the mass market in 2009, and that's subtly different to serving the few hundred thousand members of the Shiny Gadget Lust brigade.
-- Ewan Spence, Aug 2008