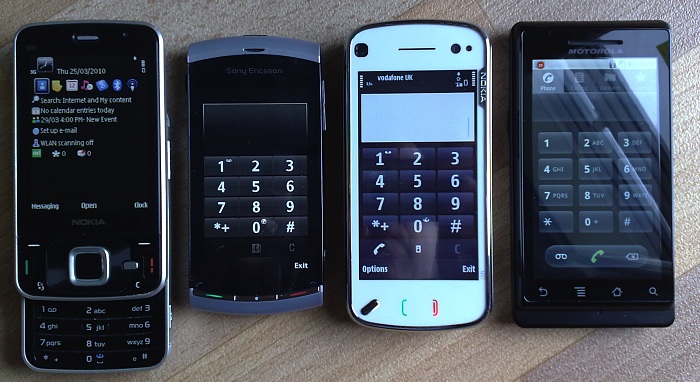 From left to right; Nokia N96, 2.8" screen, Sony Ericsson Vivaz, 3.2", Nokia N97, 3.5", Motorola Milestone, 3.7"
The shift from button-driven smartphones with 2.8" (or smaller) screens to touch-driven devices with 3.2" or larger screens has been nothing short of dramatic over the last couple of years. And for once, it's not all the iPhone's fault, though it had a part to play.
It's worth noting that large-screened, full-face touch devices have been around for more than a decade. From the first Palm Pilots to the O2 XDAs through to the Dell Axims, that form factor is not new. One significant change the iPhone did bring was that it became socially acceptable to 'touch' your screen - never mind the fingerprints - with software that allowed larger touch areas and so didn't need a stylus. Every other phone manufacturer then, of course, caught the iPhone bug and set about doing its darnedest to first copy and then improve on the iPhone design, with the result that we've had phones like the HTC HD2 and EVO 4G, the Google Nexus one and, in the Symbian world, the Samsung i8910 HD. It's a somewhat crazy race for screen size and one that Nokia has refrained from competing in so far, instead aiming its touchscreen phones lower down the price tier.
But I'm fascinated by the 'moving of the goalposts' by the tech industry. Why is a device like the N95 8GB, king of the world in 2008, suddenly relegated to being an also ran by virtue of its physical form factor? Is it just technological innovation and evolution, or is there more to it than this?
The answer, to me at least, lies in the ever-marching path towards convergence. When the N95 (and then N95 8GB) were released, the world and their dog pronounced it the ultimate convergence phone, with everything anyone could ever need: GPS/Navigation, Wi-Fi, Music, high spec camera and camcorder, and so on. All in one device - a feat which seemed incredible a few years ago.
And yet, just as convergence had moved on from the humble Nokia 7650 (the first with a camera) to the 6630 (the first with stereo sound) to the N70 (the first with a 2 megapixel camera) to the N95 itself, convergence has continued, almost against expectations. The 2010 smartphone is expected to:
do everything the N95 did, plus:
be a 'good enough' browser of full desktop class web sites
be a great video playback device (right down to watching feature films)
be online all the time and present you with your favourite information feeds throughout the day without you having to exert much effort
In addition, a 2010 device is expected to allow all of the above by just gliding your finger over a silky touchscreen - no buttons needed.
The browser and video requirements are the big ones really. Those aside, my N95 8GB from 2008 can do 99% of what any 2010 smartphone can do. But browsing the full Web on a QVGA screen isn't much fun - I'll freely admit that it's like browsing through a letter-box. And watching videos on an N95 8GB or N96 2.8" screen is possible, but it presents so much eye strain that you'll go blind before a film ends.
The really interesting insight from the preceding paragraph is that these two big new requirements don't necessarily imply a touchscreen. They simply imply a big screen, plus enough horsepower to power all the bits and bytes along. You could argue that touch helps navigation around a full web page, but touch doesn't help media consumption.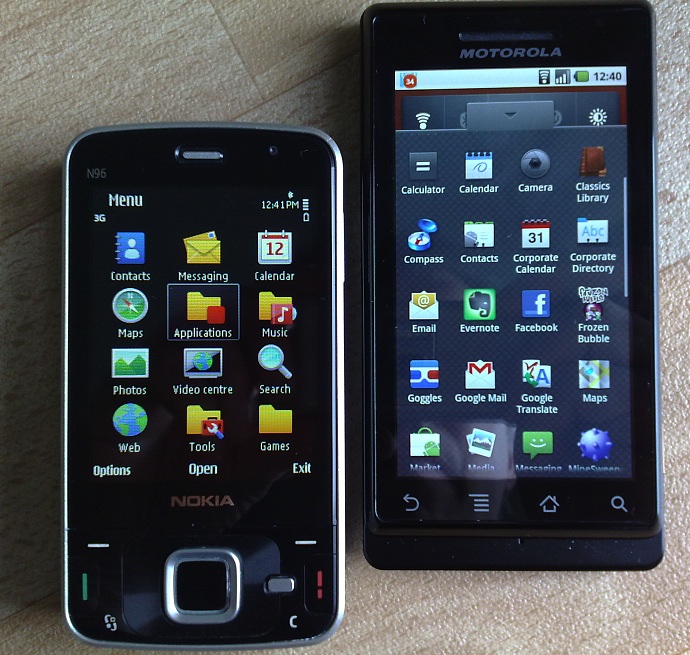 2.8" to 3.7" screens, both bottom-aligned for easy comparison
In the Symbian world, the first really large screen was on the Nokia E90, an N95 contemporary with similar software but with a 4" widescreen display. The E90 remains something of an oddity though, in that its software was a branch off the main S60 evolutionary tree and never really evolved to full potential before it was discontinued (though watch for an E90 special feature on AAS next week).
In the Symbian mainstream we've gone from the 2.8" screened N96 to the 3.2" and 3.5" displays of Nokia's S60 5th Edition phones, all with touchscreens, and it's true that web browsing and video watching have got quite a bit better, so the bullet points above are being addressed. And, to be fair to Nokia, it has managed to address them while keeping the overall price of (most) devices down, e.g. browsing and watching movies on the very cheap 5800 XpressMusic. Along with the price, other specifications have had to be skimped on a little, which is why we've had the rash of problems with low RAM and disk space on C: in the last year or so.
But those goalposts just keep on moving. The 3.2" resistive displays of the 5800 and N97 mini are made to look rather retro by the likes of the Google Nexus One and HTC HD2 and EVO 4G, with only the Samsung i8910 HD to compete on the Symbian front.
What extra convergence factors will become apparent in the next 12 months? Television (IP-based, not broadcast - probably) is an obvious one to speculate about, immersive gaming is another (though arguably the excellent iPhone ecosystem has this one rather nailed up already). Voice-driven, real time satnav is something which is creeping in, spearheaded this time by Nokia's free Ovi Maps, of course. Any other suggestions?
One left-field suggestion is that voice control will become more important, potentially lessening the need for larger devices with larger displays. With the likes of Google's Nexus One voice input and Vlingo on Symbian, it's becoming apparent that we're not too far off from being able to open applications, reply to communications, dictate notes, and so on, all without even touching our smartphones. The kicker here, of course, is that it's often too noisy or intrusive or inconvenient to 'talk' into our phones, but I'm sure this system will both improve and have some effect on smartphone design.
So what of older phones like the N95 8GB? What of the N96, N82, E61i and other classics of two or three years ago? They still do the job they were designed to do, and in each case have received multiple updates so that they actually do more. Yet they all fall down when looking at the 2010 bullet point requirements above.
Do you see the drive to larger, touch-enabled screens as utterly inevitable? What new convergence factors and uses do you see arriving in 2010 and 2011? Comments welcome!
Steve Litchfield, AAS, 25 March 2010