Nokia 9210 Communicator (2000)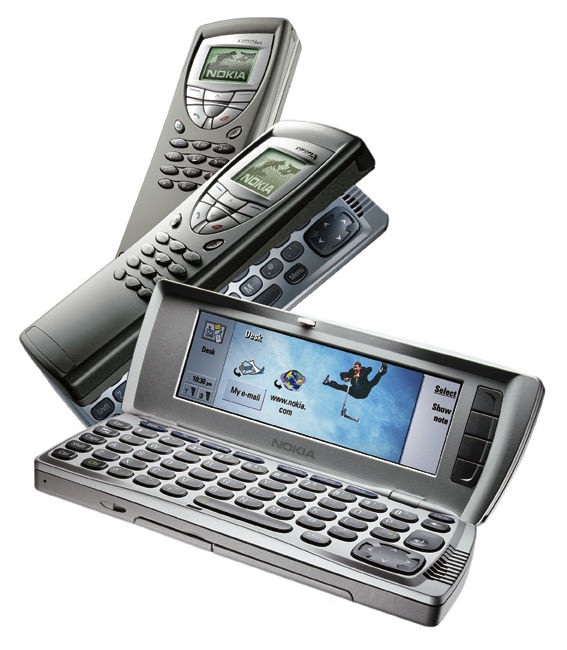 Steve Litchfield (ahem, me!): I can't really express the excitement I felt at handling the prototype of the 9210 a few months before general availability around the turn of the decade just finishing. It took everything that was in my phone and most of the things from my Psion palmtop and welded them into a single (almost) pocketable colour-screened device. And it kick started my love of large screened, qwerty-keyboarded designs - a direct ancestor of my current Nokia N97 mini? (Go back another 3 years to the Psion Series 5 and look at clues in its folding mechanism to see the oldest living ancestor!)
Michal Jerz (my-symbian): ...for being THAT SOMETHING!
Nokia E71 (2008)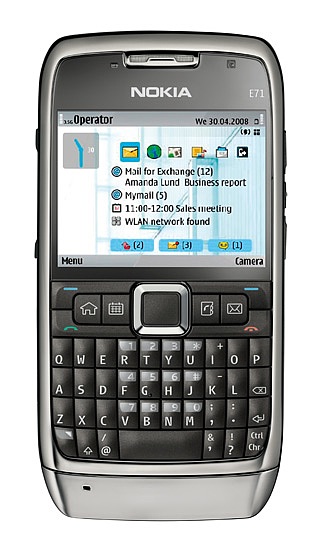 Steve O'Hear (last100) ...an efficient messaging device with outstanding battery life and call quality, in a highly 'pocketable', desirable and robust form factor. Distinguishable not because of any "break-through" features but by how it manages to quietly pack in so much smartphone functionality - WiFi, GPS, QWERTY, Email, Camera, Web etc. - functionality that we now happily take for granted.
Nokia 9300i (2006)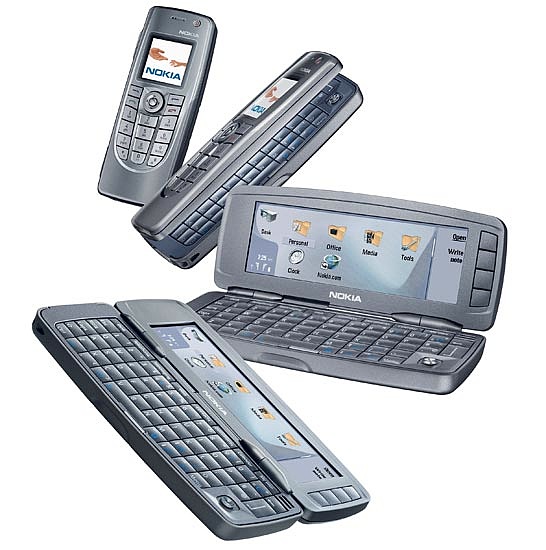 Asri al-Baker (i-symbian) For me, the Nokia 9300i is the Symbian smartphone of the decade because it comes bundled with a full productivity suite that's superior to any office offerings today (Word and Sheet are the most important to me), with all connectivity options for a road warrior and the beautiful Series 80 UI, as well as OPL, all in a compact pocket friendly body, complete with QWERTY.
Sony Ericsson P800 (2003)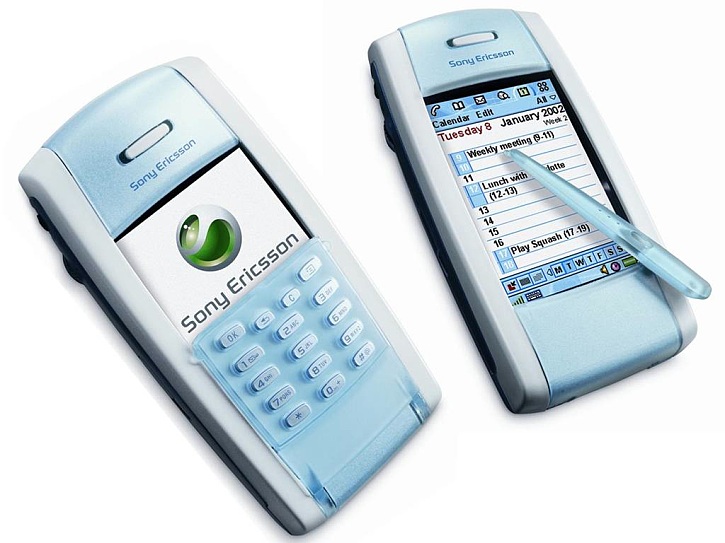 Michal Jerz (my-symbian): - ...for introducing UIQ 2, the best Symbian OS touch UI created so far.
(I forgave Michal having two picks, since both were interesting and both were so brief!)
Rafe Blandford - because it was ahead of its time (hybrid touch/non-touch) and was the first Symbian phone I owned (and thus opened my eyes to future possibilities). With a less sentimental hat on I suspect I might have to choose the N73 (first mass market consumer smartphone) or the N95 (convergence given form) as representative of the decade as a whole.
Nokia N97 classic/N97 mini (2009)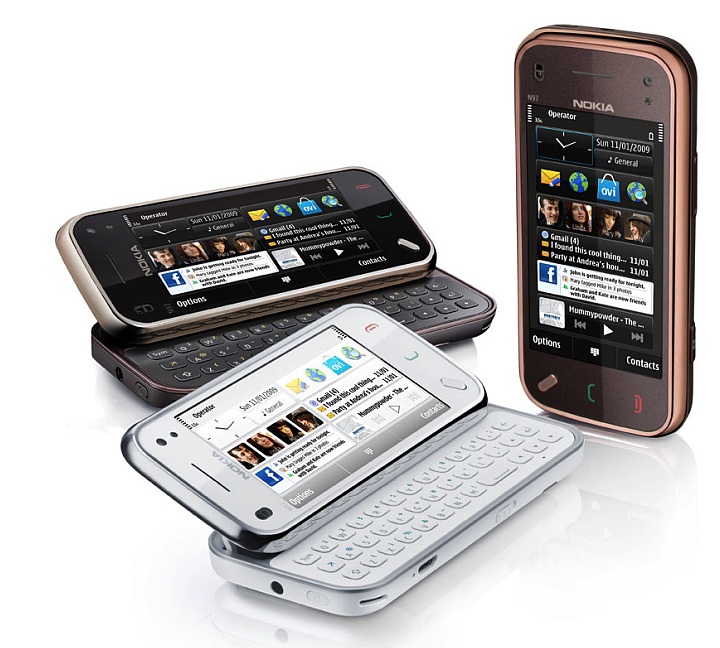 Tim Salmon (Phones Show Chat co-host): absolutely not for any touch screen reasons, as I don't need that, but for providing an array of reliable connectivity solutions functioning dynamically, largely invisibly to the user, bettering anything that had gone before (particularly on stability grounds).
Nokia N95 8GB (2007)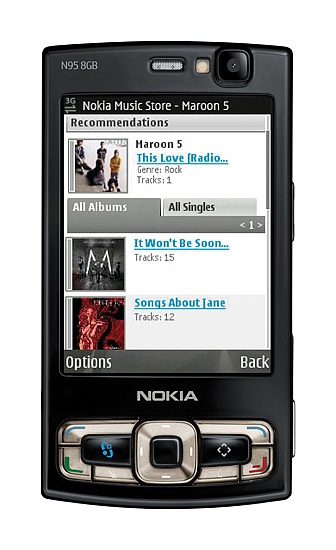 Micky Aldridge (Nokia Users): [editorial note - I suspect Micky was partly talking about the device below as well, but it was the 8GB model that he mentioned specifically, so...] ...purely as it changed the way we all used our mobile phones, from packing an amazing camera, superb browser and email, and not to mention those great stereo speakers, GPS and navigation; it was the first true all-in-one multimedia device, and led the way for the competition.
Ricky Cadden (Symbian Guru): - I'm going to have to say the Nokia N95-3, specifically. The monstrous 1200mAh battery, extra RAM and feature-set were unheard of at the time, and it also brought on the accelerometer craze that we have going on in current smartphones.
Nick Robinson (AAS's ratkat): - ...fixed the faults from the original, e.g. low RAM, and still cuts it as a fully featured smartphone over two years after release
Kev Wright (kevwright.com) - N95 8GB Far and away the best Symbian device ever. It was the last decent S60 phone they made, and still competes today.
__________________________
All good entries, but... the last entry above's 4 votes give a huge clue and extra endorsement to the (not unexpected) overall runaway winner, the true Symbian smartphone of the decade...
__________________________
Nokia N95 (classic) (2006)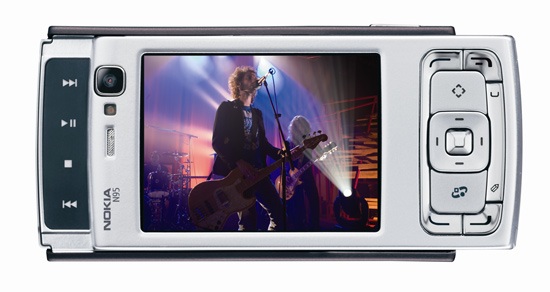 James Burland (Nokia Creative): My head tells me to go for the 7650, but my heart knows there is only one answer… the N95. The legendary N95 was just so impossibly well specified. Perhaps future generations will find it hard to understand just why we were so in awe of its epic clunkiness. But for many millions, it was the ultimate expression of how a phone could be truly smart.
James Whatley (The Really Mobile Project): Without this handset, many of our current smartphones would not be around. From this game-changer we were spoilt; GPS, 5MP camera, dual sliding and most of all - the world (and Nokia) learned about the pain and suffering of not-ready firmware. The world's first real experience of what future smartphones will later become.
David Gilson (AAS contributor): The Nokia N95 was the most revolutionary Symbian phone of the decade, being the first to have GPS and Carl Zeiss optics together, all in the one unit.
Norman John (Symbian World): The Nokia N95 was the very first device to combine all the must-have features (GPS, 5 megapixel camera, Wi-Fi, music player...) in a handy and really stylish housing. Moreover, it brought the full web experience to the mass market.
Jon Quach (tehkseven.net): The Nokia N95, it revolutionized the mobile industry by demonstrating what a smartphone can do by being one of the very first all-in-one-packages - GPS and all!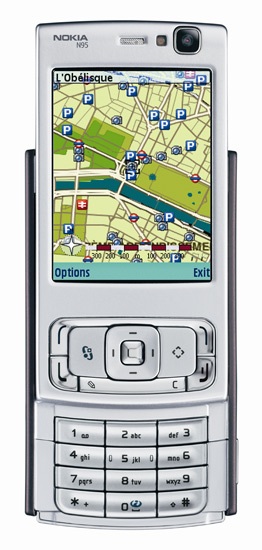 Ewan MacLeod (Mobile Industry Review): Super camera, super multimedia capabilities -- this is the handset that started it all and brought the multitasking mobile reality to the masses. Think ShoZu, QIK, Google Maps. Even today it can still hold its own.
Jan Ole Suhr (author, Gravity): The first all-in-one smartphone with an absolutely stunning camera (and it survived taking hundreds of snapshots of my kids playing in the sandbox) The "you-never-need-anything-else" smartphone for years. The only phone I cared to fix with duct-tape. The main development phone for Gravity 1.0!
Michele Cerreta (PiZero Design): Nokia N95: introduced HSDPA, 5 Megapixel camera and high quality video capture, graphics acceleration, GPS, TV-out capabilities all in a mobile phone; over 3 years later those features are still hard to find all together in a single device. Even from Nokia.
Miyuru ('K Flyer', Mobile Royale): Nokia N95 was the first Symbian device I got my hands on. It was the device which powered two self-hosted Wordpress sites and provided me with amazing opportunities. As a mobile blogger, I am yet to see such a powerhouse and a workhorse - it took the industry by storm. Nokia N95 is certainly the device of the decade.
---
So there you have it. It's official. And, if you cared to lump in the endorsements for the black 8GB model as well, you'd have an even more emphatic vote for the Nokia N95 as by far the most important Symbian-powered smartphone of the last decade. You may remember that, as recently as last week, I produced a comparison table in which this four year old design still managed to best the current competition in several important ways.
It's perhaps significant that, despite Symbian always being intended as being a multi-company venture, only one non-Nokia device was voted for above. Nokia's dominance seems fairly complete from 2000 to 2009 in the Symbian world, though with the appearance of the Symbian Foundation I live in hope of seeing significant products from other manufacturers.
So the Nokia N95 it is. It's as iconic as the Apple iPhone and, I'd argue, was just as influential in the phone world. Whereas the iPhone gave manufacturers a kick up the pants in the interface department, the N95, a year earlier, gave just as big a kick by raising the bar on what a converged device (as Canalys likes calling smartphones) should include. It was, quite literally, the phone that had everything - with no compromises.
It's true that technology advances since 2006 have brought along large internal mass memory disks, digital compass, FM transmitter, USB hi-speed, better multimedia codecs, and so on, but these are comparatively minor functionality upgrades to the high baseline spec that the N95 represented. And, as several people above observed, the N95 (and sister device, the N95 8GB) still compete today - in a tech world in which three years is an eternity, how many other devices out there could you say the same about?
I can't imagine that anyone will seriously contest the winner of the Symbian Phone of the Decade, but comments are, as usual, most welcome.
Steve Litchfield, All About Symbian, 31 Dec 2009