Symbian Foundation
Yesterday Nokia announced its plans to acquire the portion of Symbian it does not already own for 264 million Euros. Once the acquisition has been completed (expected in Q4), Nokia, together with a number of partners, will set up the Symbian Foundation. Nokia will contribute Symbian OS and S60 to the Symbian Foundation while Sony Ericsson and Motorola will contribute UIQ and NTT DoCoMo and Fujitsu will contribute MOAP-S. The Foundation will seek to create one unified open platform from the contributed software elements; this new unified platform will be released in 2009, with the first devices running the platform expected to be available in 2010.The platform will be available royalty-free to members of the Symbian Foundation. Membership of the Foundation is open to all comers with an annual membership fee of $1500. The existing Symbian OS (9.x) and associated software platforms (S60 3rd Edition, UIQ 3 and MOAP-S) will also be made available on this royalty-free basis from January 1st next year. Thus the initial Symbian Foundation software platform will be what is available currently (S60 on Symbian OS, UIQ 3 on Symbian OS etc.). The next version (Symbian Next?) will be the unified software platform and will be the first full release under the banner of the Symbian Foundation.
The software will be open sourced over the next two years under the Eclipse Public License (EPL). The EPL license means that modifications or derivatives must be published if they are distributed, but they can be combined with proprietary code. This offers a mix of the open source values with commercial flexibility. EPL has been widely and successfully used in a number of projects and is a sensible license choice in this instance. Symbian estimates that 7 million lines of code will be open sourced.

The Symbian Foundation is being formed by a broad spectrum of companies from across the mobile industry, including device manufacturers (Fujitsu, LG, Motorola, Nokia, Samsung, and Sony Ericsson), hardware and chipset companies (Broadcom, Ericsson, Freescale, ST and Texas Instruments), software solution providers (Digia, Plusmo, Teleca, Wipro), operators (AT&T, NTT DoCoMo, Orange, T-Mobile, and Vodafone) and even a leading games publisher (EA Mobile). We can expect this list to grow quickly and substantially as the majority of companies within the mobile ecosystem will want their voices heard within the Symbian Foundation. The Symbian Foundation, significantly, is supported by of all five of the top tier mobile manufacturers.
The Symbian Foundation is made up of three components: the management team (organisation, HR, legal) and software engineers (associated with version control), a number of councils (which drive critical operative decisions) and the board (overview governance). Day to day operations will occur in the first two components while higher level (strategic) decision making will be carried out by the board. The vast majority of software development and research and development will be carried out within member companies rather than in the Symbian Foundation itself. Nokia will be making the major contribution with continued development of Symbian OS and an evolved S60 (Symbian Ltd. having been absorbed into Nokia). The Symbian Foundation itself will be relatively small with only a few hundred employees drawn from Symbian and the founder members of the foundation. Board members will be drawn from foundation members with device manufacturers eligible for seats based on the number of Symbian Foundation handsets shipped and other members selected by election or contribution. Council members will be drawn from foundation members and ecosystem partners.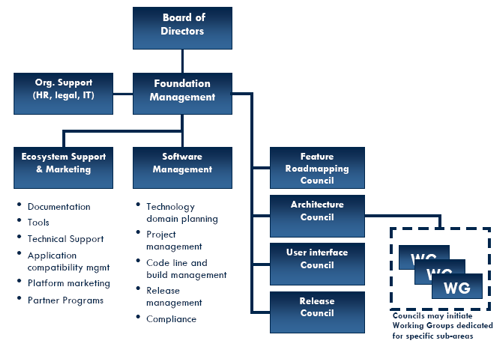 Structure of Symbian Foundation (from Symbian Foundation whitepaper)
The Symbian Foundation will provide a single point of access for developer support. It will provide all the usual developer functions such as support, SDKs, and documentation. The scope of this is not yet clear but each manufacturer is likely to maintain its own developer program which provides support for its differentiated elements.
During the announcement of the Symbian Foundation it was made clear the new platform would have backwards compatibility with Symbian OS 9 and S60 3rd Edition. However the exact nature of this compatibility is not completely clear. The important point for developers is that investments (either new or existing) in Symbian OS 9 and S60 will retain their value in the new platform. The new platform will use elements of both MOAP-S and UIQ, but the core will be based on S60. Effectively the new platform will use an evolved version of S60 - both UIQ and MOAP-S can now be considered dead ends. In practice this probably means that the new platform will take on some of UIQs and MOAP-Ss characteristics and capabilities, but this will be done within the philosophy of the S60 framework. For example these characteristics and capabilities may include middleware support for NTT DoCoMo's operator services (MOAP-S) and improved touch support, UI layout controls and UI customisation (UIQ).

Why has it happened?
A change along these lines has been inevitable (although the exact timing and details caught many, including us, by surprise) since Symbian's original share holding equality started to unravel (which can largely be traced by the decision of Psion to sell its stake in Symbian). Symbian's current shareholding is confused with some companies no longer actively involved in the Symbian ecosystem (Siemens, Panasonic) and Nokia holding the dominant share (just shy of 50%). The decision to unify the OS and the UI make sense too - the fragmented nature of Symbian platforms has long been a negative for developers. This dates from Symbian's decision to get out of the UI business - partly for financial resource reasons and partly because its owners wanted to control UI layers themselves. Nokia was always going to be the buyer of Symbian and the key driver in making any changes.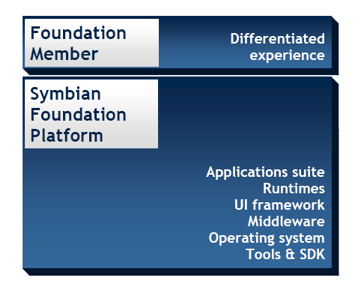 The new platform has a single unified UI framework and application suite.
Assuming a change was inevitable then setting up the Symbian Foundation was probably the most logical way forward, with the added benefit it also fitted in with current industry philosophy. The Symbian Foundation lets Nokia have greater control over the development of the unified platform while also allowing others to contribute and use the platform. Make no mistake - Nokia is and will be the dominant player, but the structure of Symbian Foundation is such that other companies are offered a say in the direction of the platform. In addition, the open sourcing of the platform gives an assurance that there is viability in building future plans on using and customising the Symbian platform.
The Symbian Foundation as it exists today would not have been possible at the founding of Symbian 10 years ago. Companies would have been unwilling to let Nokia or anyone else have such a dominant position. However the last 10 years have shown there is arguably less commercial value in the OS that was supposed and, more critically, creating a stable and usable open mobile software platform is very hard. Motorola failed to deliver with its Linux - Java platform and Sony Ericsson was unable to fully realise the potential of UIQ. In this light, these companies and others are willing to settle for what Symbian will become - a complete and proven open source software platform. The existence of the Symbian Foundation is an acceptance that the software platform has become commoditised. This is not to say it is no longer important, it will always be the key enabler, but it is not the main source for differentiation. The device manufacturers in the Symbian Foundation will instead look to differentiate on hardware design, software customisation and service layers. Nokia is already anticipating this with Ovi as are Microsoft and Google with their respective service suites. Other handset manufacturers will be following in their footsteps.
However the Symbian Foundation can also be seen as a response to the various mobile software platform groupings such as LiMo and the Open Handset Alliance (Google's Android). Both of these groupings were offering open source, royalty free software platforms to handset manufacturers. Inevitably these are attractive when compared to a platform requiring license fees such as Windows Mobile and Symbian. By offering a royalty-free and open source platform, the Symbian Foundation negates the key advantage of LiMo and Android. Android and LiMo had gained a lot of attention and some traction, but now face more of a struggle to establish themselves against the incumbent Symbian Foundation.

Implications for LiMo, OHA, Apple and Windows Mobile
The Symbian Foundation shakes up the future of the open mobile platform space. How much of the shakeup is real and how much is perception is open to debate. It does seem fair to draw the conclusion that the Symbian Foundation puts the Symbian platform in a stronger position and this will negatively affect the other players. However the likelihood is that we will still see a heterogeneous open software platform environment for the foreseeable future.
The OHA and the Symbian Foundation are very similar; both have one strong controlling company (Google and Nokia respectively) and both will offer a royalty free and open source software platform. Google's advantages come in having a younger platform (less legacy architecture), a different background (advertising-led services) and not being Nokia. The Symbian Foundation's advantage comes from being the incumbent with a proven platform and 100's of millions of device shipments, being backed by all of the biggest handset manufacturers and by being Nokia. Nokia control is both an advantage, in that it immediately gives sizeable market share with implicit implications for economies of scale and addressable audience, and a disadvantage, in that competitors may not want to be beholden to a Nokia-controlled entity.
Google may not be too concerned if Android really fails to take off. There's always been a suggestion that Google's motivation was to force openness in the mobile space in order to create an atmosphere in which it is easier to get Google supplied ads on to mobile handsets. In this sense Google ultimately will not mind if the Symbian Foundation is the big winner even if they would prefer to see handsets running Android.
LiMo at this stage is less affected because it focuses on the OS and middleware. It does not have an application layer (yet), and acts more as a way of standardising disparate mobile Linux implementations. It will clearly be an important player, especially in the mid-tier market, but may struggle when competing in the traditional platform sense. Member of LiMo who intend to charge a license fee for their platform, such as ACCESS with ALP, may struggle to find buyers, although there will always be niche players. They may have to look at alternative business models in the face of the free platforms provided by the OHA and Symbian Foundation.
Apple is not really affected by the Symbian Foundation news given that it looks to control the hardware and software from end to end internally and is not seeking to license its software platform. However with Symbian, LiMo, the OHA or most likely a combination dominating the mass market it is difficult to see how Apple will expand to become a significant overall player in mobile space (rather than an individual niche player with lots of press attention). Of course Apple may well be happy to sit in the top end of the market with fat margins.
Windows Mobile will stand alone as the only current major platform requiring a license fee. This will inevitably make it less attractive to handset manufacturers. Facing royalty-free, open source competitors is not what Microsoft wants. Its service solutions can run just as well on top of these competing platforms as Windows Mobile (Microsoft Live Messenger or Exchange Active Sync being a case in point). However, the fact that Microsoft can provide an end to end solution for enterprises remains unchanged and Microsoft still has deep pockets and can remain a player for as long as it wants to be.
Implications for players in the Symbian Foundation
Nokia is spending 264 million Euros to acquire Symbian. This is a relatively small acquisition for Nokia especially in the light of the annual license fees it was paying Symbian (estimated to be around 120 -140 million Euros). By buying the remaining Symbian shareholders out, Nokia not only takes control of the software engineers within Symbian (who will be needed to create the next version of the OS), it also simplifies the process of setting up the Symbian Foundation (in terms of time taken and legal issues). So in the short term Nokia probably ends up saving money, getting more control over the development of its chosen platform and makes it more attractive to outside users. It also sets Nokia well on the road to a future where services provide a major portion of its revenue - in hindsight trying to make money out of the software platform itself (i.e. S60 or Symbian OS) will be seen as a misjudged agenda. S60 will continue; it will evolve to be the core of the new platform's UI framework and application suite.
The Symbian Foundation does represent something of a risk for Nokia. How well will it be able to control the future direction and development of the platform through the foundation? Won't Nokia be paying the bills so that others may benefit? Isn't open source still something of an unknown in business terms, especially for something so key to future company strategy? The answers - yes there is risk for Nokia, but there is also great potential. It is entirely possible that the Symbian Foundation platform could become the dominant open platform on mobile devices. You might note that the aim of the Symbian Foundation is to become the most widely used software platform on the planet. You'll note the absence of the world 'mobile' from that last sentence - perhaps we'll look back in the future and see this as a watershed moment for software platforms - the point from which an open source platform became dominant.
For Sony Ericsson, Motorola and UIQ Technology, it is the end of an era. UIQ as a software platform will effectively disappear. UIQ's fans will be sad to see it go; it remains, arguably, the most technically elegant of the Symbian software platforms. 5 years ago, UIQ was at the cutting edge of mobile UI design and the upcoming release of UIQ 3 promised a bright future. However, under investment meant that this potential was never quite fulfilled. In the last 18 months, Sony Ericsson and Motorola did their best to revive a flagging platform, but circumstances and time were against them. The much anticipated next version of UIQ may well become one of the great 'what ifs' of the mobile world. Sony Ericsson and Motorola have said they are assessing the place of UIQ in the new ecosystem, but the announced job losses tell their own story. However, there are many very talented engineers working within UIQ, and Sony Ericsson and Motorola may choose to reabsorb them - there's definitely going to be a need for both companies to differentiate on top of the new platform. Alternatively UIQ may have a roll as a Symbian-centric software unit / systems integrator for Motorola and Sony Ericsson or as a hired gun for third parties
In the short term we may see a few more UIQ devices from Motorola or Sony Ericsson as they push out the remnants of their product roadmap, but inevitably they will be something of a dead end. Where these companies choose to go next is open to speculation. Speaking to Sony Ericsson it was clear that their commitment to Symbian remains very strong. Motorola's intentions are probably similar, but it has other issues it needs to deal with too. Whether we'll see S60 devices from either company in the period between now and the first full release of the Symbian Foundation in 2010 should provide an opportunity for speculation. Longer term taking away a major part of the burden of creating a software platform will be both a bitter pill and also a blessed relief. The new platform will provide an excellent opportunity for both companies to do what they do best - differentiate through design, services and applications.
Other players will not be greatly impacted. After all the new platform coming out of the Symbian Foundation in 2009/2010 is essentially an evolved combination of the already planned next versions of Symbian OS and S60. There is also a lot life still left in the current version of the platform, Symbian OS 9.3 and 9.5, which will be used in the intervening period (also royalty-free from 2009). In this sense it is business as usual. Notably the new structure and licensing seem well placed to attract new manufacturers (perhaps Asian ODMs) and more developers to the Symbian platform.
Conclusion
The Symbian Foundation is clearly big news and the implications will be felt for years to come. The major changes are the re-unification of the Symbian UIs (or the victory of S60), the re-integration of the UI and application layer with the OS and the open sourcing of the Symbian platform. However in one sense the ideals, philosophy and aims of Symbian OS have not changed, instead there has been a repackaging and repositioning of the platform to make it more alluring to a wider audience and to let it fit into the brave new world of foundations and open source. This makes long term success more likely, but it does not guarantee it.
Rafe Blandford, All About Symbian


Further Reading
There's been a lot of commentary on the announcement of the Symbian Foundation. Here a range of opinions and commentary from other sources. Please do add your own in the comments thread.
MobHappy has their take on the big Symbian news
Andreas Constantinou at Vision Mobile gives his breakdown
Andrew Orlowski at The Register makes important points with his usual freerunner style
Nokia Conversations has the news and interviews with Lee Williams (Nokia) and Guido Arnone (Vodafone)
Michael Mace at Mobile Opportunity
Unwired has thier take on the news
The NokNok team explain it in terms of frag fest and flans
The usual US tech blogs have been carrying the story. They are worth reading for how the news is viewed in the US, given Symbian's sucess to date is largely unknown or understated thanks to its small US presence. See GigaOm, TechCrunch, and Engadget. There's more from other US media including TheStreet, Businessweek, and Infoworld.
The UK press, blogs and analysts are generally more positive. See The Times, Financial Times, The Guardian, BBC Tech Blog, ZDNet, ArcChart, and Ovum