It's all very well having a shiny new device and a shiny new platform, but unless the applications are there to tempt early adopters and professional users from their current PDAs and smartphones, there won't be much take-up from established road warriors. Does the S60 3rd Edition platform come up to scratch in terms of the software currently available?
As a minimum, a mobile device looking to be an all-purpose PDA and workhorse should have the following, either as built-in functionality or available as add-ons:
Note that some of the hyperlinks go to the appropriate software page in AllAboutSymbian's own application store. If you do end up buying something then note that buying through our store won't cost you any more but will help support this site.
Function
Current state of S60 3rd Edition Catalog
PIM apps, Email, clock, calculator
All built-in, of course. Email includes scheduled retrieval of messages and there's plenty of hooks for push email systems, in a company environment.
Web browser/news gathering/podcasting
New Nokia Web browser built-in. Also Opera Mobile and Opera Mini for browsing (see screenshot below). HeadLine and Nokia's Podcasting work brilliantly for anything with an RSS feed for Wi-Fi-capable devices.
Music/Video player
Built-in. Both work very well. WMA/MP3/3GP/MP4 formats. If you don't like to fiddle too much, SmartMovie is a good alternative for converting and playing movies.
Word/Excel/Powerpoint/PDF support
Viewers on most devices, full editing on Eseries in particular. And for other devices there's OfficeSuite. Adobe Reader is available for all 3rd Edition devices from Nokia's web site.
Finance
Many people use spreadsheets for this, of course, but there's the limitation of screen size. As an alternative, there's the free JabpLite and Nokia has licensed Handy Expense.
File utilities
Essential for managing documents and handling incoming attachments. Nokia has licensed Zip Manager and there's a basic file and folder manager built-in, but power users and 'fiddlers' (like me) will still hanker for a low level (Signed) tool that can show what's happening under the hood. Also well worth a mention is SmartphoneWare's immodestly-named Best TaskMan, giving you a peek into the world of memory, threads and processes.
Database client
Nothing so far, although the makers of HanDBase reportedly have a version in beta test.
Satellite Navigation and mapping
TomTom have been quiet so far (despite pestering from me), with nothing announced. Route 66 Mobile 7 now supports 3rd Edition as does Navicore. Wayfinder's Navigator 6 is also now compatible. Nav4All offer a service that's similar to Wayfinder's, but with 3rd Edition support still in beta testing. Lumisoft do A-Z Roadmap of GB and A-Z London Street Map, electronic maps for UK users, though these don't work with a GPS.
Secure database, synced to PC
Handy Safe works and syncs fabulously (see screenshot below)
'Rich' eBook reader
Plenty of choice here, headed up by Mobipocket Reader.
Blogging/photoblogging
You can of course blog for free using just the built-in Messaging, to your blog's email address, but Nokia's Lifeblog and the commercial ShoZu both make things somewhat easier.
Some really good games
Yes, yes, we all play games - go on, admit it. Unfortunately, leisure software is still the weakest area for S60 3rd Edition. Apart from the usual selection of J2ME midlets and Sudoku games, I'd pick out just Backgammon, Meteor, Mau Mau, MagiLines, Chess Professional, Yacht and Nokia's own Snake as any good. With games perhaps needing more development time than text-based applications, the paucity of games so far isn't surprising. Let's hope for more in the next month or two.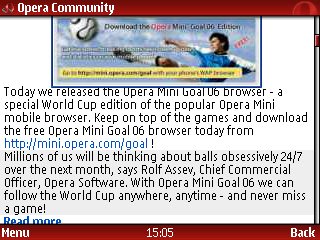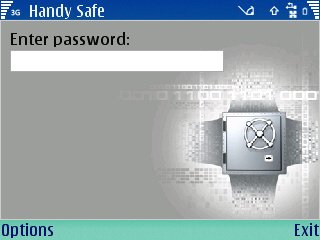 Opera Mini and Handy Safe, two essentials on S60 3rd Edition
In summary then, switching over to S60 3rd Edition is very practical if you're mainly business/productivity focussed. Games fans will have to wait a few more months, I'm afraid, especially as Nokia's next-gen gaming platform is just round the corner as well.
Steve Litchfield, 14 July 2006