As with the initial preview of the Nokia E90 and the Extra, Extra follow-up, I can't emphasise enough that the firmware on this test example of the Nokia E90 was extremely early - I'd estimate that it's a good two months away from being ready for release to Joe Public.
That not withstanding, I thought it would be a useful exercise to snatch an hour of yesterday evening trying out a number of web sites in the E90's second generation Web browser, allied to its much larger display. How would it stand up?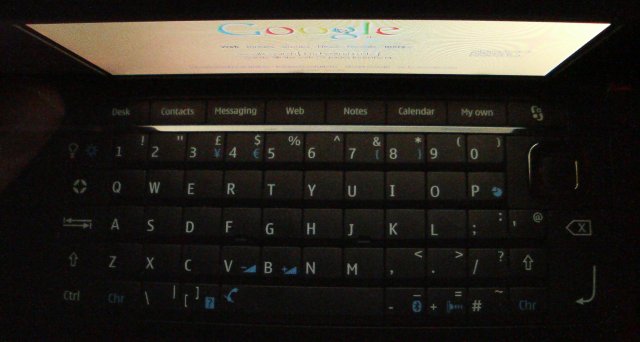 And before I plough on, please bear in mind:
I'm no Web 2.0 expert and I'm not that experienced with the S60 3rd Edition web browser, I was coming at this from a strictly man-in-the-street point of view. On the other hand Rafe saw this article in the editorial stage and decided it needed a technical explanation to clear up some points. You can find this at the bottom of the article.

I had very limited time, so when I hit a problem I moved on - there was no time for detailed analysis...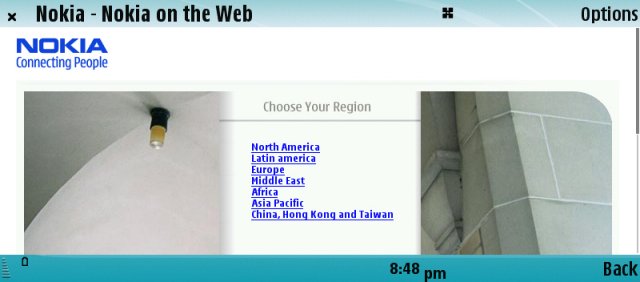 First stop was Nokia's main site. Their use of Flash to drive all their intro screens was a problem, though, and I couldn't get into the main site. Clicking on any of the apparent links above resulted simply in the S60 Web browser popup toolbar appearing...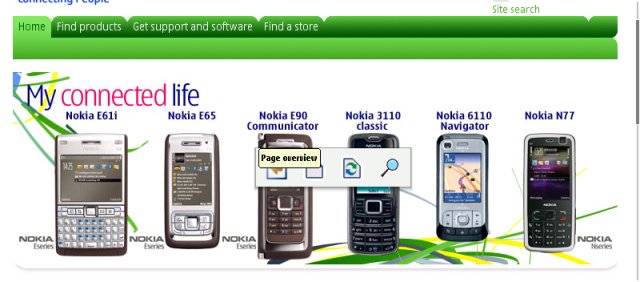 Going in via Google to a sub page was a little more successful, but again the use of Flash (despite Web's quoted Flash support) was a problem. Hey ho.... Why oh why do web site designers insist on flashy Flash(!) rather than using traditional text, images, links etc. Call me old style, but......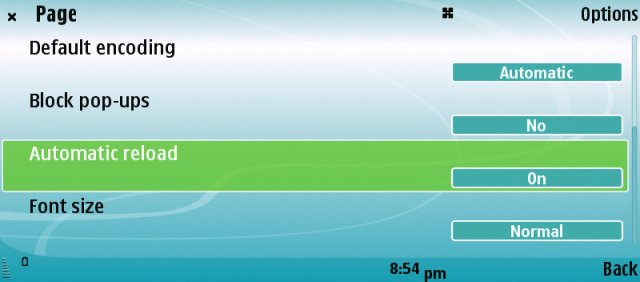 I wondered whether it was something I was doing wrong, e.g. with a toolbar option set wrong, but nothing obvious proferred itself.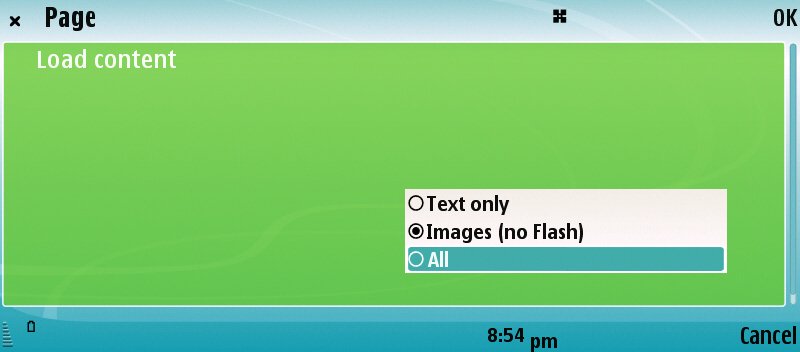 And yes, I did check that I had Flash support turned on...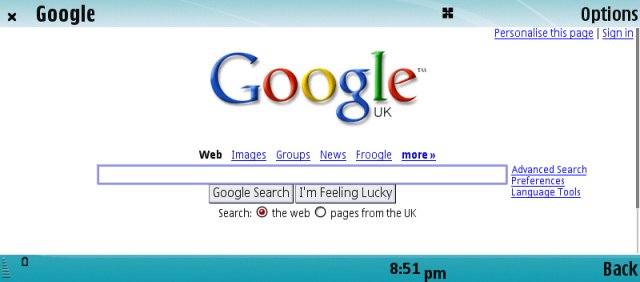 Talking of Google - well, you knew THIS site was going to behave!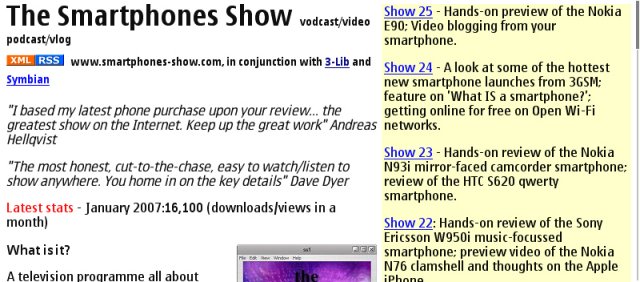 Ah yes, a basic HTML site (wonder who created it?!), no problems here....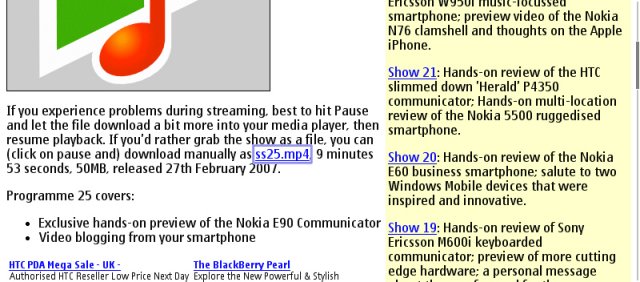 ...until I tried to watch one of my embedded MP4 movies... which didn't play, although I was able to set the raw MP4 downloading thanks to the provision of an alternate link.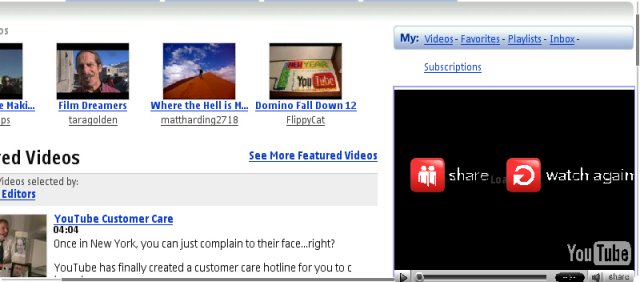 Thoughts of video led me to YouTube, where, somewhat predictably, the Flash video didn't work. At least the playback window appears though, let's hope the S60 Web team crack this one before S60 3rd Edition Feature Pack 1 is finalised, YouTube/Flash video supprt would be pretty darned cool for watching videos while bored, using Wi-Fi or HSDPA...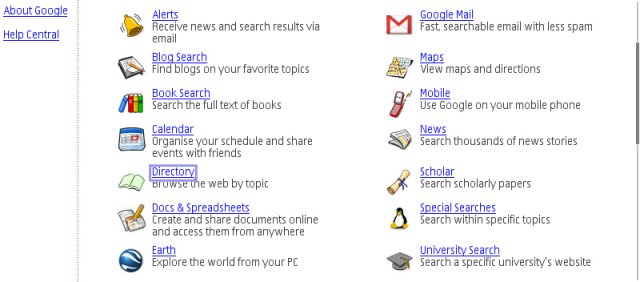 Time to head for Google's Documents though - coo, they do a lot these days, don't they! Move over Microsoft 8-)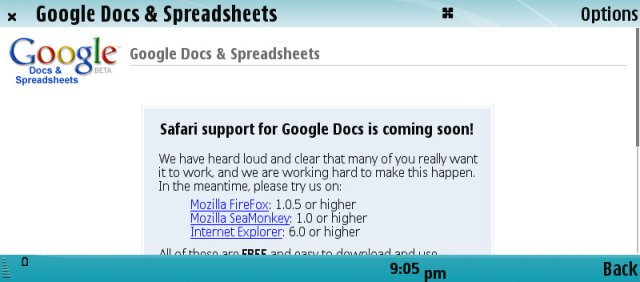 Ah. Logging in via my Google Mail account, it turns out that Web identifies itself as Apple's Safari, which it is after all related to... Hopefully this will work better once Google have changed things at their end...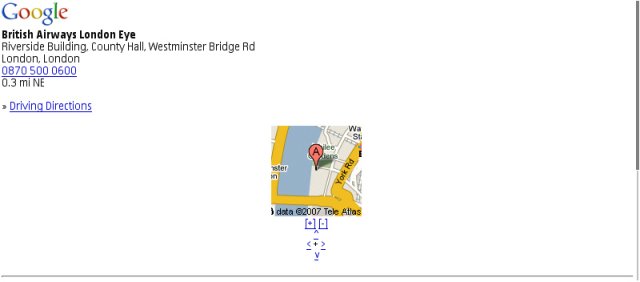 I wondered what other Google services might or might not work. Google Maps unfortunately decided that Web wasn't a grown up browser and served up the true 'Mobile' version...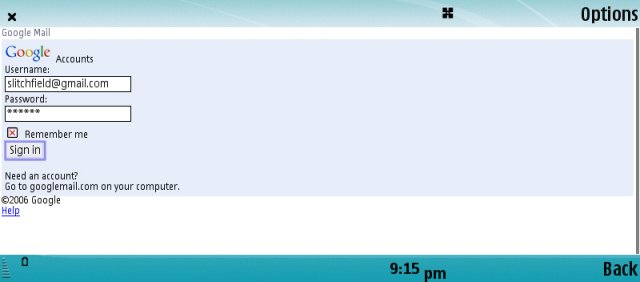 Ditto their Mail service, alas. With a full 800 pixel wide screen and connected over Wi-Fi, I was kind of hoping to be able to use the real thing again....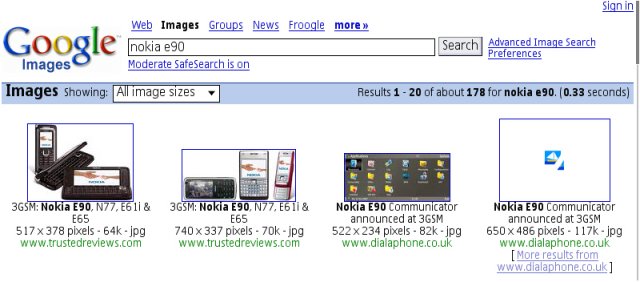 Google Image search is simpler, I suspect, and worked much better.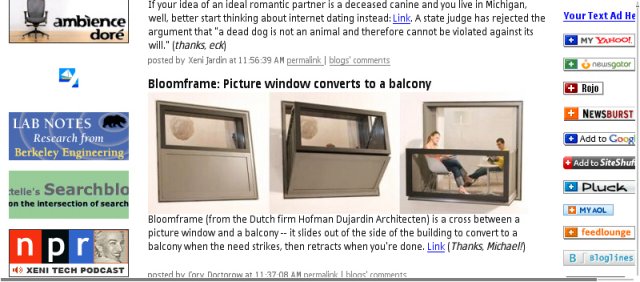 Time to dive into a really complex, huge HTML page - BoingBoing. The E90 coped with this very well, although it did take a minute or so for every last advert and button to load up.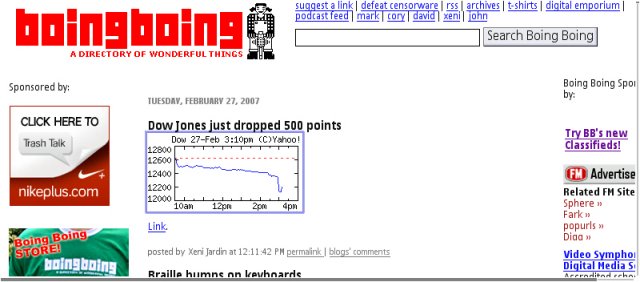 More BoingBoing - let's try clicking through to the Yahoo Finance story...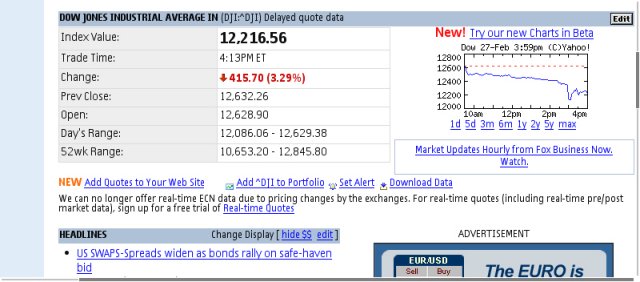 Pretty good. It's screenshots like this that really show off the size and capability of the E90's display.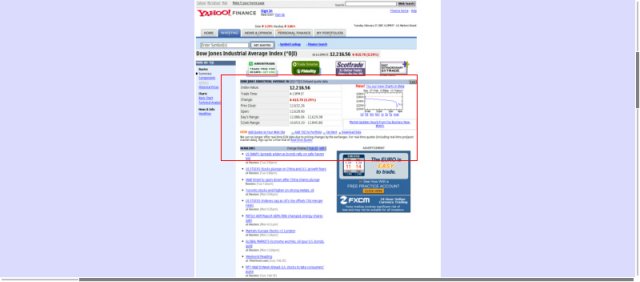 Just giving you an idea of what the whole Yahoo Finance page looked like, using Web's handy mini-map.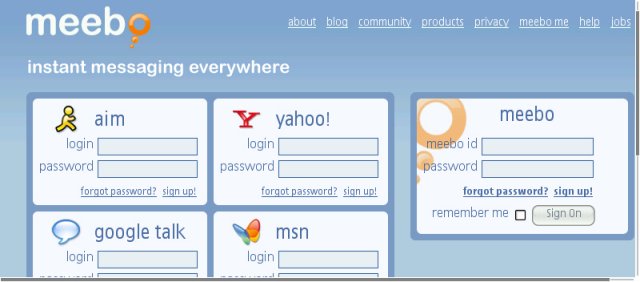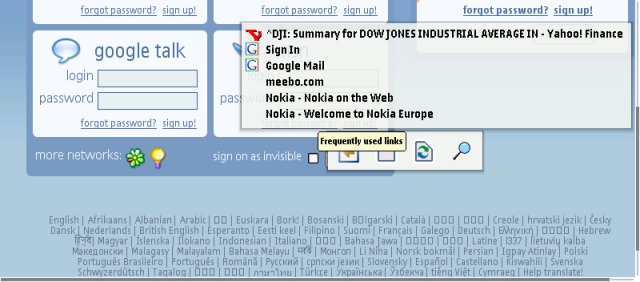 As requested, just trying out Meebo, but the use of flash was again the sticking point.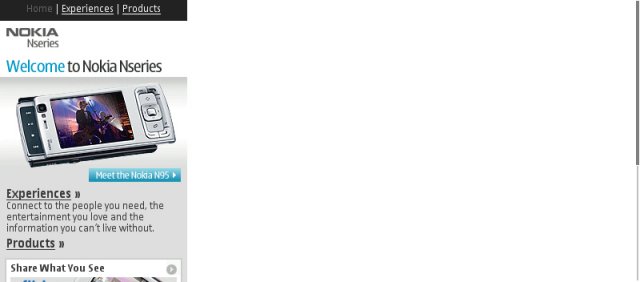 Interestingly, even Nokia's own sites don't recognise the S60 Web browser as being er..... capable.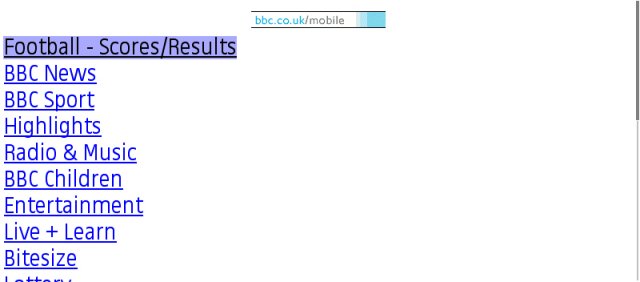 One last example - even the BBC's news site serves up the WAP version rather than the full Web version. Sigh.
The verdict? More work needed by the E90 team (Web crashed the entire device several times), the S60 Web team (you've made a 'proper' web browser, you need to make it tell sites what it can do, or at least what it can emulate) and the web teams of a lot of major sites (less Flash menus, more useable by those without MSIE).
That's all for now, folks, the Nokia E90 has gone back to Nokia for re-flashing as and when the next major beta firmware becomes available.... Watch this space. And see Rafe's comments below!
Steve Litchfield, 28 Feb 2007
---
Flash and User agents - Rafe's 'techie' explanation
Reading Steve's article, it is easy to be critical of the Web browser itself and clearly the man-on-the-street experience is important, but we should also realise that other factors are involved too.
Firstly the E90 is still in development, it is likely that there will be improvements to the software before release and some of the issues mentioned above may be fixed. To give an illustration of this - I was able to access the main Nokia.com site on the N95 without the problems that Steve described. The N95 uses the same version of the browser as that found in the E90. One thing that is worth noting is that, by default, Flash content is switched off from loading. An option in Settings allows you to toggle this to on (as shown in Steve's screenshot), if you do not do this you have to click on a piece of Flash content and then choose to load it in the browser in order to see it.
The version of Flash Lite included in 'S60 3rd Edition Feature Pack 1' is release 2. This version does not support Flash Video (FLV), which is used to display video content at sites like YouTube. Version 3 of Flash Lite (not yet officially announced) is scheduled to include support for FLV, which means that we will have to wait until then before the PC versions of site like YouTube will work. Incidentally, it is possible to playback video in the current version of Flash Lite, but the 3GP format must be used. It is for this reason that I would recommend always including a direct download link to any video media and providing it in a mobile friendly format (MP4 H.263 for example) when targeting mobile users.
In the context of the above paragraph it is worth pointing out the meaning of Flash and Flash Lite. Flash Lite refers to the run time (i.e. the application used to show / interpret the content. Flash refers to the content itself. The Flash Lite runtime currently includes a subset of the desktop runtime (Flash Player 8). Flash Lite contains the majority of the functionality of Flash Player, the one notable area of exception being video. It can often also be limited by the different screen sizes, memory requirements and input mechanisms found on mobile device. It is intended that future version of Flash Lite has feature parity with the desktop runtime as far as it is possible to do so.
The other major problem is the use of the 'User Agent' to identify browsers and show them the appropriate site. The User Agent is a string (piece of text) that the browser sends with every request (message to the web server) that it makes. This string can be used to identify the browser and many sites use this string to redirect browsers to sites that they think are most suited to the device.

In the case of the E90, it has a User Agent something like:
Mozilla/5.0 (SymbianOS/9.2; U; Series60/3.1 NokiaE90/1.0.002 Profile/MIDP-2.0 Configuration/CLDC-1.1 ) AppleWebKit/413 (KHTML, like Gecko) Safari/413
We can break this down into its constituent elements:
Mozilla/5.0 - this is the browser family.
SymbianOS/9.2 - this is the OS and the OS version
Series60/3.1 - this is the UI or another OS level depending on how you look at it (and yes someone needs to tell them about the S60 branding).
NokiaE90/1.0.002 - this is the device and the version of the firmware it is running. This is a newly added component in version 2 of the S60 Browser.
Profile/MIDP-2.0 Configuration/CLDC-1.1 - describes the Java capabilities of the device
AppleWebKit/413 (KHTML, like Gecko) Safari/413 - is the browser engine (it is based on Apple's Webkit, which came out of KHTML, WebKit is used in Safari)

Any part of the User Agent can be used by web servers. For example, some will see the word Nokia in the string and make the assumption that the device is a phone and therefore serve up a mobile version of the site (this technique is called User Agent Sniffing). It is is likely that this is what the BBC, Gmail, Google Maps and Nseries sites shown above are doing. This means that the fault lies more with the sites that are using User Agent sniffing to redirect users. Of course, most of the time such sniffing is beneficial, but at other times it is very irritating.
Education of web site owners is therefore necessary. You can try contacting the site in question, but that offers no guarantees and realistically most will not be worried about what they see as a small segment of users. A better solution might be to include the ability to spoof (fake) the User Agent as an option in the S60Web browser. This would involve the browser sending a different User Agent, i.e. pretending to be something it is not (e.g. it could send the User Agent for Internet Explorer). It should be noted that this isn't always a good idea as it can cause problems with complex sites like Google Documents. Such a feature would not be suitable for the average user. This spoofing technique has been successfully used by Opera and Firefox on the PC in order to access sites which advertise themselves as Internet Explorer only.
The conclusion? We'll have to wait for the final version to make any judgements about the utility of the browser in the real world, wait for the next version of Flash for most embedded video, and wait for webmasters to tune their User Agent sniffing techniques. That said, there are some things the S60 Browser team could do - let us hope they will bear this in mind for future versions!
Rafe Blandford, 1 Mar 2007
---