This feature covers a general comment on the atmosphere at expo, talks a little about UIQ 3 and then discusses some of the developer, software and service demos shown at expo before making a few comments on some of the new Symbian hardware on display.
Introduction
Expo this year was in marked contrast to previous years. Not only was the event much larger, there was also a feeling of confidence in the platform that had not quite been there in previous years. I think this is because it obvious now that Symbian is going to be the major player in Smartphones for the forseeable future. That was reflected in the hardware and software being shown. There was a greater diversity (with both UIQ and Series 60 phones in abudnance) and software and services from all levels (far more from the Enterprise level than before). As a result the buzz around the Expo was one not only of expectation for the future as in previous years, but a sense of satsifaction that the Symbian platform has come of age, that something has actually been achieved.

It is obvious from industry figures that Symbian hold a dominant position, and there's no real expectation that this is going to change in the next 5 years. That is quite remarkable given the general volatility and speed of change in high technology industries. Interestingly there was no one big announcement to come out of expo, no new revision of the OS, no major new devices, instead there was something of a consolidation.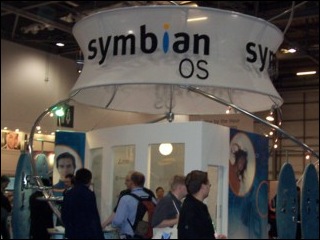 UIQ 3
We were given the first significant information about UIQ 3, but because it is not quite ready yet it was not as interesting as it might have been in terms of product announcements. Instead you have to do a bit of crystal ball gazing. Indeed that was a general problem with expo - there was a lack of a clear message of what the future holds. Everyone knows that the Symbian OS 'needs to be driven down into mid-tier', but there is not enough feeling about how this is going to happen. From the keynotes, right down to the general feeling there was an impression of a lack of cohesion. Perhaps that is not surprising gievn the ecosystems diversity, but I think it is something that need to be worked on.
UIQ 3 has a lot of potential, I think it is quite likly that UIQ 3 will radically change the Symbian landscape because it will result in a major device platform other than Series 60. Until now UIQ has only been powered a device or two within any company portfolio, for example the P series from Sony Ericsson. UIQ 3 will be used to power entire device portfolios. I am confident we will see Sony Ericsson use it across a whole range of devices and form factors. UIQ 3 allows for multiple form factors from the PDA phone UIQ is currently restricted and streching away in both direction to high end communicator clam shell products and more significantly the other way to one handed smartphone products. I suspect that this time next year we will be talking about the equivalent of a T610 and S700 UIQ 3 powered Sony Ericsson product. The other UIQ licensees are also going to getting in on the act (though to an extent I think others will follow, much as the Series 60 community seems to follow Nokia), and I'm sure more companies will be licencing the platform. The future looks bright for UIQ, and although it is early days, and it is difficult to read the future accurately, UIQ has the potential to become a very significant platform powering everything form VGA flip phones to clamshell communicators to candy bar screen phones.
Other Partnerships
The Intel reference platform has interesting implications for 3G handsets, but since Texas Instruments power nearly all the Symbian OS handsets at the moment, it's not going to be an overnight or significant change. It is more reflective that the future does lie in 3G.
There were a number of significant partnerships - Handango and Openbit being an example. Handango have agreed to promote and use Openbit's super-distrubution technology on their software netwrok. If it comes to fruition this is likley to add a significant extra dimenions and channel to the purchase and distribution of software and is very good news for the end user. We'll be carrying a feature on this later in the month.
Software and Services Demos
It's the products demos and the chance to play with some of the announced but not yet availablable hardware that catches a lot of people's imagination and it is these we have received most questions and e-mails about and so here is a run down of some of the things that caught my eye or were demoed to me:
Voice Recognition from ART
Advanced Recognition Technologies Ltd. were showing off thier voice recognition program. It is the same company responsible for the hand writing recognition in the Benq P30. The voice recognition was the most impressive I've seen. The demo unit was a 3650 held an arms length from the speaker. It picked up the speakers voice without any problems and the software had enough flexibility in it to differentiate between different numbers for the same contact. It would also recognise numbers enabling you to say 'dial 123456' to start a phone call. Given that this all works with a Bluetooth headset the voice recognition is finally starting to fulfill its promise. However by far the most impressive thing about this product is that is was able to cope with background noise. It worked perfectly (more than could be said for some demos) even with the background chatter of multiple conversation going on around us. This means that the voice recognition should work in real life situations (i.e. you don't need to be the only one on the train / bus for it to actually work). The software is being sold to device manufactuers and operators.
Bitween Remote Control / FileXchange
Bitween were showing off the next version of thier impressive remote control software. Previous version tend to be a bit slow and inflexible, but the program has be rewritten and it shows. The speed is much improved and the software now includes built in file exchange (also available in a seperate product). Remote Control has a lot of small improvements which make the whole user expereince much more friendly. For example drag and drop is now supported on windows and files. It's a remarkable piece of software when you fully appreciate you have remote control over a remote Windows PC.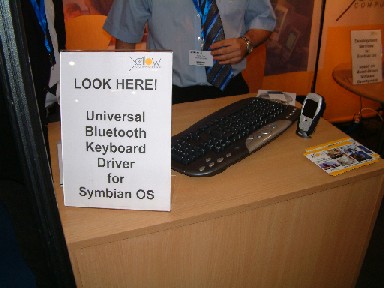 Psiloc Mobile Solutions
Psiloc were showing off their 9500 program which as you would expect from them were very polished. In particular the wifi hotspot finder looks particuarly useful - improvements - such as only alerting you to open networks are also in the works, and I suspect that this will become a must have program for people who reguarly use their 9500's wifi abilities. Word Traveller, IR Remote and two secure storage applications also looked promising. Psiloc also mentioned a product they are working on that is going to have a lot 'wow' and 'ooh that's clever' factor. It's the sort of thing you'll show off down the pub (well actually thinking about it that might be tricky), but it also has a lot of potentially to really useful to business users.

Yellow and their Bluetooth keyboard
Yellow Computing were demoing their Bluetooth keyboard driver by using a full sized keyboard. This did look rather odd, but it was more proof that their driver did work with anything (and they had mapped the phone specific keys to extra keys on the keyboard). They are looking to sell the driver to keyboard manufacturers. They also said they would be looking to push some of their existing products a little more because although they have an impressive product portfolio they are not very well known.

Zi Corporartion
Zi were showing off there Text Input Technology - eZiText and eZiTap - these take one-tap and multi-tap respectively and combine them with prediction technology that looks at what you are entering and guesses the word. This can cut the number of keypress in half or more and reduces the time in takes to enter data. It is a very impressive system, and is well worth trying out. The system is available as add on software for UIQ phones - it is a best seller for the P800 and P900 and at the Expo Zi announced that eZiText is now pre-itegrated for Series 60 and available to licensees worldwide. This means we will likely to see some Series 60 phones with this technology available out of the box. More information is available from their website.
Lumisoft
Lumisoft were showing off their london mapping program. It is an electronic version of the London A-Z. They have a big advantage over their competitors (which there are a lot of) because they have the most readable map. A lot of people are also going to like the fact all the data is on the phone rather than off board. In the future we can look at further cities in both the UK and elsewhere which is good news.

Epocware
Epocware produce the most polished and user friendly looking software for Symbian. Perhaps not surprising then that according to Handango Epocware are one of the long term best selling developers on any platform. Epocware have been busy working on Handy Day 2005 - and it is very impressive - you will be hearing more about this shortly.

Handmark
Handmark are a large software publishing / software distribution company for Palm and PocketPC who are now moving into the Symbian space. They have a whole raft of products planned, such as their multi-lingual dictionaries that have over-the-air lookup. They will also showed a Symbian (running on UIQ) version on their Express service which is a content delivery program. The demo had content such as news, stocks, map lookup ad weather all of which was customisable. While, especially in Europe, a lot of this is offered through Operator Portals, Handmark think there is a market because their product offers better user experience and tighter integration with the phone.
Developers
As usual there was plenty on offer for developers at expo. The seminar sessions themselves were varied and were generally met with a positive response. There was a move away from the general theoretics of previous years and a greater emphasis placed on real world examples and case studies.

There were also some interesting tools being demoed for the first time or receiving significant updates.

Mobile Innovation
Mobile Innovation were demonstrating two new products. The first was CoverUI which is designed to help manufactuers using the external 'status' screen of flip phones in a more compelling manner.

Second was Code Scanner a tool which will scan through source code, look for and highlight potential errors. It is interesting to note that a number of errors were found in the built in applications. With increasing complex development required a tool that helps squash bugs and reduce development time is very welcome. Code Scanner is at heart a simple complex, but the implementation is impressive (if a little strict) and the pricing is such is it not out of the range of even the small time developer.

Peroon
Peroon are another company with a very impressive tool - S2U. It takes a Series 60 codebase and recompiles it for use on UIQ, Series 80 and Series 90 saving large amounts of porting time. One of the key problems for Symbian developers has been the cost of supporting the different platforms. Even with well written code a certain amount of time has to be spent porting code. Anything that saves time in this area is a critical tool, especially in the Enterprise sector. Peroon's 'one source code' for many platforms approach solves this rather neatly.


Further coverage of developer aspects of the Expo are available in this NewLC report.
Hardware
One of the advantages about Expo is that you see every Symbian phone in one place and this year was no exception.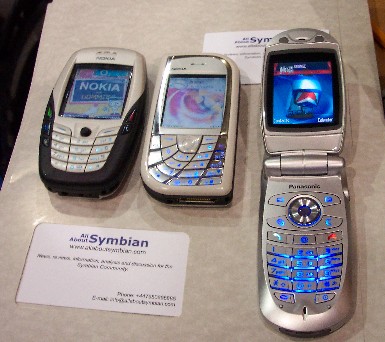 Panasonic X700
Panasonic didn't have their own stand but you could see the X700 on the Series stand and there quite a few being used in demos. We spoke to a Panasonic representative who told us the phone would be available very shortly. It is going to launch first in Asia and then in Europe. The phone is focused at business users (mainly because the price point will be higher than standard phones) and there is on board software, such as Quickoffice that reflects this. We hope to have a full review for you shortly.

The X700 is going to be a very desirable phone. In my opinion it is the best non smartphone looking smartphone - what this means is it actually looks very much like a normal phone - there's not a great deal of difference between this an a standard Panasonic flip in size or look terms. As a result this is likely to be a very popular Series 60 phone, almost certainly the best flip smartphone on the market. For those concerned about size this is an ideal choice, because when folded it is very pocketable. The screen was crisp and bright (better than a 7610), and the keypad had good tactile feedback and with a standard layout is very easy to use. The direction keypad was also commendable at least for standard usage - it may not be so good for games. All in all a phone that we await with some anticipation.

Samsung D710
Remember Samsung - one of the first to announce a non-Nokia Series 60 - the D700? The D700 was scrapped and replaced by the D710 which should make it to the market by the end of the year. It will be arriving in Europe first and then Asia. The D710 takes a different approach to keeping the size down with a sliding keypad mechanism some what reminiscent of the the Nokia 7650. They key pad is quite good with just enough feedback, but it remains to be seen how much abuse the sliding mechanism will be able to take. The screen is good too and it seemed to take some good pictures and video. The design may not be to everyones tatse, but with the D710 likely to be priced competitively it is likely to be a best seller in the first few months of the next year.

Motorola A1000
The A100 is miles ahead of the first two Motorola phone the A920 and A925, which were in all honesty to big for real world usage, the size is muh closer to the Sony Ericsson range of UIQ phones and more importanlty it feels quite small in the hand. The screen is excellent, as are the pictures and video (especially impressive frame rates). I'm not too sure about the lack of a physical keypad - something I personally like in my phones. It does face some stiff competition on the 3G smartphone scene from the Nokia 6630, but in its class (3G PDAphones) it doesn't have any real competition. Motorola have sorted out many of the annoynaces in the A920/5 and the A1000 is a very desirable phone and was getting more attention than almost any other handset at the expo. The A1000 is set to be available on the 3 network in various countries very shortly and we hope to have full review of the phone shortly.

Arima U300
The Arima U300 could be available as soon as Easter next year, but it largely dependent on someone picking up this phone and selling it in your country. It is not going to be sold by Arima. Instead other companies (such as Operators) will brand this phone as their own. This is a first for a Symbian phone, but has been very successful for the Microsoft Smartphones from HTC (variously seen as SPV's, QTek and iMobiles). When asked Arima said that they have had several serious enquiries and expect to finish development of the phone this year with the first production models available in the 1st quarter of 2005. They also said that once someone contacts them the lead time to market can be as little as 3 weeks once the development is finished at the end of the year.

The phone itself does display the signs of being a pre-production model (flimsy stylus and keypad), but overall is a very interesting design. Aesthetically it could be better, but the phone packs a lot of features into a relatively small space. Including a swivelling camera is a nice touch, and the slide down kepypad is a nice solution to the dual usage of UIQ in flip open and flip closed mode. They keypad needs work (it is a bit flimsy and doesn't have the right feel to it) and it would be nice if a few more edges were rounded off. On the plus side the phone has a nice screen, and feels quite small. The U300 and its variants will be the cheapest UIQ phones available as that alone is likely to make them popular.

Nokia 9300 and 9500
With so many technology focused people around it is not suprising that these phones were receiving a lot of attention. To some people's surpise the Nokia 9300 in particular, thanks mainly to its size, is going to be a massive hit. The 9500 has been pushed back to December, and the 9300 should be available in the first quarter of next year. For people on the road a lot who want to stay connected both of these phones offer a real alternative to laptops. Series 80 phones are a bit like London buses - you wait ages for a new one, and then two come along together and rumour has it there may be more on the way.
Other Coverage
You can read more about the Expo in Ewan's report. Further coverage is available on SymbianOne and i-Symbian.

We will be continuing coverage on topics seen in our expo reports over the forthcoming months. You can look forward to lots of interesting interviews and features.

Thanks to all those who took the time to speak to the AAS team.