Morning routine
Early in the morning, it's time to check some news. The built-in Opera browser does not support Flip Closed (FC) mode, thank God for Opera Mini. It's really handy for browsing my favourite sites and checking RSS feeds. If there's one thing to complain about Opera Mini, it's the huge amount of memory (RAM) needed to use it comfortably.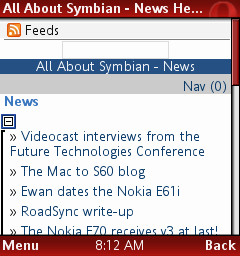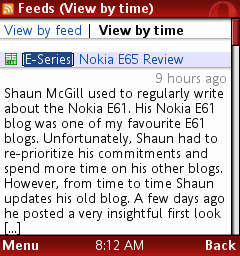 Opera Mini, browsing the web and reading RSS
After reading news, I need to check my schedule for the day. Fire up the built in Calendar. It displays all 3 views nicely (Day, Week and Month). Adding entries to the calendar is also snappy. In my opinion, it serves me well in displaying information I want.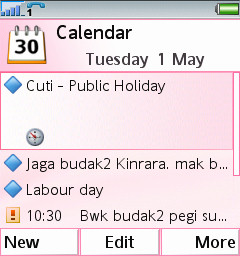 Calendar showing Day and Week View
Travel Companion
While waiting for the train to arrive, I listen to my favourite stations for news and some songs on the FM radio, in stereo! Ah... The train has arrived.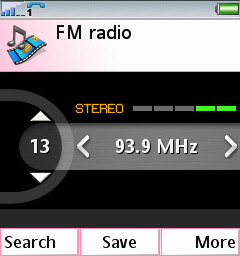 The FM Radio
After 10 minutes in the train, the FM receiver's sound started distorting. I stopped it and started the built-in Music Player. I store some MP3s in my 512MB Memory Stick Duo Pro for situations like this. About time... I set the equaliser to MegaBass and it sounds perfect! Scrolling through song tracks is easy using the 5 way navigator or the jog dial.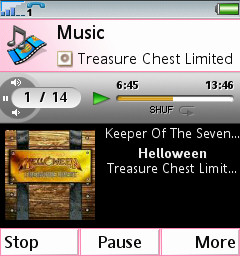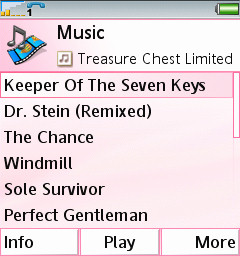 Playing music and browsing tracks
I commute everyday for about 3 hours to work (one and a half hours each way) and the P990 is my companion. To kill time, I read my ebooks using Mobipocket Reader while listening to music. It functions perfectly in flip-closed mode, with all options intact. I can autoscroll it, zoom, change fonts etc.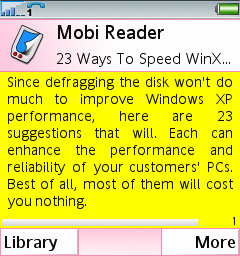 Mobipocket Reader
Getting Things Done
In the office, most of my stuff is done on my PC. The P990 is tucked comfortably on the cradle. However, whenever I need to refer to my todo lists and my notes, I rely on an application called Projekt (full review coming soon, watch this space!) A lot of thought has been put into this application to make it run in flip-closed mode without sacrificing usability. All my notes and todo lists are arranged in tree structures. Adding, editing and navigating around different lists in FC mode is easy.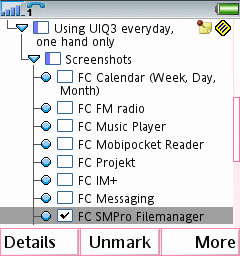 Projekt UIQ3
Into the matrix
On my way back, normally I chat with my friends over the instant messaging networks. Using IM+, I am connected to my Yahoo Messenger buddies and GoogleTalk friends in no time. All functions are intuitively laid out in the menu and I am comfortably chatting with them while standing in the train and my other hand is holding the steel pillar.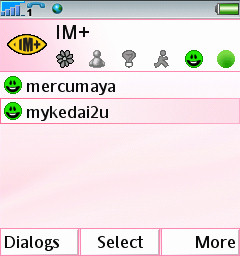 IM+ FC Mode
While IM+ is running, I can't launch other apps to prevent it from being killed by the system. It's a memory hog, especially when chatting with many friends at the same time. I am connected to the network until the signal drops (no GPRS coverage). I also manage my emails using P990 one handedly. With the help of Exchange ActiveSync, all my important emails are pushed instantly. Replying, deleting and composing new emails are no big deal. As for PIM stuff, any updates in the P990's Calendar and Contacts are perfectly synchronised. Composing and replying text messages is also fully supported. Moreover, the text prediction feature makes typing on the keypad very easy.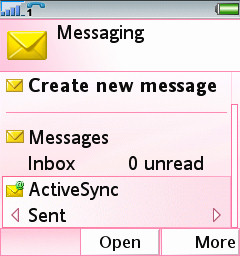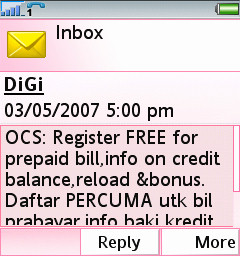 Messaging main view and the text message display
Memory management
P990's main limitation is the memory leak, which is still being worked on by Sony Ericsson and the situation's improved with new firmware once every few months. Some applications take huge amounts of RAM to run and when the RAM reaches its limit, applications in the background are closed without warning. For example, Messaging needs more than 2MB RAM, and if you have enabled push email then another 2MB is needed, making less room for other apps to run. In flip closed mode, the built in Task manager only shows recent applications used, without any function to close background apps/memory hogs.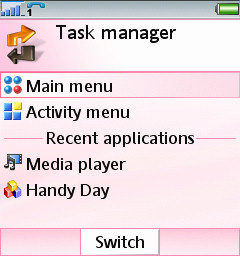 The built-in Taskmanager
This is where SwissManager Pro (SM Pro) is needed (there's also a free version with less functions). It is an all-in-one tool to manage UIQ 3 smartphones (Task manager, File manager, System Monitor). In flip closed mode, it can be used to close unwanted apps and release RAM 'heaps', as well as managing files and folders.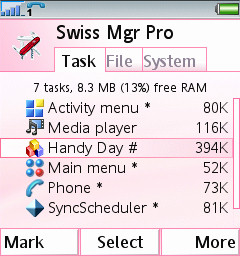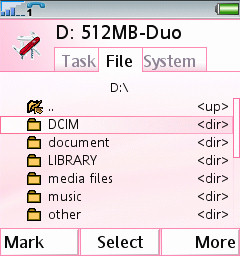 SwissManager Pro showing running apps and its filemanager
Look ma... One hand only!
All the above is achieved without opening the flip at all. Everything is done using the numeric keypad for entering texts, the 5-way navigator key as well as the jog dial for navigation. The system intelligently presents intuitive menus and dialogs, with options assigned to the 3 'soft' keys beneath the screen.
Observation
In flip-closed mode, some built-in applications worked perfectly, e.g. Messaging, Calendar, Picture Gallery & Music Player. Others, like Web (Opera), RSS Reader, Calculator and QuickOffice did not run at all. Most 3rd party applications (including Java midlets) are flip-closed friendly, for example Handy Safe, SmartMovie and DreamConnect3. Some third party applications, such as Documents To Go and SkyForce, did not run at all.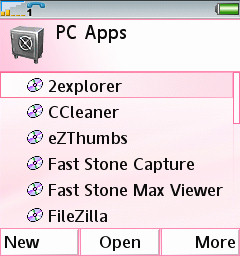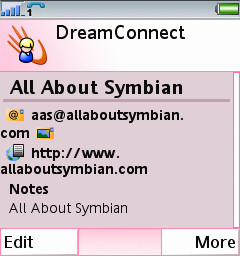 Handy Safe and DreamConnect 3
There is a hidden trick to viewing files where the default applications did not run in flip closed mode. Use a third party file manager such as X-Plore or SwissManager. For example, to watch videos in this mode, simply browse to the Video folder (or wherever you put them) with SM Pro, select the video that you want and Voila! But the flip closed video viewer has limited functions. You can't fast forward or rewind, for example. Only play is supported.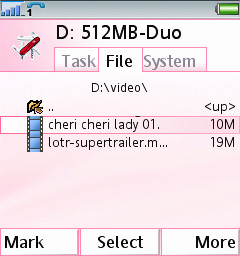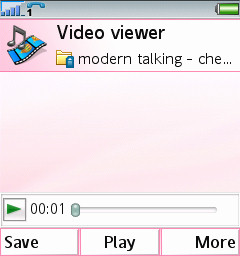 Sorry! The screen capture utility did not grab the video...
Another hidden trick I found is accessing Control Panel (CP) functions in flip closed mode. By default, they can't be launched because CP's main application doesnt work in this mode. The solution? Install Epocware's Handy Day UIQ3 and set shortcuts to CP functions. For example, adjusting screen brightness. Here's how it looks in flip closed mode :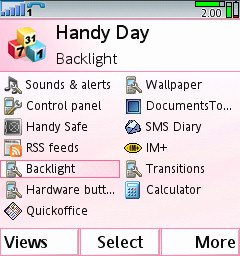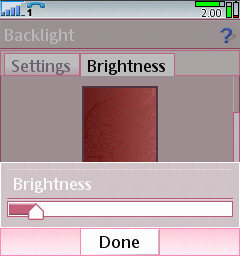 HandyDay UIQ3 and brightness setting in flip closed mode
The verdict
With Motorola announcing MOTORIZR Z8 recently, powered by UIQ 3.1, with no touchscreen, another chapter is opened in UIQ's evolution. But even before the Z8, the P990 (as I've proved here) shows that UIQ 3 is quite workable on a keypad-only device with a small (240 x 256) screen. For me, the P990 is the perfect example of UIQ 3's flexibility.
Asri al-Baker, 3rd May 2007