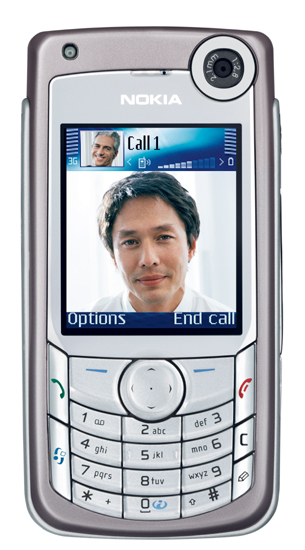 The Nokia 6680 is Nokia's most feature packed Series 60 phone to date. It is also Nokia's first dual camera 3G phone and first indications are that it will be a hit, with many carriers, inlcuding all 5 3G carriers in the UK, already indicating that they plan to carry it as a key part of 3G phone line ups. Given the popularity of the Nokia brand it seems that the 6680 is just what the networks needed to help speed up the sporadic uptake of 3G.
The phone is quad-band with GSM 900/1800/1900 and WCDMA 2100, and it also supports the HSCSD, GPRS, EDGE and data standards. In reality this means you should be able to use the phone almost anywhere in the world (Nokia claim roaming in 100 plus countries). For those not on a 3G network the sister devices, the Nokia 6681 (EGSM 900, 1800, 1900) and Nokia 6682 (EGSM 850, 900, 1800) will be more suitable
The phone supports Bluetooth and USB for synchronization with and connecting to a PC via PC Suite. Multimedia is well provided for with video support via RealPlayer and MP3 and AAC support via a dedicated music player which has an attractive user interface and support for playlists which can be managed vua the Music Manager module of PC Suite. It's also here where we will first see the fruits of Nokia licensing some of the Microsoft Media Player technology. It is not clear entirely how this will work. One possibility is that files will be transcoded from one format to another. The main aim of the agreement is to enable the playing of DRM protected files on the phone. The phone supports mono playback via the loudspeaker and stereo via the supplied headphones. The phone connector is a Pop-Port so if you want to use standard headphones you will need a converter. In testing the phone produced impressive sound, and certainly this handset has the best music support of any Nokia Series 60 to date. However music fans might want to check the Sendo X2 which has even better sound and dedicated music controls in a handset that is likely to be better value.
The phone has one camera on the front (intended for video calling) which has a VGA resolution, and one on the back which has a 1.3 megapixel resolution (1280 x 960 pixels). Both cameras can capture video at 176 x 144 pixels, and both support 24 bit colour. The back camera produces some very good looking photos and from the brief testing I did the camera seems noticeable better than that on the 6630. We'll have to wait until the phone is out before making any final call. The camera is protected by a slide mechanism. When you open this the camera automatically swicthes to the camera software, when you close the slide the phone switches to the idle screen. Aside from the obvious protection benefits this feels a lot more like using a normal camera and its a lot quicker to get into the camera functionality which means you are less likely to miss those quick snapshots. All that is needed is a slide and a single button press to capture an image. There was no noticeable delay in switching to or capturing an image which is a definite improvement over previous phones.
The camera software itself has been given a tweak. Aside from switching between the back and front camera you can also switch between various 'tones' at the capture stage (sepia, black and white, negative and colour), you can also control the flash and use the 6x digital zoom. The flash, which is situated next to the camera on the back of the phone is reasonably powerful and should be good enough to illuminate darker pictures when the subjects are no more than a couple of meters away. Nokia are also keen for you to use images outside of the phone and the phone has better printing support that earlier models via Nokia's XpressPrint printing solution. PictBridge support means you should able to plug the phone into many printers with the supplied USB cable and print directly from the phone. Printing via Bluetooth is also supported. The familiar Kodak application for uploading images to an online print shop is also available and Adobe Photoshop Album is bundled with the PC software.
The 6680 is the first handset to support Video Sharing out of the box. This Nokia technology allows you to share a video during a voice call. In effect it allows a video-call like function on demand during a voice call. This is actually more useful than it sounds. It means you can share a video you may have taken earlier with someone and if, during an ongoing call you want to show someone something, you can activate (and deactivate) video at any time. In some ways this seems like a more intuitive use of video. It gives you more control about when and where you use video during a call. It is analogous to sending pictures and video during an IM conversation. The first operator to trial this will be TIM in Italy, but Nokia believe there will be widespread adoption. Standard video calling worked fine and has been well integrated into Series 60's user interface. The quality seemed towards the high end of my experience of video calling.
The software on the phone also include improved video and photo editing packages. They allow for simple edits and changes which should be more than sufficient for anything that needs to be done away from a desktop PC. The RS-MMC is accessed via a hatch on the side of the device and is hot swappable. It uses the same low voltage format as the Nokia 6630.
There are other small tweaks to the software through out the phone. One example of this is the addition of an Active Idle screen, which is user configurable via Settings. It allows you to put a row of 5 icons along the top of the screen for quick access to your favourite applications. This is similar to the quick access provided by the direction keys from the idle screen since the Nokia 6670, but it is a lot easier to remember. Also on the Active Idle screen is a today type view which lists forthcoming appointments and meetings from the Calendar program. Although not very powerful this should be a welcome feature for many users, and its simplicity reflects Nokia's desire to maintain intuitive ease of use.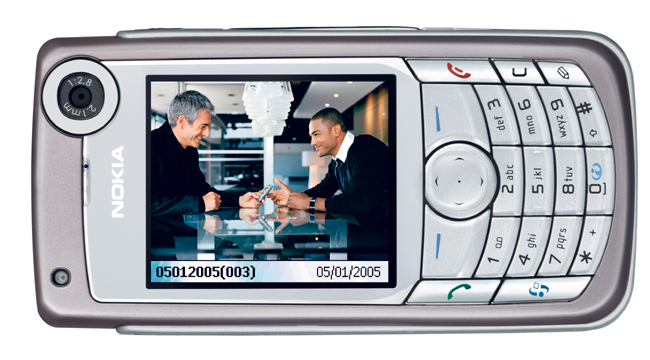 The phone weighs in at 133 grams and is 108.4 x 55.2 x 20.5 mm in size and 104 cc in volume. This is quite impressive for such a feature packed phone, especially one packing 3G connectivity. It is comfortable to hold in the hand and the keypad (forsaking it's predecessors is boringly normal) has good feedback and is a pleasure to use. The four-way navigtaion key, and the two softkeys are larger than on many phones which is very welcome given their frequent use. The application keys is larger too and situated down and too the left, it seemed better located and easier to press than the smaller keys on previous Series 60 phones. The screen is also crisp, clean and very bright. For the end user I think it is screen brightness and view ability has changed more than anything else I can think of since the first generation smartphones but it is often unnoticed and little remarked upon. Given the screen is the one part of the phone you use more than anything else it is a bit surprising, but the 6680 really scores in this category with the best smartphone screen I've seen. This coupled with it's relatively small size means that this phone is bound to be popular even with those who do not appreciate the rest of its features and specifications. Nokia look to be on to a real winner with this phone and have set new standards for a high end smartphone.