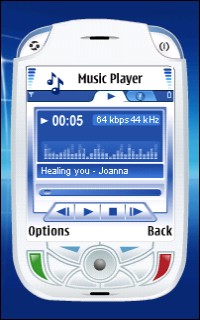 Probably the biggest user of Symbian OS 9 is going to be Nokia's next version of Series 60 (the third). Nokia have got big plans for version three, and they've made it clear that they're going to try and take Series 60 powered phones from the 'elite' high end phones into the middle market, high volume phones. Given that there are 625 million handsets sold last year, and only 25 million 'smartphones' there's a huge market potential. Nokia's Series 40 interface is probably the target. If Series 60 can occupy the ground that S40 is in currently (and thus freeing S40 to go to the low-end bulk sales), then Nokia could well become the dominant (by volume) Operating System… in the world.
So S60v3 has a lot riding on it. At first glance, it's more of the same, there's little difference in how it looks to the end user, although there's more scope for Carriers and Theme websites to provide a different look to the grid of icons and backgrounds.
What's now made clear in this rebuild is the underlying modularity of Series 60 for S60 licencees and carriers to request exactly what they get in Series 60. Everyone gets the core applications, C++ and Java API's, and the necessary bits to make a basic Series 60 phone, beyond that you can grab the bits that you need for the phone you're making.
A good example here is a 'media phone,' which would have the recently licensed 'white box' solution as an additional module (this allows a network to run a music store over the air and download DRM protected tunes direct to the handset). The media player (possibly skinned) would also be included. The chances of the media section being included in a 'business' phone is almost nil, but then that phone is going to carry the OtA Active Sync powered MS-Exchange module – and what self respecting 12 year old is going to need that capability?
Of course this is just going to enhance the already visible problem of having to choose a S60 phone that has the majority of features that you want, because it's doubtful that Nokia will produce a phone that has every S60 feature (the mythical super smartphone). Nokia are going to have to work hard at a marketing level and at a developer level to make sure the Series 60 platform does not fragment from the sheer number of phones that are going to be available.
Based as it is on Symbian OS 9, there's a much greater emphasis on the security of the phone (and the network it will be running on). Symbian and all its partners have been working closely together on this and many issues, and it's no surprise that UIQ v3 and S60 v3 all coincides with the launch of Symbian OS 9. I've talked previously about Symbian OS 9 and how the security works there, and Series 60 follows this method as closely as possible. It's something that needs to happen, and the debate continues.
Series 60 definitely matures with version three, and Nokia has taken the chance to fix everything that's "slightly broken." The focus remains on getting it into as many devices as possible, and while this does mean that some compromises are going to be taken, it's proven a highly profitable route in previous markets.
But again, as with UIQ 3 and Symbian OS 9, it comes down to what goes in the phones, and how it all works once we get our hands on them. And for that, the word on Nokia is that we'll see a business orientated Series 60 v3 handset "before the end of 2005." It might be a long wait…