Introduction
Last week at the Go Play event in London, Nokia unveiled its new Ovi brand. Ovi, which means door in Finnish, will be a gateway, available on both mobile and PC, to access a full range of software and Internet services both from Nokia itself, and also from third parties. It will be the 'umbrella' brand for Nokia's future efforts as it expands from a focus on mobile devices to also offering a range of Internet services. Ovi is a manifesto for Nokia's view of the digital future, which sees a co-mingling of services from mobile, PC and web into a seamless experience, reached through Nokia's doorway.
The first version of Ovi, available later this year, will include the existing Nokia Maps services, the new N-Gage gaming platform and the new Nokia Music Store. However Ovi will continue to evolve with additional user interface elements, service suites and web communities being added over the course of 2008 and beyond.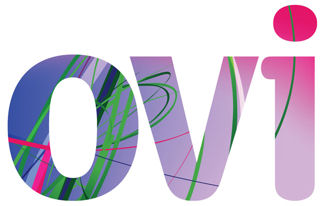 Nokia sees the digital future as revolving around the mobile device thanks to the trend towards convergence of fixed and mobile Internet services. The idea of a mobile device as the heart of a person's digital life is compelling - it is a highly personal device, one that is always with you, and is already a key communication nexus. As the leading mobile device manufacturer and with the world biggest consumer electronics customer base, Nokia is in a unique position to exploit this potential.
Thus far Nokia has concentrated on creating powerful devices. In tagging its Nseries phones as multimedia computers Nokia was being completely serious, despite the chuckles that it raised, for the devices are extremely capable and possess cutting edge technology on an open software platform. However, while digital natives, also known as power users, are able to navigate the Internet landscape with relative ease from such devices, the same is not true for the majority of users. This is because such services are fragmented throughout the Internet landscape, the user experience is complex and the barriers to entry are high.
The Ovi portal will offer a single place for users to access and use a wide range of services and in this way Nokia hopes to bring a variety of software and Internet services to a greater number of users.


Components
Initially there will be three Nokia services available under the Ovi brand when it launches: Nokia Maps, Nokia Music and N-Gage. We'll be looking at the latter two of these in more detail in subsequent features, but the key points are summarised below.

Maps
Nokia Maps, launched earlier this year, is based on the service acquired from Gate5 late last year. Nokia Maps has data for over 150 countries and includes support for GPS (both internal or external units over Bluetooth). Voice Navigation and City Guides are premium paid services, the upgrades for which are available from within the applications, over the air. At the Go Play event Nokia noted that nearly all N95 users had tried Maps and 22% of them had paid for the voice navigation upgrade.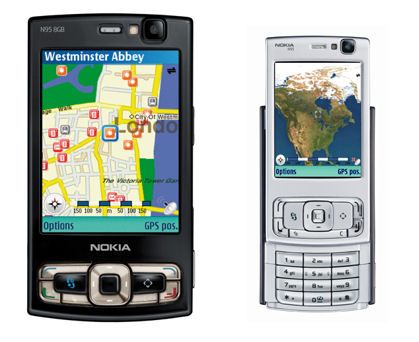 The future of Nokia Maps will revolve around two key areas: firstly, opening up the technology as a generic underlying service to third parties. This is being addressed principally at a platform level with the next release of the S60 platform adding a Map and Navigation framework for developers. Second is the addition of community elements to the Nokia Maps, as its development continues. I would expect to see the ability to share information with other users (e.g. sharing location, sharing landmarks), additional location based services including social elements (e.g. user generated ranking of points of interest), and greater integration with other phone elements (e.g. contacts enhanced with location information, geotagging of captured media).

Music
Nokia phones already offer music playback and limited music sync, and management is available via PC Suite. These are set to be improved under the new Ovi branding and the new Nokia Music Store will add the ability to discover, purchase and download music either on a mobile device or on a PC. The Music Store can be accessed via the web on both PCs and mobile devices.
Music purchased (€1 per track, €10 per album) on a mobile device can later be downloaded and played on the PC, and vice versa, at no extra cost. There's a lot more to Nokia Music Store and we will be covering this in further detail in a later feature. Initially, Windows Media Player is being used as the PC portion of the music offering. It will be used for PC playback, music management and to sync to the device. Nokia plan to offer their own client application to take over from Windows Media Player, but this will not be available at launch. The Nokia client application will include direct access to Nokia Music Store in the same vein as Apple's iTunes. The 'side loading' of content is also fully supported, including the ability to drag and drop a CD directly onto a mobile device. With the addition of the Music Store, Nokia's music offering will be comparable to that offered by Apple's iTunes.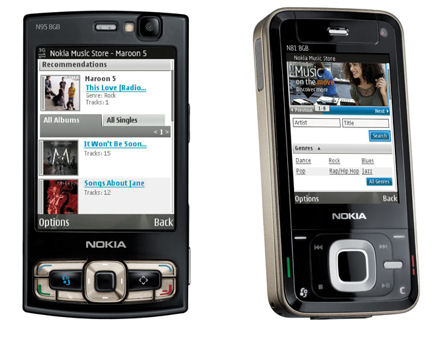 Nokia was more reticent about its plans for the future development of its music services, but enhanced community features, further music recommendations, streaming to mobile devices, subscription services and DRM-free music are all possible avenues for exploration. It also seem likely that, under the Ovi strategy, Nokia will seek to tie in with third party music communities and social networks.

N-Gage
The N-Gage gaming platform is much changed from its earlier incarnation. Instead of a gaming specific device, there is a gaming platform that will run across a variety of Nokia's high end phones (launch phones include the N73, N95, N93, N93i and N81). The new N-Gage platform is intended to have broader appeal and a wider user base than existing mobile games.
Core to the offering is the N-Gage application, which is the home base for all N-Gage activities and aims to create a superior user experience and encourage human interaction. The application hosts a player profile screen, friend list and the ability to buy and download all N-Gage games over the air (downloads via a PC are also supported). There is a strong 'try and buy' element to the new platform: all games will have a trial version and can subsequently be bought either outright or rented for 1 day or 7 days. The games themselves promote community play, for example Creatures of the Deep, a fishing game, allows you to catch a fish, tag it (allowing you to follow what happens to it), and return it the water for later capture by another player. A similar element allows you to catch bottles, which may contain messages from other users.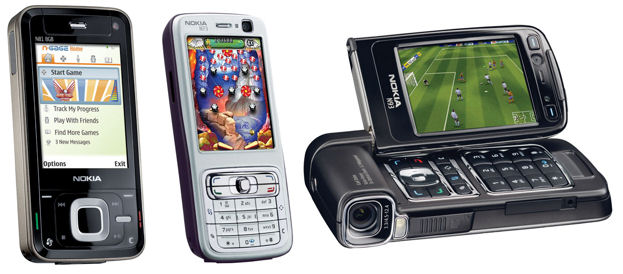 Future N-Gage developments will focus around additional games and improved community features. More complex social interaction features will be added to the N-Gage application. Nokia indicated they only implemented the basics for the intial launch. The ability to see more information of what friends are playing, gamer tags (including a PC element), recommendations and online tournaments, are all likely to be added to the N-Gage application in later versions. The games themselves are likely to see a continued emphasis on community with social interactions woven into the game play.

More information on the N-Gage platform is available on our sister site, All About N-Gage.

Third Party Services
Nokia were keen to underline that the integration of third party communities and services would be a key part of the Ovi offering. This continues the trend started with the integration of services such as Flickr into its Nseries product portfolio. Currently, content uploading (to Flickr and Vox) is achieved through Nokia's Share Online tool which uses the ATOM upload protocol. It seems likely that this will be part of the Ovi offering. In the launch presentation, Nokia displayed the logos of Digg, Twitter, LinkedIn, Facebook, YouTube and Flickr so it seems likely that these will be among the first third party services. Nokia's main thrust here is to ensure user choice, it does not want to force people to use a particular service for managing their content or communicating with their friends.
Future developments are likely to extend the content partners (both uploading and downloading) to other popular Internet services. We may start to see a greater level of interaction with popular social networking sites (e.g. the ability to use contact information from third party communities). However, this is a difficult area to map; there are some obvious questions about how far Ovi's openness extends. For example, what happens when there are obvious clashes between Nokia's base services and popular Internet services, such as with Google Maps and Nokia Maps? How far will third parties be able to extend into the Ovi umbrella of services of their own accord? Will there be some kind of platform that third party developers can build on?

What else?
Ovi will be extended to encompass other services and software over the course of the next 12 months. Nokia recently acquired Twango, a social media sharing service, and this is likely to become part of the Ovi offering. Nokia also recently launched MOSH, a social network to share mobile content, and it too seems a good fit (even if it overlaps rather too much with Twango!) As distinct communities come together under the Ovi brand (N-Gage, Twango, MOSH) and other components of Ovi gain community elements there will be a need for an unified community layer. I would anticipate that some kind of social network layer will be added to Ovi in short order and used as base by other components to enable community and social functionality.
At this point the ability to interact with other Internet communities, especially the social networking giants, will become more realistic. It is possible to envision a scenario where Ovi allows a two way flow of information: Imagine a customisable portal site available on both your phone and your PC which gives you easy gateway access to your favourite Internet communities. Similarly, information could be added to these communities from your phone, such as details of where you are, what music you are listening to and what game you are playing. This potentially offers a solution to achieving the federation of disparate Internet services and communities - a very hot topic in the web technology world.


What will it look like?
Ovi is really an umbrella brand or a concept rather than a specific implementation, so Ovi doesn't have a specific implementation in the same sense that its constituent services do. While Nokia's Nseries will be the showcase for Ovi, some of its constituent components may appear on other phones. For example, the Nokia Music Store will be available on the Nokia 5310 and 5610, which were also announced last week.
That said, Nokia were showing off a new multimedia menu on the Nokia N81 and Nokia N95 8GB that probably represents the initial implementation of how these services will be presented on the mobile side. This may change over time as new services and user interface elements are introduced. It is likely that a PC implementation, most likely in the form of a gateway web site, will launch at the same time or shortly after the mobile version later this year.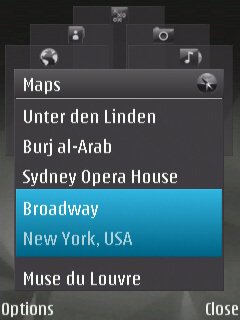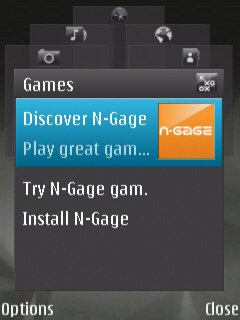 Competition and Operator Resistance
Ovi faces an enormous amount of resistance from network operators. Currently, they own the customer relationship and are very reluctant to let go of this. Most operators have thier own plans around service offerings and will be very reluctant to ship handsets with anything that takes the customer relationship away from them. Operators fear becoming a mere utility whose sole reason to exist is to maintain the network.
Most operators already have a music service and the Nokia Music Store would be a direct competitor with these. The level of functionality and pricing varies a great deal between these services, but on the whole they are seen as more expensive and less flexible than their PC based competitors. Sales levels are also reported to be unimpressive in the majority of cases. With a pricing scheme of 1 Euro per track, ownership tied to the person and not the phone, and a converged mobile and PC offering, the Nokia Music Store offers a promising alternative to operator based music solutions (assuming the implementation and user experience is smooth). However some operators are likely to remove links to Nokia's music service in favour of their own unless they can be offered a reason not to do so.
One example of the tension between operators and Nokia has already emerged as shown in a leaked memo to Nokia from Orange regarding the Nokia N81. In the memo, Orange object to the presence of the Nokia Music Store in place of Orange's own music store. Nokia's Music team must be grinding their teeth at the free ride Apple and its iTunes services appear to be extracting from operators with the iPhone. Nevertheless, Apple's success in this area does suggest that operators may eventually have to give way. Operators should perhaps realise that if Nokia is successful in encouraging people to use services then the likely knock on effect is an increased willingness to try the operators' own services too.
It is a similar, though not so fraught, story with gaming. Operator portals selling Java games have achieved a small measure of success, but this will be directly threatened by the N-Gage service. Nokia's counter argument to this is that current services are poor with market penetration at only 5%. Current gaming offerings have poor user experience (no previews, poor quality games, high pricing) when compared to the cohesiveness of the N-Gage offering. Nokia has indicated that, in some markets, games can be purchased via operator billing which may offer a way to share revenues. The N-Gage service offers a more distinct advantage over current offerings than music and therefore has the most potential to be an early success story for Nokia's Ovi strategy.
Less direct competition is provided by the Internet giants of Yahoo, Microsoft, Google and other smaller players. Microsoft has its Windows Live strategy, Yahoo! Go! seeks to mobilise its services, and rumours suggest that Google is on the verge of launching its own phone. It is possible that these competitors may be less of a problem for Ovi thanks to its open door approach - such companies are likely to be among the first external services available from, or linked to, through Ovi.


Conclusion
At this moment in time, Ovi is better viewed as a statement of intent by Nokia rather than a fully realised implementation. At the launch last week, Nokia demonstrated Nokia Maps, N-Gage and Nokia Music under the Ovi umbrella. The current implementation felt, at least in part, like a collection of existing applications grouped under a redesigned multimedia menu rather than a seismic shift. It is important to remember that there are further refinements and additions to come throughout 2008. Ovi as a cohesive implementation, in the traditional sense, may not be with us until this time next year, and even then will continue to evolve in response to user demands and emerging technology.
With Ovi, Nokia faces technical challenges (e.g. single sign on, enabling openness) and the broader challenge of creating a common user experience across services. Most importantly, it faces a huge business challenge; Ovi will face resistance from incumbents and competition from other internet service giants. While the idea of the mobile device as the hearthstone of the digital future seems a safe bet. The outcome, in terms of which companies act as the key gateways, is less certain. With its dominant position in the smart mobile device market, Nokia is well positioned to be a major player, but much will depend on how well the vision of Ovi is fulfilled. Get it right and there is a whole new business for Nokia to grow into, get it wrong and there is the risk of becoming a commoditised hardware manufacturer.
Ovi reflects Nokia's belief that it must continue to evolve its business. On one level, Ovi is about bringing Nokia's core values, as represented by its tag line of connecting people, into the digital lifestyle that is a keystone of the digital future. This was made clear at its launch when Nokia's CEO, Olli-Pekka Kallasvuo, talked about the transformation of Nokia from a paper company to a mobile technology company over the last 150 years. Nokia sees the move into software and services as having the same importance as moving from boots to mobile phones. Olli-Pekka made it clear that Nokia's core values remain, but stated that Nokia knows the future is about more 'than just devices'.
There are two key strands in Nokia's thinking. First is the idea that Ovi is the door to many services, not just Nokia's. Nokia says that part of its DNA is about being open and working with others. It is easy to be skeptical about this, but Nokia can point toward past successes using this model. The mobile industry has enjoyed great success in part because of co-operation between competing companies. Nokia has also recently started integrating the services of others into its phones and its whole platform strategy is predicated on the idea of openness.
Second is the idea that, as far as Nokia is concerned, the social interaction and communication within these services are just as important as the services themselves. Of course, the rich experiences on offer and the ability to consume content of various kinds are important, but Ovi also espouses a fundamental belief that, for these services to be truly mainstream, they must offer more than just an isolated experience; instead they must be part of a greater whole, shared with the world.
At a basic level, Ovi and its related services might be seen as merely an enabler for another communication channel, and one that, for Nokia, is the natural next step in connecting people.

Rafe Blandford, All About Symbian, 6 Sept 2007
---
Related Reading
There's been a lot articles and commentary written in the past week about Nokia's Ovi strategy. Here is a selection of some them:
Ovum on Nokia's transformation and portal brand and this follow up piece (big bet, success depends on excecution).
Orlowski at The Register on Nokia's new direction and tensions with operators and and interesting response here.
Martin Sauter on his Mobile Society Blog about the positives in Nokia's position.
Raddedas on TechType says Orange should take its music service behind the back of a barn with a shotgun.
Stefan an IntoMobile has a nice piece on the transformation of Nokia through the years.
Rudy at m-trends looks at Ovi and discusses DRM