Amidst the giddy mix of form factors and specifications in the smart mobile device world, there's one particular combination of features which is rarer than you might think: a decent camera and a qwerty keyboard. I can't believe I'm the only person wanting a device that can produce print (6" by 4") ready photos and also let me type notes, texts and emails on a proper (at least 20 wpm) keyboard. In addition to all the other functions of a smartphone, of course, from PIM apps to web browsing to telephony to 3rd party software compatibility.
Here goes then, with the best candidates from the S60, Windows Mobile and UIQ worlds. With no hidden agenda, approaching all three devices from the standpoint of a neutral observer.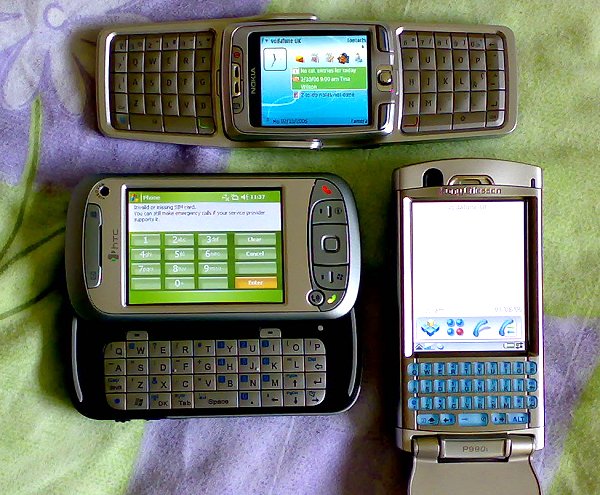 | | Nokia E70 | HTC TyTN | Sony Ericsson P990i |
| --- | --- | --- | --- |
| Form factor | 127g, the lightest and slimmest device here. Looks and acts like a regular S60 phone when closed, like a landscape S60 communicator when opened. | 176g, the heaviest device here. Plenty of electronics inside, I guess. The touch-screen is fairly fragile | 158g, identical dimensions to the TyTN, feels very wide as a 'phone'. Unlike the P800/P900/P910, there's little benefit in removing the flip, as some applications work better in flip closed mode, as you've got a proper navigator key. |
| Case material | Largely plastic, but it feels very solid. The keyboard hinge particularly impresses. Voice recording button on side that's too easy to press by mistake. | Metal and plastic hybrid, feels solid apart from the external buttons on each side, which are quite easy to press by accident. | Mainly plastic, with some metal. Feels solid, though again the number of bits that protrude and are too easy to press do detract from the perceived robustness. |
| Keyboard | A joy to use, apart from the 'split' nature, either side of the screen, which takes a lot of getting used to and which limits typing speed when sequences of letters are 'all on one side'. A dedicated row of number keys. | Similar key size to the E70, though without a numeric row and the delete and return keys are next to each other, with identical size, which can lead to mistakes. Keys are a little noisy, mechanically, and keyboard on review unit was unresponsive (i.e. keys had to be pressed very hard). | By far the weakest qwerty keyboard here, with width less than 50mm. A slight cliche, but the P990i keyboard really isn't for people with large fingers. Numbers and special characters are embedded within the letter keys. As with the TyTN, the delete and return keys are sadly identical. |
| Screen | 2.1" 352 by 416 pixels, very clear and bright, but physically the smallest display of the three. Good eyesight needed! Great outdoors in bright light. | 2.8" QVGA, nice and bright indoors, with good font choices, but the display is hard to read in sunlight. | 2.7" QVGA. Good choices of font, though many of the UIQ 3 visual effects, bevels and pastel shades do get in the way of usability. As with the TyTN, the display's hard to read in bright light. |
| RAM | Around 20MB free after booting. Power users will hit limitations though, if using Web and/or Java applications intensively, especially in keyboard mode, which requires an extra 4MB or so. | More RAM, around 31MB after booting, slightly more leg-room for applications than the other two devices here. | Only 15MB of RAM after booting. As with the E70, it's easy to start hitting limits with use of large programs like Web and Java. Unlike S60 devices, the P990i can respond to low RAM with a spontaneous reboot 'to improve performance'. |
| Multitasking | Simple and effective, via pressing and holding the main Menu button | Good behind the scenes, but there's no built-in Task Manager and if you want to easily switch running apps then you'll need a third party utility. | As with the E70, good multitasking, thanks to Symbian OS. There's a Task Manager shortcut on the status bar in flip-open mode, although the tasks themselves are kept on a separate tab that has to be opened each time. |
| Office software | S60 Office suite is very functional but sometimes errratic and unfinished. | Word, Excel and Powerpoint Mobile arguably the most polished Office apps for the general user. | Quickoffice is as stable as always and very competent at core editing, though it's not as flashy as the Microsoft suite. |
| Still image capture | High quality 2 megapixel camera, superb still photos with lovely colours, though no auto-focus, so close up objects aren't crisp. | Reasonable quality 2 megapixel camera, but with way too much edge-enhancement, details appear with artificial borders. Also no auto-focus, as with E70. | High quality 2 megapixel camera, great colour accuracy but with slightly too much edge enhancement. There's also a good auto-focus, meaning that subjects are always clear. |
| Video capture | 352 by 288 pixel, 15fps video ('near VHS'), looks jittery but acceptable on a PC or TV. | Up to 352 by 288 pixel, 15 fps again, similar to E70. | 320 by 240 pixel, 15fps video again, similar to E70. |
| Web browsing | RAM-hungry though powerful Web application, though Services (WAP and simple HTML) is built-in and Opera and Opera Mini are also available. Browsing tricky in keyboard (landscape) mode because of RAM issues. | Pocket Internet Explorer is very good, I've been impressed, with three sensible browsing modes (One column/Default/Desktop) and good handling of even complex pages. | Web on the P990i is really Opera 8.6, giving the browser some pedigree, with full width and fit-to-screen modes. |
| Connectivity | 3G voice and data, EDGE, GPRS, Wi-Fi | 3G voice and data, video calling, EDGE, GPRS, Wi-Fi | 3G voice and data, video calling, GPRS, Wi-Fi |
| Today screen | Active standby shows static shortcuts plus upcoming Calendar appointments. | Microsoft's pioneering Today screen shows dynamic summary of last used applications, plus appointments. | Static standby screen, with five application shortcuts. |
| Cables | Pop-port for USB connectvity plus stereo audio out | Tweaked mini-USB port, for charging, for data and for audio output to stereo headset | 'Fast port' for charging, for data and for audio output to stereo headset |
| Infrared | Yes | Yes | Yes |
| Stability | Symbian OS 9.1 very stable | Also very stable | As at October 2006, the firmware still feels unfinished, with at least one application crash per day, plus the occasional restart |
| Speed | Marginally quicker, although I'll concede that I'm more used to finding my way around a S60 device. | Most operations pretty quick, although the application launching system is more inflexible and the number of taps/clicks to do many operations is still unnecessarily high. There's a fast processor inside but some operations are still slower than I'd like. | Most applications are quite fast, but getting to them is slower, through a combination of needing the stylus, UIQ 3's visual effects and lack of streamlining of the UI. |
| Text input and editing | Adequate text editing keys/usability, including clipboard, in both closed and keyboard modes. | Full system clipboard, but only useable by getting the stylus out. | Slightly more restrictive again, with text selection only with the stylus and clipboard operations only through sub-menus. |
| Expansion card | Hot swappable miniSD, just take out the card and pop a new one in (e.g. for more music or movies) | Hot swappable microSD card | Hot swappable Memory Stick Duo |
| Music playback and formats supported | MP3/AAC, output volume is less than spectacular | MP3/WMA only, but there's slightly more volume available, for headset listening in noisy environments | MP3 and AAC, output is also not really loud enough |
| Third party software | Good selection | More extensive third party software scene in terms of applications and games available | The smallest selection of the three platforms, but the scene is still expanding, with good developer support, so.... |
| Price | £290, SIM-free, inc VAT | £485, SIM-free, inc VAT | £490, SIM-free, inc VAT |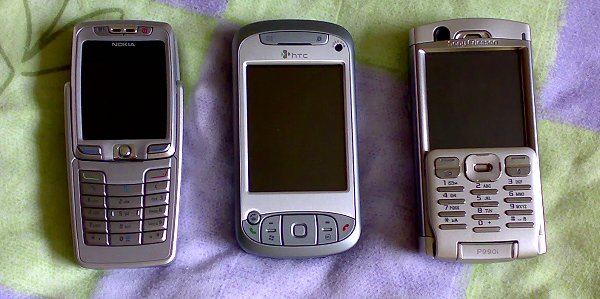 My verdict? Well, the P990i has a lot of potential and the best camera, but the fledgling UI and software scene let it down. The TyTN has the best office/email potential, in terms of integration with existing IT systems, but it's let down by the weakest camera here, an inefficient UI and a noisy (and in my review unit's case) an intermittently working keyboard.
Yes, you could probably all see the winner coming a mile off, but here it is anyway: the Nokia E70 has a very flexible form factor, a great keyboard, an intuitive and fairly efficient UI and a very good camera (considering there's no auto-focus). And, the clinching factor, it's not that far off being half the price of the other two communicators.
Comments welcome!
Steve Litchfield, October 2006