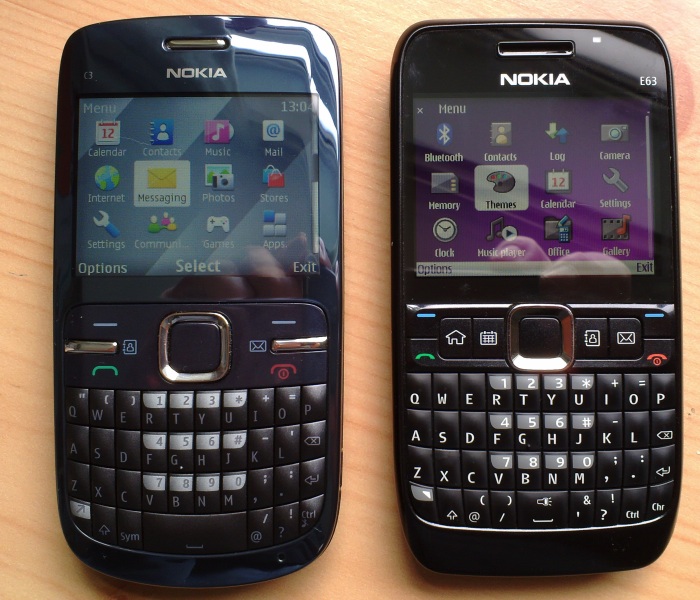 | | | |
| --- | --- | --- |
| | Nokia C3 | Nokia E63 |
| Date, price | Available June 2010, locked to Vodafone in the UK , £80 inc VAT | Available Feb 2009, now £160 inc VAT, unlocked |
| Fashion | Available in white, grey or pink | Available in grey, red or blue |
| Form factor, weight | Front-facing qwerty, 114g, nicely rounded on back (around narrow battery), lovely coloured aluminium battery cover is an unexpected touch. Device feels smaller in the hand than the E63 | Front-facing qwerty, 126g, feels larger but the rubberised plastic makes the E63 superbly stable in the hand |
| Operating system, speed | Series 40, feels slow once you start doing something serious, like render a web page, browse the Ovi Store, or play a game. Maybe three times slower than S60 on the E63. No user multitasking beyond simple activities like music playback. | Symbian, S60 3rd Edition FP1, feels far faster, even though the E63 itself is slow by some modern standards . Full multitasking of all apps. 70MB free RAM. |
| Network and connectivity | Quad band GSM, Bluetooth, Wi-Fi (but current Vodafone firmware is presumed buggy and locks out Wi-Fi for browser use, incredibly) | Quad band GSM, dual band 3G, Bluetooth, Wi-Fi |
| Display | TFT LCD, QVGA resolution, hard to read in the sun | TFT LCD with transflective layer, QVGA resolution, reads superbly in direct sunlight |
| Keyboard | 4-row with embedded number keypad, nigh on identical to E71's (and ditto E63's) | 4-row with embedded number keypad |
| Memory | 55MB internal flash memory, microSD expansion (no card supplied) | 120MB internal flash memory, microSD expansion (card supplied in some markets) |
| Camera | 2 megapixel, non-focussing, no flash, QVGA video capture at 15fps | 2 megapixel, non-focussing, LED flash, QVGA video capture at 15fps |
| Battery | 1320mAh BL-5J, 30 hours music playback time. Real world: 3 or 4 days per charge | 1500mAh, BP-4L, 18 hours music playback time quoted, shorter times probably due to effects of running a faster processor and full smartphone OS? Real world: 2 days per charge |
| Applications | (Very) basic Facebook and Twitter clients, bundled into 'Communities', Internet browser (Opera Mini is listed by Nokia but seems removed by Vodafone), Ovi Store client (which offers Opera Mini back, along with lots of Java novelties), Block'd and Sudoku games and various trial titles. | Quickoffice editing suite, Zip manager, PDF reader, Internet Radio, Music store client, Ovi Store client |
| Audio and Video playback | Mono speaker on back, adequately loud but tinny. 3.5mm headphone socket. Video playback optimised for captured videos and 3GP short clips, playback very patchy for wider range of videos | Mono speaker on back, slightly quieter but of higher quality. 3.5mm headphone socket. Most modest bitrate MP4 videos play, also WMV and FLV formats |
| Connections | microUSB, Nokia 2mm charging socket | microUSB, Nokia 2mm charging socket |
| Updates | Over the air - it's a function within 'Settings' - all data and apps are preserved | Via Nokia Software Update or Ovi Suite, phone has to be wiped and then restored |
| Other notes | Has a disturbing tendency to go online at the slightest whim, without asking and for no apparent reason. Haven't worked out why yet! | Ovi Maps is included, but there's no GPS, so it's strictly a 'You are roughly here' cell tower location system. |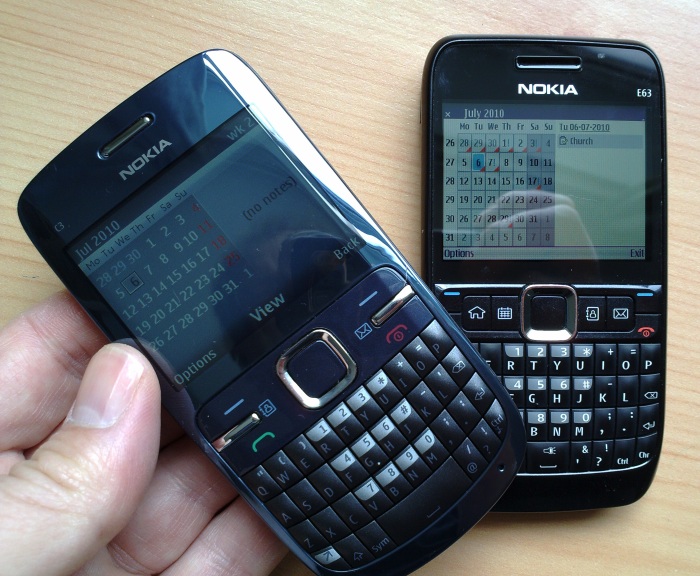 It's clear from the table above, hopefully, where at least some of your money goes when you step up from the best the Series 40, feature phone world has to offer into the world of Symbian and S60. From a higher quality screen and speaker to faster processor with far more capable OS, the E63 is clearly the more capable device at almost every turn, despite the extreme cosmetic and superficial specification similarities.
It's also clear, for anyone with a grounding in the spec levels that other 2010 phones are shipping with at the 'high end', that both of these devices are pretty basic - but then you have to remember that at, for example, £80 in the C3's case, it's roughly SIX times cheaper than an iPhone 4 and FOUR times cheaper than an N97 mini.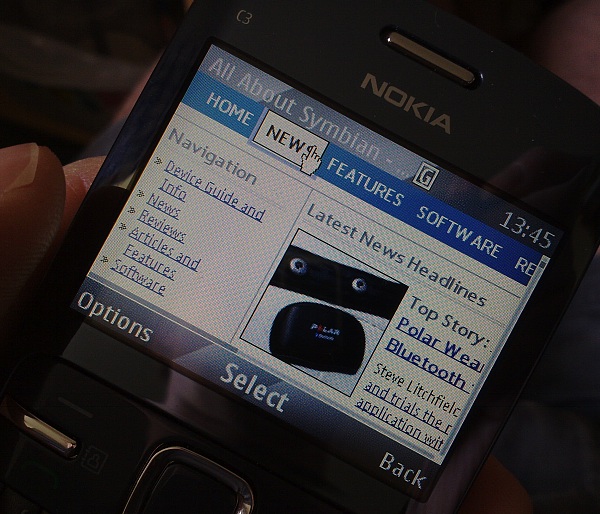 A valid question would then be whether the new C3 is any good? The E63's a known quantity, effectively the poor man's E71, and the C3 promises to do much the same thing (albeit without Symbian or S60 apps) for half the price. For simple messaging, music playback and phone duties, the C3 will 'do', but the slowness of most major functions and the limitations of Series 40 are very evident to anyone used to S60. In addition, the penny-pinching non-transflective screen (surely only saving Nokia a dollar on each unit) cripple the C3 and mean that it's just as hopeless outdoors as the latest touchscreen 'marvels' from HTC. Screen visibility used to be one of Nokia's big plus points and I can't believe they messed this up for what should have been a seminal 'flagship' Series 40 phone.
The Wi-Fi bug was the last straw, of course, completely foiling the whole point of putting Wi-fi in the C3 in the first place. I hope Nokia and Vodafone fix this, but I've no experience of firmware updates outside the Symbian world so can't really comment here....
A common message of the last 5 years was that Series 40 is catching S60 (Series 60) up, but apart from some attempts at bringing the interface together, the truth is that the arenas of feature phones and smartphones are still worlds apart.
Steve Litchfield, AAS, 7 July 2010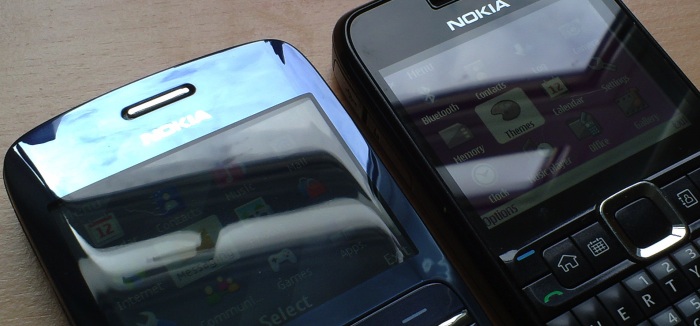 C3 on the left has significantly less contrast in bright light than the E63 on the right. This was on a window ledge in indirect sun - the effect is far more dramatic in full sun, sadly.