An article I'd been planning for a while involved comparing the third party application scenes of the Symbian, Windows Mobile, Palm OS and Apple iPhone worlds. While this will still happen in the fullness of time, the flavour of each 'scene' is becoming very obvious and I was struck by one specific point from the iPhone world, of which more in a minute. And apologies in advance for those people who are fed up with iPhone mentions, but I promise that this comparison won't involve glossy hardware and that the article is relevant.

The Palm OS world. Started in the mid 1990s, tens of thousands of applications, from utilities to reference works, though comparatively few that are online-aware. Somewhat stymied by the way the OS itself was sold off a few years ago and thus by the decline in Palm's fortunes. Today, Palm OS applications only really have a future as apps to try running in an on-device emulator such as StyleTap.

The Symbian OS world. Evolved from the Psion scene from 1991 onwards, but with S60 applications as we know them today only appearing around 2003. Thousands of genuine applications are available, albeit with a fair number of duplicates. Because the platform has always been online, many of the applications are fully data or telephony-aware. There are surprisingly few showstoppingly good applications though, I'd estimate their number to be less than 20.

The Windows Mobile world. Started around the late 1990s ('Pocket PC'), applications haven't evolved that much since, although there's plenty of choice. And a higher than usual range of utilities, designed to change or improve upon the way Windows Mobile works. The highlights of this world are probably the vertical market applications written for companies, with huge numbers of enterprises equipping their workforce with semi-dedicated handhelds. Outside of these niches, though, there are (as with the Symbian OS world) fairly few truly showstopping applications, again less than 20.

Ah yes. The Apple iPhone world. Nothing new to anyone who's been reading blogs or tech sites since July this year. The iPhone software scene is only a couple of months old and it's unfair to judge it on the literal number of applications (though there are still over a thousand), but what's surprised me is the appearance of some really 'joined-up' apps that had my jaw dropping and my taste buds salivating.

Now there are four good reasons why this last platform is relatively novel:
- the iPhone has a large (320 by 480, 4"), patented capacitive display that's touch-sensitive and yet has super visibility in all light conditions, something that was previously impossible.
- the iPhone is almost always on a flat rate, all you can eat data tariff, which means applications can assume full Internet connectivity, bandwidth no object.
- the iPhone has a built-in, callable version of Google Maps and a good YouTube client
- the iPhone is fully location aware, using cell towers, Skyhook Wi-Fi location (this works exceptionally well in towns) and (in the 3G model) full GPS

(I'm tempted to add a fifth reason - that the Mac-loving, iPhone-loving crowd have more imagination and creativity than their equivalents in the Windows and Symbian worlds)

Now, of course, many Symbian OS handsets have great features too, with Nokia Maps starting to become ubiquitous (and callable), and with GPS now on almost every device and providing positioning information to applications. And S60/UIQ devices have been 3.5G-enabled for years. Wi-Fi too.

But the four reasons quoted above have given rise, already, to some staggeringly good examples of joined-up applications, programs that are not content to exist in their own little world but which integrate the iPhone's built-in clients with online data sources, to create something that gives a great glimpse into where the software world is heading. Here are a couple of my favourites...
1. Movies
Currently number one in the iPhone AppStore, Movies seems to be heavily sponsored by movie site Flixter, but hey, it's free. And it's jaw-droppingly well conceived. I know this is All About Symbian and not All About iPhone, but bear with me, you need to see the scope of this application.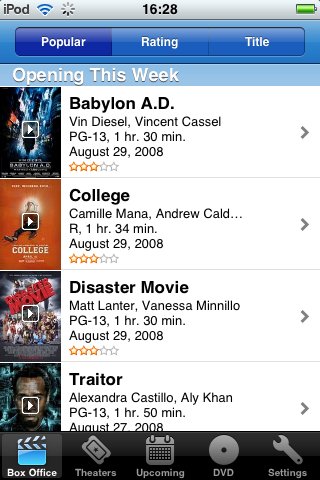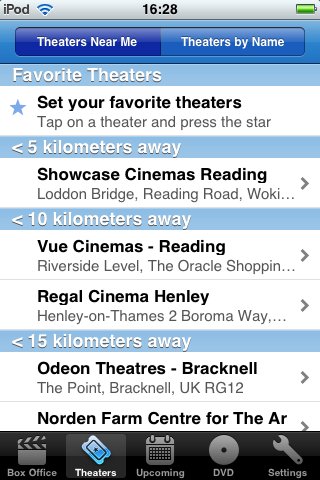 Movies opens with some box office openings, but most people will want to tap on 'Theaters'. This picks up your current position from the iPhone/iPod's positioning system and shows your nearest cinemas (in my case, flawlessly).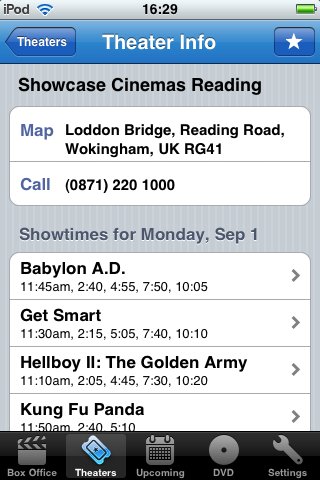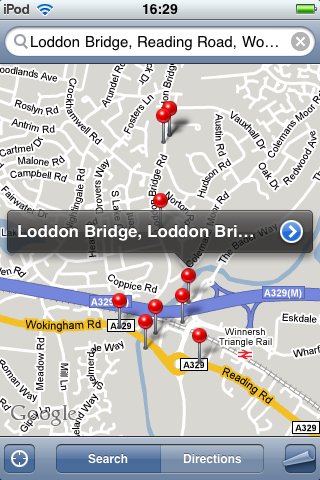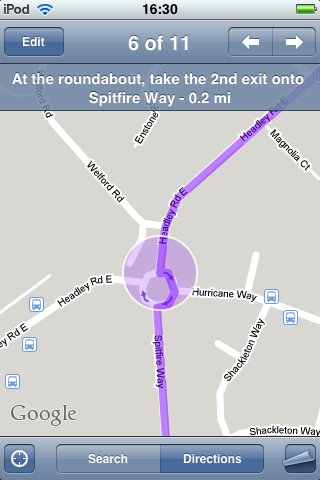 Tapping on a cinema ('theater') brings its location up directly in Google Maps. Tapping on 'Directions' puts in your current location as the default starting point, plots a route and then guides you in, junction by junction.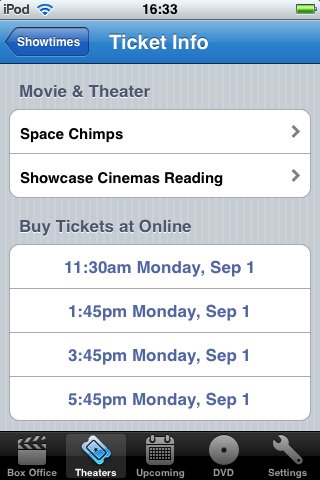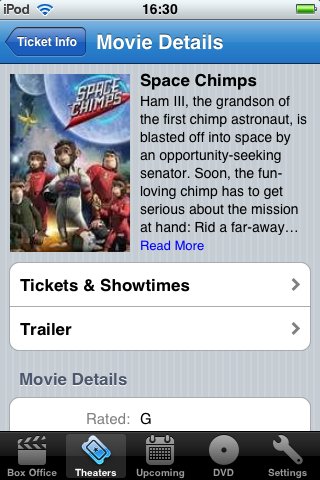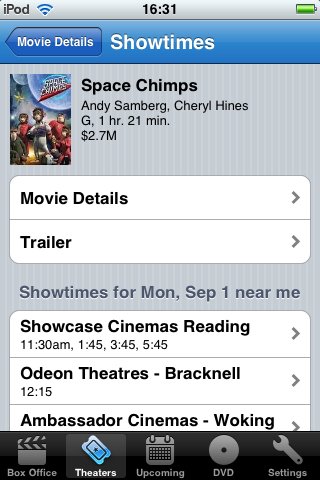 Tapping on a film brings up more information on showtimes, along with a synopsis and alternative showtimes at other local cinemas.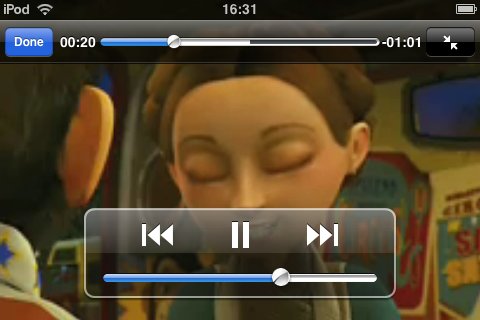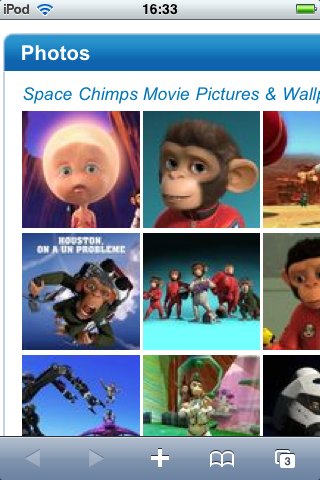 Also one tap away are the official movie trailer (viewed in the built-in YouTube client) and the movie's home page on Flixter, complete with reviews, photo gallery and other downloads, all viewed in the (Safari) web browser.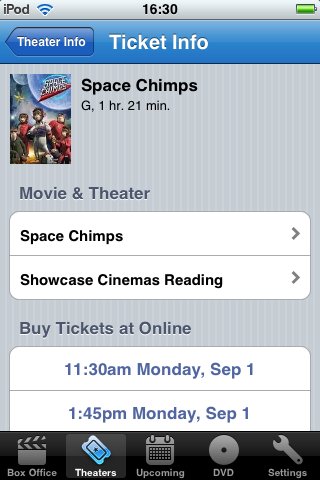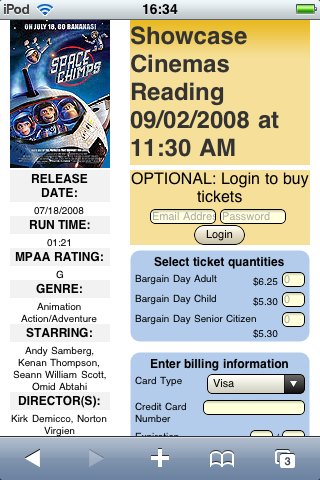 Finally, it's only an extra tap to be routed through to movietickets.com in the browser, to buy tickets for this exact showing online.
About the only disappointment is that the iPhone's lack of multitasking means that when you get routed off to a different application, the next time you want to go back to Movies, you have to wait a second or so while it works out where it got to in your last session. That apart, the joined-up thinking (app - GPS/location - movie databases - Google Maps - web browser - YouTube - online purchasing) takes some beating. Why is there nothing so joined-up in the Symbian world? Back to my four reasons above or a lack of imagination by S60 developers?
Is there a Symbian equivalent? Not really, the data is far more scattered. You can get the nearest cinema in Nokia Maps or Google Maps, along with routing and (in the latter's case) showtimes, but you'll have to do extra searches for movie ratings, trailers or to book tickets. It's just not joined up.
2. Vicinity
Think of Vicinity as being like Movies but for other facets of life. Banks, Pubs, Cafes, Hotels, Restaurants, Supermarkets, Takeaway food and Taxis. That's quite a good real world point-of-interest list.
Vicinity's mission is based around you being in an unfamiliar area. It starts with 'Where am I?', which disappointingly only gives coordinates rather than linking through to Google Maps, but it's all up from this point onwards.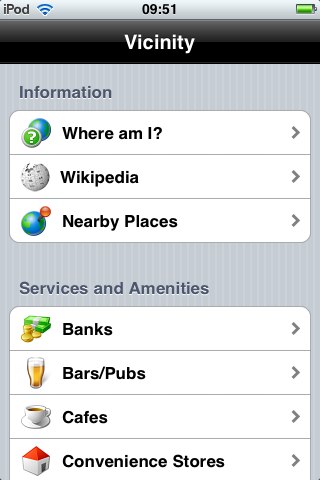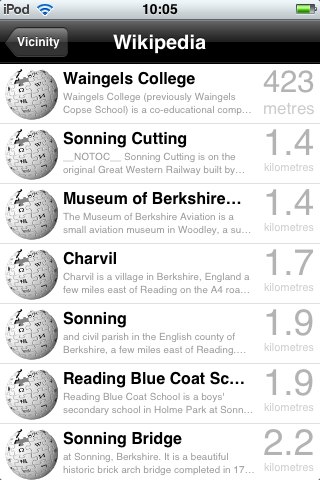 Vicinity's opening screen, and sorted presentation of Wikipedia entries around my GPS/SkyHook position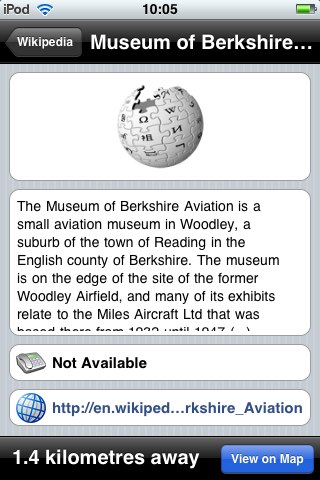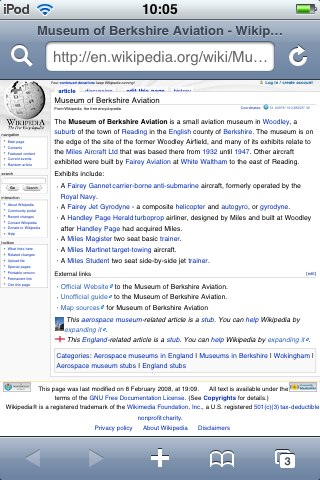 Tapping through brings up the Wikipedia summary and a further tap brings up the full Wikipedia entry in the Safari browser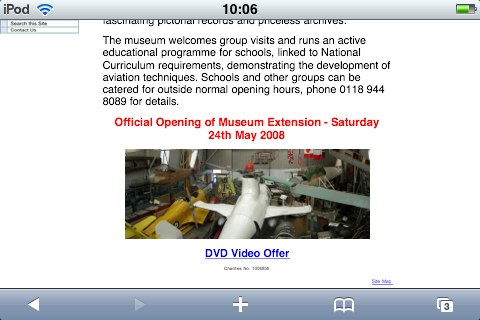 And a further tap brings up the item's own web site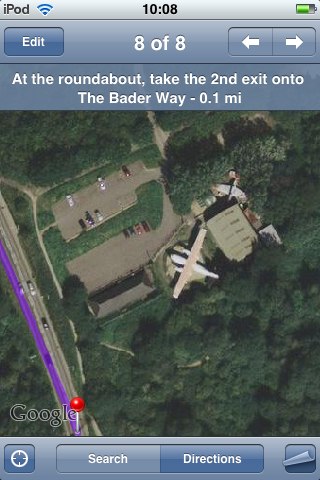 Back in Vicinity, a tap shows the item's location, along with a planned route from your current position (Google Maps in 'Satellite' mode here, of course)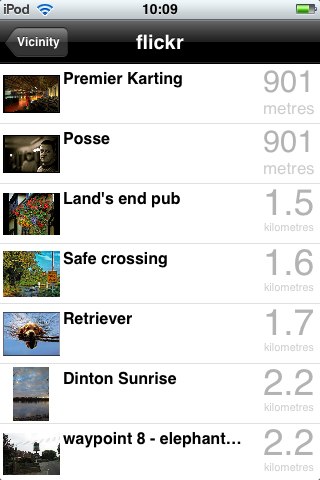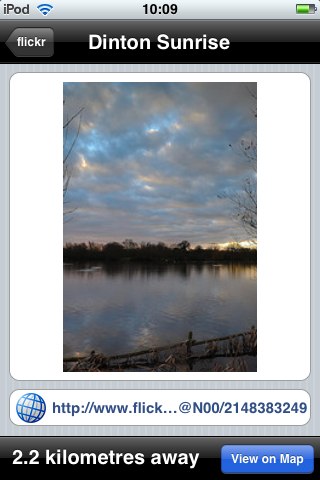 And there's an interface into Flickr, again sorting geotagged photos according to distance from your current GPS/SkyHook location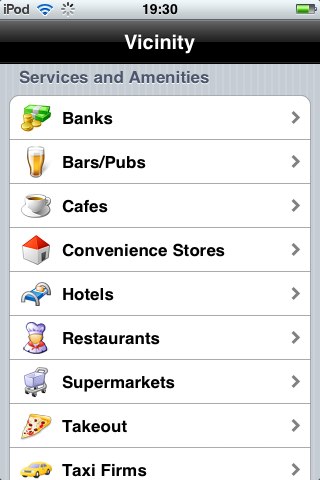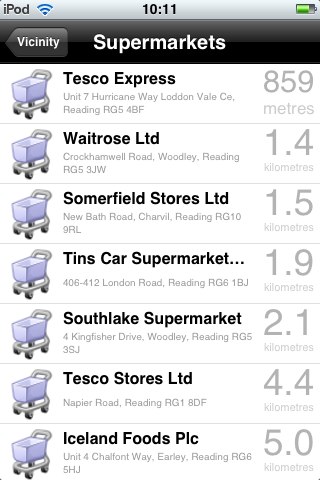 The main POI databases seem very thorough and detailed, with the same mapping/contact/web options as above. And all again sorted at every point on distance from your current detected location.
Again, there's a willingness to work, in very Web 2.0 fashion, with a mixture of other applications and resources in order to be genuinely helpful to the user.
On the Symbian platform, there's Nokia Maps and Google Maps, both of which offer up some of this point of interest goodness, along with routing information and half-hearted web links, but the experience is less consistent, less thorough and less enjoyable.
Too harsh?
Am I being too harsh? Or blinded by the Steve Jobs Reality Distortion Field? No, I don't think so. I'm not a rabid iPhone fan and still consider the device and its software to have several serious showstopping problems and omissions for any serious real world use. However, the beauty and integration of these new iPhone third party applications can't be denied - anyone would and should be impressed.
Rather than giving half the information you need and then relying on user technical expertise to know how to get the rest, these joined up iPhone apps go the extra mile and join the dots for even new users. Even Movies and Vicinity aren't perfect, either in user interface or data resources, but they're a generation ahead of anything I've seen on other mobile platforms.
And - here's the kicker - there's no reason why similar levels of imagination and integration shouldn't happen on S60 and Symbian - with Maps/Chat/Ovi, progress is being made. But if I'm honest, Apple's iPhone platform has already seized the technological high ground - in this area, at least.
What about my four reasons (above) why the iPhone has engendered this sort of enthusiastic solution? How can they apply in the Symbian world?
- the unusual E90 aside, the largest screen sizes in common use in the S60 world are 2.8", half the size of the iPhone's display (in terms of area) and many phone displays are 2.4" or even 2.2" (which works out as just over a quarter the area of the iPhone's). Bigger displays are needed and of higher resolution. No doubt these will come, and at least outdoor contrast is very good on most S60 devices, but in the meantime it's again advantage iPhone.
- flat rate data tariffs are the exception rather than the rule for most S60 phone owners. I'd like to see every contract come with unlimited data and every pay-as-you-go SIM allowed unlimited data for a day for a nominal fee (e.g. £1). Until people reach the point where they don't worry about how much Internet is costing them on their mobiles, they'll be suspicious and, again, at a disadvantage to the more expensive, but worry-free, iPhone.
- Google Maps is already native S60, which is good, although it's not as slick as the iPhone implementation. But YouTube playback is a toss-up between the low resolution official Java client or the third party and slicker (but often unreliable) S60 app Mobitubia. Yet again, advantage iPhone.
- with almost every S60 device now coming with built-in GPS and an OS that allows positioning to be accessed from any application, location useage is simply down to the skill and imagination of developers. We're starting to see S60 apps that use GPS, but it's still early days, it seems.
I don't want to sound too negative - I love my S60 phones and I love the high performance, high speed nature of Symbian OS. But credit where credit's due - hopefully you'll agree that the above two iPhone application examples are nothing short of inspiring - whichever platform you use or develop for.
Steve Litchfield, All About Symbian, 3 Sep 2008