---
Click here for a complete list of All About Symbian's Nokia 5800 XpressMusic tutorials
---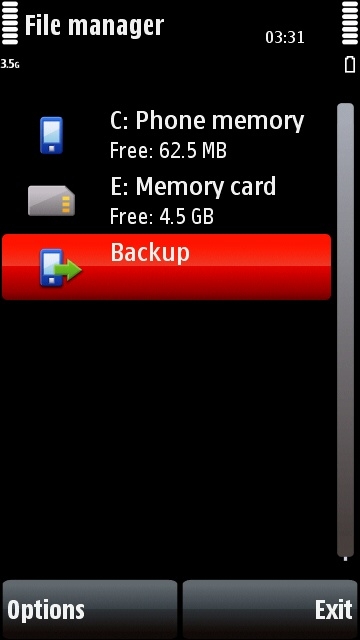 The Backup icon in the File Manager
How to back up your data and settings on the Nokia 5800 XpressMusic
The 5800 is basically a pocket-sized computer, and like all computers it's a good idea to back up your data and settings in case something goes wrong.
You can create a backup on the 5800's memory card, and you can also create a backup on a Windows PC using Nokia PC Suite.
How to create a backup on the phone itself

1. From the phone's main standby screen press the white menu button.

2. Select "Applications".

3. Select "File Manager".

4. Select "Backup".

5. Select "Options", then "Back Up Now".

6. Select "Yes" (it will automatically replace any previous backup).

The backup will be stored on the memory card currently in the phone's memory card slot. If you want to store your backup physically separately from your phone, you can take the card with the backup on it out and put it somewhere safe.
To restore the latest backup onto your phone, repeat the process above but choose "Restore" instead of "Back Up Now".
How to create a backup on your computer using PC Suite
If you have a computer running Microsoft Windows, you can install Nokia PC Suite, which is a free collection of programs designed to work with Nokia mobile phones. You can download PC Suite from its official website by clicking here.
Connect the 5800 to your computer with its microUSB cable, selecting the phone's "PC Suite" mode when you connect. Start up PC Suite and select the "Backup" option (which should be an icon that looks like a safe). Follow the on-screen instructions to create the backup.
---
Click here for a complete list of All About Symbian's Nokia 5800 XpressMusic tutorials
---