Finding valid comparisons for devices from the competing Symbian OS and Windows Mobile world isn't always trivial and this is one of the hardest pairs to match up. Yet both communicators sit right at the top of each product line and, despite the form factor differences, match well in terms of overall specification. Can either of them really replace a laptop?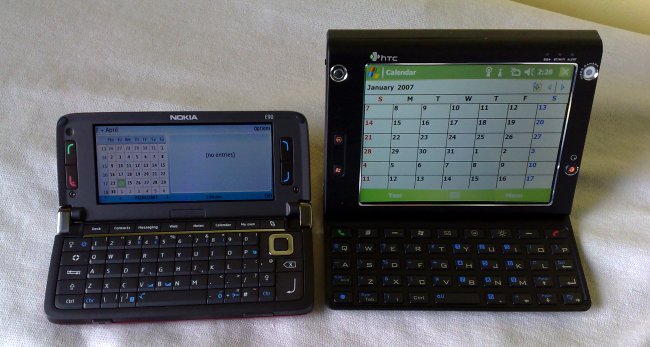 It's safe to say that, at well over £600, SIM-free, the pretensions of both devices are fairly high - after all, you can buy a capable notebook PC these days for far less. So how do the Nokia E90 and HTC Advantage X7500 measure up and how well do they perform the basics of work on the road?
| | | |
| --- | --- | --- |
| | Nokia E90 | HTC Advantage X7500 |
| Form factor | 'Classic' communicator clamshell, smaller than the 9500 but still weighing 210g. Dual displays and very phone-like when closed. Score 9 | A 360g tablet with touch-screen and detachable qwerty keyboard, superb as PDA or Internet tablet but almost unusable as day-to-day phone. Score 8 |
| Main display | 800 by 352 pixels, 4" diagonal, review late prototype had limits to display brightness, S60 3rd Edition applications work well within the larger display area, considering the tweaks to the core apps for the wider screen. Display can be angled to suit preference or folded completely flat. Screen quite visible in bright sunlight. Score 8 | 640 by 480 pixels, 5" diagonal, gorgeously bright, but Windows Mobile 5 interface remains designed and optimised for 320 by 240 pixels, so everything seems over-large. The display/keyboard angle is fixed, with no adjustment possible. With the extra touchscreen layer, the screen's very reflective outdoors in sunlight. Score 8 |
| Keyboard/input | Qwerty keyboard has small keys with 7.7cm Q-P spacing and a hard key feel. Works well typing with both thumbs while standing, not quite so well on the desk. Alternative option of predictive text input using the cover phone. Score 6 | Keyboard attaches magnetically with a huge 'thunk'. Q-P spacing is 11.5cm but keys have almost no travel and no 'feel' at all. Plus there's no backlighting, making it hard to use in bad light, despite the brightness of the screen. Score 6 |
| Capacity | 140MB of internal flash memory, microSD expansion up to 2GB more. Score 9 | 142MB of internal flash memory, built-in 8GB Microdrive, support for miniSD expansion. Score 10 |
| PIM/Outlook compatibility | Basic PIM apps, good sync to Outlook though without category support. Score 8 | Similarly specced PIM apps, full sync to Outlook, with categories. (Note that a full copy of Outlook is no longer supplied with Windows Mobile devices, by the way) Score 9 |
| Email, communications and Web | 3G/HSDPA speeds, built-in POP3/IMAP4 support, push email compatible. Safari/OSS-based S60 3rd Edition web browser, very capable but falls down on sites with Flash content. Score 8 | 3G/HSDPA speeds, built-in POP3/IMAP4 support, push email compatible. Both Internet Explorer Mobile and Opera 8.65 in ROM, both enabled for VueFLO system, whereby a level sensor automatically scrolls pages according to how you hold/tilt the device. Both browsers fall down on the same sort of Flash sites as the E90's Web. Score 8 |
| Mapping and navigation | A seemingly essential part of a business device these days. Nokia Maps is really the Smart2Go freeware system, with street maps of anywhere in the world loaded online or via microSD card. The built-in GPS (same as on the N95) isn't the most sensitive but works OK provided you give it a little time to bed in and lock on before moving. Voice navigation is a pay-for extra but thankfully inexpensive. Score 7 | The GPS is of professional spec, with an easy lock onto 8 or 9 satellites in an open sky, but it is let down by software restrictions. TomTom Navigator 6 is supplied on CD but is licensed for only one map region of a few hundred square miles, anything else has to be bought (typical price 60 Euros for Great Britain). Score 7 |
| Office document handling | Quickoffice 3.8.9 in ROM provides a solid editing base, without being 100% perfect at round-trip conversions. Score 7 | Word, Excel and PowerPoint Mobile are at roughly the same level as Quickoffice, i.e. editing most documents is possible and practical, but be careful about re-saving 'rich' documents and then sending back. Score 7 |
| Photography | Although image and video capture isn't exactly the core raison d'etre of the two devices, it's here if needed. The E90 has a surprisingly good 3.2 megapixel stills camera, with proper auto-focus and LED flash, plus VGA video recording at over 25fps. Score 9 | Again there's a 3 megapixel camera, also with auto-focus and a great LED flash. Allied to the large screen/viewfinder, it's quite good, too, the best HTC has made. Video recording is at 352 by 288 pixels by 15fps, not quite so cutting edge. The LED can be permanently activated, letting the Advantage double as the world's most expensive torch. Score 8 |
| Telephony | Nokia's usual excellent reception and quality, backed up by the E90 looking and feeling like a phone. Score 10 | No criticisms of quality, but you'd look absolutely stupid holding this monster to your ear to take a call. Strictly hands-free calls only. Score 6 |
| Other concerns | The hinge mechanism is solid but klunky. It's OK new but I worry that it will become too loose with time. And I worry about the screen data lead that must wind through one of the hinges - how long will this last? | Magnetic attachment for keyboard is horrifically strong and comes with warnings about not letting the device or keyboard within 5cm of anything precious, like credit cards. Given that this is still a 'pocketable' device (just), this is all rather a worry. The size of the huge touchscreen is another possible problem. When the keyboard's not snapped on the front, the display's very vulnerable for a portable device. |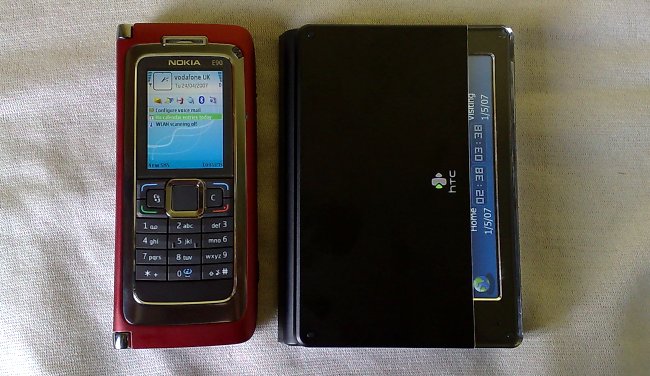 Tot up the ad-hoc scores in the laptop replacement battle above and you get 81 for the Nokia E90 and 77 for the HTC Advantage X7500. It's fair to say that bothdevices target a higher end market 'niche', with the E90 being the slightly more accessible and practical of the two. With very different form factors though, they both deserve consideration if you want the biggest, the fastest and the most function-packed devices in existence...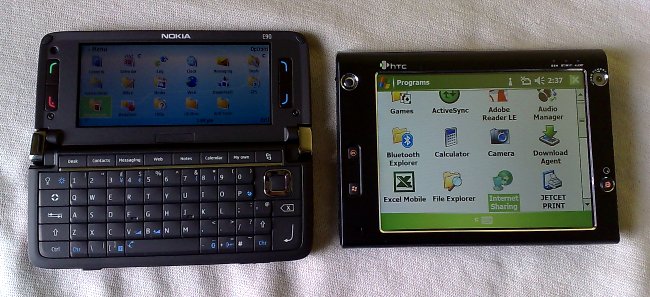 For a video version of this head-to-head, with hands-on demos, see the upcoming programme 31 of the Smartphones Show. Thanks to Expansys for the loan of the Advantage.
Steve Litchfield, 25 April 2007