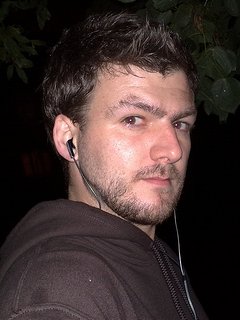 It's been a long time since phones were a 'one size fits all' design. The modern smartphone has more than enough customisation options to tailor its use to the user. So what have people in the Symbian eco-system done to their phones? It's time to find out.
Over the last few days, I've asked a number of people if they would send me a screenshot of their S60 stand-by screen, with a view to seeing which applications they've placed in the 'quick launch' bar. Not surprisingly, everyone had replaced the default icons with their own choice of applications. What does this tell us about them?
First up in this mad quest is James Whatley (www.whatleydude.com) from SpinVox, and one of the contributors over on the Mobile Industry Review. Here's the all important screenshot...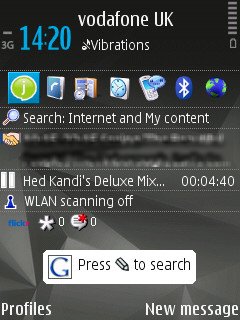 Whatley's main role at SpinVox is to look after their Social Media Strategy, and that means he is plugged into many of the fast moving Web 2.0 sites, so it's no surprise to see Jaiku as the first application - he's one of the most prolific Jaiku'ers on the service (http://whatleydude.jaiku.com/).
There are a number of built in applications here, and one click away from Jaiku are the Nokia Web Browser and Contacts applications. The contacts application is probably the biggest 'social application' on any handset (oh don't mock, it lets you email people, call them, keep notes on them, group them together - that's just like Facebook), so keeping it close to hand is high up in his thinking.
Pretty much everyone I asked had a web browser in some form on their launcher, and Whatley is no exception. "It's the first application I open up whenever I pick up my handset", he explains. I suspect that he's checking out his other social networks and keeping an eye on the SpinVox blog as well.
Communicating online is a mainstay of the quick launch apps, and the inclusion of Agile Messenger (www.agilemobile.com) solidifies that view. Offering access to most of the popular IM platforms, including MSN and AOL, this has been on whatever handset Whatley has been using for a few years. "I purchased a lifetime licence and genuinely could not live without it."
The phone is also his main PDA/Organiser, but not through the built in PIM apps. Whatley has chosen to use Epocware's Handy Calendar over the regular S60 offerings. While it uses the same database as the S60 Calendar (and thus all the sync tools available either to a desktop computer, or over the air to Ovi or any third party SyncML-based solution will work), Handy Calendar offers a much more information-dense view of your appointments, to-dos and memos. I've always had this complaint about the built in apps (information vs. pretty) and both Epocware and Whatley appear to be in agreement with me. Show the information, leave the pretty bit to the installed theme. Sum it up? "Handy Calendar just works so well."
Finally, two more of the built in apps, the Clock ("here simply to quickly create an alarm", which after all is precisely the point of a quick launch bar) and the Bluetooth tool. "That's there as I use Bluetooth to transfer a lot, so again it needs to be close to hand".
It's also worth pointing out that the 'connectedness' of Whatleys home screen is magnified by the inclusion of the quick launching Google search box (which I bet has a tiny affiliate fee paid from Google to Nokia, something that must be profitable over millions of shipped devices each year) and the soft key button that starts up the messaging client specifically in the new message window.
Staying in touch seems important to James in his choice of applications. Many of them are concerned with getting information off his device and onto the internet, either to small social groups, or to individuals. Within two or three button presses, Whatley is off communicating to pretty much anyone he chooses. The smartphone for him is all about getting the word out.
-- Ewan Spence, Oct 2008