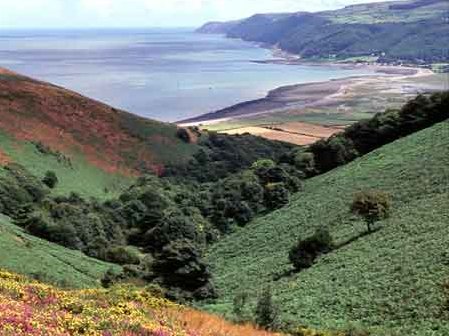 Now, Somerset isn't really 'the back of beyond' - I mean we're not talking desert, tundra or Scottish Islands here. They have electricity, they have McDonalds, they even have mobile phone networks, but it's still a world away from urban UK, or urban life in any other country really.
First off, there's the network coverage. We take 3G data for granted most of the time, but out in the country I was lucky to get old-fashioned GPRS data. Effectively reducing web browsing to the same speed as the old 56K dial-up modems on the desktop, circa 1997. In practice, this means sticking to mobile web sites and avoiding video like the plague.
Even when tethering my laptop to my N95 8GB, you're hit by the same limitations and the numbing realisation that just the Facebook home page will use up a couple of Megabytes of your bandwidth allowance and will take something like 5 minutes to load. Gulp. Still, used wisely, I found the tethering of my Windows laptop to a S60 smartphone (using the standard PC Suite drivers) really easy and useful. A great facility.
Something else you shouldn't take for granted is phone battery life. In an area where there was no 3G and with my N95 set to 'dual mode', it was astonishing how fast the battery bar decreased. If you're heading outside 3G areas, definitely go into Settings and set the phone to 'GSM only'. You have been warned. The tethering process is also quite battery hungry, but at least if you're using a Windows laptop then the chances are that there's power somewhere nearby - as with sat-nav uses, it pays to plug the phone in during use.
Ah yes, sat-nav. I was going to write about how wonderful Nokia Maps 2.0 had been but, near the end of my trip, it hiccupped and insisted on taking me up a private drive and through the grounds of a nursing home... Ahem. A quick 'gut feel' detour later and it got me quickly to my destination, but as ever, take satellite navigation instructions with a healthy pinch of common sense salt.
At least Nokia Maps had a chance of working, unlike Google Maps and several other network-based solutions which failed utterly at times because the GPRS data connection kept dropping out.
[Once at my destination, and this is a by-the-by (seeing as this is AAS, not All About iPhone), I happened to get my iPod Touch out and thought I'd put the iPhone's 'granny-friendly' claim to the test. Less than two minutes after handing the phone to said granny, the Touch locked solid. Ah. Turns out it's not quite as robust as it's made out to be. Still, it's early days for the iPhone 2.0 firmware and at least I got to research the key sequence to restart a Touch/iPhone (hold down both power and home for a few seconds), so I did learn something from the test]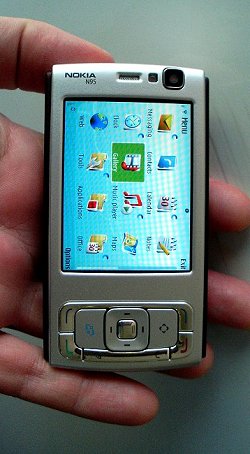 Back on topic, the countryside's distance from 3.5G HSDPA was matched often by the lack of technical ambition of the natives. I don't mean to be mean to the locals, but one of the people I was visiting (who shall remain nameless for purposes of avoiding embarrassment all round), a 30 year old man who had a history of consumer gadgets and electronics, utterly shocked me by first of all proudly showing me his Nokia N95 classic [good, good] and then admitting that he had never used the built-in GPS. Further questioning revealed that he'd never used the Wi-Fi either, he didn't know how to change profiles (and had been wondering why his phone hadn't been "ringing properly" recently) and the only apps he'd ever installed were a couple of Java services that his network operator had thrown directly at him. Considering that he had in his hands one of the most iconic designs in mobile computing and still a candidate for best phone in the entire world, I have to admit feeling a little despair...
The fairest way to look at this encounter is as a timely data point as to the technical ability of most 'normal people'. In truth, Apple's success (both perceived and actual) has been due to the stripped down interface of the iPhone showing everything it can do up-front. When I drilled into Settings to check the Positioning access point and then into Nokia Maps to show a super-speedy (Assisted) GPS lock and map of our current position, there was a little shock in the air. For some reason Nokia Maps' satellite view wasn't working, so I calmly went to Google, grabbed and installed their S60 Maps client (linked directly from their home page now), bringing up a GPS-locked house-by-house satellite view - I think a little crowd had gathered by this time. Flicking through a selection of other app favourites, and feeling a bit confident by this time, and with someone else whipping out his new Series 40 Nokia, I said he could do a lot of the same things on his handset. Two minutes later, Google Maps was running on his more lowly device and he nearly fainted... My N95 8GB was referred to twice as 'Steve's magic box' 8-)
Will it always have to seem like magic? Is it even possible for any manufacturer to get across to these every day phone users just how far technology has come? Nokia are approaching the problem from the point of view of not changing their traditional interface too much and letting users gradually discover functionality... hopefully. Apple approach it by showing everything on the home screen and trusting that if the user does start to spread their wings then they'll be able to handle a few more icons and virtual buttons.
But there remains a huge gap. A depressingly large gap. It's not the fault of the people mentioned above, they have lives and careers and families, same as I do. It's just that they don't spend more than 10 seconds a day (if that) wondering about the efficiency of their phone's setup and operation or pondering what else it can do for them. If I'm honest, I spend 10 minutes a day. And the rest, sometimes. I've even woken up in the night with an idea for a new application, a new phone article or video, a new technique - I'm betting you have too, if you're a regular reader of All About Symbian (We're geeks and proud of it!)
During the course of a few days away in the aforementioned back of beyond, my jack of all trades Nokia N95 8GB was (and this is an actual list, not just something I brainstormed for this editorial):
my phone
my email centre
my laptop's Internet access
my address book
my stills camera
my camcorder (producing a slick, impromptu model train video with my nephew)
my in-car sat-nav
my in-the-wild hiking GPS (point to point navigation)

my games console
my music player
my ebook reader
my FM radio
(and even) my torch at night
That's quite a long list to introduce to normobs who are still only just acclimatising to the concept of their phone taking over as their main camera and who are still wondering what that USB cable in the box is for.
Steve Litchfield, 28 July 2008