Putting similar form-factored smartphones from different manufacturers is always interesting, especially so when one of these devices is a much-talked about hybrid of technologies from two previously competing companies.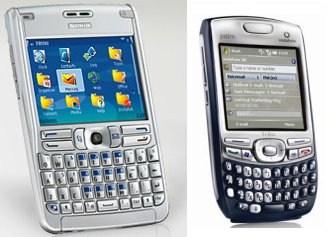 The Nokia E61 is unusual for Nokia, (apart from the E70) their only keyboarded S60 smartphone. The comparison below also applies in the main to the E62, a version for the US market, by the way.
The Palm Treo 750v is the first Europe-marketed Palm Treo running Windows Mobile - gone are the days when Palm and Microsoft are arch-enemies. The Treo 700w (in the USA) and 750v represent Palm's attempt to take the standard Windows Mobile interface and add their own (significant) usability tweaks.
| | | |
| --- | --- | --- |
| | Nokia E61 | Palm Treo 750v |
| Form factor, build quality | Wider, not very phone-like, lighter at 144g, solid, mainly metal | Narrower, just about the maximum width acceptable for a 'phone', heavier at 154g, mainly plastic but very solidly built |
| Screen size, clarity | 320 by 240 landscape, very large and clear, no touch-screen layer, so good contrast in sunlight | 240 by 240 square display (unusually), but very clear in most light; dulls a lot in bright sunlight because of touch-screen |
| Comms options | All the usual suspects, including 3G and Wi-Fi | As the E61, but no Wi-Fi |
| Usability, one-handed interface | You can't really type one-handed, and it's a stretch to move to the left function key with just the right thumb. Best used two-handed, despite the S60 interface | Although the presence of a touch-screen and stylus might suggest a two-handed interface, Palm (and Microsoft) have done a cracking job at making 98% of operations possible one-handed; with the qwerty keyboard so narrow, you can thumb type one-handed, too |
| Text input | Larger, superior keyboard, thumb typing quite practical | In theory, the stylus can be used for input, but there's no point when there's a qwerty keyboard. This is rather fiddly and only recommended for those with medium to small fingers with sensitive finger tips |
| Impression of speed | Once apps are running in RAM, overall speed is quite acceptable, but you have to become expert to really make the most of this | Faster at almost everything, partly thanks to the faster processor and partly due to efficiencies in Windows Mobile 5 |
| Battery life | Longer, unless significant use is made of Wi-Fi; charging every two to three days acceptable | Acceptable, charging every two days recommended |
| Photography | No camera on E61 or E62 | An average 1.3 megapixel camera, with tiny lens and over-eager edge-enhancement in software, but surprisingly useful 352 by 288 pixel video capture. |
| Multimedia | 3GP and MP4 playback, most clips supported via RealPlayer | Most 3GP, MP4 and WMV clips supported, via the flexible Windows Media Player |
| Office suite | Symbian's Office Suite is very higly featured but opening and saving documents is very slow and there's advanced formatting loss when round-tripping back to the desktop | Word Mobile, Excel Mobile and Powerpoint Mobile all included; despite the names, they're very cut down versions from the desktop applications. Still, opening and saving is very fast, the look and feel is familiar and they're pleasant to use, especially with stylus control. There are the same round-trip problems as with the E61's software though |
| Web browsing | Has the 'love it or hate it' Nokia OSS browser - I personally like it when used over Wi-Fi, with data cost not an issue, excellent rendering of web pages | Pocket Internet Explorer is better, most of the time, with a choice of rendering modes and good compatibility with many interactive sites. Some pages produce wierd formatting though. Stylus control works well for web browsing, as you'd expect |
| Third party applications | A high quality choice of applications, though slightly limited in number | A much higher choice, in theory, although not every Windows Mobile application works perfectly on the smaller Treo 240v screen. |
| Availability, price | £300 SIM-free, or with contract, all networks | Only through Vodafone on contract at the moment (November 2006), SIM-free value after that likely to be £450 |
You'll have picked up from the comments above that both devices have their strongpoints and that picking an overall winner isn't really possible. It's fair to say that the Treo 750v really surprised me, though. It feels superb in the hand, is quick and responsive and has an acceptable camera. At the end of the day though, the clinching factor for most people is going to be keyboard size - if you're going for a device with a qwerty keyboard then you want one you can use without continual mistakes - the Treo's is perhaps just a little too small, but it's certainly worth a try if you're passing a Vodafone shop.
Now if Nokia produced an E63, with the same form factor plus a good camera....... 8-)
Steve Litchfield, October 30th, 2006
PS. There's a video review of the Palm Treo 750v in Smartphones Show 17