Introduction
There have been several newspaper articles recently commenting on the negative impact of mobile phones in schools, colleges & universities. This article aims to look how smartphones (and Series 60 in particular) can be highly beneficial to a higher education student.
The curse of the student loan...
Owning a smartphone can be an expensive business – there's the initial layout for the phone itself, the choice of either Pay As You Go (PAYG) or contract tariff and the cost of third party applications. Here are a few steps that can minimise the cost:
Getting the phone: Basically, you can either get the phone itself with a contract or second hand. Handset only prices are exorbitantly high, especially when it comes to smartphones. There are literally thousands of smartphones available on eBay so there is a good chance you will be able to find something to suit you. Bear in mind that the older the phone model is (such as 7650 or 3650) the cheaper it will be. However, older phones use an old version of the OS (such as Series 60 v1 or 1.2) and therefore may not be compatible with some of the more up-to-date applications. Shopping around for a phone on contract can often get you a relatively recent handset with a modern OS for a low price, but obviously you will be locked into a contract.
Choosing the tariff: There are advantages and disadvantages with either PAYG or contract. PAYG gives you a lot more control over how much you spend each month, thus preventing any nasty shocks. The downside is that any PAYG handset you get probably won't be a smartphone, requiring you to get one yourself. If the package did come with a handset, you can sell it on eBay and put the money towards the smartphone of your choice. The other downside to PAYG is the very high cost of GPRS – between £2.50 and £7.50 a megabyte. If you regularly use GPRS, this will seriously affect your remaining credit for normal calls. Contract tariffs also have their good sides and bad sides. When you choose a phone on a contract, you will get a modern handset but the price you pay for it does vary depending on your monthly line rental. Some contracts have an inclusive amount of free data calls as well, which with careful watching can last over a month or so. The drawback to all of this is that you will be locked into a contract for a year and if you are unhappy with your current service it is very difficult to change.
Freeware is your friend: The range of software that usually comes with a smartphone is quite limited and eventually you will need to add your own software to expand functionality. This can be costly process – many third party applications from places such as AllAboutSymbian's shop (www.allaboutsymbian.com/shop/) or SymbianGear or My-Symbian can have price tags that match their desktop equivalent. However, there is a world of free software out there, see the directory at http://3lib.ukonline.co.uk/nonagss60.htm. Many handheld computing magazines also include full versions of applications of their coverdiscs, from time to time.


Use your smartphone to track your expenses: Any student who wishes to leave college or university without a world of debt to pay quickly learns how to manage a budget. Your smartphone can help out a lot in this respect – there are a number of budgeting applications out there to help keep your student loan in check; for example MyBudget from L3Solutions.


Watch your GPRS counter like a hawk: It's amazing (and horrifying) how quickly all those emails and brief moments of web browsing can add up. The other thing to remember is that resetting your phone will also reset your GPRS counter (located in Call Log section) – always back up regularly.
Back to basics
A standard smartphone already comes with a number of applications and features that are ideally suited for higher education, with the added bonus that there's no charge for them:
Calendar: Ideally suited for keeping track of lesson times and exam dates. Rather than having to individually enter each lesson/tutorial for the next year (which would probably take that long to enter!), the entry can simply be entered once and set to repeat by altering the End Date and the Repeat settings when entering the information.

To-do list: In a word, invaluable. The Series 60 to-do list allows you to keep track of coursework deadlines by assigning the Due Date when entering. Sadly, it also means you have no excuses for forgetting to hand it in…

Contacts: Throughout your time at college, you will be meeting lots of different people and have dozens of phone numbers to remember. By storing them on your smartphone, it allows you to manage them more easily by creating various groups to store them in. To create a new group, go to Contacts, push right on the joypad and hit "Options". This is very handy for keeping your tutor details in one group, friends as another group and personal numbers in another. This makes it a lot easier when searching for a particular number and for assigning a ringtone (highlight the group and click "Options"). The other advantage with stored contacts is that it is very easy to beam them via either Bluetooth or IrDA to another phone or PDA, even if it isn't a smartphone.

Camera: Despite having a nasty reputation in schools, a camera can be quite useful in higher education, particularly if the course involves group work or graphic design. The camera can be used to take photos of a work in progress before being emailed to other group members to check that it is heading in the right direction and all without touching a PC [Ed: don't laugh, I've done this in real life in the business world, photographing an important white board brainstorming session]. The photos can easily be attached to emails and sent from the phone or transferred to a PC for inclusion in a document. Unfortunately, there are no programs available for Series 60 at present that can embed photos in a document.

Voice recorder: Digital dictaphones are very expensive and only used intermittently. However, some research for projects requires interviewing people and by using the Voice Recorder function on your smartphone, it can save the interview in MP3 format and can also be emailed to someone from the phone (by email attachment) if needed. Given the average size of an MP3 file, this can be an extremely expensive process and therefore should only be done if there is no chance at all of sending from a PC.

Clock: One of the most basic applications on the phone but good for getting up in the mornings. If you are recharging your phone overnight, simply set the alarm.

Messaging: With the majority of communication on a phone now being done by text message and with most students using a computer in their dormitories, why not experiment with email on your smartphone? As mentioned above, there are several different attachments that can be added, whether it's a photo of project work in progress or what your friend got up to at the student union last night. It also comes in handy when researching something that requires you to be in a remote location for periods of time. Simply attach a copy of the work you've done (whether it's a word document sent from your PC to smartphone or a text document typed up on the phone itself) and email it to your form tutor. Again the only drawback is your GPRS costs – if sending a document back and forth as it slowly gets larger and larger, this can put a hefty dent in your phone bill/credit.

MP3 Player: Should your smartphone have a built in MP3 player, it's worth remembering it can be used to listen to sounds other than music. For example, you may wish to replay a voice-recorded interview from earlier. It can also be used when learning languages – see Tu parle francais?

Web and WAP: While it is theoretically possible to do online research for a subject via your smartphone, this can become very expensive, very quickly, especially if the sites you are viewing contain a lot of graphics. The other thing to bear in mind is that some web sites may not display properly in a smartphone's browser and that viewing reams and reams of text on a small screen is very impractical.

A word to the wise
Almost all colleges and universities these days require that course work be submitted as a word processed document. With the addition of a Bluetooth keyboard and a good suite of office applications (such as QuickOffice), a smartphone can easily manage this. QuickOffice also comes with Quicksheet and Quickpoint – trimmed down clones of Excel and Powerpoint. Quicksheet is capable of spreadsheet functions but is unable to plot graphs. Quickpoint is useful for previewing slideshows but due to the Series 60's limited processing power, it cannot handle advanced animation sequences smoothly.
However, the QuickOffice suite is quite an expensive collection of software, retailing at around £50 for the complete set. The other problem with QuickOffice is that it is not compatible with earlier versions of Series 60 – this means that anyone using a Nokia 7650, 3650, N-Gage (either version), Sendo X or Siemens SX1 are in trouble. For those looking for an alternative, your phone already has its own built in word-processor. The Notes application found on every Series 60 phone is capable of several thousand words. All that's need once the document has been finished is to send it to the desktop via mRouter, a quick bit of formatting in Microsoft Word (or equivalent) and your document is ready. For more detailed information, pay a visit to http://3lib.ukonline.co.uk/poormanwp.htm. There is a freeware solution for Excel users as well, in the form of MicroCalc. Whilst MicroCalc is not as advanced as Excel, it is still highly useful for emergency editing of spreadsheets.
eBook readers are another type of application that may be particularly useful for English students. By loading a textbook onto a memory card, it allows the user to annotate it easily – which can be useful when planning English essays. It also saves wear and tear on your arms from having to carry around the Complete Works of Shakespeare!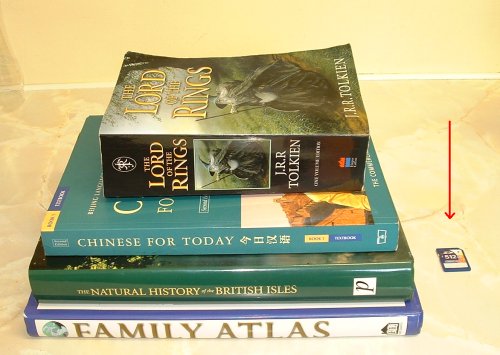 Tu parle francais?
The number of language learning programs for smartphones is vast, although it does depend on what language you wish to learn. Generally, European languages are very well covered, though if you want to be a little more exotic, Psiloc has a number of applications which allow for the text input of Arabic & Greek, amongst others (http://www.psiloc.com/index.html?id=256). Far Eastern languages such as Chinese are not well supported under Series 60 yet. Language programs come in several forms on Series 60:
eBook versions of language Dictionaries (there is a nice range of official Oxford Dictionaries such as English <-> French from Mobile Systems

Flashcard programs (i.e. a word or symbol pops up on the screen and you have to select its corresponding meaning) – a diverse range of which can be found at www.l3solutions.com. These particular apps also allow for user annotation.

Travel translators – not particularly useful as these tend to cover basic phrases which most students would know before doing either an A-Level or degree.
One program that offers a unique way of translating is Circle Translator. This is basically the mobile phone equivalent of the Alta Vista web site translator. All the user does is type in a sentence in English and select the required language. It does this via GPRS so while there is no cost for downloading and installing the program, the amount you pay is dependant on how often you use the program.
The built in MP3 player (or OggPlay) can be used to transport recordings of language CDs, thus allowing you to listen to them as and when you want. The built in voice recorder, in conjunction with the above, can let a student compare their pronunciation with that on the CD.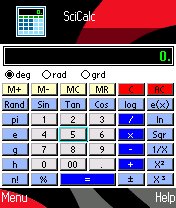 Go figure…
Maths students will also find a number of third party programs to cater for their needs. Basic calculators are plentiful on places such as the AAS shop and chances are the phone already has one stored in ROM. There are some scientific calculators available as well (a Series 60 version can be found here) which cover trigonometry and statistics well, although graphic calculators are less common. Even basic maths tasks can be handled by your smartphone – SRuler, a freeware application, simulates a simple ruler down one side of the screen.
Other Subjects
It's not just mainstream subjects that can be helped out – there are programs for everything from Law (Poorman's Law Dictionary) to History (WorldHistory Trivia for Symbian). Medical students are particularly well served, with various eBook format medical encyclopedias and drug dosage calculation programs.
There are of course many subjects that haven't been covered here. This isn't to say that there aren't programs available but there are some that are beyond the range of this article. Many of the large online software retailers have a specific section for educational software.
Keeping it together
If your course involves completing a large project of some description (and odds are it will), then you will have various notes and other information scattered all over the place. Why not let your smartphone help keep things tidy? If you outgrow the built-in Notes appllication, why not try a database? QuodDB is completely customizable and allows you to include text files – which can be incredibly handy if you are using your built-in Notes app as a word processor (see A word to the wise).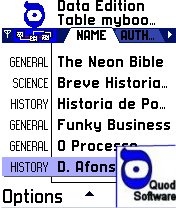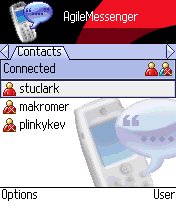 All work and no play.....
Of course, higher education isn't all about slaving away over coursework, getting massively in debt and stressing about exams - there's also the social aspect. There are a number of programs that can help you communicate at little cost. Agile Messenger is a handheld version of the instant messaging apps found on desktop computers. Currently supported are MSN, Yahoo, AOL & ICQ. The best bit is that Agile Messenger is freeware but remember to keep an eye on your GPRS counter when using it. Bluetooth messaging really comes into its own in crowded situations. For example - your friend has just gone up to the bar to get a drink. You suddenly remember he owes you a pint from last week. You quickly send a message to him via Bluetooth (as all Bluetooth transmissions are free, it's a lot cheaper than text messaging someone a few metres away) and your friend returns with your pint. For those who want a little more sophistication and don't mind splashing out, Mobiluck takes this a stage further by allowing you to detect other nearby Bluetooth phones without the need to go through all of the various Bluetooth menus. This is good if you're trying to find your friends as you're coming out of a nightclub of an evening.
Summary
There's a world of software out there for students and the majority can find something suited to the course they are doing (unless it's something very obscure – as yet there isn't a Klingon – English dictionary for Series 60, but I'm sure it's only a matter of time...) With this in mind, the next time your tutor complains about your Sendo or Nokia going off in class, just explain that it's all in a good cause….
Thomas Boys, June 2005
SendoSmartphones.com
thomas@sendosmartphones.com