Introduction
Years ago, when push email was first introduced to mobile devices, it was thought to be a business solution and was marketed as such. Of course, the speed and convenience of pushing email and PIM to a mobile device has obvious benefits to the business user, but this technology is no longer a luxury afforded only to businesses. The BES technology that popularized push email is now available to individuals as a hosted option through carriers and elsewhere. Beyond that, a variety of companies have developed alternate means of pushing email and PIM to mobile clients that use similar technology. As is the trend with most mobile technology, push email is now cheaper and faster than ever before and there are plenty of options to choose from.
With S60 being the most popular "smart" mobile platform in the world, it only makes sense that there are a variety of options available when it comes to pushing email to your mobile. Ranging from free to quite costly, it can be very time consuming to weigh all of the pros and cons in order to determine if there is value in paying for push. On the other side of the coin, it is important to ensure that the free and/or inexpensive options are convenient and feature-rich enough to be worth your while. Hopefully this comparison will take most of the grunt work out of this potentially daunting selection process.
Solutions Covered in this Article
Two free solutions worth looking into as well are Morange and Consilient. These solutions have been omitted from this comparison as they are java-based and the focus of this article is on native Symbian solutions for Symbian OS9.x. It's also worth noting that the native S60 Messaging client already has regular auto-retrieval of email (minimum every 30 minutes) - which may be enough for many people without going down the 'push' route at all.
---
System SEVEN
System SEVEN, by SEVEN Networks, is currently in public beta and as such is available for free to all participants. SEVEN currently powers carrier-branded push solutions all over the world and their products are very well respected. This app is their most recent offering and development is going quite well. Once the beta program is concluded however, it is still unclear who exactly this solution will be available to (via carriers only?) and what the cost will be. We can only hope that they are savvy in their carrier agreements and are able to ultimately offer System SEVEN as a private solution to those regions where it won't be available through a carrier.
Once registered for the open beta, SEVEN's site will guide you through the download and installation process - either through a download from their site to your PC/Mac or through a link provided in an SMS to your phone. The app also walks you through the process of adding your first account, step by step.

One of the nice features of System SEVEN, as seen above in the first picture, is that settings for Yahoo!, Gmail, AOL email accounts and a few others are already contained within the app. This means that when adding an account from one of those providers all you need to do is enter your username and password - System SEVEN will do the rest. When adding other accounts, System SEVEN will first attempt to auto detect the appropriate settings. If it cannot, you will be prompted to enter user and security settings manually.
Once your email account is added, you'll find it included in the list of mailboxes under Messaging with one of several custom mailbox icons. Although mailboxes are listed here, System SEVEN uses its own app for viewing and composing emails.


Settings are laid out very logically and are separated for each account. This is essential so that each of your email accounts can have unique push schedules, signatures, and download settings. There is also a general settings section, holding the global settings that apply to the app itself.
It is important to remember that this app is still in beta. System SEVEN has a lot going for it, with the history and reputation of SEVEN Networks and the talented team behind it. Spend a few minutes in their forum and you'll see that SEVEN means business and is constantly interacting with beta testers and discussing bug reports and feature requests. We can expect to see great things from this app.
PROS:
Multiple account support
Ease of setup
Minimal battery drain (as tested on the E61i)
Good delivery time (most emails were pushed within about 2 minutes)
Power saving option (app will automatically disconnect and remain idle when remaining battery life is <20%)
CONS:
High RAM usage (occupies 4-5MB+ of RAM)
Schedule stability (I've had excellent experiences when pushing 24/7 and terrible experiences with scheduling)
Cannot define sender name (for example I want my emails to be from "Zach (SiMo)" rather than my email address)
Often causes the phone to slow down

---
Mail for Exchange
Mail for Exchange is Nokia's free solution for pushing Exchange email and PIM. While Exchange is typically thought of as an expensive business solution, online hosting is now available with very low monthly fees and even for free from a variety of sites. For the purposes of this review (remember we're talking about pushing personal email here) we'll assume that you don't already have an Exchange account ,so you'll need to find an Exchange host and open an account that you will forward your personal email to. In all of my reading and experience, I've found mail2web to be the least expensive and most reliable option. Several hosting solutions are available from mail2web, but you'll likely want to decide between their free hosting plan (email sent from Mail for Exchange will have your mail2web address in the 'From' field) or their personal hosting plan (supports aliasing - emails sent can display any verified address in the 'From' field), which is available for only $1.99 per month.
Onto the app itself, Mail for Exchange is one of the most stable options that I've found for my E61i. I say that with some reservation however, as not all versions of this app would maintain an active connection with the various Exchange hosts that I tested. My results are admittedly atypical as I've spoken to several people with my phone model and they reported no connection issues. I ended up having excellent results with version 1.3.1 of the app and didn't have luck with the more recent builds 1.5.0 and 1.6.1, or the current 2.0.
Mail for Exchange is a very straight forward solution for push email. Once installed and opened for the first time, the app will prompt you to enter the settings for your profile.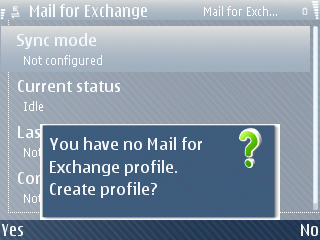 The information you enter on the tabs that follow will be provided by your Exchange host and of course must be entered accurately. Many hosts, for example, only support email sync and therefore you must ensure that you disable contact, calendar and task synchronization to avoid errors.

Once your settings have been entered and your profile is saved, the only time you will need to open Mail for Exchange again is to adjust your settings, unless you'd like to check your status.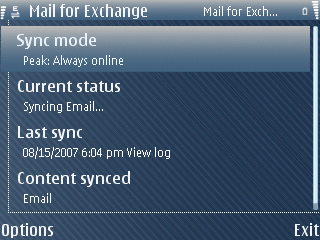 Mail for Exchange adds a new mailbox under Messaging and can be accessed there. Like System SEVEN, this app uses its own viewer for reading and composing emails and I'll add that it uses a larger font size, making it far more legible than the default S60 email client.

PROS:
Reliability
Ease of setup
Good delivery time (most emails were pushed within 2-3 minutes of sending)
Excellent viewer
Low RAM usage
CONS:
Battery life (this app had was the biggest battery drain of all the apps I tested)
Only supports one account
---
RoadSync
Like System SEVEN, RoadSync is a Push solution offered by a tried and true company. DataViz is a well-respected software developer with a solid history in the mobile apps industry and RoadSync is a quality offering that has satisfied users for quite some time.
Just as with Mail for Exchange, you will need an Exchange server and account to use RoadSync (requires MS Exchange 2007 for full functionality). For personal use, I still recommend a mail2web personal Exchange account of course. After installing RoadSync, a series of welcome screens provides some initial information and prompts you for some preliminary settings.

Once you have gone through the preliminary setup, RoadSync will connect to your server and perform an initial synchronization. One word of caution; ensure that during this process you configure the phone data to win in the event of a conflict. If your calendar/contact data is not already in sync with your Exchange server you may lose all of your data if you do not chose the proper initial sync settings!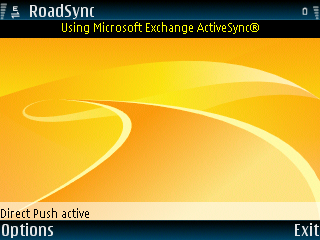 After your first successful sync, you'll find yourself on the main screen in RoadSync. You can now access the full settings section through the Options menu and refine your configuration. Your sync schedule and sync options are defined in this area, along with advanced application options.

RoadSync adds an entry within Messaging just like Mail for Exchange and System SEVEN and also uses its own editor and viewer. As you can see below, the font is big and bold for ideal visibility.

RoadSync is a bit pricey at $49.99 for unlimited use, but with an unrivaled trial period and a money back guarantee period on top of that, you will certainly know exactly what you are paying for. The DataViz site includes an extensive FAQ and support section and if you have any questions that cannot be answered there, their support team is quite responsive.
PROS:
30-day trial period AND an additional 30-day money back guarantee
Allows grouped APs on supported devices
Excellent view/composition screens
Low RAM usage
CONS:
Slowest tested delivery time (3-5 minutes on average)
Only supports one account
---
MailX
MailX takes a very different approach to pushing your email. Like System SEVEN, you can use any POP3 or IMAP account but MailX is unique in that it is the only app with no email interface. MailX makes use of the integrated email functionality within S60 rather than integrating with Messaging or providing a separate interface. This means that if you are familiar with the built-in S60 email system, you're ready to go with MailX.
Of note; despite the brief blurb on BiTween's site, to this point I have been unable to get MailX to push anything more than message headers regardless of the retrieval settings for each account. This means that you will need to connect and then disconnect each time you want to read your unread emails.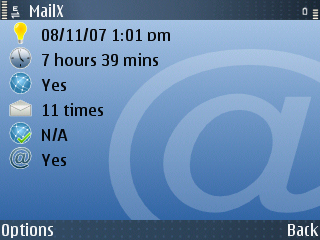 The main view in MailX is the overview. This screen gives you basic information about your connection status, duration and number of emails received during the current session. The configuration section of MailX contains only four simple tabs. Since the server and security settings for each email account are configured when you initially set up your accounts with the integrated S60 email, no email settings are configured within MailX.

The first settings tab contains your MailX profile settings and includes items such as connection mode (MailX supports both push and polling) and your account information, such as email address and password. The email accounts tab simply lists each of your configured email accounts - place a check mark next to each account you want to push.

The Alerts tab allows you to configure tone and volume settings for new message alerts and other notification-related settings. Finally, on the Connection tab you can configure settings such as your data access point and autostart/reconnect settings.
MailX is the most expensive option being reviewed here when you consider the fact that it is a subscription-based app. BiTween charges $32.95 for a 12-month subscription to MailX service and provides free software updates during that period. To ensure that MailX is an adequate solution for you, BiTween provides a 15-day trial period.
PROS:
Multiple account support
Minimal battery drain (as tested on the E61i)
Good delivery time (most emails were pushed within 1-2 minutes)
Low RAM usage (occupies only about 700K of RAM!)
CONS:
Lack of adequate scheduling (I supplement using Best Profiles)
Internal alert settings rather than making use of the integrated email alert tone (new message alert does not adhere to vibrate-only profiles, no vibrating-alert support)
Subscription-based fee structure
---
emoze
Emoze, the last solution that I tested for this comparison, is an app that had always been a staple on my Nseries device (in conjunction with Profimail 'less essential' accounts) as the battery on my N80ie couldn't handle much else in terms of push. When I moved to an Eseries device however, I began using a variety of other options and emoze never made the transfer to my E61i. In fact, I was not even aware of several of the great improvements that Emoze has made to this great freeware app.
The most significant change in version 1.4 is Outlook Web Access (OWA) support. This means that emoze users are no longer required to leave the desktop connector application running on a PC in order to maintain an active connection. The concept of the desktop connector is appropriate in many business cases, but since this is for personal use I'm happy that I can use emoze without having my PC consuming energy 24/7. Of course, to take advantage of OWA support you'll need an account that supports the Outlook web interface. Luckily, the jack of all trades that is mail2web includes OWA with both their free and personal Exchange solutions.
Note that emoze now supports GMail as well, but I haven't had much luck with it so I'm sticking with OWA, which is working extremely well for me.
Setting up emoze is quite simple. If you opt for the PC Connector setup then you'll be given a .sis installer once the PC software is installed. Within this setup software, you can choose your phone model and you will then be given the option to install the S60 client via a service SMS, by accessing emoze's WAP site or by transferring the installer from your PC. You now also have the option of downloading the installer directly from the site to your PC or phone. Once installed, choose the OWA option during setup and you will be prompted to enter a few quick settings before emoze performs an initial synchronization. You're now up and running and it is time to configure emoze to your liking.
The main interface is well organized and attractive. You'll find your scheduling settings under Options -> Accounts. Select your account and you will be able to configure your schedule and decide between push mode and polling mode (at a variety of time intervals).

Under Options -> Settings you will find the remainder of emoze's configuration settings. There are four main categories of settings within this section:
Login - the account settings that you designated during the initial setup (username, password, OWA URL, etc).
Connections - designate your default access point and toggle autostart.
Rules - synchronization options for Calendar, Contacts, Drafts, Inbox and Outbox.
Advanced - general settings, such as toggling the status icon and visual new mail alert. Also contains an option to reset all data.

Storage of incoming email was really my only complaint with regards to emoze (email had been stored in a subfolder of the inbox in older versions of emoze) but this has been rectified in the latest build. Emoze now creates a new mailbox under Messaging like many other apps we've looked at in this review and uses its own viewer and composition tool.

PROS:
Ease of setup
Minimal battery drain (as tested on the E61i)
Fastest tested delivery time (emails were pushed in less than 1 minute)
Fair RAM usage (about 1MB)

CONS:
No multiple account support
No configurable signature within the app (uses the default emoze signature)
---
The Verdict
For my personal usage, emoze has come out on top thanks to its blazing speed, low RAM usage and ease of use.

Emoze works very well and gave me the most consistent performance, with minimal issues. Messages are pushed almost instantly and that is the name of the game when it comes to push email. On top of all that - it's free! The interface is great and the settings are quite flexible to accommodate a wide variety of users. As I mentioned, the inbox layout is my biggest qualm with this app but the new message pop-ups provide a relatively quick link to new emails. After a short period of time I got used to this unorthodox setup and it didn't bother me. Eventually I would like to see emoze implement a more seamless inbox however, as most other apps do.
Emoze isn't without its issues of course. There are a few minor bugs that will get worked out as development continues. For example, my status icons are reversed - with red indicating an active connection and green indicating sleep mode. I also get a system error at times when sending mail but it is still delivered successfully 100% of the time. My final complaint is that only one account is supported. This is not a huge issue though as I am now pushing my main personal account and using the integrated S60 email to collect mail from my other accounts. This is more than adequate for my usage.
Honorable mention goes to both System SEVEN and MailX. System SEVEN might have been my choice had it not been for three major issues: RAM consumption, scheduling errors and phone slow-down. The combination of these issues make the app undesirable to me at this point. Of course, System SEVEN is still in beta and performance varies from device to device. I would highly recommend that you give updates a try before jumping to conclusions, as each build will bring more features and stability.
MailX is also a very good solution for pushing email and it was almost my choice for first place in this review. The concept, speed and simple multiple account support are wonderful. The fact that it will only push headers - causing a long delay between new email 'notification' and actually reading your new mail - makes it a bit too slow and quirky for sustained usage. I thought that I could circumvent this issue (at least with my IMAP accounts) by also enabling automatic retrieval with a large time interval in the S60 email client but I had mixed results. I tried to contact MailX about this, but received no response. Also, the fact that MailX uses its own mediocre notification system didn't work well for my usage. I ended up using Best Profiles to enable/disable MailX with certain profiles, which is a usable work-around but isn't ideal.
I have spent quite a bit of time with each of the applications reviewed here and there are features of each one that I enjoy along with plenty that I would like to see improved. The bottom line is that each user has a unique set of needs and expectations. A single application will never be able to please everyone but the goal is to find the one (or a combination) that works best for you and then use it to its fullest. My hope is that this article can assist you in doing so.
---
Zach Epstein is the editor of Symbian in Motion and an administrator of mobile9.com. "Symbian in Motion is a popular blog dedicated to Symbian in the hands of the user - freeware application reviews, payware application reviews, tips and tricks, functionality, and coverage of issues surrounding the world of Symbian."