Note that I've done several accessory roundups in the past, but the challenge here is that many accessories/gadgets are only produced for short time before being replaced or, in some cases, sadly discontinued. I've taken steps therefore, in the items below, to make sure that they're either still available from any original reviews, or have been replaced by genuine improved versions.
In reverse order (just for fun!):
Honourable mentions
Before counting down, a couple of honourable mentions - things I have in my set-up that are worth a shout-out, even though they're not 100% recommendable to everyone:
NexDock Touch
Lapdocks have been of particular interest to Windows 10 Mobile users, of course, but whereas the NexDock 2 worked perfectly with the Lumia 950/XL, the followup NexDock Touch mysteriously... didn't. Something odd that had changed in the chipset compatibility. The NexDock Touch still works superbly with the Elite x3 and Alcatel IDOL 4 Pro under Windows 10 Mobile, plus modern Samsungs, of course, using DeX mode, so it should have been in my main list. But then Covid 19 logistics forced NexDock to abandon production altogether, hence the mere mention!!
Apple MagSafe Qi pad (£37)
A slightly odd choice here in that it's designed specifically for the iPhone 12 series (hence just a mention), but the idea of using magnets to locate a phone perfectly onto a charging pad is a great one and sure to be copied widely. In the meantime, existing Qi-compatible smartphones charge just fine on the Apple MagSafe pucks, just without the magnet feature or the fastest charging speeds. But you mark my words, MagSafe Qi pads are the future, with or without Apple's branding.
10. Apple 20W USB-C Power Adapter (£19)
Staying with Apple, this also might seem a strange choice, but Apple's decision not to ship its new iPhones with power adapters has forced them to put decent mains bricks up at low prices and this one's my pick. The 20W output over USB Type C will work with just about any modern smartphone or Type C accessory and the way the mains pins fold in sync with each other is simply genius. More in my review.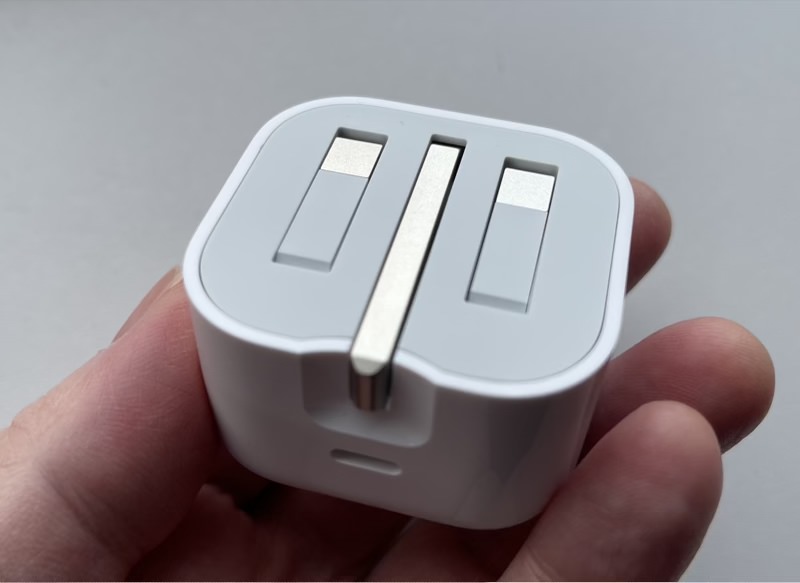 9. ZAGG Flex Universal keyboard (£70)
Using a Bluetooth keyboard with your smartphone as a makeshift laptop may seem a bit of a cobbled together solution - but when it's done right and well then the experience is surprisingly good. And jaw-droppingly portable. Under half the size of a Surface Go and around a sixth the price, the ZAGG Flex Universal has pride of place in my briefcase. More in my full AAWP review.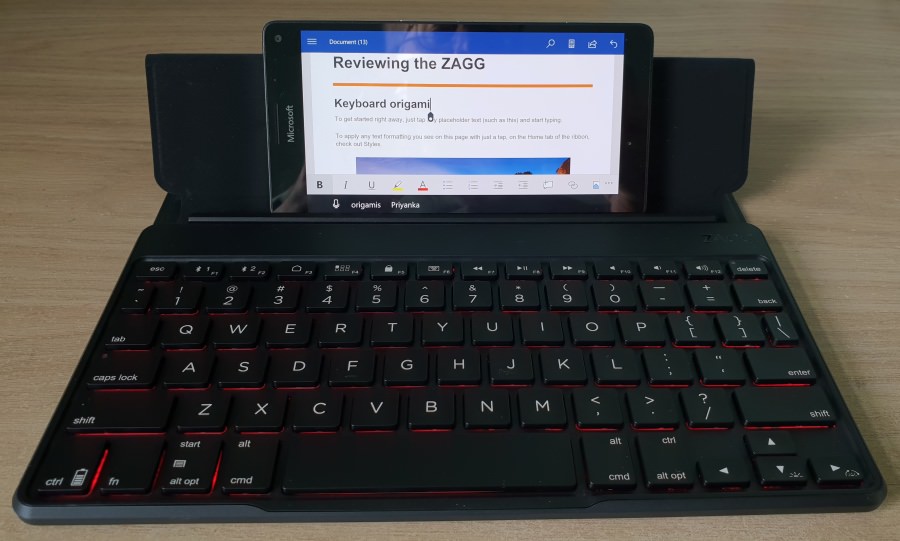 8 Rockjaw T5 Ultra Connect (£75)

Bluetooth headphones have been a thing since about 2010, of course, but they've taken on extra impetus since Apple started dropping the 3.5mm audio jack in 2016. Since then, we've had a bazillion designs, including individual 'buds', but I have high standards in terms of reliability, battery life and audio quality. My pick is the ROCKJAW T5 Ultra Connect 'conjoined' headphones, with near perfect audio, long battery life, Type C recharging, and no individual 'buds' to lose. See my full review here.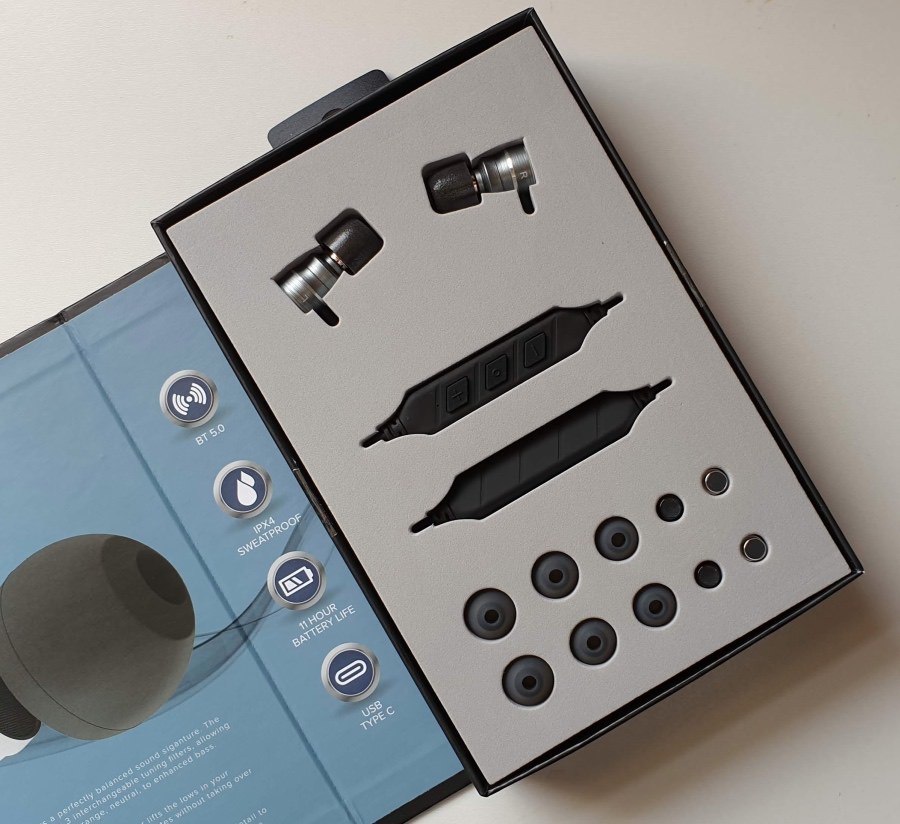 7 Marshall Major III (£66)
Staying on the headphone theme, when I'm exercising I find that in-ear-canal headphones do start to slip out and constantly need pushing in again. The solution for me was Bluetooth on-ear 'cans' and, with a view to really enjoying music, I've sworn by Marshall's Major series for years. They're up to the IV series now, but the III is on special offer as I write this, see the price in the sub-title. Plus I love being able to plug in a 3.5mm lead if I need to, in order to go 'wired' when back at home.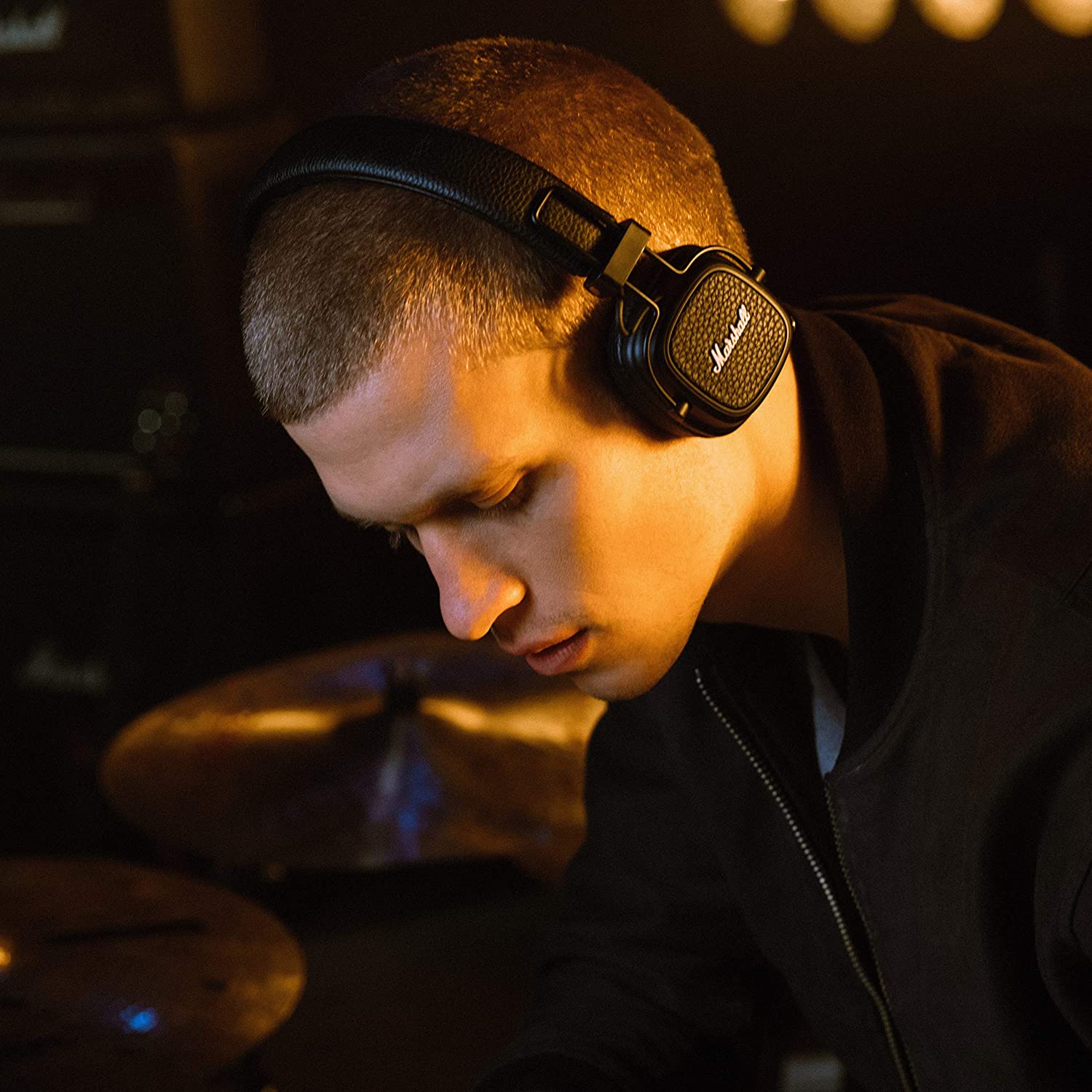 6 RAVPower 65W PD 'Pioneer' 4-port desktop charger (£50)
For when you need a mains brick, when travelling, that pumps out massive power for charging multiple things at once, with a choice of connections. USB-A, Type C, PD, the works, all in one flying box that has its jacks where you can reach them rather than buried near the floor by the actual mains outlet! See here for my review.


5 Xddias 7-in-1 Type C USB hub (£20)
This one's a slight misdirection, since I actually use a very similar Choetech Type C hub (reviewed here), but that has now been discontinued, so I'm shooting slightly in the dark by recommending this 2021 replacement. The aim is to have Ethernet, extra card storage, USB disk and mouse access, all from a single smartphone data port. It sounds a little crazy and there will be wires everywhere, but have this in your bag and you'll be able to plug your smartphone into almost anything. Note that this one doesn't have HDMI output, so if you need DeX etc then look for a HDMI-equipped alternative.
And although not strictly mobile, this kind of hub is a god-send when plugged into a Surface Go or Pro hybrid, in terms of expanding its ports and facilities.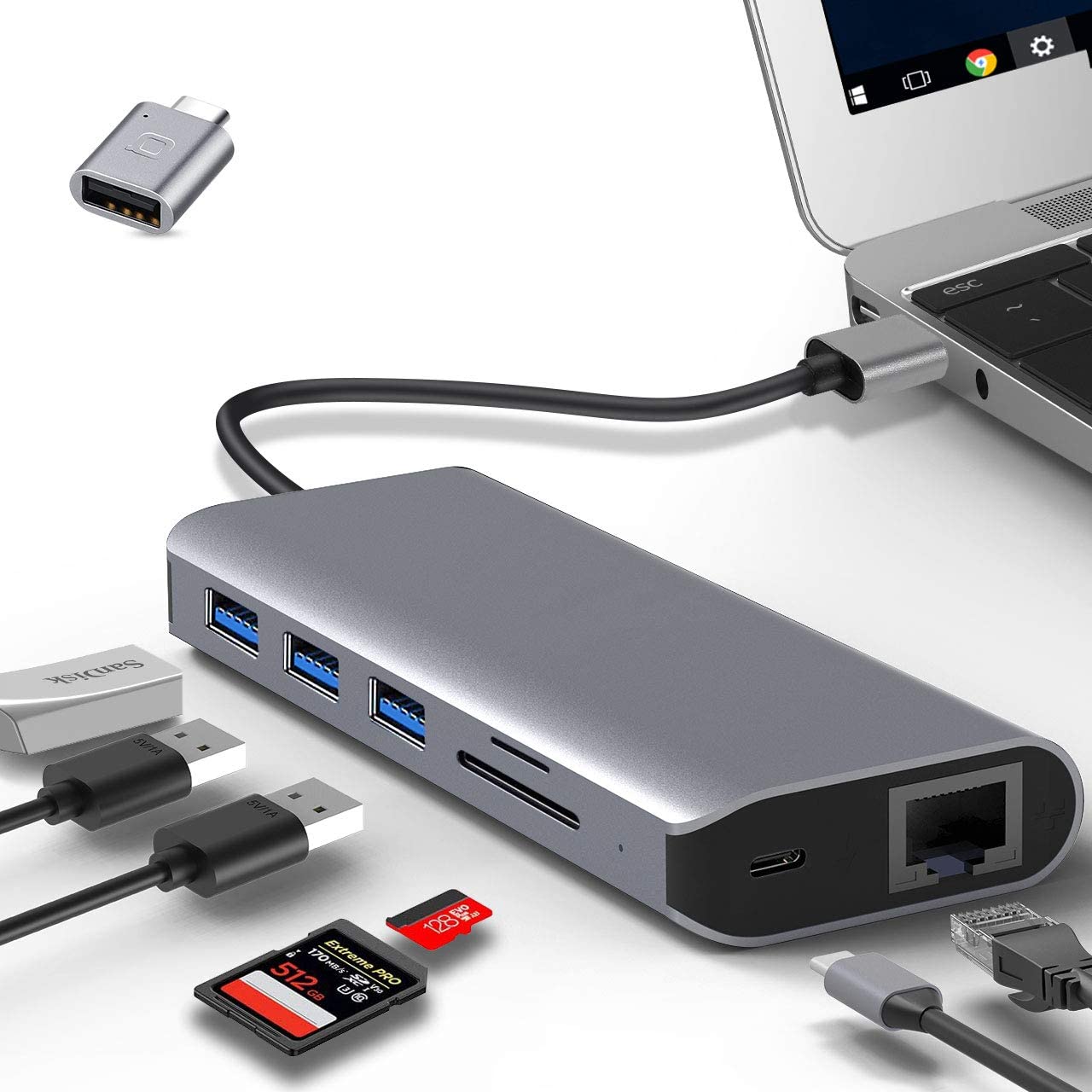 4 Choetech T521/S - 10W Fast Wireless Car Charger Mount (£21)
These days a smartphone can be a complete in-car navigation and entertainment system, not to mention handling calls and messages in a safe way - thanks to a secure mount. And, if you're going to have a mount then you might as well lay in Qi charging too, so that you can switch between phones without worrying about connector standard. For the last two years I've used this mount and it's held and charged every phone I've thrown at it. For a bargain price! Read more in my full review.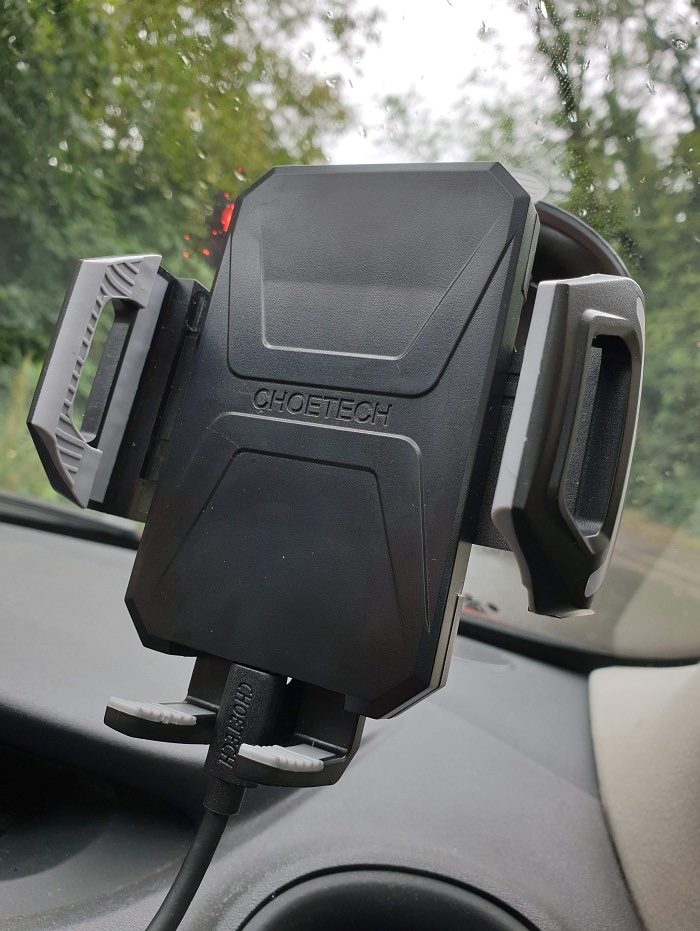 3 Choetech T535-S 5-coil two-device Qi charger (£31)
Although this handy desk Qi charger can charge two smartphones at once, most of the time the biggest benefit of the internal five (count 'em) Qi coils is that it's not too critical where you put your single phone or where its coil is centred - the pad just 'works', using whichever coil has the strongest alignment. I've used this for the last two years and it has been rock solid. Do note that it needs a beefy mains adapter to power its Type C input for best results. See the Apple option above, for example. Read more in my full review.

2 Tronsmart Mega Pro 60W 10000mAh Bluetooth speaker (£86)
Bluetooth speakers are ten a penny (so to speak), but what happens if you max out everything? This is the loudest, most capable, highest fidelity Bluetooth speaker I've ever used. From the sheer sound to illuminated capacitive controls to Type C charging, this is the grand-daddy of Bluetooth speakers. It's not small or light or cheap, but if you have room in your briefcase, rucksack, or glove box then this is the one to get. Read more in my full review.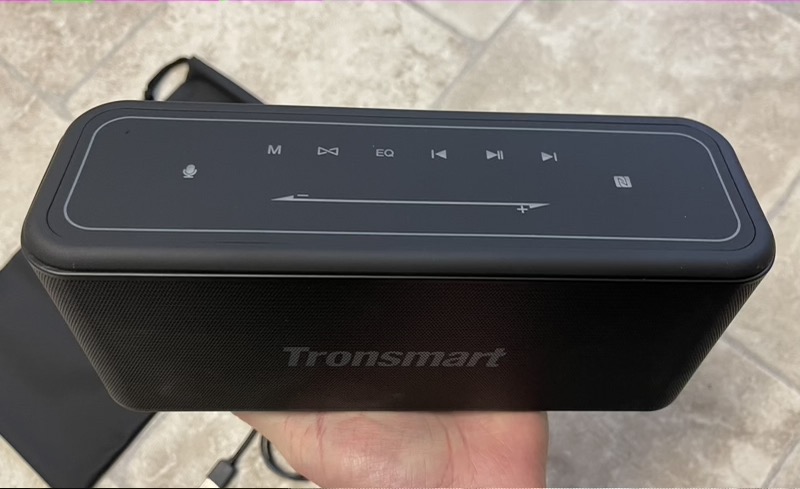 1 Aenkyo 'Air Wireless' 10000mAh power bank (£25)
Ah yes, my favourite accessory of the last decade bar none. I have, in fact, bought several. It's the swiss army knife of mobile power. 10000mAh available via built-in Qi, Lightning, Type C, or microUSB. Immediately. No fumbling for cables. No uncertainty over how much charge is left. Recharge it via any of the three cable formats. Plus an extra USB-A output for good meaure. There's nothing mobile-related that this can't help and I love it to bits. I keep one in my coat pocket, one in the car for handing to family, and a spare! Read more in my full review.