N8... 808 PureView... Lumia 1020
Core to this feature is the assumption that, like me, you depend on the presence of a great phone camera and proper Xenon flash - your phone creates memories in all light situations and for all subjects and, put simply, no other smartphone camera gets close to these Nokia masterpieces. As I say, N8... 808 PureView... Lumia 1020.
Yet the latter runs Windows Phone and not Symbian, so naturally N8 owners (from 2010 onwards) and 808 owners (from 2012 onwards) will be eyeing the Lumia 1020 with some suspicion.
Having gone through the same transition myself, let me take each area of functionality in turn and offer my assessment. Again, this is unashamedly all from the point of view of Nokia N8/808 owners moving to the 1020, though some principles and conclusions can of course be taken by user of other smartphones from the Symbian (or other mobile) worlds.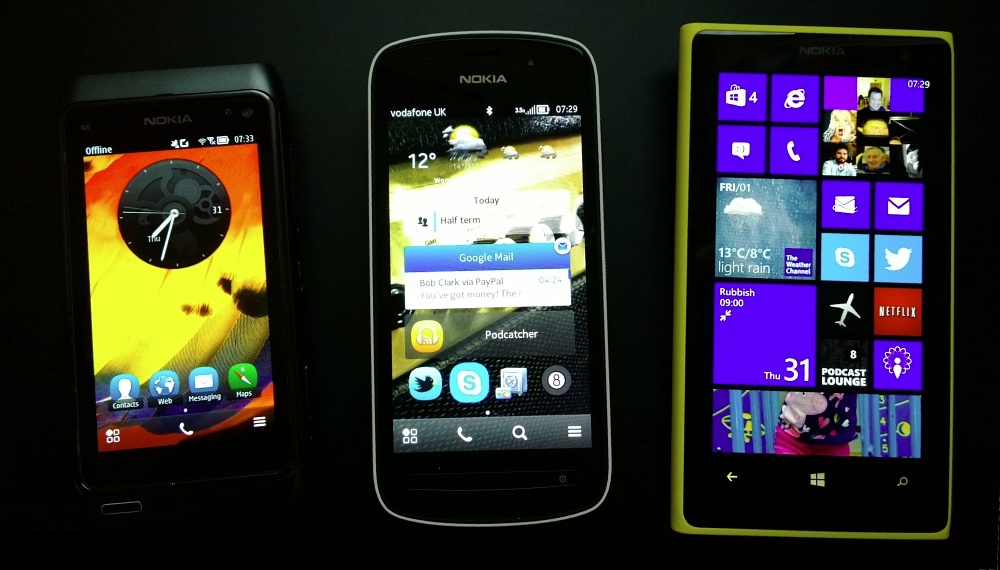 Camera
The obvious place to start, given the focus (no pun intended) of the N8/808/1020. I've done a number of comparisons now, notably 'The legendary 2010 N8 versus... the 2013 Lumia 1020', which ended up as a narrow win for the 1020, and that was before the Xenon shutter fix recently, which would have widened the gap, plus there's the OIS 1080p video capture as a major plus point for the Lumia 1020. Then there was 'Nokia's 808, 1020 and 920 take on the LG G2' which again resulted in a narrow win for the 1020, again with the extra qualifier that the 1020 pulls further ahead in video capture, thanks to the OIS.
To be honest, once you factor in moving subjects indoors and in the evening, all three (plus the Samsung Galaxy S4 Zoom) are in a class of their own anyway - surely 2014 will be the year of Xenon? And yes, I say that every year!
A lot of comparisons then and, while there will still be some use cases and situations for which the N8 or 808 cameras might triumph, for every day use the Lumia 1020's camera may be the best, with the oversampling and zooming later already working well and promised to get better under Nokia Black, coming soon to the device. Staying with this theme, there's also something of a frisson of excitement knowing that, as a Lumia 1020 owner, you're back on an active development track, with genuine imaging improvements being released monthly.
Multimedia
The N8 and 808 proved surprisingly adept at handling multimedia, despite the relatively small and low resolution screens, thanks partly to the wide range of video codecs baked into Symbian, so almost anything could be side-loaded into mass memory or microSD and then played. Although you can't plug a Windows Phone into a computer as a vanilla mass storage device, note that it does appear as a drive under Windows 7 and Windows 8, plus there's the Windows Phone Connector for Mac, so it's fairly easy to get media across to the Lumia 1020, and a fair range of MP4-based content does play without any kind of conversion.
Streaming media is much more the province of the newer OS, of course. Where Symbian had to make do with a handful of third party YouTube clients, Windows Phone... oh wait. Due to bickering between Microsoft and Google, the situation's exactly the same, with just access through the mobile web site, though the higher resolution screen does at least make third party clients like MetroTube work rather beautifully. Other commercial streaming video services have a presence on Windows Phone, including the perennially popular Netflix, which works extremely well.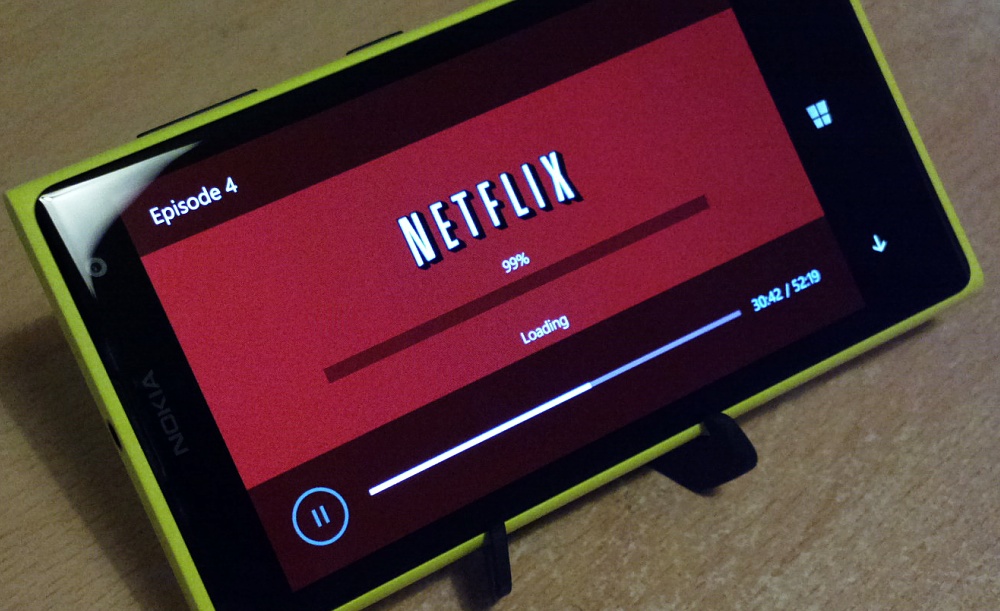 Audio is even better supported on Windows Phone, with output on Nokia's Lumia range that's up with the quality produced on the older Symbian phones, though you do have to get used to a different way of controlling playback using a suitable headset. Streaming audio services are practical too, with Spotify well known and first party solutions like Nokia Music baked into the Lumias and Microsoft's Xbox Music only a step away if needed.
The N8 and 808 both have 'Play via radio' (FM transmitter), of course, and this has yet to be matched on other platforms, possibly because the logistics of transmitting audio this way in a car are more problematic in the crowded airwaves these days - but I'd still like to see a company include this feature again at some point.
Podcatching was always something that Nokia's Symbian devices like the N8 and 808 did well, at least using third party clients, thanks to the full multitasking (so checking and downloading could happen in the background, completely automated). Thing are a little more complicated on Windows Phone, as I discovered when I rounded up all the various clients, though applications like Podcast Lounge now offer background podcatching that's 'good enough', provided you don't stray out of connectivity too often.
Web
Never mind the reputation of Internet Explorer in the past on the desktop, the performance of the mobile version on Windows Phone is light years faster and better than Web on Symbian, party because of a much faster javascript engine, partly because of the greater horsepower in the phone itself.
The minimalist, menu-driven interface, with permanent URL bar is somewhat reminiscent of Symbian Web, actually, but the actual rendering experience is light years ahead and you can head for 'heavy' sites without having to wait minutes for content to appear.
There's also a number of third party browsers with various optimisations. The privacy-conscious Incognito Browser and Nokia Xpress come to mind, the latter compressing everything on an intermediate server, in the same manner as Opera Mini on Symbian.
Email and PIM
Email is one of the bug bears of Symbian on the N8 and 808 and one of the highlights of Windows Phone on the Lumia 1020, so (as with Web) there's a vastly improved user experience. I'll add in PIM (contacts and calendar) here too, since synchronisation of this content comes along with email these days. With Windows Phone now fully modernised in terms of supporting CardDAV and CalDAV, in addition to as many Microsoft Exchange mailboxes as you need, plus the usual IMAP and POP options, email handling is generally excellent.
Although there's no 'all in one' email view, each mailbox can be represented on the Windows Phone Start screen with a tile, on which the number of new emails (since you last viewed the mailbox) is listed, along with (if you choose the largest tile size) content from the last email from each.
PIM works pretty well overall on Windows Phone, with contacts and calendar entries shown from any supported cloud servers (my Lumia 1020 is set up with both Microsoft (live.com) and Google (Gmail) accounts and I'm asked which one I want to use when I create a new contact or calendar entry. It would be nice to have to option of 'both', but then I'm probably a special case, having a foot in both Microsoft and Google camps for all data types.
Overall, a vast improvement again from Symbian on the N8 and 808, where a user is stuck with one Exchange account only and no direct access to Google cloud PIM at all (anymore, though there are commercial workarounds in the shape of Nuevasync).
Social
Much is made of Windows Phone's People hub, which can be thought of as social networking for beginners, and it's largely analagous to Nokia Social on Symbian, in that its fairly basic. In each case, anyone serious about social networking, with more than a handful of friends or followers, is forced to look at proper clients for each social network. The five biggest (arguably) are:
Facebook - support on Symbian on the N8/808 is somewhat patchy, with only fMobi really managing to keep up with the changes Facebook keeps making to its APIs. On the Lumia 1020, a first party client is available and regularly updated, though do watch out for data charges, as it's know to be somewhat byte hungry.
Twitter - with this service being (by definition) low in resource needs, Tweetian and Gravity offer first class Twitter experiences on the N8 and 808, while Windows Phone has both an excellent first party client and a number of equally great third party clients.
Google+ - with Google refusing to support either platform(!), both the old N8 and 808 and the newer Lumia 1020 are in the same boat here, with just support via plus.google.com in the phone's web browser. Neither are ideal, but the experience is obviously better on the larger, higher-res screen of the Lumia.
Flickr - although uploaders exist for Symbian, I never found a foolproof client for Flickr on Symbian. Windows Phone is in much the same boat, though Indulged is a slick new client released recently and I don't think it will be long before there's a good first party client too.
Instagram - much as I hate it, this is quite popular (and owned/bankrolled by Facebook) and again both platforms are in the same unsupported boat. Nokia has said that a first party client is coming soon, plus there are third party clients for Windows Phone. So if you really, truly want to massacre your images down to VGA then there are ways to do this...
Day to day ergonomics
It's probably not appropriate to lambast the interface used in either the N8/808 or Lumia 1020, declaring one better than the other - they're simply different, though the general principle is common, of a starting screen with widgets/'live tiles', plus shortcuts to often used applications, plus the ubiquitous scrolling application menu. To be honest, whichever smartphone and OS I try to use, the end result, in terms of the functions and data I bring to the fore, isn't that different, and I suspect the same will be true for anyone else after using Symbian, Windows Phone or Android for any length of time (iOS is slightly different because of its interface limitations - no homescreen, of course).
One of the biggest benefits of day to day use on the N8 and 808 was Nokia Big Clock, an always on system that used the properties of AMOLED screens to display the time through day and night, with negligible battery impact. This is now replicated on Windows Phone (as of Nokia Amber) under the name Nokia Glance Screen, and has the added benefit of an optional 'double tap to unlock' function (not recommended, as the battery impact is higher), plus a night mode where the time glows a deep red instead(!)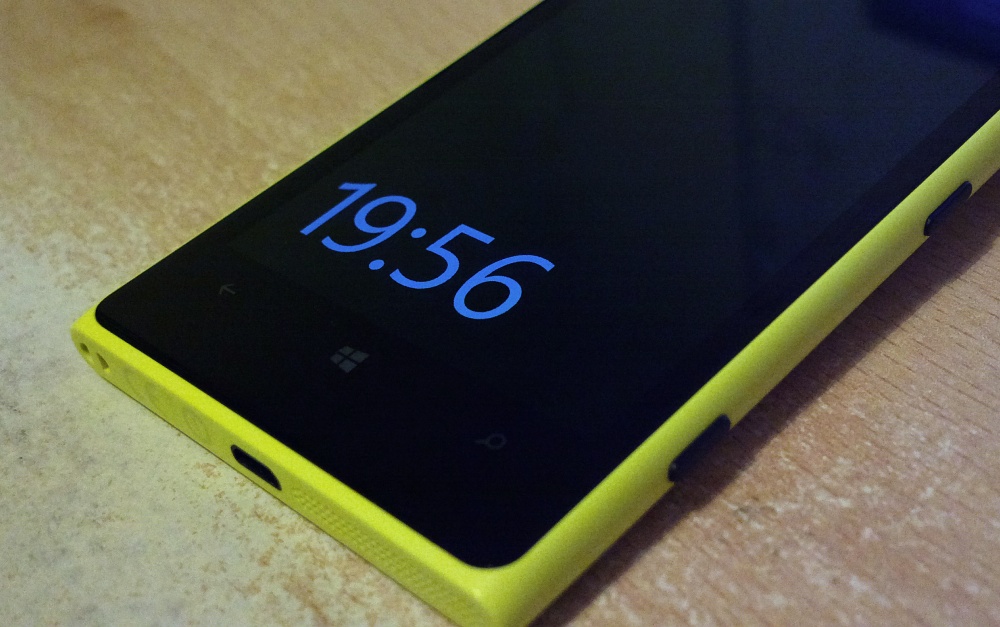 Symbian's Nokia Sleeping Screen, where custom images show up as permanent AMOLED graphics, is also now replicated, with Nokia Glance Background on the Lumia 1020. In short, this aspect of the N8 and 808 is now fully mirrored and it seems just as effective and frugal on power.
Although the unlock switches of the N8 and 808 aren't present on the 1020, a side button press reveals a lockscreen that can be used in a huge number of ways. There are currently well over a dozen commercial applications (weather, to calendar to social to image host) all vying to take control of this lockscreen, so the flexibility in terms of real world use is arguably higher.
Text entry is via the Windows Phone multi-touch keyboard, a step up from the Symbian QWERTY keyboards but still some way short of the power and intelligence of the iOS and Android equivalents. On the Lumia 1020, I missed not having any 'Swype' gesture system in place. Still, the keyboard does 'learn' as it goes and, in theory, the longer you use a particular device/installation, the better it gets at auto-correcting your text input.
Applications
The situation in terms of application ecosystem on the various mobile platforms has been discussed ad infinitum across the web, of course. Summary: iOS has the widest selection of applications and many of the best games while Android isn't far behind, though weaker on games. Windows Phone hits most of the top application names and brands, with only a few notable exceptions (e.g. Google+ and YouTube, listed above), and with a decent but growing selection of games, some of which are linked into the Xbox world.
In contrast, the decade old Symbian OS used on the N8 and 808, is comparatively weak here, with the number of really good applications numbering in the hundreds only and with big brand app names almost non-existent. All rather ironic, considering that Nokia invented the 'app store' with its 'Download!' system on Symbian back in 2005 - and then did almost nothing with it!
You'll find equivalents for most N8/808 applications on the Lumia 1020, with notable exceptions being low level utilities such as profile schedulers and call recorders, both of which demand more of Windows Phone than the OS allows. I also had trouble finding a decent phone-cloud secure database to compete with Handy Safe on Symbian, I'll report more on this in due course.
Office document viewing and editing is something that has fallen somewhat out of fashion on Symbian, with Quickoffice being bought out by Google and then dropped and with the 'MS Apps' suite always being impractically slow. Happily, Microsoft's (Pocket) Office works a lot better on Windows Phone, with documents saved by default in the cloud in SkyDrive.
Navigation is much the same on the Lumia 1020 and Windows Phone, when compared to Symbian on the N8 and 808 - Nokia Drive is renamed HERE Drive, and so on across the board. A strange name, but the software is similar and the maps identical, thankfully. And, yes, you can still have 'Surfer Dude' be your navigation voice!
Skype is something I depend on, for communications to my family, friends and work colleagues, using IM, voice and video calls. It was a frustrating experience on Symbian, with the client availability coming and going and with no updates to the application since 2011 (and no video call support at all). Skype on Windows Phone should be superlative, since Microsoft bought the company a couple of years ago, but I'd downgrade my verdict of it to 'functional'. Video calling is super, call quality is also good, but there remain glitches in delivery of Skype IMs, however much investment Microsoft seems to pour into the system and however much it tries to integrate Skype into the OS. But I'd take 'functional' over 'frustrating' any day, so Windows Phone on the Lumia 1020 wins out here.
Evernote is another mainstay for most people, as an online repository of useful (not confidential) information - Symbian has a third party client, Notekeeper, which covers the basics, in terms of text and images, though nothing official, while Windows Phone on the 1020 has a full (and regularly updated) first party Evernote client, and with a rather slick interface that supports all the data types available on the desktop.
Capacity
The flexible nature of the file system in Symbian on the N8 and 808 is modelled after desktop computer disks of the 1990s (disk C:, D:, E:, F: etc) and Windows Phone on the Lumia 1020 only offers one sealed, homogenous lump of flash memory - though at 32GB it's fairly generous.
The newest Windows Phones have started coming with microSD again, albeit only for media storage, so there's hope that a future 1020 successor might have 32GB plus card expansion - which might turn out to be essential, given that RAW image capture is soon to be possible, at 50MB per image, and with 1080p video at 250MB per minute!
Battery life
Comparing battery life between phones running different operating systems and with arguably different use cases is always tricky. For example, my Nokia 808 only needs to be charged every other day, whereas my Lumia 1020 needs a nightly charge - but then I'm watching an hour or two of Netflix movies/TV each day on the latter and playing more games, whereas the 808 only had to cover the smartphone basics.
When using the 1020 in a light-use scenario (so just email, social, Skype, podcast playback through the day), it lasts a day and a half, so the battery life of the two phones isn't that different. The use of a user replaceable battery on the Nokia 808 is a major advantage, of course, with the option of carrying a charged spare or simply replacing a year old cell with a brand new one of full capacity.
On the other hand, the range of accessories available to pour charge into our phones keeps increasing - the Lumia 1020 even has a dedicated DSLR-like Grip with built-in top-up battery.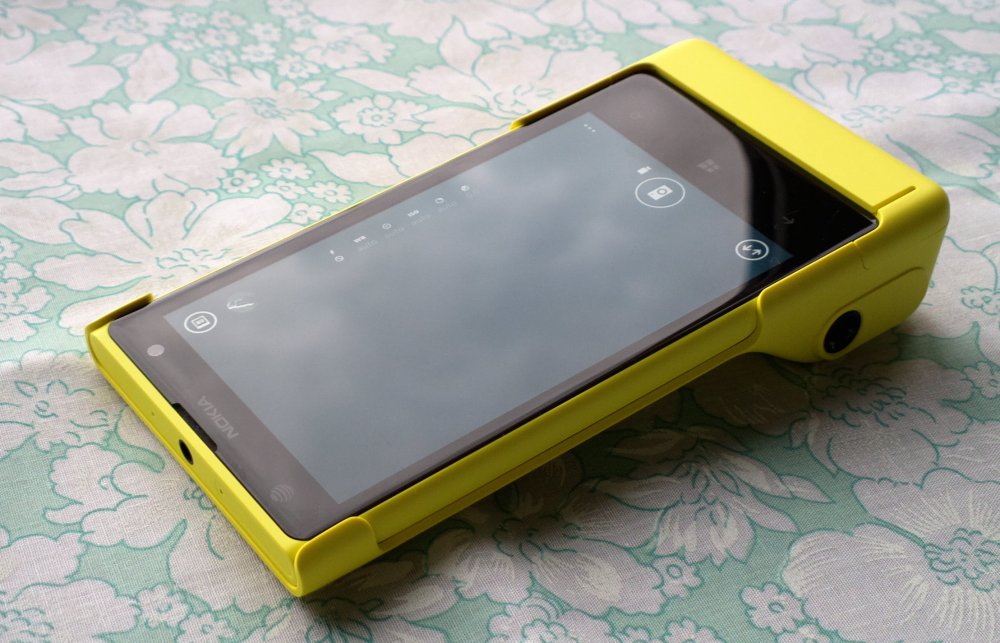 _________________________
Upgrade or sidegrade?
Comparing devices from different worls/ecosystems is always going to stir up emotion from those invested in each - which is why I've phrased my summary title as above. You see, if your Nokia N8 or (more likely) 808 is currently doing all you want from it then why change? Symbian and your device still work, on the whole, despite some of the ecosystem's edges gradually being chipped away by Nokia, by Microsoft and by the evolution of online services, breaking compatibility.
On the other hand, if you've:
got frustrated enough with the state of applications and services on Symbian in late 2013 and are looking for something with less history/baggage and more current support, yet without giving up the Xenon-equipped high spec camera from your N8 or 808
devoured the comparison topics and links above and are happy with the few caveats that moving to the Lumia 1020 entail
...then I can recommend N8 or 808 PureView users giving the Nokia Lumia 1020 a try. It's not only a well built modern smartphone, the OS is very nearly ('there') too, as I've catalogued above. And, if anything, your real world photos will get better, not worse - something you can't say about the competing iOS and Android devices of the current age.
There has been a lot of background chat about the All About Symbian team really being All About Nokia, backed up by our enthusiasm for devices like the Lumia 1020, despite the change in OS. And there's some truth in this - at AAS and here at All About Windows Phone, we've always been fans of Nokia's hardware and of its imaging expertise in particular, which is why this 'transition' feature is, unashamedly, following my (Steve's) own journey from N8 to 808 to 1020.
Comments welcome on your own journey, even if the starting and end points are slightly different.
_______________________________