From the firmware's page, here's a summarised list of the main attractions:
Send protected files like signed sis files via bluetooth.
Custom log age setting
Kinetic Scrolling
Reboot from menu
LED Notification (Charge light blinks as well as D-pad for notifications, useful if the E6 doesn't have the new d-pad design)
Profile Name editing
Metadata editing (Edit Album, artist etc in music player)
Browser Download Resume after close
Read Theme effects from E:/effects for custom effects
UI Speed boost (reduce delay and increase max cpu usage from 70% to 90%)
Battery Saver mod
Keylock vibration off
No boot animation (Disables handshake animation resulting in fast startup)
Using Meteor effects by Jin Hao by default
N9 fonts (Nokia Pure)
Only English and French present, to save space
Remove QuickOffice, F Secure, Vlingo, Microsoft Apps, MS Lync, MS Shared, MS Communicator

Email cache to E:
Browser Cache to E:
Around 320MB free space on C:

Quite a list, and I'll focus on many of these below. Note that, normally, theme effects are off by default on E6 firmware, because the animations don't run smoothly due to the higher resolution screen. However, theme effects are fast enough on the E6 with this firmware, at least they are after the first (caching) load for each.
Step 1 was to grab the firmware files as a '7zip' archive from mediafire, following the link on 'Nokia E6-00 v3 - 111.140.58 -Belle Refresh Enhanced by Luna Updated'. As usual, if you do the same, watch out for misleading 'download' links and dodgy ads on these download servers.
I also needed Phoenix 2011 - I'll leave you to source this on your own if you copy me, since it's not supposed to be in user hands. All About Symbian takes no responsibility for any damage you may do to your phone, or indeed to your Windows PC. Delving into the world of custom firmwares is officially frowned upon by Nokia, but seems to be overlooked provided that all parties recognise that all warranties are instantly voided.
With the firmware moved into a RM-609 (the product code of the E6) folder inside /Nokia/Phoenix/Products, start up Phonenix in the usual way, I connected up my E6 (turned on) and picked the relevant USB connection from the drop down list. I also needed to 'Scan product' on the menu.
I used 'Firmware update' from the 'Flashing' menu and then tapped on '...' to open up the product code firmware files. In this case, we should see 'Euro_silver' - and no, this firmware isn't available for languages other than English and French. The SW version shown is Belle Refresh, the same as the last official E6 firmware build.
Note that this isn't intended as a tutorial for using Phoenix - there are plenty (slightly less mainstream) parts of the Internet offering such guides. In fact, YouTube has a few video walkthroughs, should you find this the easiest way to learn.
In my case, I had to also click on 'Options' and remove the 'emmc' package (in the old days, preloaded memory card content), finally clicking on 'Refurbish':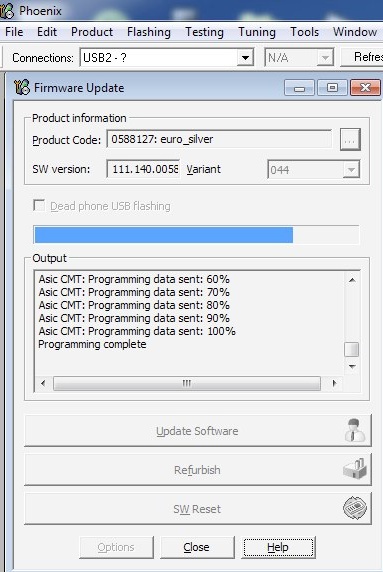 The flashing process takes a good ten minutes or so, with the E6's screen showing 'Test mode' through the most dangerous part: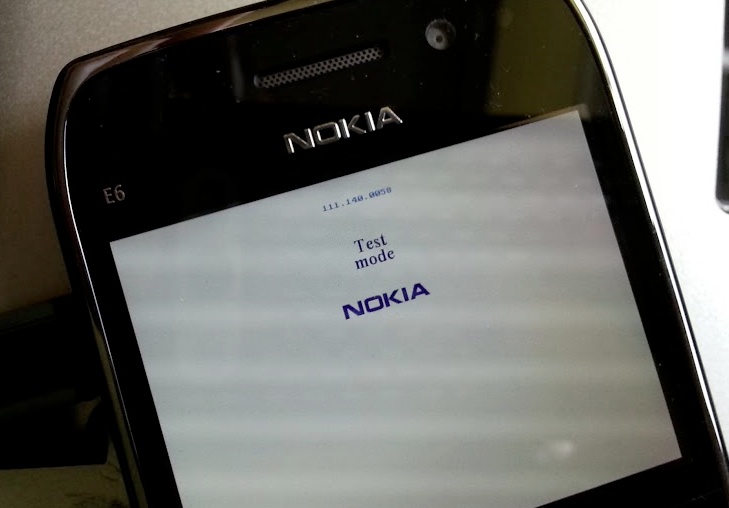 Once flashing is complete, it's important to let the post-install routines work their magic: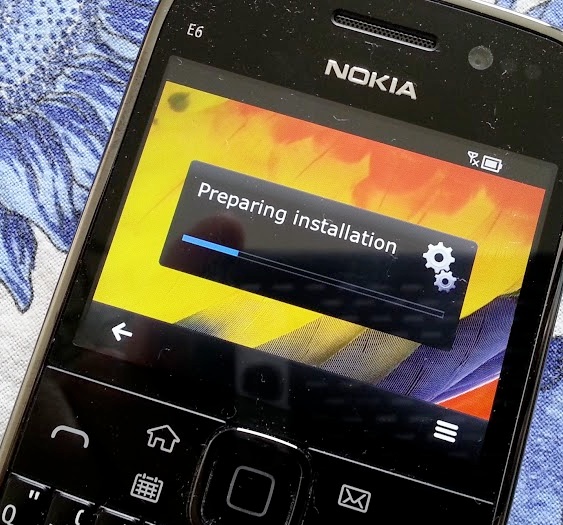 The E6 then restarted and then we're in business. I headed for 'SW update' first, to see what Nokia was offering me, over and above this 'Belle Refresh Enhanced' firmware. I still want most of this, but note that I used the options menu to 'select items' and then deselected 'Microsoft Apps 2.01', since this was part of the very streamlining option that this firmware embraced in the first place: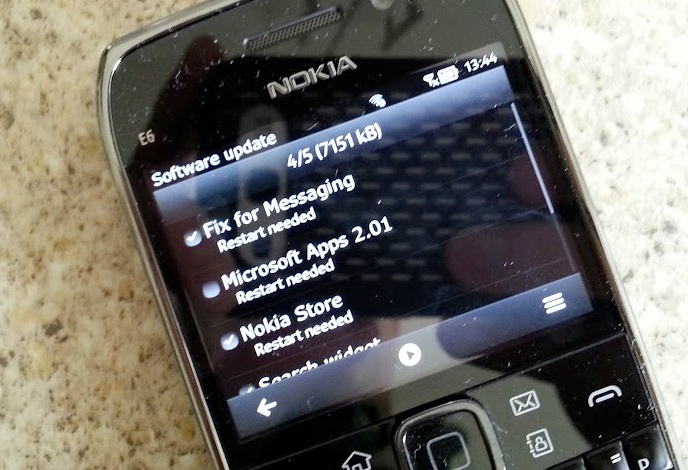 Having applied these updates (and restarted, again), I noticed one thing if I left the phone for more than a minute or two - the 'Big Clock' screen saver is enabled by default. Don't worry, it only stays on for a minute or so (to save power), but is rather cool to see on a LED-backlit screen nevertheless: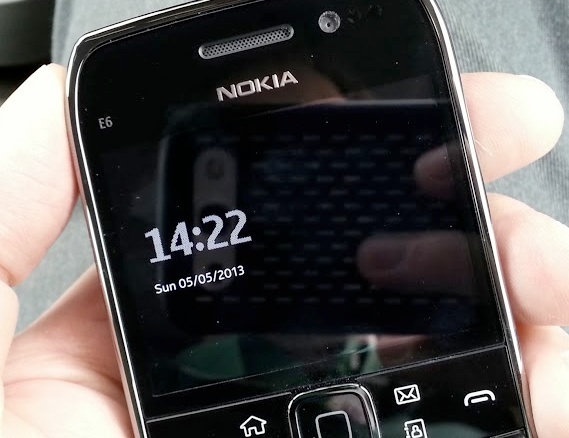 In fact, after testing, I found that having a screen saver at all was interfering with the normal screen time out on my test E6, so I disabled it. Your mileage may vary.
But onto the interesting bit, the changes that this firmware brings. Let's start with the 'Meteor' theme effects. Note that swiping between homescreens shows these off quite well, but do note that I needed to bring each homescreen up at least once so that Symbian has it cached properly, before the animations work smoothly: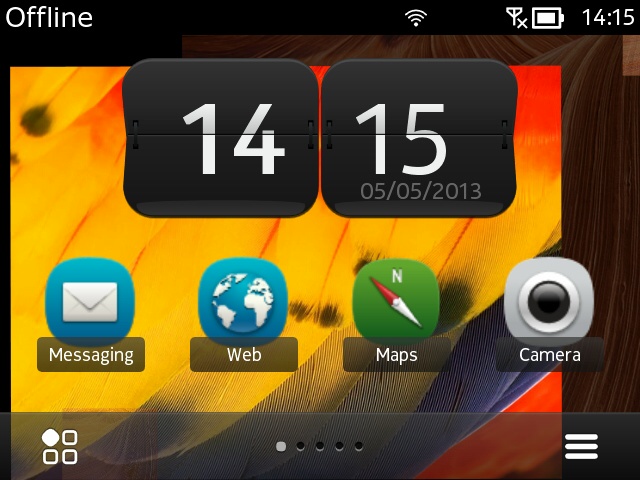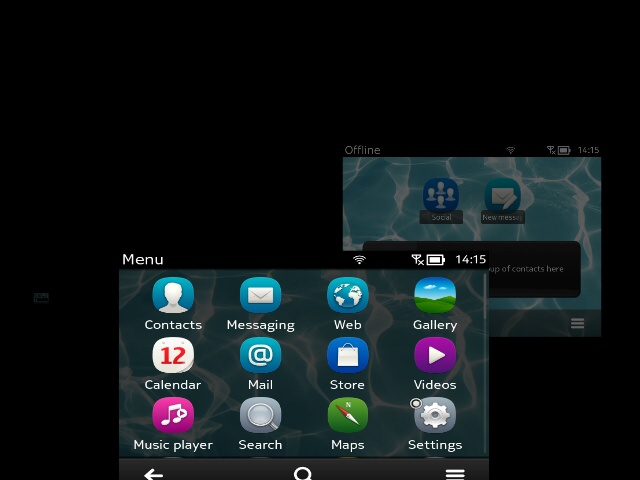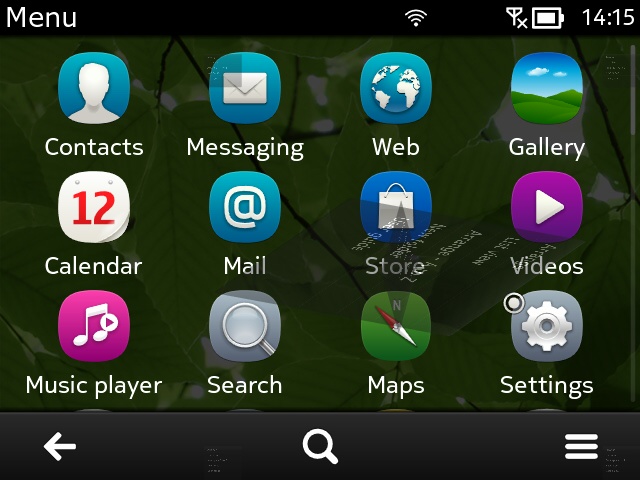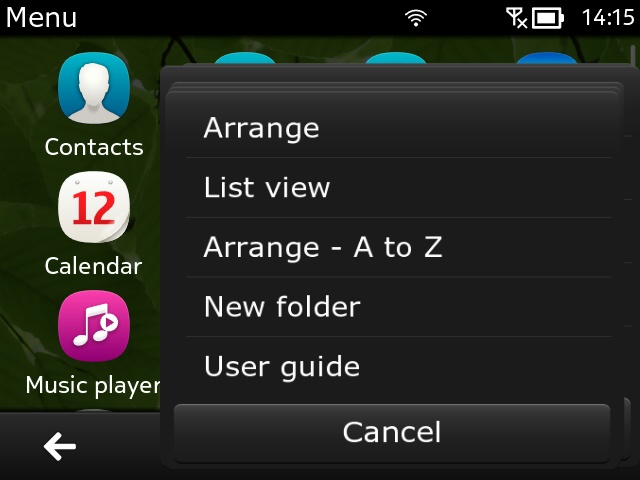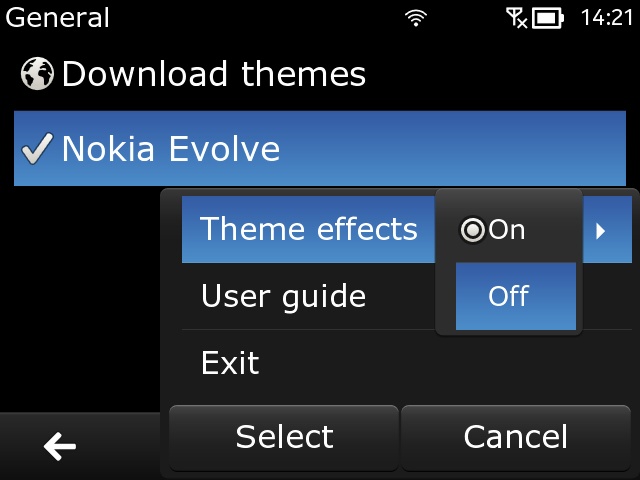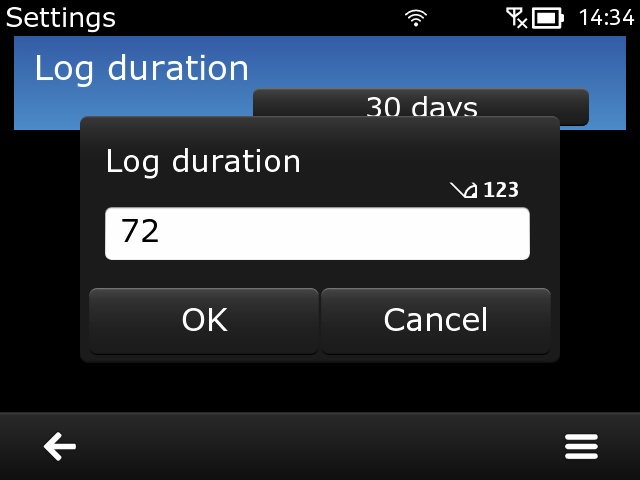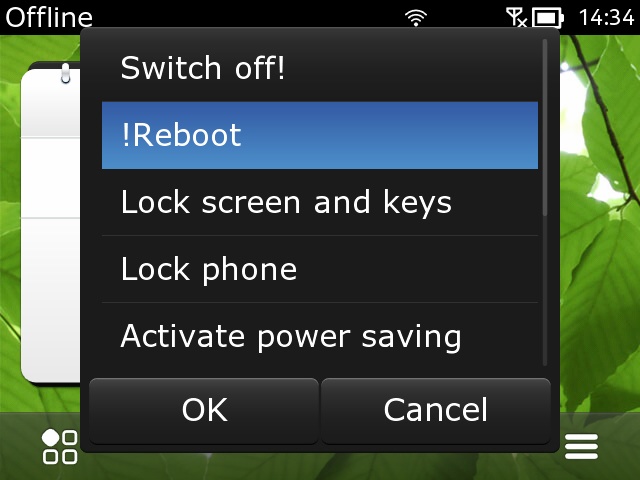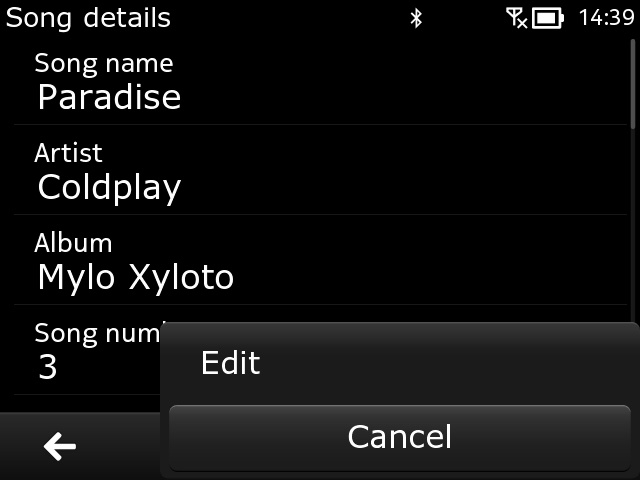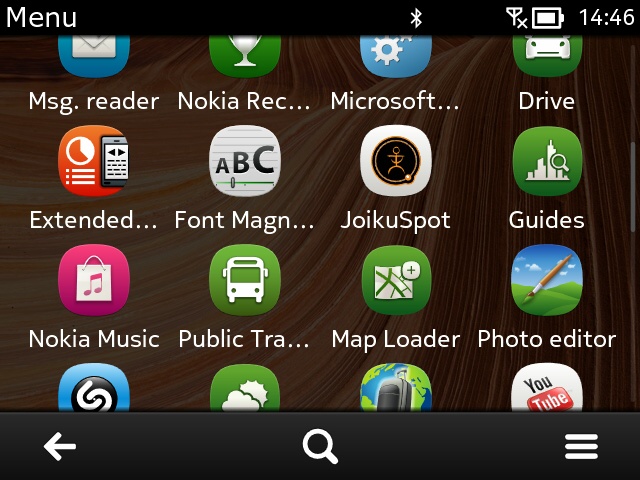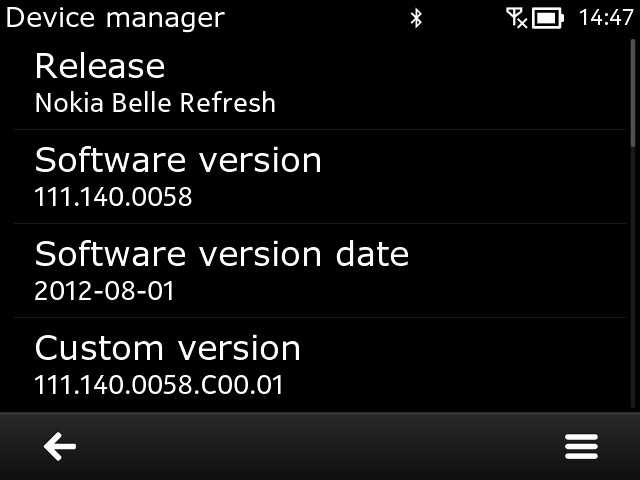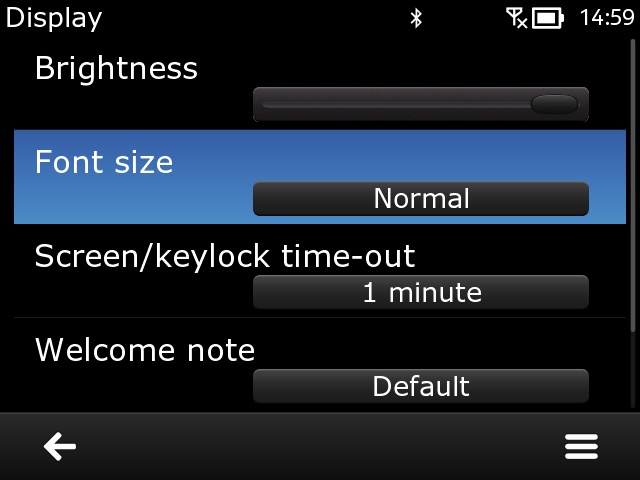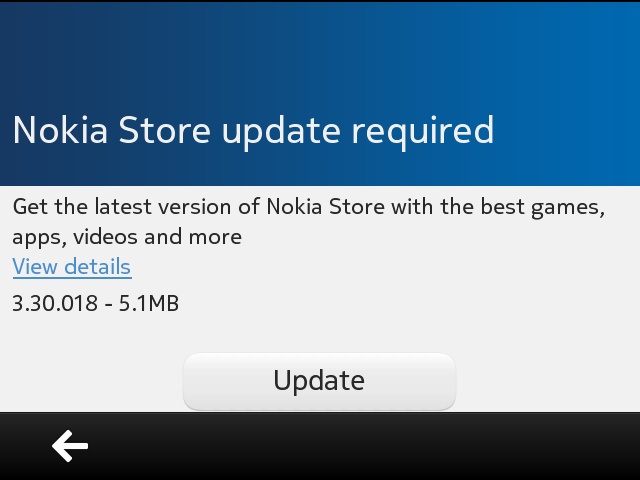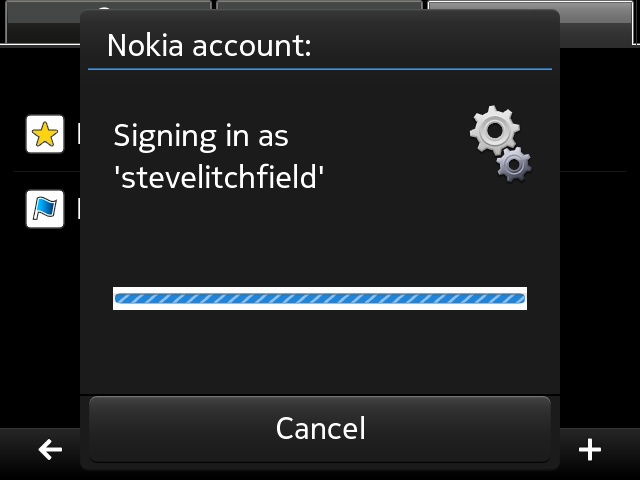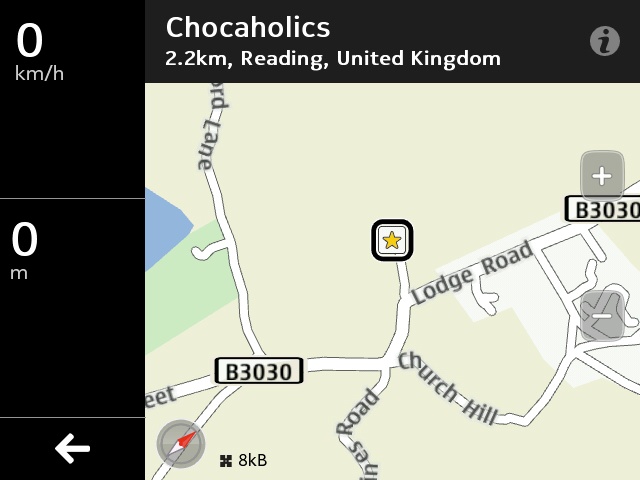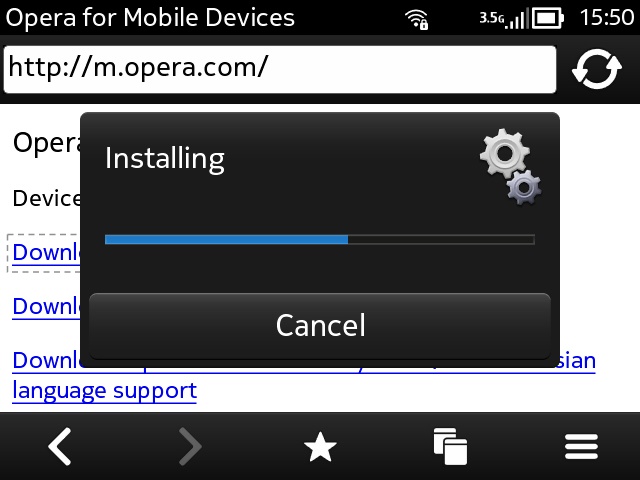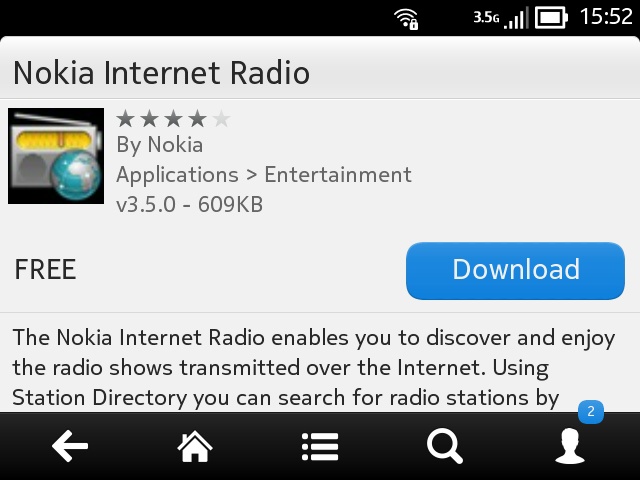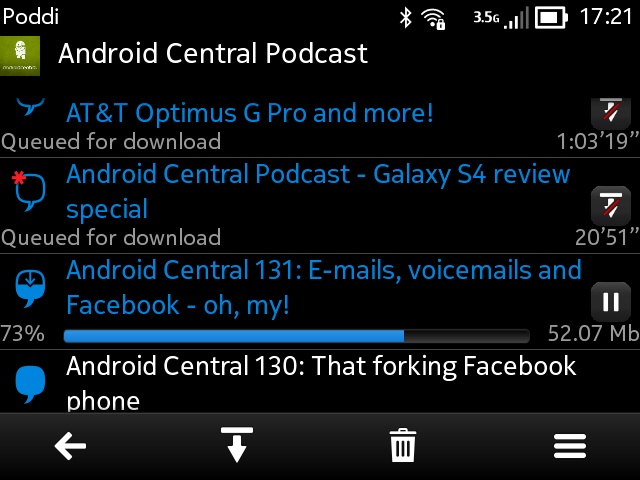 The 'Belle Refresh Enhanced' page concludes with these thoughts:
Recommendations:

Install an office suite like Quickoffice 6 or Pixel Smart Office on drive E
Install a fast PDF reader like PDF Eagle or use Pixel Smart Office as PDF reader
If you love the Anna theme on the e6 like me, search for the mignight silver theme and use that.
Remove excess homescreens for better battery life and less memory usage E.g Email widget is not really needed as E6-00 has an email button on keyboard.
Use attached Blackbery Bold Wallpapers I found.
Use Battery Info for E Series widget for a rather accurate battery monitor.
Avoid installing stuff on C: when they are compatible on E:
Do not install Microsoft Apps Update.
All fair comment, though I'd add my usual 'Pimping the E6' shortcuts and assignments too. Having Gravity and Podcatcher on one touch key 'long presses' is a huge time saver, in my reckoning.
Comments welcome - have you tried this, or another, E6 custom firmware? Do we have a winner? Any showstoppers?