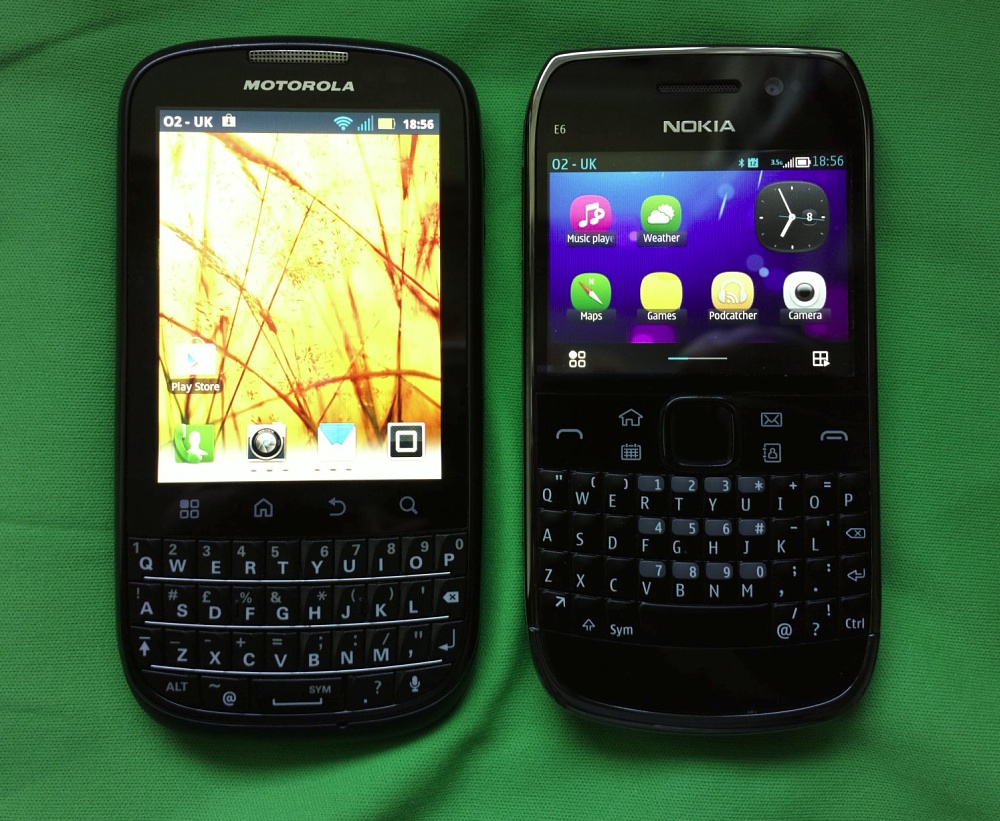 The two smartphones approach the form factor slightly differently, as you'll see from the photo, with the Motorola Pro+ opting for a VGA screen in portrait mode and the E6 a smaller VGA screen in landscape mode. Two things then leap out as blindingly obvious:
portrait mode works much better for Symbian and Android touch-optimised software - most apps are now written for portrait, with landscape as an afterthough.
the E6 really does waste a lot of its frontal area(!)
As usual, I've approached the detailed head to head comparison by breaking each device's attributes and functionality down and, as usual, I've tinted with green the cells in each row that indicate an obvious 'winner' for that attribute, for purely academic interest, and if appropriate. Some rows also have no clear winner, as you will hopefully agree.
| | | |
| --- | --- | --- |
| | Motorola Pro+ | Nokia E6 |
| Approximate (new) price in the UK, inc VAT, as at August 2012 | £170 SIM-free | £180 SIM-free |
| Latest firmware | Android 2.3.6 | Nokia Belle, firmware 111.130.0625 |
| Form factor, materials | Plastic body and somewhat creaky battery cover, Gorilla glass capacitive touchscreen, in the preferable - and crucial - portrait mode, 130g. | Premium materials, steel battery cover and chassis, solid plastic body sections, Gorilla glass capacitive touchscreen, BUT in landscape mode, 133g. |
| Dimensions | 119 x 62 x 12 mm. | 115 x 59 x 11 mm (so slightly shorter, narrower, thinner). |
| Connectivity | Tri-band 3G, Wi-Fi b/g/n, Bluetooth 2.1, DLNA. | Pentaband 3G, Wi-Fi b/g/n, Bluetooth 3.0, 'USB on the go' (to USB disks/accessories, though cable not supplied), DLNA via Nokia utility. |
| Input mechanisms | Four row QWERTY keyboard, almost no key travel, very 'clicky', keys are angled/sculpted in a rather unpleasant way and hinder typing (for me), with touch cursor positioning if needed. | Four row QWERTY keyboard, domed keys with superb feel and adequate key travel (iteration on the usual E71/E72/E5 design), with d-pad and touch cursor positioning if needed. |
| Durability | The plastic body should be quite robust, though the rubberised finish on the back is prone to tearing up, which is a little ugly. | 'Gorilla glass' display plus rigid construction means that the E6 should be very robust and long-lived. |
| Display | Relatively small 3.1" TFT (640 x 480 pixels) high brightness display, clear indoors and just about usable in sunlight. | Small 2.46" TFT (640 x 480 pixels) high brightness display with anti-reflective properties, gorgeous indoors, still quite readable in sunlight, though not as good as the CBD screen on the E7. |
| Interface | Android 2.3.6, customised with MotoBLUR additions, kinetic and multi-touch, of course. Seven homescreens of live, often interactive widgets. Most applications and app menu work in landscape mode, but homescreen is resolutely portrait only. | Nokia Belle, kinetic scrolling everywhere, multi-touch where needed, five homescreens of live widgets. Application menus generally standardised, but often centred around a bottom toolbar and an on-screen 'More' button. |
| Speed, RAM | Acceptable, comparable to modern Symbian, a 1GHz processor, 512MB total RAM, with over 130MB free after booting, plus GPU. Video playback is decent, though not quite up to Symbian's level of codec support. | Very good, 256MB total RAM, with well over 100MB free after booting and a Broadcom graphics processor to help out with effects, transitions and multimedia. Video playback is enabled with a wide range of codecs supported. |
| Memory capacity (storage) | 1GB system disk, plus 1.5GB mass memory and microSD expansion. Apps install to mass memory but can be moved later to microSD if needed. | 450MB of (C:) system disk, plus 8GB mass memory and microSD expansion. Apps can be installed on any disk (C:, E:, or F:) |
| Camera (stills) | Good 5 megapixel stills for static subjects, though there's up to a second genuine 'shutter lag', meaning that snaps of people (especially kids) are very problematic. Single LED flash. | Excellent 8 megapixel stills, with EDoF, though lack of macro photography will be a problem to some. Dual LED flash. |
| Camera (video) | Acceptable 720p capture, average sound quality. | HD (1280 by 720) video is superlative, EDoF produces a huge effective depth of field, from 40cm to infinity, CD-quality 48kHz audio capture. |
| GPS and navigation | Good GPS, plus Wi-Fi location, Google Maps/Navigation SatNav worldwide, though depends 98% on a data connection and guidance voices are horribly robotic. Digital compass and Google POI databases. | Good GPS, backed up by Nokia Wi-Fi location, with Nokia Maps 3.6 worldwide free voice-guided SatNav. Multi-touch maps can be pre-loaded by continent, country or area or loaded over the air. Includes digital compass and many POI guides and services. |
| Audio out | Single loudspeaker, tinny quality and moderate volume, 3.5mm jack, Poor AVRCP implementation when used with A2DP. | Single loudspeaker, reasonable quality and volume, 3.5mm jack, A2DP |
| Web browsing | Average rendering speed. There's multi-touch and also some intelligent reflowing of text blocks after double-tapping to zoom in. Time to render full New York Times site: 12s | Symbian Web (webkit-based), revamped for Belle, faster and more responsive but still constrained to a degree by the relatively slow processor and by the limited physical screen size on this device. There's multi-touch for zooming. Time to render full New York Times site: 17s |
| Email | The odd pairing of Gmail and a generic email client persists, as is usual for Android, but it works well and at very good speed here, bandwidth permitting. | All purpose Mail client provides 'push' facilities for Mail for Exchange, Hotmail, Gmail, Yahoo! mail and many others - works well on the whole and slightly faster now under Nokia Belle. |
| Social networking | MotoBLUR includes basic social support (though arguably worse than Nokia Social!), third party software definitely needed. | A Web Runtime-based, extensible social tool, currently working for Facebook and Twitter. Still a little slow and clunky, even in v1.5 form (supplied here in the E6's Sw_update tool). Some integration with Contacts. Neither phone deserves much credit here! |
| Other application highlights out of the box | A comprehensive, enterprise-heavy package: Quickoffice file editors, GoToMeeting client, Task manager, various device encryption and remote wipe/management facilities, plus the usual Google app suite (e.g. YouTube, Search). | A comprehensive package: Quickoffice file editors, Adobe Reader, Dictionary, Zip manager, Microsoft Communicator, Joikuspot, Shazam, Photo editor, Video editor, CNN Video, Nokia Search (v2.39), Psiloc Traveler. |
| Application store and ecosystem | Google Play (the new name for the Android Market...!), and access to many thousands* of high quality native applications. Applications can be automatically or manually updated. | The Nokia Store is now smooth under Belle and fully supports multiple application updates. Hundreds of native Symbian (and Qt) applications are compatible with the E6, but less than for the nHD devices like the X7 and N8, due to the non-standard screen size. |
| Battery and expected life | 1600mAh replaceable battery , microUSB charging, charging every two days for typical users. | 1500mAh Li-Poly replaceable battery (BP-4L), microUSB and 2mm charging, charging every two days for most people. |
| Ongoing firmware support and OS updates | Prospects for the OS itself are poor, Motorola has already stated that the Pro+ won't be getting Android 4.0, let alone 4.1 (Jelly Bean).... At least the core Maps, YouTube, Gmail, etc. all get managed separately via the Play Store and so can stay up to date. | Prospects not dazzling, with just very minor updates from now on. Many OS modules and components can be upgraded as-and-when using the 'Sw update tool' in the device. |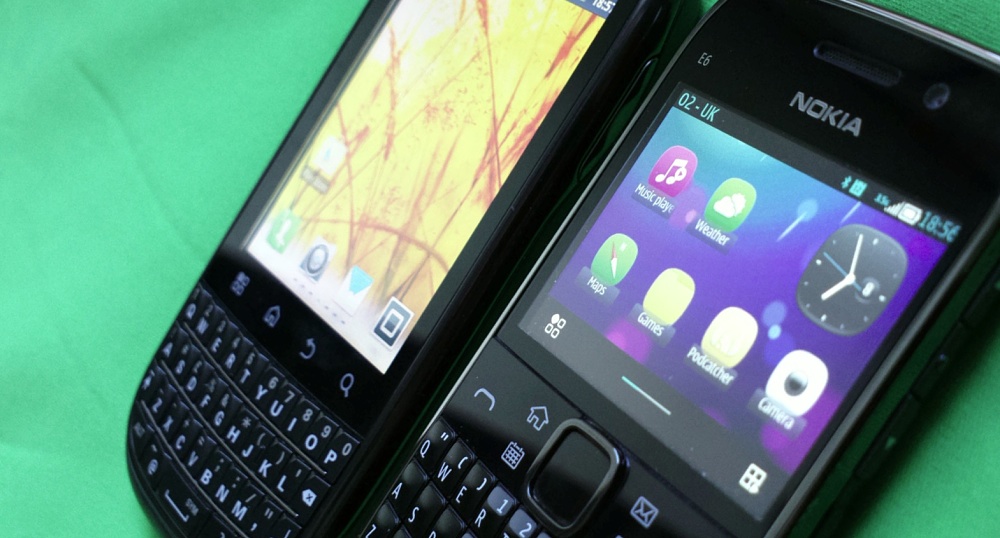 Adding up the green 'wins' gives a score of 7 for the Nokia E6 and 4 for the Motorola Pro+, but it should be noted that there were an unusual number of device functionality areas where I couldn't split the two phones and so didn't award a win.
However, yes, I'd rather have the E6 than the Pro+ - which surprised me, as I'd really been looking forward to reviewing the latter. The combination of modest portrait touchscreen and full time QWERTY was intriguing and Motorola has done an excellent job of creating the Pro+ concept. Alas, the really odd diagonally moulded keys, the creaky plastic build and the quite appalling camera speed all brought the Pro+ down compared to the its competition.
As ever, what I'd like is the best of both worlds - the Pro+ form factor with the E6's keyboard, metal build and camera/camcorder, for a start. It seems as if I'm never pleased... which means this series of head to heads can only go on and on!....