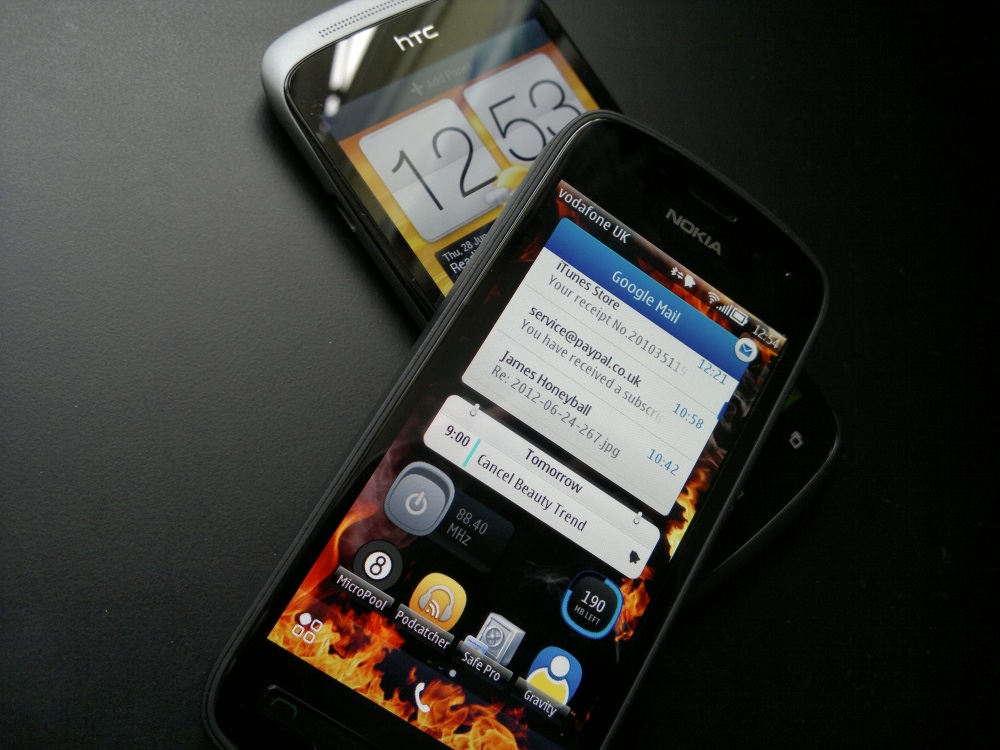 As usual, the table is part reference, part subjective opinion. And where obviously appropriate, I've allocated a row winner, in green.
Nokia 808 PureView
HTC One S
First sold
June 2012
April 2012
OS
Nokia Belle FP1
Android 4.0.3 plus HTC Sense 4.0
Form factor, materials
Solid plastic body, full-face Gorilla glass capacitive touchscreen, 170g
Slightly larger but lighter, essentially two-handed form for those with small hands, due to width and extra height, aluminium main frame, with plastic end caps, full face Gorilla glass, 120g
Dimensions
124 x 60 x 14 mm
131 x 65 x 8 mm
Connectivity
Pentaband 3G, Wi-Fi b/g/n, Wi-fi tethering via Joikuspot Light (some limitations), Bluetooth 3.0, 'USB on the go' (to USB disks/accessories), Near Field Communications
Tri band 3G, Wi-Fi b/g/n, Bluetooth 4.0, integral wifi tethering
Input mechanisms
Adequate virtual qwerty landscape keyboard with writing aids, plus qwerty or numeric 'T9' input in portrait mode. Compatible with most Bluetooth and USB keyboards.
Pretty good multi-touch virtual qwerty keyboard in both portrait and landscape modes (where appropriate), with writing aids. Compatible with most Bluetooth keyboards.
Display
4.0" (360 x 640 pixels) AMOLED with ClearBlack Display polarisers, true RGB pixels, readable in bright sunlight.
4.3" (540 x 960 pixels) Super AMOLED, pentile pixel layout, just about readable in bright sunlight - higher spec than the 808's display, but slightly more reflective and the pentile characteristic lowers the effective resolution.
Interface
(Symbian) Nokia Belle FP1, kinetic scrolling everywhere, multi-touch where needed, six homescreens of live widgets, whole interface works in portrait or landscape mode.
Android 4, customised with HTC Sense additions, kinetic and multi-touch, of course. Seven homescreens of live, often interactive widgets. Most applications work in landscape mode, but homescreen and app menu is resolutely portrait only.
Speed
Good, 1.3GHz ARM 11 with 512MB RAM and a graphics processor to help out with effects, transitions and multimedia, plus a dedicated PureView camera GPU.
Generally very good, with a dual-core 1.5GHz Snapdragon processor, plus GPU, and 1GB of RAM. As with Symbian, there's full multitasking, though Android 4 tends to be far more aggressive at closing apps running in the background.
Memory capacity (storage)

Up to 512MB of C: (system) disk, plus 16GB mass memory and flexible microSD expansion, e.g. adding an extra 32GB. Apps can be installed on any disk. Plugging in the phone to any desktop computer allows mass memory and microSD to be mounted and treated like any other disk. Plus generic USB disk support via 'USB on the go', adding up to 128GB extra.

2.5GB of system disk plus roughly 10GB of integral storage (mountable on a desktop as a USB disk)
Camera (stills)

Superlative 38 megapixel stills, though usually running in 5mp 'PureView' mode, offering zero digital noise and 'perfect' pixels with lossless 3x digital zoom. Huge 1/1.2" sensor and Carl Zeiss optics. Exposed camera glass. Proper shutter button.

Genuine Xenon flash and tuned camera hardware make for foolproof evening/social shots.


Reasonable 8 megapixel photos, 1/3.2" sensor. Poor plastic optics and over-zealous software processing of the camera's results. LED flash only, evening party shots are almost impossible.

Camera (video)
1080p video capture is superb and at high bitrate, a variety of focus options, plus intelligent (non-lossy) 3x digital zoom; audio capture in stereo and with pro-quality digital mikes and RichRecording software and electronics, capable of handling a very wide volume range.
Full 1080p capture, with continuous auto-focus good audio capture at normal volumes, in stereo. Capturing stills during video capture is also possible.
GPS and navigation
Good GPS, backed up by Nokia Wi-fi location, with Nokia Maps 3.9 worldwide free sat-nav. Maps can be pre-loaded by continent, country or area.
Good GPS, with Google Maps Navigation (runs mainly online, though there are now limited offline abilities) and (somewhat robotic) voice guidance.
Audio out
Loud, high quality mono speaker, 3.5mm jack, A2DP, FM transmitter to car radio, plus Dolby Digital Surround Sound (through HDMI port)
Tinny, quiet mono speaker, 3.5mm jack, A2DP.
Multimedia playback
Video playback from local storage (internal or microSD) is terrific, with a wide range of codecs and file types supported, aided by the reflection-free AMOLED screen and terriric speaker. YouTube playback in high quality requires a third party download (e.g. CuteTube), 360p via the mobile YouTube web site.
Video playback is good on the HD screen, though codec support is more limited. Excellent HQ YouTube support means that quality streamed video is never far away, too, bandwidth permitting.
Web browsing
Symbian Web (webkit-based), functional without ever really impressing, though it's faster on the 808 than on any previous Symbian handset.
Stunning rendering speed on a stunning display. The Android browser with a fast processor behind it is fairly unbeatable in mobile, with text reflow, etc.
Email
All purpose Mail client provides 'push' facilities for Mail for Exchange, Hotmail, Gmail, Yahoo! mail and many others - works well on the whole but some limitations and performance annoyances when very 'rich' emails come in.
The odd pairing of Gmail and a generic email client persists, as is usual for Android, but it should all work well and at very good speed here, bandwidth permitting.
Other application highlights out of the box
Microsoft Office Mobile editing suite/cloud integration, Dictionary, Zip manager, Photo editor, Video editor, Nokia Social Networking (Twitter and Facebook)
Full Polaris Office editing suite, plus Dropbox, and the usual Android core applications.
Application store and ecosystem
Nokia Store client, hundreds* of high quality native Symbian applications are compatible. There's an automatic update system but installs are somewhat intrusive where the Qt Smart Installer is involved.
Google Play (the new name for the Android Market...!), and access to many thousands* of high quality native (based on Java) applications. Applications can be automatically or manually updated.
Battery
1400mAh, replaceable when needed, microUSB charging, casual use (without excessive photography) should last 2 days.
1650 mAh, completely sealed battery, microUSB charging, should get through a day of use.
Ongoing firmware support and OS updates
Symbian's long term prospects are of course time-limited now. Support and minor upgrades will continue at some level though, for up to another three years. Many OS modules and components can be upgraded, over the air, as-and-when using the 'Sw update tool' in the device.
Prospects good, though any core Android updates (Jelly Bean is now announced, for example) will take many (up to 6) months to appear, since the OS has to have Sense applied and then tested as such.
* yes, yes, overall numbers in each store are much higher, but I'm estimating the number of genuine high quality applications/games. Not novelties or copycats or junk.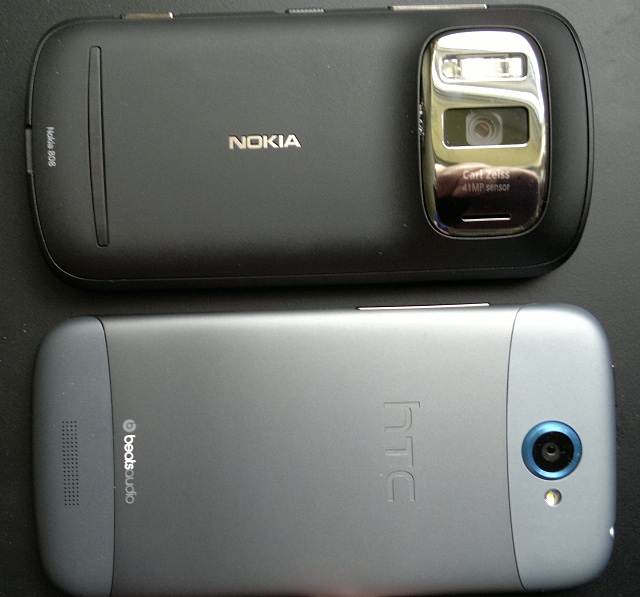 As ever, it's interesting (though not that relevant) to add up the green 'wins', and it's a close run thing: the Nokia 808 PureView's 8 pips the HTC One S's 7. In the hand, the two phones are very different, mind you - the One S is ultra thin and clearly thinks of itself as a mini Internet slate, while the 808 PureView is all about packing in high spec components and to heck with the consequences for thickness.
Cradling the 808 in your hand, your fingers are always aware of the camera hump, reminding you that you're only a second away from capturing an amazing shot or video. While the One S is an online display, a window into a world of Web and Flipboard and Google+. Would it be nice to have the best of both devices in the one phone? Yes, of course, but in the meantime I'll leave it to you to choose, in the comments.
Steve Litchfield, All About Symbian, 28 June 2012