Physically similar in form factor, the key differences here are in styling, with the Nexus S being 'curves everywhere' and the X7 being Star Trek angular cowlings, mixed with sleek steel curves. Continuing with the Sci-fi train of thought, the X7 is what you'd see on the starship Enterprise in fiction while the Nexus is what you'd probably end up with in reality on the Space Shuttle, with the design more sanitised and not remarkable for the sake of being remarkable.
There will be a lot of comment on the X7 hardware in our upcoming review on All About Symbian, in the next few days.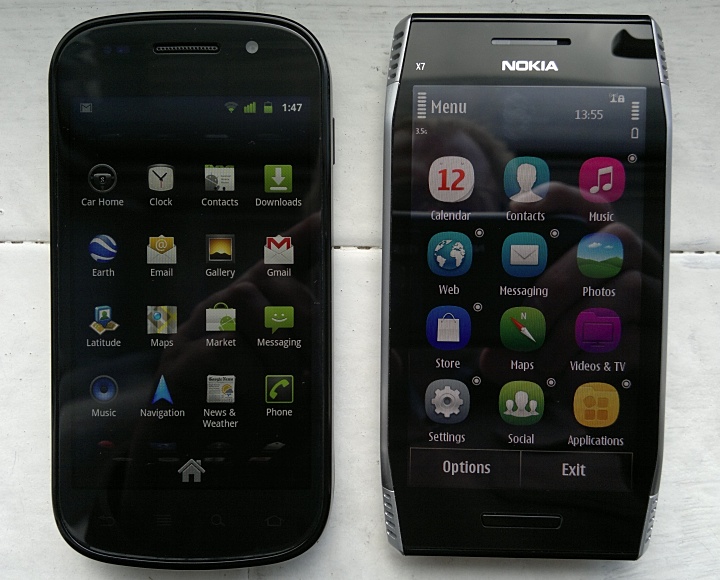 As usual, I've approached the head to head comparison by breaking each device's attributes and functionality down and, as usual, I've tinted with green the cells in each row that indicate an obvious 'winner' for that attribute, for purely academic interest, and if appropriate. Some rows also have no clear winner, as you will hopefully agree:
| | | |
| --- | --- | --- |
| | Nokia X7 | Google Nexus S (Super AMOLED version) |
| Price in the UK, inc VAT | £400 SIM-free (will vary, street price expected to get to £350 very quickly) | £430 SIM-free (varies, note that a cheaper version has a dimmer S-LCD screen - avoid) |
| Latest firmware | Symbian Anna, firmware v21.013 | Android 2.3.4 |
| Form factor, materials | Premium materials, brushed steel body, plastic end-caps, full-face Gorilla glass capacitive touchscreen, 146g | Plastic frame, full-face tempered (and slightly concave) glass capacitive touchscreen, 129g |
| Dimensions | 120 x 63 x 12 mm | 124 x 63 x 11 mm |
| Connectivity | Pentaband 3G, Wi-Fi b/g/n, Bluetooth 3.0, 'USB on the go' (to USB disks/accessories), DLNA via Nokia utility | Tri band 3G, Wi-Fi b/g/n, Bluetooth 2.1, DLNA, Near Field Communications |
| Input mechanisms | Virtual qwerty keyboard in both portrait and landscape modes, with writing aids (defaulting to full text auto-correction but not 'word completion', which seems a sensible state), plus virtual numeric 'T9' input as an option in portrait mode. Compatible with most Bluetooth and USB keyboards | Virtual qwerty keyboard in both portrait and landscape modes, with excellent writing aids, plus surprisingly good voice search in most cases. Compatible with some Bluetooth keyboards |
| Durability | 'Gorilla glass' display, unibody construction, suspect very robust | Standard glass display, plastic body, fairly robust by virtue of plastic absorbing energy from drops (plus the battery would probably fly out!) |
| Display | Excellent 4.0" (360 x 640 pixels) AMOLED with anti-reflection layer (similar to the N8's display but mounted closer to the glass, increasing the apparent contrast), gorgeous indoors, still quite readable in sunlight, though not as good as the CBD screen on the E7 | Curved 4.0" (480 x 800 pixels) Super AMOLED, good indoors (though auto-brightness is set too low), acceptable outdoors but not as clear as the X7's display. Wins on resolution but not constrast or clarity |
| Interface | Symbian^3, kinetic scrolling everywhere, multi-touch where needed, three homescreens of live widgets. Application menus generally standardised, but centred around an on-screen 'Options' button | Android 2.3.4 ('Pure' Google), multi-touch where needed, up to 5 homescreens, heavy widget focus and flexibility in terms of size and placement. Application menus vary widely but are off-screen until brought up with a 'hardware' (capacitive) button |
| Speed, RAM | Very good, 256MB total RAM, with 130MB free after booting and a Broadcom graphics processor to help out with effects, transitions and multimedia. Video playback is terrific, with a wide range of codecs supported | Excellent across UI and applications, 512MB total RAM, with 200MB free after booting. Video playback is comparable to the X7's, though with smaller codec compatibility |
| Memory capacity (storage) | 350MB of (C:) system disk, plus microSD expansion (behind a hinged hatch on the X7's side), 8GB supplied with the phone. Apps can be installed on any disk. | 1GB of system disk, plus 13.5GB effective free mass memory. Apps can mostly be moved to mass memory after installation, if needed. |
| Camera (stills) | Excellent 8 megapixel stills, with EDoF, though lack of macro photography will be a problem to some. Dual LED flash | Good 5 megapixel stills, with dual LED flash, auto-focus works well. No overall winner in this category. |
| Camera (video) | HD (1280 by 720) video is superlative, EDoF produces a huge effective depth of field, from 40cm to infinity, CD-quality 48kHz audio capture | 720 x 480 video capture is poor by current standards. Audio capture is poorish at 16kHz sampling |
| GPS and navigation | Good GPS, backed up by Nokia Wi-fi location, with Ovi Maps 3.6 worldwide free voice-guided sat-nav. Maps can be pre-loaded by continent, country or area or loaded over the air. Includes digital compass and many POI guides and services | Good GPS, backed up by Google Wi-Fi location and the latest Google Maps and with real time voice navigation now active in the UK and a number of other countries. Includes digital compass plus various Google Maps extras, including transit lines and place sharing and rating |
| Audio out | Two loud (similar to the N8's) speakers (despite the four mock speaker 'grilles'!) mounted internally, 3.5mm jack, A2DP, DLNA using dedicated Nokia utility | Excellent mono speaker, but can't match the volume of the X7's, 3.5mm jack, A2DP, DLNA sharing built-in, to compatible hi-fi |
| Web browsing | Symbian Web (webkit-based), revamped for Anna, faster and more responsive but still constrained to a degree by the relatively slow processor, with Flash support (including video) and multi-touch for zooming. Time to render AAS front page: 10s ; time to render (very heavy) Engadget front page: 34s | Browser with official Flash 10 support (once player has been grabbed from the Android Market), very responsive and fast to render pages and their javascript. There's multi-touch and also extra reflowing of text blocks after zooming adjustments. Time to render AAS front page: 11s ; time to render (very heavy) Engadget front page: 20s |
| Email | All purpose Mail client provides 'push' facilities for Mail for Exchange, Hotmail, Gmail, Yahoo! mail and many others - works well on the whole and slightly faster now under Symbian Anna | Tightly integrated (and generally superb) Gmail client, plus a functional, general purpose POP3/IMAP/Exchange client |
| Social networking | A Web Runtime-based, extensible social tool, currently working for Facebook and Twitter. Still a little slow and clunky, even in v1.3 form (supplied here in the X7's Sw_update tool), plus the white theme used is very battery-unfriendly. Decent integration with Contacts. | No built-in social networking support at all, but official, fully featured and regularly updated clients are available for all networks for Android and these integrate to a small (a very small) degree into Contacts. Each social app still uses a battery-unfriendly white theme though. The lack of social networking expertise in Android is one of the main things driving the current trend for manufacturers to layer their own software on top of the OS - this social aspect is a cornerstone of HTC Sense and MotoBlur, for example |
| Other application highlights out of the box | A comprehensive package: Quickoffice file viewers, Adobe Reader, Dictionary, Zip manager, Microsoft Communicator, Shazam, Photo editor, Video editor, CNN Video, Nokia Search (v2.39), Galaxy on Fire, Asphalt 5, Vlingo, World Traveler | A more restricted package, acknowledging that users will get downloading from the Android Market very quickly: YouTube client, Google Earth, News and Weather, Google Talk, ThinkFree Office file viewers |
| Application store and ecosystem | Ovi Store client v2.6 in the firmware, but 2.8 an immediate over the air update; thousands of native Symbian (and Qt) applications are compatible. There is now automatic update notification (within the client, at least), but some apps also go online and check for themselves for updates, which can sometimes cause confusion | The Android market boasts many tens of thousands of applications - though quality is variable, there's no shortage of choice. Application updates are automatically checked for and offered by the OS on a system-wise basis |
| Battery and expected life | 1200mAh (BL-5K), (sadly) not user replaceable (no Torx screws visible!), microUSB charging, nightly charging needed for power users (see my power saving guide) | 1500mAh, battery can be swapped, microUSB charging, nightly charging needed for most users, |
| Ongoing firmware support and OS updates | Prospects OK but not dazzling, Nokia has already shown off screens from Symbian Belle, though it's not due for another six months or so. Minor updates are expected in the meantime, although Symbian OS itself will have updates wound down after 2012, by latest reckoning. Many OS modules and components can be upgraded as-and-when using the 'Sw update tool' in the device | Excellent. Google will push all latest versions of Android to this, their current flagship smartphone. Updates are expected until at least the end of 2012. |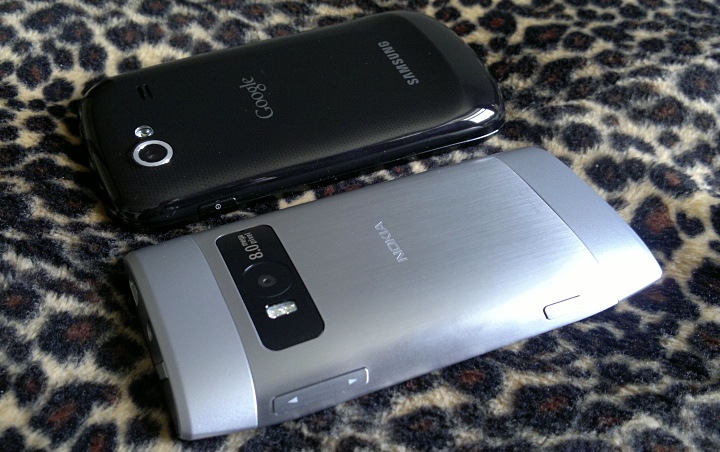 Using my much-criticised but admittedly very rough and ready scoring system, I make this 9-7 to the Nokia X7. Which will shock a few people, given the current perception of Symbian vs Android, but in this case the win for the Symbian device is mainly down to the superior hardware in the X7. The Google Nexus S is something of an Android reference device, originally intended as a developer flagship and, as such, I suspect that not that much effort was put into designing in the best hardware components. Putting the X7 up against the top of the line Samsung Galaxy S II, for example, would have produced a rather different result... though the large price difference between the two (up to £150 SIM-free) should then be borne into account in the X7's defense.
Hopefully this comparison has proved interesting - part 1 of our Nokia X7 review will be along very shortly.
Steve Litchfield, All About Symbian, 16 June 2011