SW update (Software update)
SW update is an application that Nokia uses to deliver software updates outside of firmware updates. It can also be used to alert users to the availability of firmware updates (as was the case for a recent N86 update).
On the N97, this application is found in the Applications folder. Recent Nokia devices can be set to automatically check for new software updates and alert the user when they are available. Of course you can also manually check for updates. In both cases you must manually install them. Updates are downloaded over the air (a 3G or WiFi connection is best for the larger updates) and, once downloaded, will be automatically installed.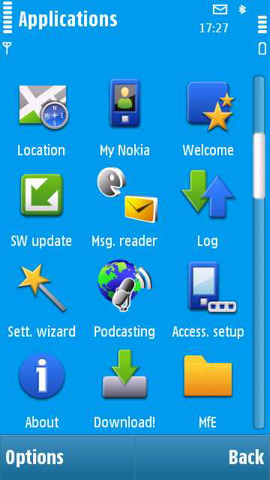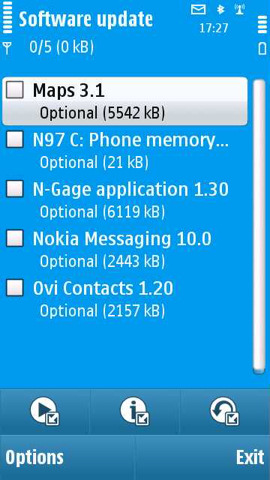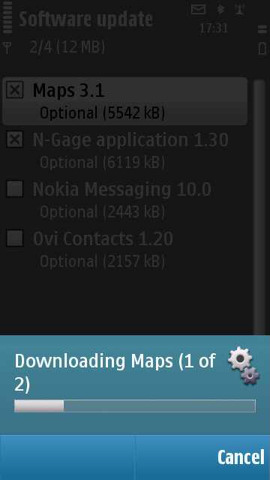 Today Nokia made a number of application updates for the N97 available through SW update. Some of these have previously been available from Nokia Beta Labs or the Nokia web site.
Maps 3.1 - the latest version of Ovi Maps. This replaces Nokia Maps 2.0 that shipped with the device.

N97 C: Phone memory update - a helper application to free space on the internal memory drive.

N-Gage application 1.3 - adds the N-Gage games service to the Nokia N97.


Nokia Messaging 10.0 - adds the Nokia Messaging service (consumer push email) to the N97, which can be used to replace the email functions of the Messaging application.

Ovi Contacts 1.2 - add the Ovi Contacts / Chat service to the N97, this is Nokia's presence and IM service.

N97 C: Phone memory update
One of the updates that has been made available is a helper application to free space on the internal memory of the N97 (C: drive). It is described thus: 'This update recognises the C: Phone memory to optimise it for more user memory available for possible SW installation on this drive'. It is 21kb in size and has a version number of 7.1 (1). I installed this item separately and it increased the free memory on C: drive from 20 MB to 30 MB (results will vary of course). Even if you're not interested in the other updates, this utility application is a worthwhile install.
Nokia have made this update a dependency for the install of N-Gage and Maps 3.1 (i.e. you must install it, before installing them). This is because both of these applications require significant space on the C: drive (around 5MB each).
Maps 3.1
(Ovi) Maps 3.1 replaces Nokia Maps 2.0 that shipped with the N97. It offers significantly enhanced functionality and has a more touch friendly user interface. Highlights of Maps 3 include the ability to sync with the web version of Ovi Maps, improved mapping data, improved pedestrian navigation (including 3D buildings in City Explorer), extra traffic information (speed cameras), streamlined handling of licenses (both transfer and purchase) and significant performance improvements (especially when scrolling or zooming).
One downside of upgrading to Maps 3.1 is its incompatibility with Maps 2.1 map data. During the install process Nokia Maps will delete your old map data (but not your favourites/landmarks). You can, of course, download new maps over the air as you use Maps 3, or alternatively you can sideload data using Nokia Map Loader.
You can read more about Ovi Maps 3 in our preview of the last beta release.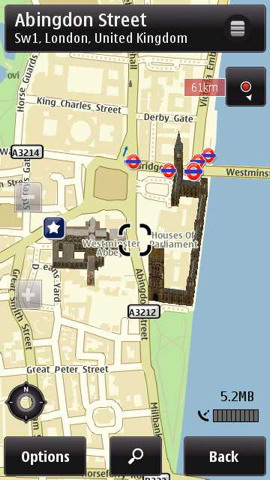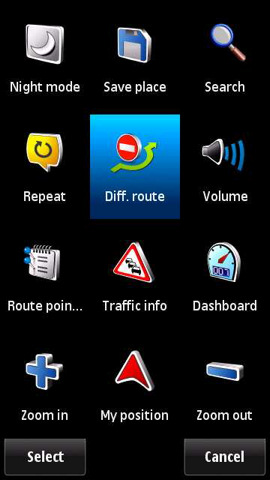 Nokia N-Gage
When the Nokia N97 was announced, Nokia promised that it would have N-Gage compatibility. However, N-Gage was missing at launch. However, thanks to this software update it is now possible to add Nokia's gaming service to your phone.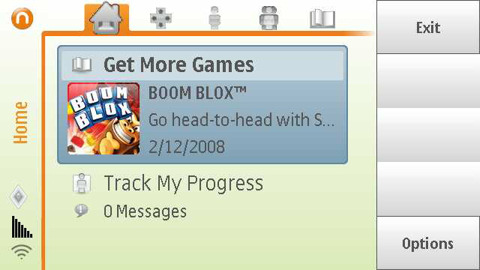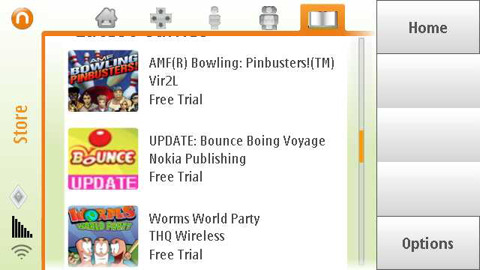 Ovi Contacts
Ovi Contacts, which integrates with the Contacts application, is an instant messaging and presence sharing service. It allows you to chat to your friends (instant messaging) and share information about what you are doing (presence).
Currently the instant messaging account / system is based on Nokia's Ovi account system. While it does federate (allow communication) with Google Talk users, it does not, currently federate with any of the mainstream instant messaging networks (MSN, Yahoo, AIM, Skype). This will limit the usefulness of the service for most people. Nokia have said they plan to federate with other networks in the future, but no specific timescale has been given.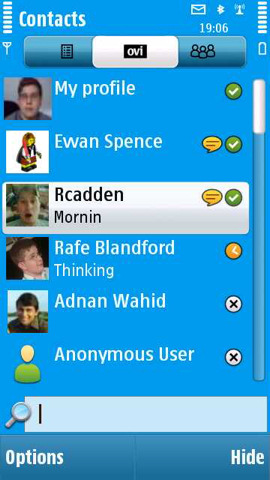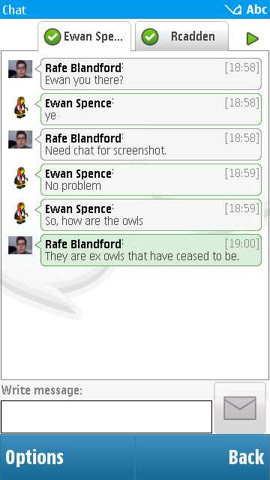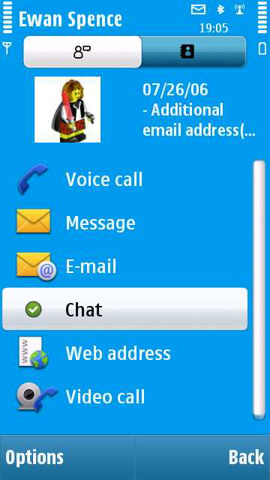 In the first two screenshots above you can see the basic chat interface. The Ovi Contacts contact list is available as a tab within the Contacts application (fitting in between the standard contacts list and the groups tab).
The third screenshot shows the integration with the contact entry for a person. If you fill in the Ovi field for a contact then chat will be added to the communication options you are presented with when opening a contacts in the Contacts application. Clicking the chat option takes you straight into a conversation with that person. This level of integration avoids the need to specifically switch into to the Ovi Contacts tab.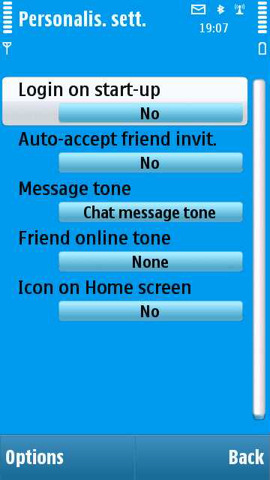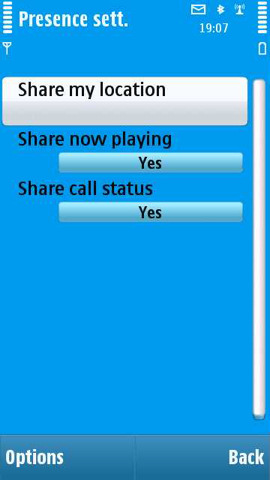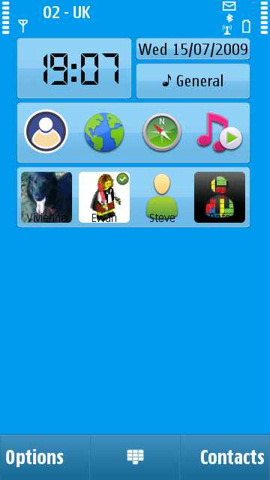 Ovi Contacts allows you to share your location with your friends (settings in the second screenshot). You are also able to share the name of the music track you are listening to (in Music player) and whether you're on a call (indicating availability); all of these elements are aimed at allowing you to share richer presence / status information.
Location sharing, at the presence level, is done via landmarks (i.e. you choose the landmarks at which you are happy to share your location). When you are physically at those landmarks, your presence information is automatically updated. The landmark name is shown in brackets after your name in the list view and is also shown in your profile. This level of location sharing is fairly granular, as others will only see the landmark name. Clearly the aim of this approach is to address privacy issues that many people have with locations. However the system is a little fiddly to set up, especially if you do not have pre-existing landmarks for your favourite locations.
In the third screen you can see that Ovi Contacts integrates with the N97's 'Favourite Contacts' homescreen widget. The icon for Ewan (second contact in from the left) is dsiplaying a green tick indicating his status / presence information from Ovi Contacts.
Ovi Contacts, at first glance, is about instant messaging, but its enhanced presence features are more significant in the longer term. Until a significant group of your friends are using Ovi Contacts (or more IM systems are federated with Ovi) the presence features will have relatively little impact. However, if you do reach that tipping point, then Ovi Contacts will give you rich presence information, which will make it easier to choose when to contact a friend and what communication channel to use.
Ovi Contacts is also available through Nokia Beta Labs.
Watch this space for more screens and comments on today's updates.
Rafe Blandford, AAS