Review:
Sony Ericsson Vivaz Pro - Part Two: user experience and applications
Score:
63%
In part one of our Sony Ericsson Vivaz Pro review, David Gilson looked at the device's ergonomic hardware design and camera performance. This time, David examines the user experience of Sony Ericsson's implementation of S60 5th Edition and the Vivaz Pro's software suite, before pronouncing a verdict - the device represents "an unfortunate set of contradictions". Read on for the full review.
Version Reviewed: 1232-0380_R2CA024
User Experience
Overall, the Vivaz Pro gives a fractured user experience. Sony Ericsson have tried to implement kinetic scrolling and single-tap operation where they can, but those areas are few and far between. For the most part, users will have a non-enhanced S60 5th Edition experience, which means no kinetic scrolling and mostly 'double-tap' (i.e. 'scroll and select') operation.
This is perhaps more of a criticism of S60 5th Edition than Sony Ericsson. Regardless, having to use your finger to drag narrow scroll-bars, while haptic feedback creates a continuous clunking sensation takes away any sense of smoothness while working with the phone. However, Nokia have long since remedied some of these user-interface issues and sent updates to all of their touch devices (e.g. N97, N97mini, 5800, 5530, etc). So it is a shame that Sony Ericsson could not, or would not, license these enhancements, or write their own.
The areas in which Sony Ericsson have worked on user interface are with their Flash-based home-screen widgets and the multimedia suite; there will be more on these below. However, an example of the difference in user interfaces is the 'Favourite contacts' home-screen applet. While adding or browsing favourites, the user has kinetic scrolling. However, after viewing a contact, the user is dumped to the default S60 Contacts application, which does not have kinetic scrolling (in this implementation). This is perhaps the worst example of the Vivaz Pro demanding users make a mental switch between two different touch paradigms.
Standby themes
The first thing to note with the Vivaz Pro home screen themes is that they don't follow the phone's orientation or take input from the keyboard. There are exceptions with some applets that really need the keyboard, although it still seems like a piece-meal approach. Similarly, it seems as if most of the Sony Ericsson customisations have just been imported directly from the Vivaz to the Vivaz Pro without adding support for the keyboard.
The Vivaz Pro has five 'themes' that define the home screen layout. All have application shortcuts, which are controlled from a single list accessed via phone settings.
Finger Use: Four large shortcuts for the top-four selected favourite applications; shown below the clock and signal indicators. Buttons for messaging, contacts, telephone, applications and profiles are at the bottom.
Sony Ericsson: A specialised five-screen system with Flash-based widgets, more on this below.
Full Screen: Same as 'Finger Use', but with six smaller application shortcuts below the phone's indicators.
Basic: Same as 'Finger Use', but with no application shortcuts.
Navigation: Same as 'Finger Use', but instead of application shortcuts there is a vertical toolbar. This toolbar has four icons which each open a drop-down list. The first shows the top seven favourite applications; the second shows imminent Calendar entries; the third shows the now-playing list from the Sony Ericsson music player; and the fourth gives a list of personalisation options.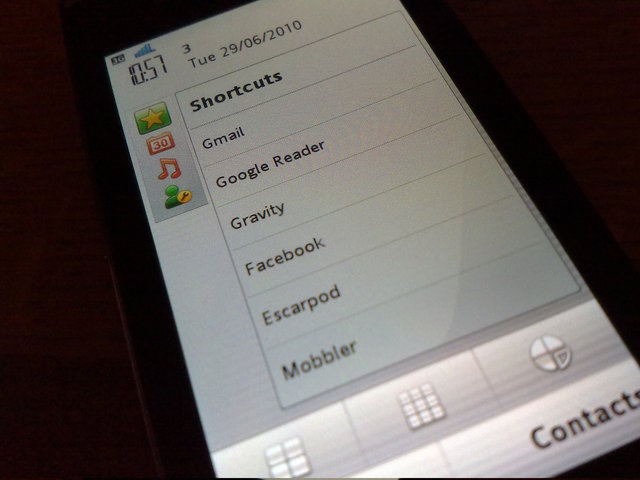 Power users might want to give consideration to which of these they use. The Vivaz Pro has a generous 250MB of RAM, but of course, the glitzy Sony Ericsson theme (see below) eats up more memory and battery power. From a cold-start with the Basic theme, only 33% of RAM was consumed by the OS. While the Sony Ericsson theme (in default configuration) meant the OS consumed 38% of RAM (another 13MB or so).
The Sony Ericsson standby theme
This is made up of five screens which the user switches between by swiping their finger left or right. Along the top of every screen are five icons showing which widget is running/assigned on which. A long press on the current icon opens a list of all available widgets so that the user can set up as they wish.
The available options are:
Empty
Picture: selected from gallery
Adobe Flash: selected from a range of widgets

Mobile Aquarium: Novelty.
Memo Pad: Typed or handwritten notes on virtual note paper.
Beach Marimba: Novelty.
Balloon Game: Novelty.

Twitter: A Twitter application with equivalent functionality to Twitter's mobile site. However, it fails to remember log-in details between boots of the phone. It is also a battery drain, requiring constant data connectivity.
Flow: An animated wallpaper driven by the phone's accelerometer. An abstract layer of water attempts to remain horizontal as the phone rotates. A very vague substitute for a spirit-level application, but is another battery drain.
Album: A kinetically scrolling display of everything stored in the Vivaz Pro's photo gallery.
Favourite Contacts: A kinetically scrolling list of selected contacts for quick access.
Shortcuts: The user's top eight application shortcuts.
Additionally, there is a floating widget, which appears on all five screens after a period of inactivity. This displays the phone's network operator, time and date; and shortcuts to Telephone, Multimedia, Messaging and the Google search application. It can also expand upwards to show the currently playing music track.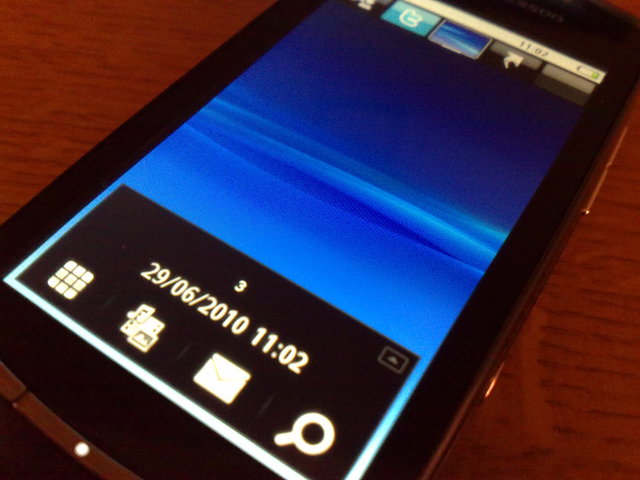 Applications
Web
Web browsing would seem to be a natural activity to take up on a phone like the Vivaz Pro, but the experience becomes stilted thanks to Sony Ericsson using an older version of Web (as shown in the screenshot below). There is the familiar finger-friendly menu, although there is no kinetic scrolling. Thankfully, input from the cursor keys is accepted, which serves to scroll the page and move between successive links. However, there is no visible cursor to move around, as you'd expect on a traditional key-driven Web implementation. Another frustrating part of this version of Web is that zoom levels are not remembered between page loads. Which means the user has to readjust the zoom level every time they return to a previously zoomed page.
On the bright side, the Vivaz Pro touchscreen is accurate, which helps with tapping small links, and (as with all S60/Symbian phones) Flash is supported on sites like YouTube.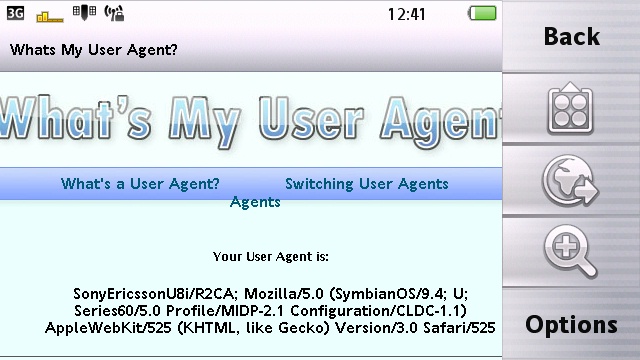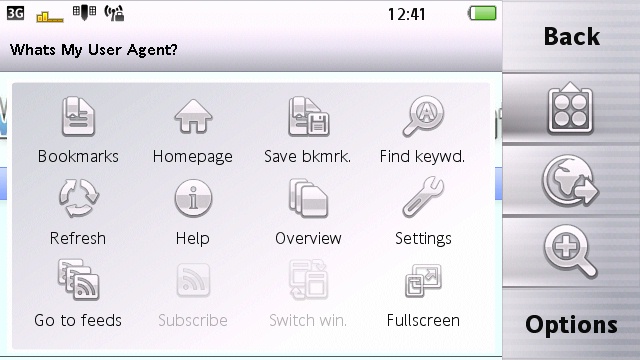 Productivity
The Vivaz Pro is supplied with the (S60/Symbian standard) viewer-only version of Quickoffice 6.2, which seems an odd decision when the Vivaz Pro is perfectly equipped to edit Office files with its slide-out keyboard. The Vivaz range is clearly aimed at social media content creators, although the "Pro" badge could be thought of as a slightly more enterprise-level Vivaz. In which case, creating and editing Office files would seem quite important.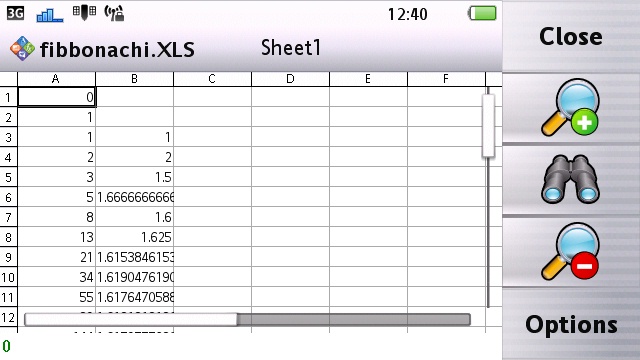 On a brighter note, the Vivaz Pro is supplied with a fully functioning version of Adobe Reader 2.5LE. To the uninitiated, 2.5LE has the ability to reflow (i.e. line-wrap) text in PDF files to best fit the phone's screen. The lack of this on Nokia phones has been the cause of many-a-rant in my previous reviews, so it is fantastic to see it here.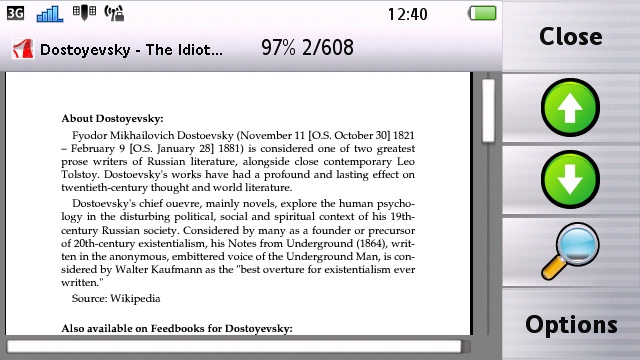 The Vivaz Pro is very well catered for when it comes to synchronising personal organiser information with a remote/cloud server. Sony Ericsson has given the old SyncML application a much needed boost; it now supports scheduled synchronisation. Even if the phone is switched off across its scheduled sync time, it will sync as soon as it is switched on.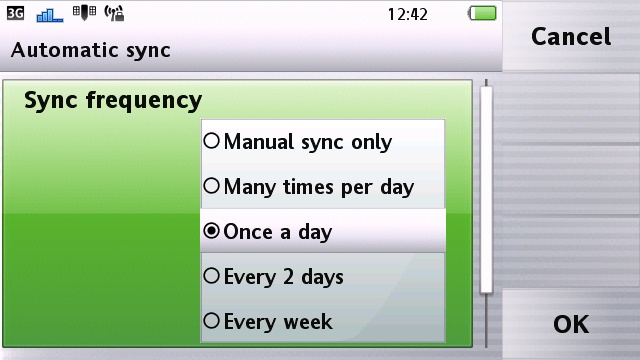 Navigation
The Vivaz Pro comes with two mapping/navigation applications, Google Maps 3.3 and WisePilot. The former will be familiar to most readers; version 3.3 of Google Maps introduced synchronising "Starred locations" with one's Google account, in addition to the existing 'Layers' system for overlaying extra content over the map; Layers isn't as useful as it sounds, which I reported on in January.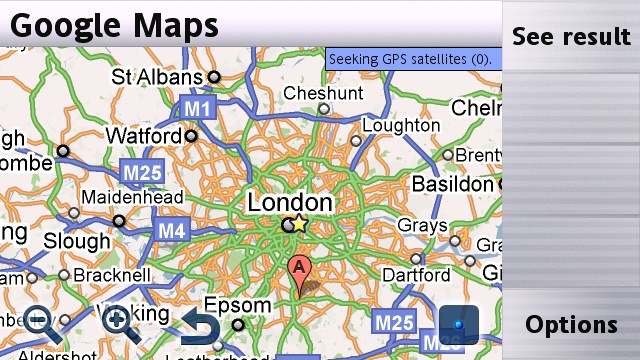 WisePilot is a subscription-based navigation application, taking the place that would normally be filled by Ovi Maps on Nokia S60 phones. All users have a free 30 day subscription to test the service. Fortunately, there a pay-as-you-go payment model. A single day subscription costs £1.50 (UKP) and a week would cost £3.00 (UKP). These can be purchased within the application, although longer subscription periods have to be purchased via the WisePilot website.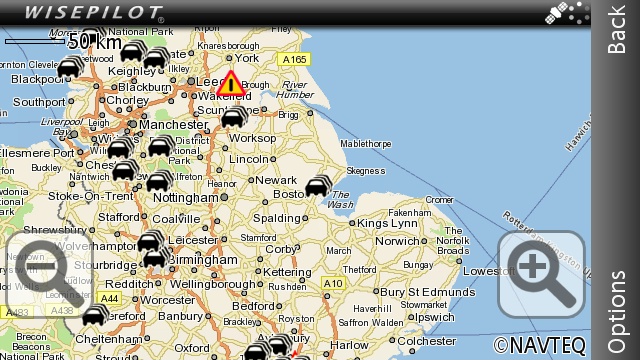 Google Maps can use cell tower location plus its own Wi-fi location system and thus get rough fixes indoors easily, while WisePilot is dependent just on the traditional GPS network and so any fix requires a decent GPS lock.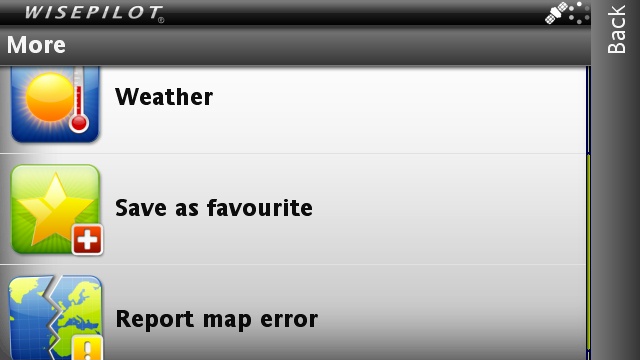 Fortunately, the Vivaz Pro seems to have a good GPS antenna. Tests for this review saw the Vivaz Pro locking on to nine satellites within two minutes. Until Google provide navigation on all platforms, users may find it simpler to use WisePilot for navigation, rather than going through an 'unofficial' (ahem) route to install Ovi Maps. However, in a direct comparison, WisePilot lacks most of Ovi Maps' features.
Other applications
Steve's review listed all of the fun, useful and novelty applications supplied with the Vivaz. The Vivaz Pro's software set is much smaller, perhaps because the Pro is aimed at more professional people, who perhaps are 'robots'(!) that don't enjoy diversions during the daily grind?
Here are the applications supplied with the Vivaz Pro:
NeoReader - A 2D Bar code and QR Code reader. New to the Vivaz Pro
TrackID - Music recognition
Media Server - Allows networked media players to access content stored on phone.
Conversations - Displays SMS conversations. Also built-into the standard Messaging menu.
Sound Recorder
SMS Preview - Displays previews of new text messages without going into Messaging
Facebook - Both pleasing on the eye and a functional implementation of Facebook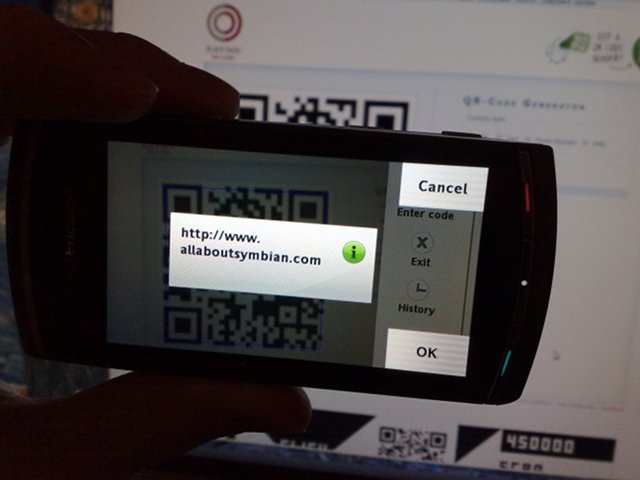 In addition to these, more applications (along with music and ring tones) can be purchased via Sony Ericsson's PlayNow content delivery portal. The selection of applications on PlayNow is pretty uninspiring, and £3.00 seems to be the going rate for most applications, which might put some users off trying anything. As reported in Steve's review, any time an application launches this website, two windows in Web are opened. Which means that even though the PlayNow page is closed down, Web is still running these pages in the background, clogging up RAM.
Multimedia
The Multimedia application is a complete contrast to the rest of the Vivaz Pro user experience. Everything flows smoothly, with kinetic scrolling and single-tap operation. Content is presented pleasingly with a stylish monochromatic interface, initially offering the choice of Photos, Music or Videos, each section having their own relevant sub-categories. However, this seems to be one area that was just directly copied from the Vivaz without taking the Vivaz Pro's keyboard into consideration - because there is no keyboard control at all!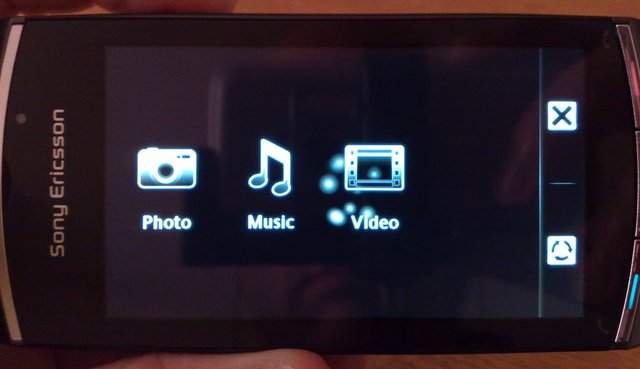 The lack of keyboard support is a particular problem when trying to find a specific point in an audio or video file. The playback widget has a small width, which means touching the time-line slider is quite imprecise. Being able to hold the cursor keys down would allow for more precise movement within a file.
Multimedia highlights another disconnect between Sony Ericsson's customisations and the standard S60 interface. While browsing the application menus, there's no hint of the standard S60 Music or Video players. However, launching a music or video file from the file manager opens up those familiar S60 applications, rather than the Sony Ericsson suite. Admittedly, this usage scenario will be rare, but does demonstrate the gaps between the S60 interface and the manufacturer customisations.
Photos
Going into the Photos section gives you the following options:
Latest Photos

Displays the last photo taken

Camera Album

Grouping photos by the month they were taken.
Strangely, videos are still listed along with photos (as with many S60 phones, but there's no excuse here since this is a completely different application/interface).

Photo Tags

Grouping photos by user-added keywords

Web Albums

Allowing you to view photos you have stored in Facebook or Picasa albums. While web-album details can be edited, there's no option to upload images. There is also an option to add new services. However, tapping this just takes you to the PlayNow store in Web, with no clear route to actually add a new service.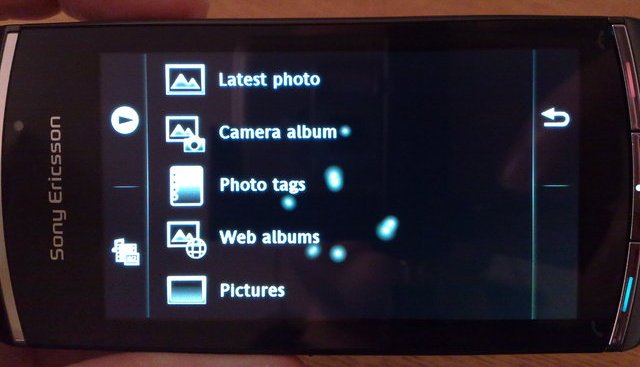 Overall, the interface for viewing photos is nicely done. The user moves between photos by swiping a finger across the screen. This works well enough, but the kinetic scrolling might be difficult to master if the user is new to kinetic scrolling, since there's a slim movement threshold that will make the album application just advance one photo. Below the threshold, the current photo just oscillates, and beyond, several photos will rush by at once.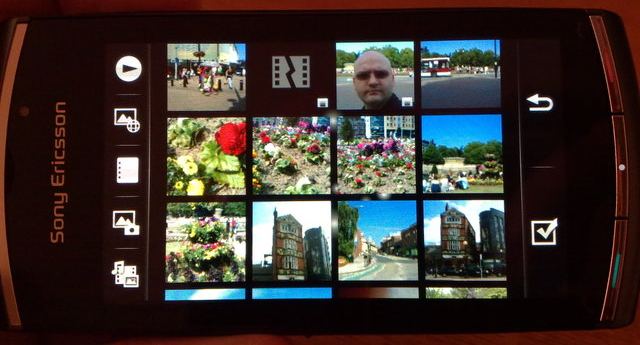 Music
The music interface presents a list of options, most of which would be expected by experienced users, although 'Genre' is missing:
Artists
Albums
Tracks
Playlists
Audiobooks
Podcasts
My Recordings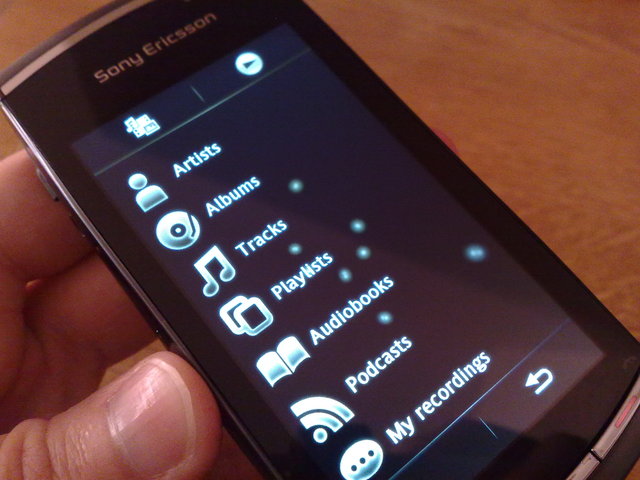 Just as with the original Vivaz, the Audiobooks and Podcasts are just filters, there is no means of content delivery here. For podcasts, it is only looking for MP3 files with their ID3 genre-tag set to "Podcast". Third party podcatchers can be added to the Vivaz Pro, like the Symbian Podcatcher or Escarpod. However, the music application is only looking at the ID3 tags, and not inferring context based on where the files are saved (e.g. in a /Podcasts/ directory). Since not all podcasts conform to using "Podcast" as their genre, the Music application will not list any such podcasts under the Podcast section.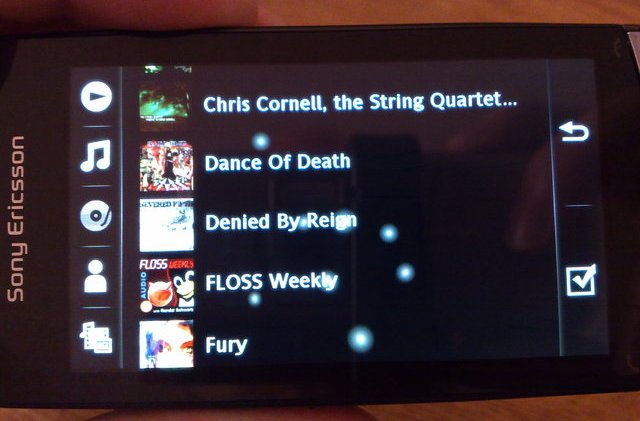 Videos
The following list of options are given in the video section:
YouTube

Sony Ericsson have brought this up-to-date by including version 2.4 of the Symbian client, which allow users to sign in to their YouTube account.

BBC iPlayer

This looks handy, but is a complete let-down. Tapping this takes the user to the desktop version of the iPlayer site, which requires a version of Adobe Flash that is not available for the Vivaz Pro. Therefore, despite this apparent option, the Vivaz Pro has no out-of-the-box support for BBC iPlayer.

Videos

This displays all the videos the user has transferred via USB, or WiFi, to the memory card. The user is presented with a list of titles accompanied with small thumbnails.

Camera Videos

A grouped list of all videos filmed by the Vivaz Pro video camera.

Podcasts

Just as with the Music application, there is no way to subscribe and download content, this is just a filter. Even though MP4 files can be tagged, I haven't come across any video podcasts that actually do tagging. Therefore, any video podcasts copied or downloaded to the Vivaz Pro will have to be found via the main video list, or from the file manager.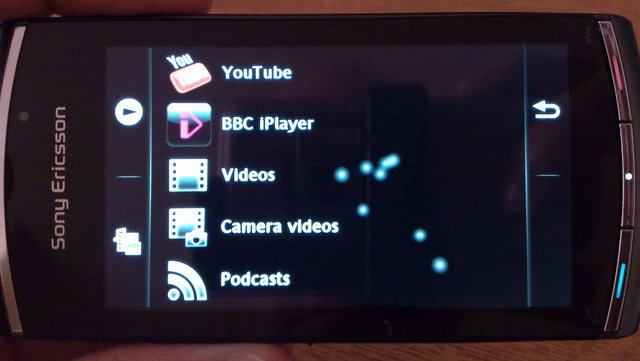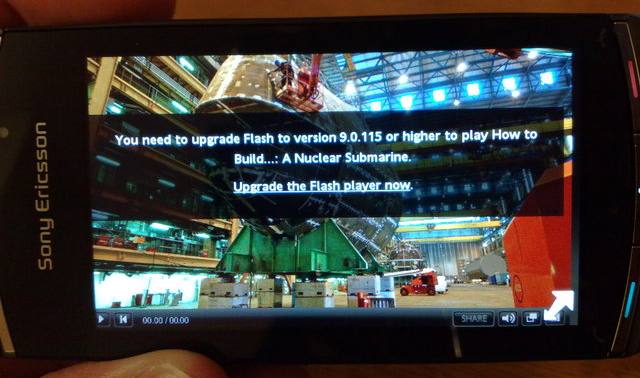 Video codec support seems slightly better than in comparable Nokia S60 5th Edition phones. The Vivaz Pro can playback some of my MP4 test videos that Nokia S60 phones fail to play.
Web Publishing
This application isn't part of the Multimedia user interface, although this is where the user goes to set all of the sharing methods they'll use from within the Multimedia application. The default sharing services are Facebook, YouTube, TwitPic, PicasaWeb, and Blogger. These are quite easy to set up, only a user-name and password are required. One minor hiccup with the YouTube service was that video uploads were set up to be private by default. This might be useful, and it's good to have the option. However, if a video is inadvertently uploaded with the wrong privacy setting, it can only be amended via the desktop YouTube website.
Things get more complicated when adding new services. For example, Flickr is a service that can be added, although there is no wizard or other guidance to help novice users. While setting up Flickr, one of the settings fields was labeled "E-Mail address", I guessed this was asking for the secret email address supplied by Flickr for email uploads. The guess worked, thankfully, although when uploading, my Wi-Fi router wasn't listed among the network connection options. Opting for my mobile network provider led Web Publisher to use my network's MMS system, which resulted in an automated message from the network being published with the photograph on Flickr, which included my phone number! Not good.
Overall, Web Publisher is clearly an integral part of the usage scenario Sony Ericsson have marketed the Vivaz Pro for, but it needs to be far more user-friendly than it currently is.
Conclusion
Given its name and keyboard, it is tempting to label the Vivaz Pro as an enterprise orientated version of the Vivaz. However, the lack of an editor for Office files, paltry battery life and even the flimsy space bar, all mean that is not quite there as an enterprise device. Certainly, Sony Ericsson don't seem to think so either, judging by their promotional video. In addition, despite its vibrant screen (when indoors), the short battery life limits the Vivaz Pro's viability as a personal video player.
Rather, the Vivaz Pro's biggest strength, just like the Vivaz, is its camera. Even though part one of this review made an in-depth criticism of the camera's performance, it can be taken as something of a compliment that it was only the finer points where fault was found. For most users, the still photography performance of the Vivaz Pro will be the main attraction. However, until Sony Ericsson do something about the dropped frames in the video camera, the Vivaz Pro will not satisfy anyone as a video camera. This is a pity, given its vaunted 720p capture and continuous auto-focus. Additionally, because of the poor battery life and lack of video editing functions, the Vivaz Pro will best be treated as an off-line content creation device, leaving edits and uploads until the user gets back to base.
Secondarily to the camera, the QWERTY keyboard is the Vivaz Pro's next best feature. For anyone who sends a lot of text messages, or frequently posts to social networks, the physical keyboard is a must-have.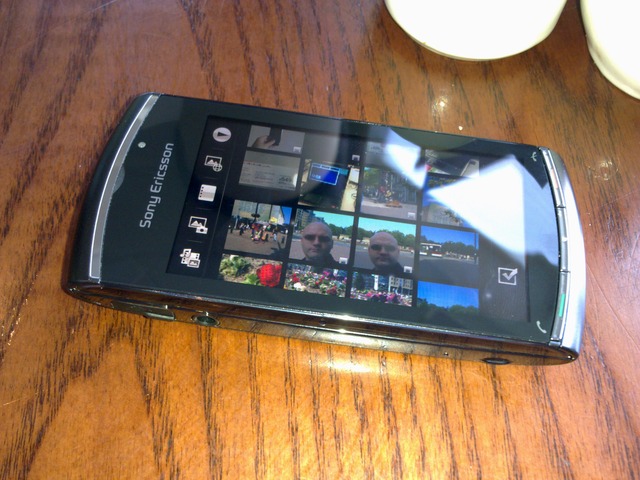 Overall, the Vivaz Pro is an unfortunate set of contradictions. It is a smartphone that lacks the battery life to live up to its power-user potential. And it has an initially whizzy user interface but enough discontinuities that only power users will be able to confidently navigate. Finally, it is a high-definition auto-focus video camera in a mobile phone, whose output does not do those specifications justice.
David Gilson for All About Symbian, 30th June 2010.
Reviewed by David Gilson at