Review:
Nokia X6 Review: pt 3, Life through a Lens
Where do Nokia see the X6 in its media line up? Obviously music is going to play a large part, and we've spent some considerable time looking at the built in Music player. Next up is the media you capture yourself... photos and video.
The X6 is carrying the Carl Zeiss lens that the majority of high end Nokia phones carry, and it's a similar sized lens to that which is present on the Nokia N95. Of course, we've shown that simply chucking in this lens and a five megapixel camera aren't going to give you identical results because there are a huge number of factors that make up a good camera phone.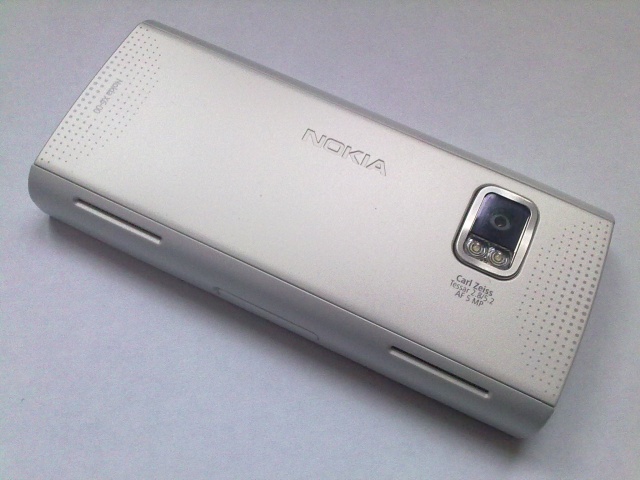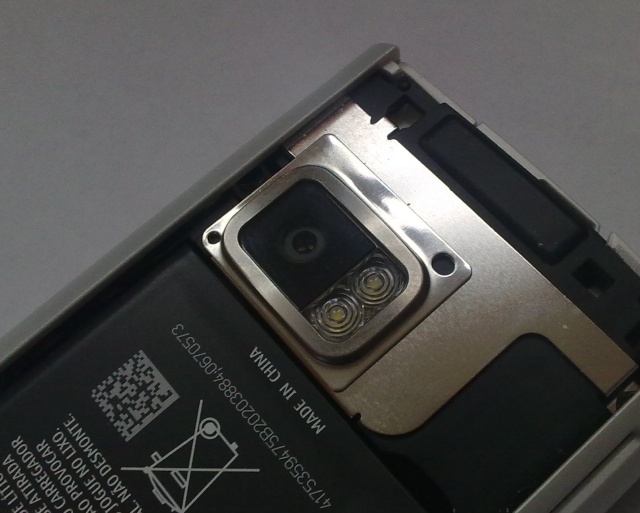 Luckily, Nokia have (unlike other areas of the X6) carried on the iterative process of getting a good picture, tweaking settings for sharpness and colour, and lots of arcane bits and pieces. The end result is that you can get some perfectly acceptable 'fun' pictures out of the X6 as long as you take a little bit of care [or aren't called Ewan Spence - Ed]. They're certainly as good as those from a low end standalone pocket camera, with the advantage that you're always sure to have the X6 in your pocket.
To help out in low light situations, the X6 comes with a dual LED flash. No it's not the Xenon flash that some commentators think is needed in a camera phone, but there have been huge improvements in LED flash technology and this is miles better than the original N95's single LED flash.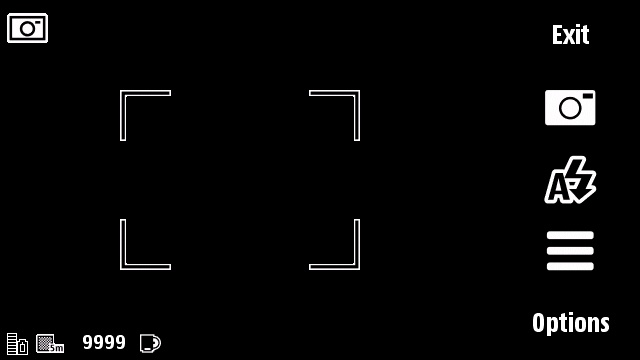 Video quality is also great for a pocket device, although Nokia's insistence on sticking to a maximum frame size of 640 by 480 pixels is starting look a little bit short-sighted, with HD video featuring in a number of smartphones, and available on the High Street in portable Kodak and Flip cameras. Is it vital to this phone? Strictly speaking no, but the current package is a pricey one thanks to the Comes With Music package, and at that price you'd expect to have a well specced out phone. I think HD video recording is going to have to be added into the next run of phones coming out at the end of 2010. The X6 (just) manages to get away without its inclusion.
As well as VGA at 640x480, you're also offered 640x352 resolution – almost the same pixel resolution as the X6 itself, and (handily) in the widescreen 16:9 ratio that's becoming more popular online. You can record up to 30 frames per second, and the sound is an acceptable (but not brilliant) 96kbps bitrate.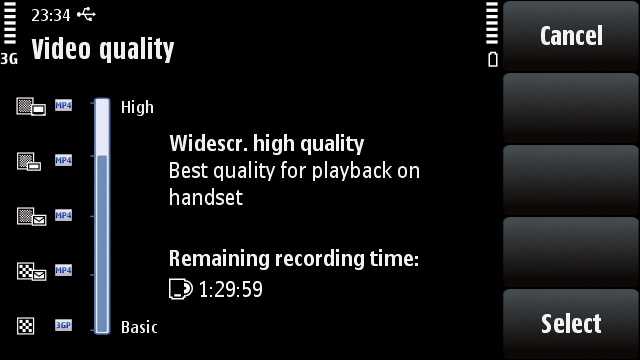 Thankfully there's no memory leak while using the camera, so the worries that I had in using the music application are not here, and I'm more than happy to trust my snaps and memories to the X6. As I said above, this is a phone that should be with you at all times. In that sense an above average phone always with you (e.g. the X6) is far better than a high quality camera you only carry occasionally.
The external camera button with two pressures, one for focus/lock and one for taking the picture, has been a feature of Nokia's design for a long time, and I'm glad to see that it is still here and working well. The preference to have the camera application brought to the foreground when you first (long) press the button means that getting to the app quickly is easy.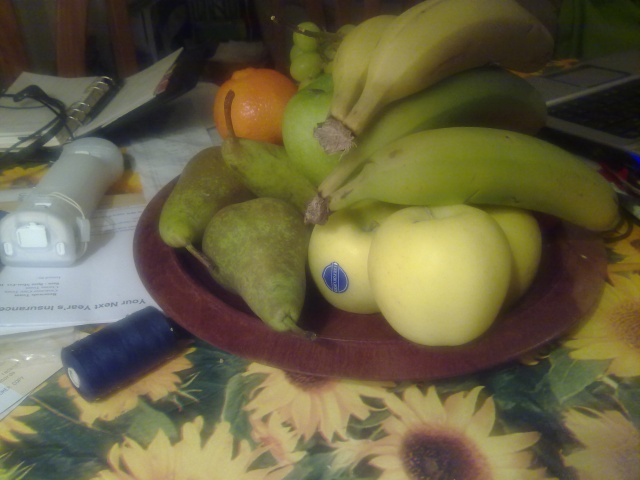 Classic bowl of fruit shot using the LED Flash (click through for full image)
What's not great are the rest of the controls of the camera. When you're sitting around inside, calling up the options screen (with the twelve icons) is a sensible interface, and is easy to navigate. However, there are two problems with this. The first is a small but practical one. Thanks to the capacitive screen requiring skin contact to register a touch (as opposed to a resistive screen just needing pressure), the X6 is torture to use outside in the ongoing cold weather.... needing my gloves off to take a picture of the snow might not induce frostbite but it's not something I looked forward to.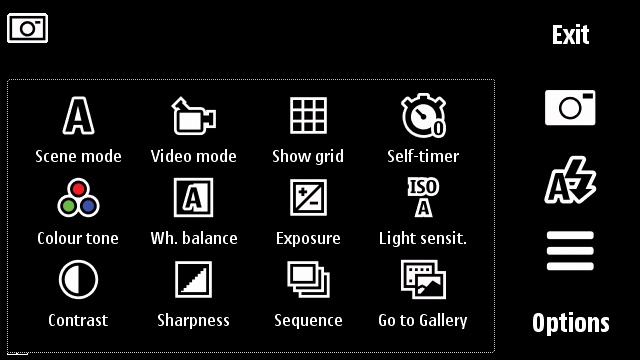 The second is an issue that all the S60 5th edition touch based phones have; the mix of two different user interface paradigms. The first is the pop up icons for settings, which in my mind is exactly what a touch phone needs. The second is the 'classic' S60 menu system, hanging off the 'Options' button. By using two ways of presenting information and changes to the user, Nokia kills any feel of a joined up device because the brain is always switching between two ways of doing things.
What could be a problem is the camera lens cover, which is left exposed to the elements. There is a raised lip around the plastic, but I doubt this is going to stop any small rough elements reaching the lens (or keys in your pocket).
The underlying processing and hardware is acceptable, but the S60 5th Edition software is yet again a kludge of menus and options held together by string code.
Once you've captured the media, you've got options to edit and touch up your creations. For your pictures, as well as altering the colour levels, brightness and contrast of your images, you have some basic clip art and the ability to add captions and annotations.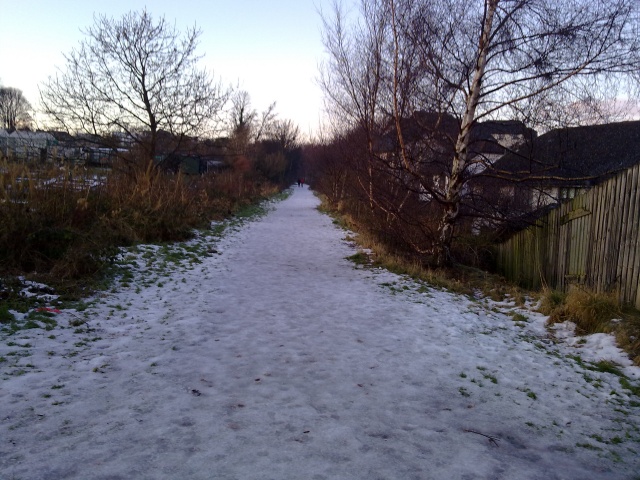 Edinburgh in the Summertime (Click through for full pic).
I liked the red eye removal option, and given my camera skills, this can prove useful. The basic video editor that I loved using on previous 3rd Edition devices is back here – via the Gallery application, you can edit each clip either to trim out a shorter clip from your raw footage taken on the camera, or to merge two video clips and add captions. You also have the option to replace the soundtrack with any music or recorded audio on your phone.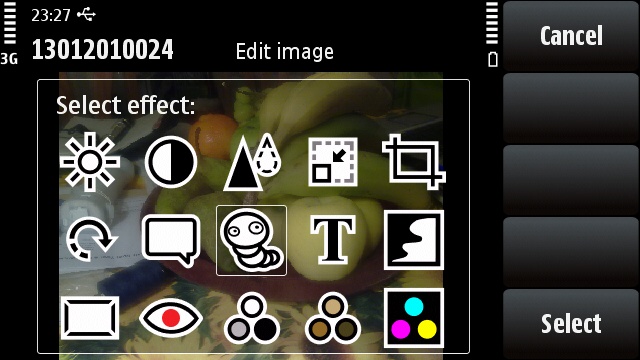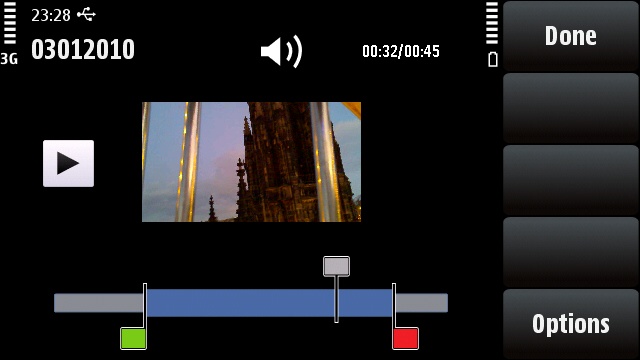 While both of these editing options are relatively basic, given the focus Nokia has placed on sharing media and interacting with networks like Facebook directly from the handset, the ability to make a few quick (if coarse) changes before you send them up to the internet is actually pretty useful. I've tended to boost the brightness and colour in quite a few images so it would be nice if these tweaks would become an automatic filter, but that would be icing on the cake.
Nokia's Share Online application is still in here, allowing you one touch uploads of your media to Flickr, Vox and Nokia's Ovi services. There have been no visible updates to this service in recent years, and like many of these services if your favourite is supported then it becomes very smooth and quick to use – which means that as a Flickr user I'm pretty happy.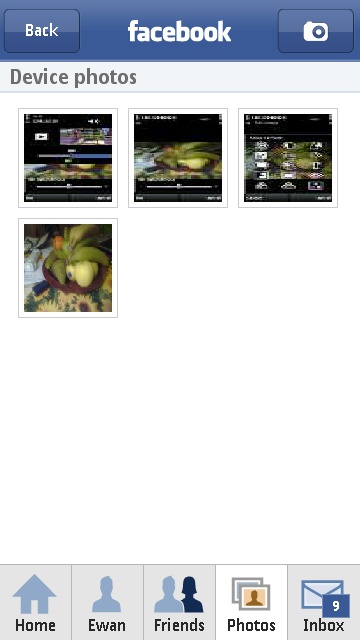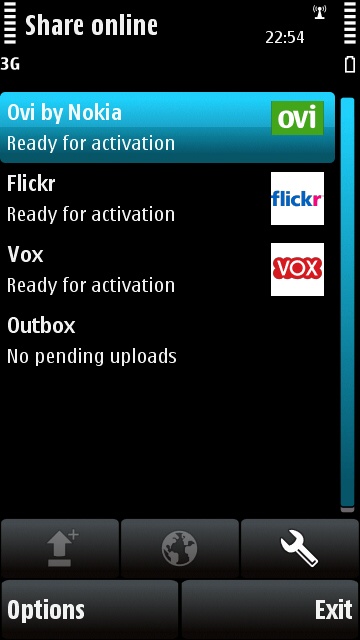 As always, you have the option to email your pictures in, and most web services have an email gateway you can use as well, so there is always a fall-back. It's a pretty competent fallback as well, one that I'm happy to use. It's nice that the handful of widgets that give you out the box connections to Facebook, MySpace and other sites will also allow you to upload pictures already in the device gallery, or to take new pictures.
Just as in the Music Player, Nokia have done little more than port their existing software into the X6. Sure it might have the new capacitive screen, new physical styling and a decent bit of camera hardware for a phone of this type, but the camera software is showing its age. The editing capability is a welcome addition (actually more a return as it's similar to that which came in the original N95), but Nokia haven't really put the effort in on the software side.
It doesn't matter if this is down to a shortage of developers, a focus of resources on the next Symbian release for a new device this year, or simple mis-management, the X6 really does deserve something a little better than this. Yes it does the job, yes it will do just about what you ask of it, but you have some speed bumps along the way. For the price of the unit, I'd really expect a little more.
-- Ewan Spence, Jan 2009.
Reviewed by Ewan Spence at