Review:
Nokia E90 - Navigation and More...
Steve Litchfield fills in the final part of our Nokia E90 review series, looking at its built-in GPS, navigation software and other applications not covered so far.
Links to previous review parts: Nokia E90 - the Early Verdict and Nokia E90 - Adapting the Applications and Nokia E90 - Web and Work and Nokia E90 - Camera and Multimedia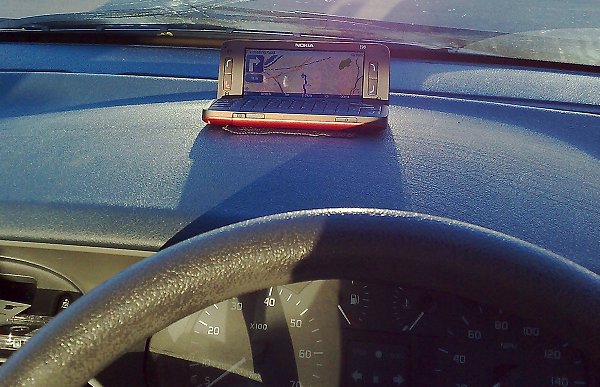 Navigation
Since the very beginning of the PDA/smartphone scene, there has been interest in mapping and routing - with the handheld device with you all the time, it's the ideal gadget to tell you where you are and where to go next. The first bit (where you are) is of course down to a GPS receiver. These started to appear in handheld form in the early 1990s and have steadily come down in size and price, to the extent that the Nokia 6110 Navigator, the N95 and now the E90 Communicator all have one built-in, so no need for a separate Bluetooth GPS, let alone any wires.
The slight catch is that GPS receivers are fairly hungry little devices and powering one from a smartphone's battery isn't going to be that friendly. Nokia's solution has been to implement a custom-designed low power GPS. They haven't release full technical details but I'd guess that it keeps locks on less GPS satellites and that it's quite a bit less sensitive than, say, a standalone TomTom receiver.
As with the Nokia N95, the GPS in the E90 requires patience and lots of it. After starting the E90's built-in Maps application, it's normally necessary to give the GPS a good minute or two to acquire a 'lock' on three or more satellites. If you're in a hurry and set off immediately, the GPS will generally take longer to lock on - ok if you know now the first section of your journey, but a pain if you're driving blind and have no idea which direction to set off in.
Once locked on, the E90 GPS generally works quite well, only rarely losing the lock. It also works just as well in 'closed' mode as it does with the clamshell 'open', so you can use Maps on the small cover display instead if this is more convenient in your vehicle (see photo below). Voice instructions are nice and loud, as you'd expect from the fabulous E90 speakers.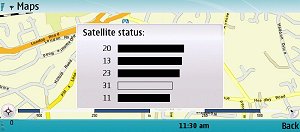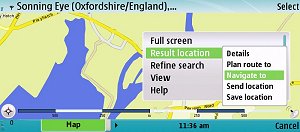 Click to enlarge each screenshot, as usual...
Maps itself, as on the N95, is really Nokia's Smart2Go application, but tweaked with support for the built-in GPS. Without being too unfair to Smart2Go, I'd sum it up as having an intuitive interface and a clever subscription system but rather let down in its current 'beta' form by less than stellar routing. Over the last two months, I've driven over 1000 miles with Maps/Smart2Go on the N93, N95 and E90 and have had more than my fair share of routing oddities. Yes, the application always got me to my destination but there were too many occasions when the real world fastest route was ignored. But the official download is still in 'beta', as I say, and hopefully routing will be more reliable when it's finally released (and the update rolled into N95 and E90 firmware updates, of course).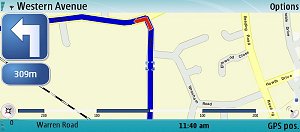 In full navigation mode, "In 300m, turn left..."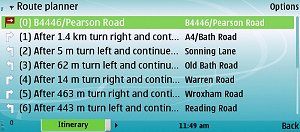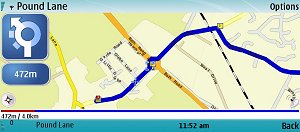 An alternative to paid-for navigation, but only if you're not the driver! Planning a route and then following it step by manual step - and note that the junction logos aren't accurately shown in this manual mode, i.e. shown as third exit rather than second, etc.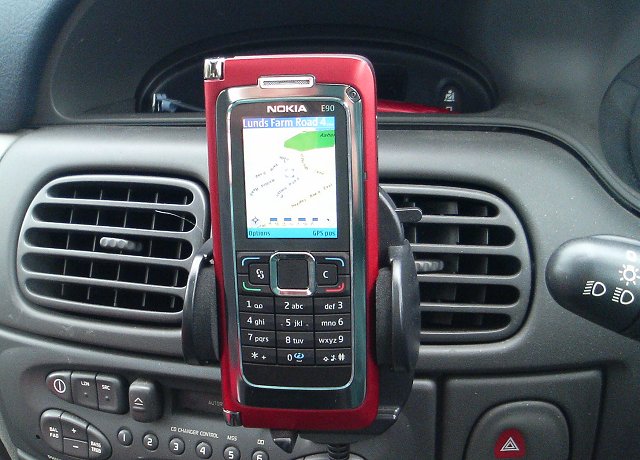 In addition to the dual screen support, Maps is of course enhanced on the E90 by working on the much larger display. Although the voice-guided navigation (with the usual Smart2Go subscription model) isn't really affected, since your eyes will hopefully be on the road most of the time, browsing maps and getting a feel for an area is much easier on the 4" display.
As usual with Smart2Go/Maps, it's tempting to try navigation using just the basic routing function, along with navigator-up to move between junctions and the on-screen display of GPS position. But, if you're in the car on your own, a few words of advice - DON'T DO IT - YOU'LL CRASH! In the basic mapping mode, the backlight will turn off as normal, plus you'll have to keep pressing 'up' and trying to keep track of the GPS indicator - a recipe for disaster if you're driving but quite doable if you're a passenger. Instead, pay up the (IMEI-locked) fee for however long you need voice-guidance for - I'm still an admirer of the way you can pay small sums for short periods (e.g. £6 for 1 month) and pay for it on your phone bill, even if you're using a pay-as-you-go SIM card. All very elegant.
Navigation is helped on the E90 by the fact that there's a beefy 1500mAh battery driving things but I'd still recommend powering the E90 from your car 12V supply if you're travelling more than a dozen miles.
...and there's more...
In the last three weeks, I've covered every aspect of the Nokia E90 in detail, in themed review parts. But there are bound to have been applications and functions that slipped through the net. Here are a few that caught my eye: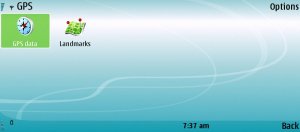 As with all other S60 3rd Edition devices, there's a full GPS/positioning sub-system, implying both that you can also connect to an external GPS and that third party applications will also be able to hook into the built-in GPS data.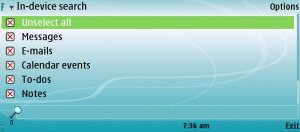 There's the standard Eseries Search utility, although this has also now been merged into Nokia Mobile Search, if anyone's still looking for it.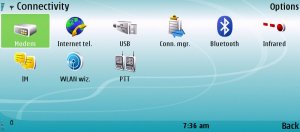 The standard Connectivity app set, still nice to see both Modem and Infrared in there, for a business device.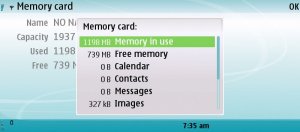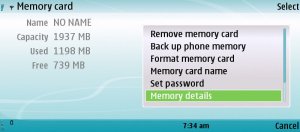 With a 2GB microSD inserted. The 1100MB used is split between music and map data, in my case. Backup and password functions are standard S60, as usual.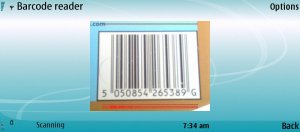 There's Barcode reader, as on all other S60 auto-focus smartphones, though even on 2D barcodes I've been generally disappointed (not the E90's fault, specifically).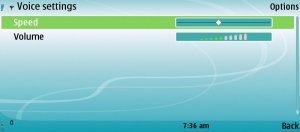 As with the 5500 Sport, there's full voice support. It's a bit of gimmick really and very niche, but there's fun to be had in having your emails read to you while doing the washing up or driving....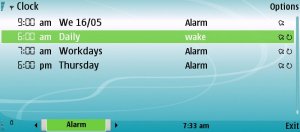 The FP1 version of Clock has copious support for one off and repeatable alarms, as many as you like as often as you like.
And so to production...
See Nokia E90 - the Early Verdict for my overall impression of the E90 and who will buy it. Summarising the summary though:
Pros:
Great 4" screen, fold-flat form factor
Excellent build quality
Good battery life
Excellent camera/video camera
Application shortcut buttons
Superlative connectivity: miniUSB, Bluetooth, infrared, EDGE, 3G, HSDPA, Wi-Fi
Cons:
Keyboard is quite stiff, it's not that much faster in operation than the likes of the excellent E61
Despite some S60 app tweaks, Series 80 (9300/9500) users will still have quite a bit of adjusting to do
Web promises a lot but falls short on some Web 2.0 stalwarts
The next time you see the Nokia E90 Communicator on AllAboutSymbian, it'll hopefully be the unboxing of a production unit, with final firmware and a full complement of accessories. Watch this space!
Steve Litchfield, 16 May 2007
Reviewed by Steve Litchfield at