Review:
Motorola RIZR Z8 Review (part 3: Multimedia)
Rafe examines the multimedia functionality of the Motorola RIZR Z8.


In parts 1 and 2 of this review we covered the design and hardware and the first half of the application suite. Here, in part 3, we look at the multimedia features of the phone.
Multimedia
At its launch, the Z8 was held up as a powerful multimedia phone with a particular emphasis on video. Indeed the whole message around the Z8 is not about its smartphone software platform and abilities, but the rather the multimedia experience it can offer. The Z8 isn't aimed at the typical smartphone user (indeed I think many of them would find it lacking), but rather at a consumer who is style conscious and interested in consuming multimedia on the go. The advertising campaign underlines this with the message: 'experience crystal-clear vision and sound on the go'. So, with this in mind, how does the Z8 measure up in the multimedia stakes?


Camera
The Z8 has a 2 megapixel camera on the rear of the device with an accompanying LED flash. However, the image capture results are generally very average. This is partly due to the relatively moderate (for a high end device) number of megapixels, but also the absence of auto focus in the camera module. As a result pictures are less sharp and show less detail than higher specified camera phones.
Compared with other 2 megapixel cameras, it's reasonable though. Captured images do not make for good printed images, but they are good enough, especially when resized, for recording odd moments, for use on blogs or social networking sites, or sending via email. In common with other camera phones, the best results can be produced in good lighting conditions and by tweaking the settings. In some cases, post-capture adjustment in an image editing program can also improve results.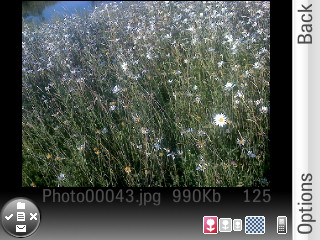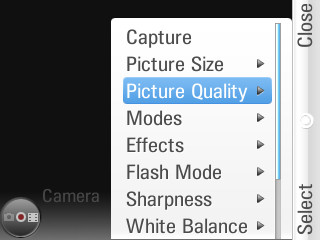 The Z8's camera application offers a whole range of settings, including picture size, picture quality, scene mode, effects, flash mode, sharpness, white balance and self timer. However, a major annoyance is the lack of indicator icons for any of the settings outside of image quality and image resolution. There's no on-screen or menu indication for the current mode, whether an effect is being applied, whether the flash is on, the current white balance or the self timer. On taking a picture you need to specifically save or delete a photo, a left or right press on the direction pad respectively. This is a bit irritating if you are trying to take a sequence of photos (the camera shutter button will not work until you have deleted or saved the previous picture), but does cut down on the number of poor images stored..
As a video camera, the Z8 includes support for QVGA capture at 30 frames per second. This is at the mid range of what is currently possible on most phones. While the results do not match that of the N93 (a video recording focussed phone, Steve uses it for his Smartphones Show) they are still acceptable.
In some ways, being critical of the Z8's camera is a little unfair – it is not marketed as an imaging phone after all, but at this kind of price point consumers have come to expect a little bit extra. I think much of the Z8's target audience will be satisfied, but if you are used to a better than 2 megapixel camera (e.g. N73 and above) on your phone then the Z8 will be a disappointment.
Media Gallery
On the Z8, multimedia is accessed through the Media gallery application rather than through individual applications. Media Gallery is divided into four sections, one for each type of media – music, images, video and voice clips. Opening a media item from here automatically launches the Media Player and starts the media playback. In operation, Media Gallery does suffer from the occasional lag (usually when it is first opened), but on the plus side new media is automatically detected and added to the appropriate section.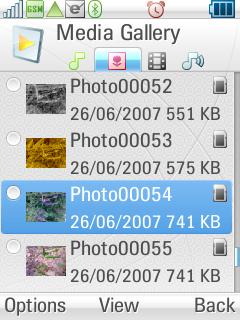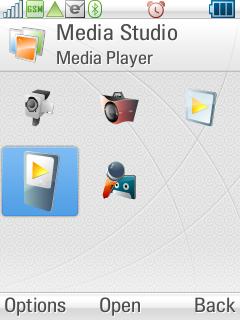 All media playback, regardless of type, takes place via the Media Player application. This unified approach to browsing and playing multimedia is an approach I rather like. It does offer a degree of consistency and a feel of cohesiveness that can be lacking in other devices.
Images and voice notes (WAV files) are minor players in the Z8 multimedia experience. Images can be arranged in folders and there is a slide show mode, along with zoom and rotate functions, and a basic imaging cropping option. Overall though, the images section does feel a little neglected compared to music and video, but perhaps that isn't surprising given the camera's average performance.


Music
The music section of Media Gallery has the familiar layout of browsing music by playlist, artist, tracks or album structure. You descend through your music collection via any one of these categorisations until you reach a list or tracks or an individual track. One slight annoyance is that if you're in a list of tracks (e.g. an album) then selecting 'Play' will play only that track not all the tracks as you might expect it to. To get a full album to play you need to select play from the menu at the album level. Playlist support is excellent, with on-phone editing and creation.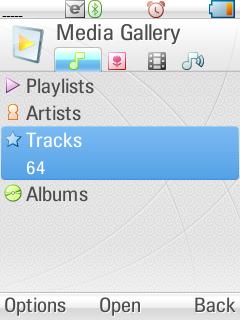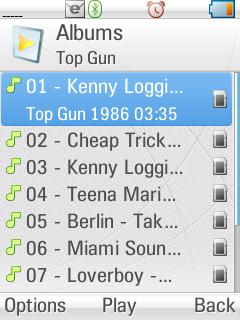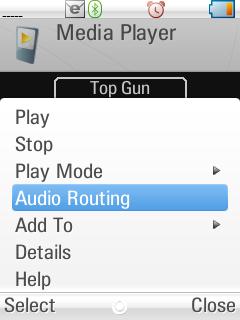 Control of music playback is good, with the directional pad used for the basic controls and with further options available via the menu. Thanks to this, it possible to skip tracks and so on without looking at the screen or controls. A welcome bonus is the multimedia button on the side of the phone, which acts as a universal play/pause button regardless of whether Media Player is in the foreground or not. Album art is supported (as long as it's embedded in the ID3 tags), but sadly only takes up a small portion of the screen. Subjectively, the overall look of the music playback screen doesn't feel as complete or polished as the rest of the UI; the available screen space could have been used more effectively.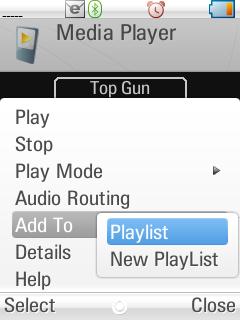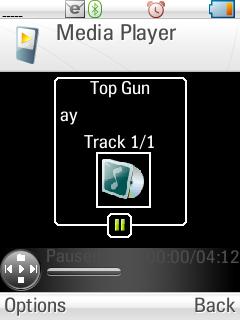 Getting music onto the phone is relatively easy. The Z8 comes with a driver that allows you to sync music through Windows Media Player. In my tests the sync speed was a little slow, but I expect this to improve with later software updates. The Z8 also comes with Motorola's 'Media services' plug-in for Windows Media. This adds a 'HelloMoto' music shop section and a podcast section to Windows Media Player. Both of these sections are rather limited and I cannot see them getting much use. For example, the podcast section doesn't let you add your own feeds (instead relying on a pre-selected directory) and the music shop charges a pricey £1.50 per track.
Windows Media Player sync may not to be to everyone's taste, but it does get the job done. Alternatively, you can use the USB mass storage mode to directly copy music across to the phone (or use any number of third party programs). You do need to make sure you get the right folder though (/Media Files/Audio/Music/), as Media Gallery will only pick up music stored in specific folders. Music formats supported include MP3, AAC, AAC+ and M4A; sadly, there is no support for WMA.
Despite some of niggles mentioned above, it's the quality of the music playback that really matters. The Z8 does well here; you'll find the quality is far more dependent on the headset used than the phone itself.
Playback through the phone's speaker is reasonable, but since it is only a mono speaker it's not really suited to music playback. There is no 3.5mm audio jack on the Z8 – you will need to use headphones via the mini-USB port. However, this is largely irrelevant because the Z8 ships with the Motorola S9 stereo Bluetooth headset. Including it in the retail box is an excellent move on Motorola's part and it gives a significant lift to the overall package.
I wasn't able to test the RIZR Z8 with a pair of S9's (since I didn't have the full retail pack - yet), but I did try a number of other headsets and had no problems pairing or connecting to them. I couldn't discern a difference between audio playback over Bluetooth on the Z8 and similar playback on the Nokia N95 or Sony Ericsson W950. Using Bluetooth headphones does generally mean decreased music playback time, of course. Bluetooth playback uses more power than a standard headset, but it is more likely that the headset will run out of power first. Despite this, battery life is generally not going to be an issue unless you are playing music non-stop all day. We'll revisit this topic when we review of the S9 headset in due course.
There is definite room for improvement in the Z8's music experience and implementation, but it's certainly capable of replacing a stand alone MP3 player. Moreover, inclusion of the stereo Bluetooth headphones in the box means that the music experience, for the average consumer, is one the Z8's strong points.


Video
Video is undoubtedly the strongest element of the Z8's multimedia experience. The Z8's main video format is MP4, with support for the H.263 and H.264 codecs. Converting video into this format is relatively painless via any number of third party tools. There is also a lot of video already available in the correct format because it is also the format used by Apple's iPod. For example, all of the BBC's downloadable video podcasts are in the MP4 format. Video is most easily copied to the phone via the File Manager of PC Suite or in USB mass storage mode.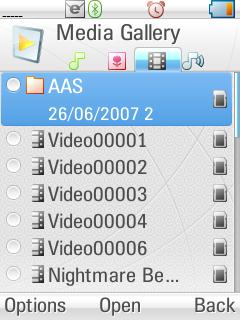 The Z8 can play back video at up to 30 frames per second although it is worth noting most video is only encoded at 25 frames per second (the traditional limits of the human eye, and many videos are deliberately set at 15 frames per second in order to keep file sizes down while not impacting fluidity on a small screen significantly). I tested some specially encoded 30 frames per second video and it played back without any problems. There are a few other phones with similar video support (the E90, N95, W950i all get close), but compared to these I was impressed by the speed with which the Z8 was able to load videos, the smoothness of the playback and the ability to keep the video and audio in sync.
Video running at full screen on the Z8 looks stunning and is a real head turner. The usual play/pause, stop and fast forward/rewind controls are available. The Z8 is right at the top of the tree in terms of video playback on a phone. The only real negatives are the lack of support for a wider variety of formats and the physical size of the screen.


Mobiclip
The Z8 ships with the Mobiclip application, which is used for playing specially protected (DRM'ed) videos which are supplied on memory cards. The Z8 will ship with a 256MB microSD card that showcases this functionality with a full copy of the Bourne Identity film.
It is not yet clear how other films will be made available, it is likely Motorola may provide some kind of shop system for easy purchase. Whether the concept takes off is more open to debate. Will users really want to buy a film just for their phone? I imagine a lot will depend on the pricing and availability. Personally I see more potential in including mobile rights with a DVD, perhaps for an added premium.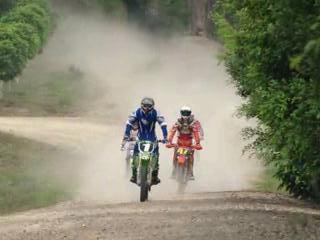 Mobiclip's performance is excellent, playback is smooth and the audio quality is excellent; it is even possible to read on-screen subtitles and text. Even when using a Bluetooth headset, the audio remains in sync, something which doesn't always happen on other devices.


Sky and Shozu
The Z8's Sky app gives access to a variety of content from Sky. The Sky by Mobile service and application is developed by weComm and has been made available as a download for a number of other phones. With the Z8, it is included out of the box (in the UK at least) and is a native application.
First up is a news and entertainment service. Essentially, this is content from the Sky web site and other sources packaged up for use on a mobile device. Content is divided up into various categories and offers a mix of text, image and video (casts) downloads. If you have a Sky+ box then the Sky application will let you remotely view the program guide and set programs to record – it means you'll never miss an episode of Dr Who again. While catering to something of a niche, this is a really useful function and a great example of integrating mobile into existing product offerings.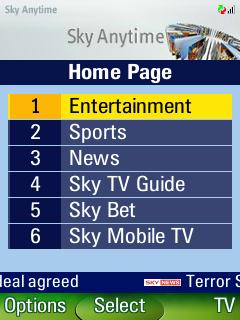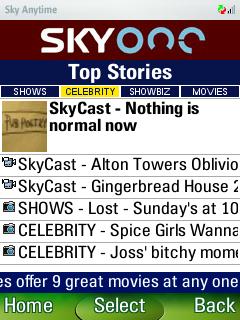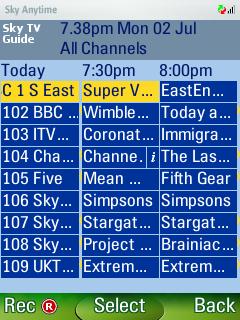 Sky also offers (via an operator subscription) the ability to watch a number of Sky Channels on your phone via video streams. Usually these are provided via the operator portal; the client application approach on the Z8 makes it much easier to use and may help some people justify the subscription cost to Mobile TV.
Shozu is not installed on the Z8 by default, but it is available as very easy download via a default browser bookmark. Shozu is a third party program (also available for many other phones) which allows you to send media (images and video) from your phone to a number of destinations. Destinations can include web services (Flickr, YouTube, and more), blogs (Wordpress, Typepad, Spaces and more), email addresses and news services (BBC, CNN, and more). It greatly simplifies the process of uploading images and videos. There is a bit of set up work involved, but once you've done this it is a simple case of choosing the appropriate media and choosing the destination, uploads happen in the background so that there's no obvious waiting around.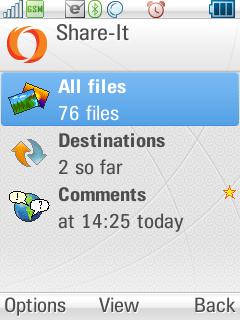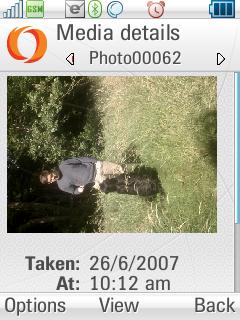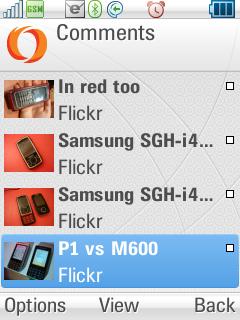 Shozu also includes a function called ZuCasts, which is a video download service. For example there is a ZuCast 'channel' for Sky News which provides a daily news bulletin. ZuCasts are an easy way to get extra video on to the phone, although obviously you are limited to the available channels.

Incidentally, Yahoo Go is also in the browser as a bookmark, but, unlike Shozu, was unavailable for download at the time of writing this review.


Conclusion
The Z8's overall multimedia performance is a mixed bag. The support for SDHC card (4GB now, 8GB by the end of the year) means storage is plentiful. However the camera performance is disappointing for a high end handset although how important this is will depend on the individual; personally I really missed the auto focus in the camera.
Motorola's main focus has been on the audio and video aspects on the Z8. Music is a mixed bag - getting music to the phone could be easier and the music player could do with some polish, but the inclusion in-box of a stereo Bluetooth headset go a long way to offsetting this. Video is a highlight, thanks mainly to the superb screen. The inclusion of an in-box movie on the supplied microSD card is a nice marketing touch and it really shows off the Z8 in its best light, but I do wonder about usage beyond this one movie.
However, one area where I feel the Z8 really stands out is the inclusion of ShoZu and Sky as extra multimedia applications. I have long been a fan of Shozu – there is no easier way to get images and video off a phone. It is good to see it included here, even if it is let down a little by the camera. In my opinion, the Sky application is even more important, it alone will be enough to make some people buy this phone. As a marketing hook to encourage normal phone users (who might otherwise ignore it) to take a look at the Z8, it is hard to beat. It neatly illustrates the fact that smartphones are increasingly become less about the smart and more about the experience and real world usefulness.
Rafe Blandford, All About Symbian, 4 July 2007
---
See also:

Motorola RIZR Z8 Review (part 1: Design, Hardware and UI)

Motorola ROZT Z8 Review (part 2: Application Suite)
Reviewed by Rafe Blandford at