Review:
Motorola RIZR Z8 Review (part 2: The application suite)
Rafe looks at the Motorola Z8's UIQ powered application suite...

Application Suite
In part 1 of this review we looked at the hardware design and general UI of the Z8, now I'll take a closer look at the major portion of the application suite. Please note that I'll be covering the multimedia functions and applications, a key focus of the Z8, in part 3 of this review.
Previous UIQ users will instantly recognize many of the core applications in the Z8's software suite. The PIM applications in particular, even with the transition to softkey style, maintain the same functionality and have a similar feel. Aside from a sense of familiarity for some, this is a benefit because these applications are already well polished.


PIM Applications
PIM applications may not have the wow-factor of a video player, but they are core functions used on a daily basis. Of course, there is a compromise to be drawn between those looking for very powerful PIM functions and those who want something more basic and easy to use. The Z8's UIQ software platform does well here with a good level of functionality without a sense of being overwhelmed by options. Overall, the PIM applications are solid, use screen space intelligently and have some good usability touches.
Contacts

Contacts has two main views, the contact list view and the individual contact view. The contact list can be sorted by first name, last name or company. In the list view a left or right key press scrolls though the numbers and emails for the currently highlighted contact. Calls can be initiated via the call key, messages from the Options menu and the central softkey opens the individual contact view.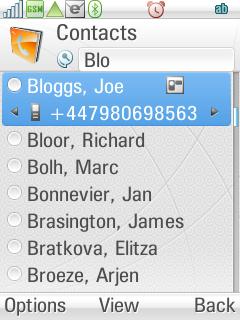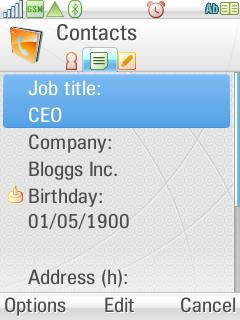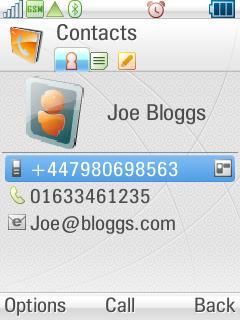 In the individual contacts view, the full contact information can be seen and edited. Each contact has basic information fields by default, but extra fields can be added for most conceivable data, and there is also a notes entry for each contact for free form text. For each contact, you can set a preferred number (a small, but very noteworthy feature), a specific ringing and message tone. The preferred number will be displayed first in both the list and individual contact views.
Search is one of the weaker areas of the application, working only on the field with which the contact list is currently being sorted by – this means you are limited to searches by first name, last name or company. Other weak points are the absence of voice dialing or any form of smart dialling from the home screen.
Contacts does have some nice usability touches though. For example, for each contact you can set video calling to on or off. This places a video icon next to the name in the contact list, adds a video calling option to the menu and neatly solves the 'can I remember if they have a video phone' question.
Calendar

Calendar makes good use of screen space and has three main views: day, week and month, each of which have their own strengths and together provide both the necessary detail and overview. There is good use of on screen icons to indicate additional information, such as event type and presence of notes or an alarm associated with the entry.
Navigating around existing entries is speedy. On a user configurable basis, either month or week view can be chosen as the starting default; the day view is accessed by choosing an individual day; and you return to the default view via the 'Back' softkey. In all views, the events for the currently selected day can be seen on screen.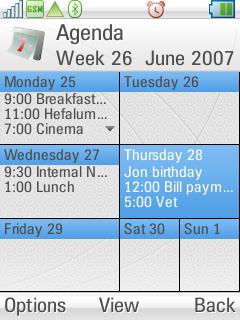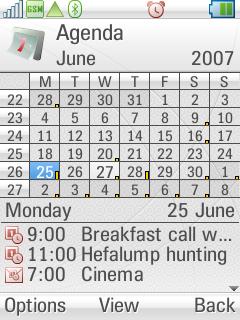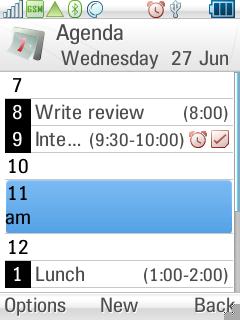 For entering new events, there four basic Calendar entry types: appointments, reminders, all day events and anniversaries. Appointments have set start and end times on specific start and end dates, and can optionally include location information, be repeated (daily, weekly, monthly by date, monthly by day, yearly by date and yearly by day). Anniversaries allow only a date and a description to be entered and by default are repeated yearly. Reminders have a description along with a single time and date. All day events are similar to appointments but have only date (not time) information.
All four entry types can have alarms and all have an optional notes field for further details. Entries with notes are indicated by a small icon in the main Calendar views. Both all day events and appointments also have attendee lists; attendees can be selected from the Contacts database and, optionally, meeting requests can be emailed to attendees in order to confirm their availability (vCalendar 1.0 support). In a similar fashion, Calendar integrates with Messaging to accept meeting requests from third parties. All Calendar events are added and edited via a simple dialog, with tabs to access the attendees and notes functions.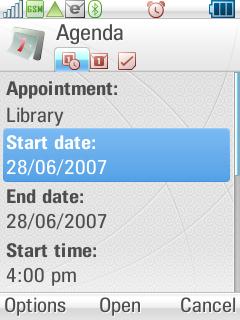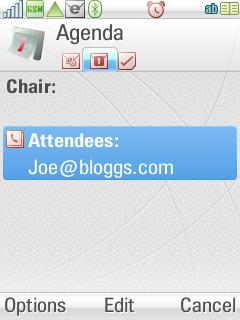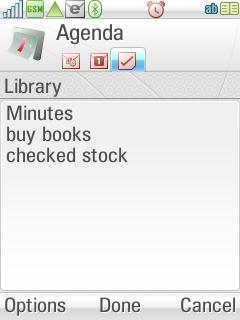 All Calendar entries can be placed into different categories and then the current view filtered to show only these entries. This does allow you to effectively keep two different calendars in a single application. However, and most unfortunately, category sync to the PC is not supported, although I suspect this may only affect a small subset of users.
To do and Jotter

To dos have their own application; they are not integrated into Calendar, as on recent S60 devices, for example. However, To do does offer a facility to transfer to dos to Calendar as reminders and Calendar offers the reverse facility. To do entries can optionally have priority, start date, due date and an alarm associated with them. This offers a good basic level for keeping a simple list of to dos, but may not satisfy the more demanding user, who may wish to explore third party options.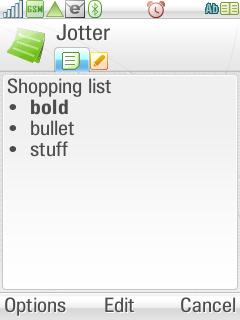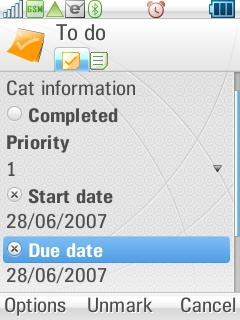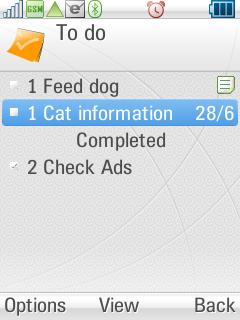 Jotter is a simple application for short text notes and lists. Jotter shares categories with the To Do application, which makes sense and means it is possible to keep quite an extensive collection of notes and lists without them becoming unwieldy to navigate. To Do and Jotter sync with the Tasks and Notes modules of Outlook respectively and, like the other PIM applications, categories are not synchronised to the PC which, depending on usage, can limit their usefulness somewhat.
Sync

Synchronisation to Windows is supported via the Motorola PcSync application. This uses the same mRouter software as Sony Ericsson for handling connections, which can be either USB or Bluetooth. PcSync will (in Windows 2000 or XP) work with Outlook (2000, 2002 and 2003), Lotus Notes (5, 6, and 7), Lotus Organizer (5 and 6) and the Windows Address Book (Outlook Express). Currently Windows Vista is not supported, although an update is expected in due course. The software is very similar to that used by Sony Ericsson's UIQ phones, it is likely it has been licensed from the same source.
In use, I had no problems with PcSync, with painless connection and synchronization set up. This is an area which has thankfully matured from the early days of the smartphone. Sync times were relatively speedy and each sync item is optional (i.e. you can just sync your contacts if you wish). It is also possible to set up the software to sync automatically every time you connect the phone to the PC.
There is also support for the SyncML standard via the Remote Sync application. You can use this with a variety of SyncML services and is a possible option for a PC-free backup solution for Contacts and Calendar information.
Microsoft Exchange ActiveSync is not supported out of the box, perhaps because it does not really fit with the Z8's target market, but DataViz's RoadSync solution will be available very shortly. Since the Z8 uses the UIQ platform, it is likely that we'll see a number of other push email systems made available; many of these also include support for synchronizing PIM information.


Messaging and Internet
Messaging

All the messaging functions of the Z8 are contained in the one Messaging application. From the initial screen there is a shortcut to creating new messages (SMS, MMS and email), a shortcut to voice mail and quick access to all your current messages with a unified inbox and set of folders for SMS, MMS and items received via Bluetooth, and a separate inbox and set of folders for each configured email account. This is a thoughtful layout and minimises the time and number of actions required for most messaging functions.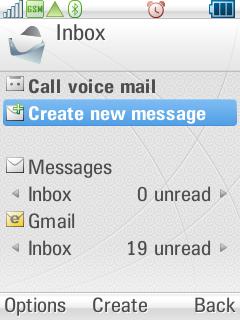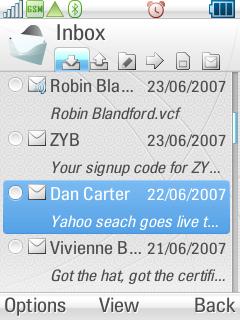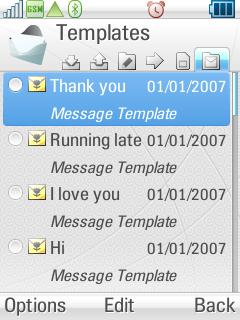 There's an excellent MMS editor, with the usual picture resizing options and shortcuts to take new pictures, record audio and video, and so on. With a bit skill and some patience, you can design some complex presentations. MMS might have had a slow start, but it is gaining momentum and a well rounded MMS editor is very welcome.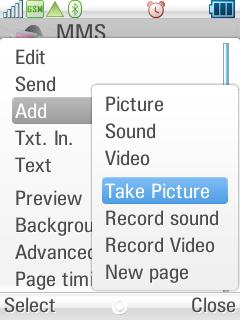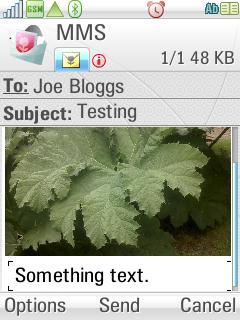 Email is well catered for, highlights include support for HTML email (nicely reformatted to fit on the screen where necessary), and a full screen view for reading and editing messages, to maximize screen space. There's a plethora of settings, including signature support, optional reply with history, customisable email list view (show/hide subject, zoom and hide read messages), sort by sender, date or size. There are also comprehensive settings to restrict email download to just headers or to emails of a certain size, or to a set number of new emails, coupled with automatic download by a specific schedule. With support for multiple accounts and both POP and IMAP protocols, the average consumer should be well served.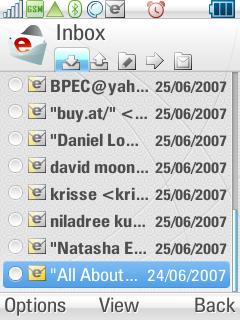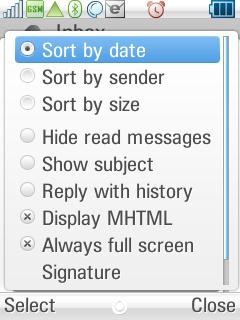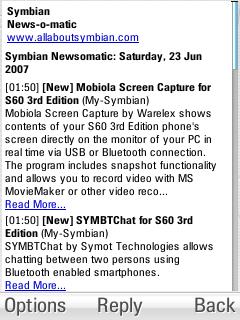 One bizarre omission is the lack of use of the hardware cancel key. I would expect this to be a shortcut to delete emails and messages quickly, but this does not work. Instead it is necessary to choose 'Delete message' from the Options menu – this quickly becomes convoluted and tiresome when deleting any more than a few messages. This omission applies elsewhere in the Z8's software, but it is in Messaging that it is most felt.
Web

The Z8's web browser, Web, is a branded version of Opera (version 8.65). There are two key modes of operation, 'full page rendering', which shows pages as they would appear on a PC and 'fit to screen', which reformats pages into a single column for easier reading. Fit to screen does minimize horizontal scrolling, but the reformatting isn't perfect – for example, on some sites, there can be large amounts of vertical scrolling through non-content area of pages. To go with these two modes, Opera supports a full screen view and a landscape view, which are aimed at making the best use of the limited screen real estate. Opera has excellent support for web standards, but like other mobile browsers there is no support for Flash, resulting in missing content on some pages.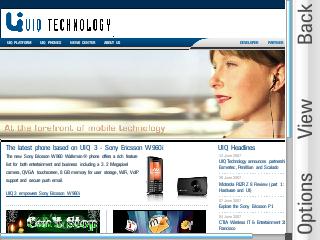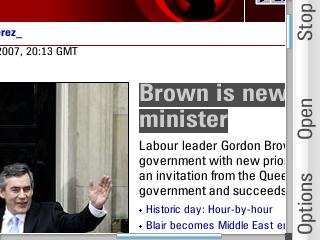 When working with sites designed for PC, I feel the browser does not quite measure up. The fit to screen feature does work well the majority of the time, but inevitably something is lost in the translation. While the actual rendering in full page mode is excellent, the lack of a page overview mode means a lot of scrolling is required to get around pages. A few years ago, this wouldn't have been a complaint as Opera had both the best full page rendering and the best fit to screen mode. However, while it feels like the main Opera browser has stood still its competition has not. It is possible to get a quasi-overview mode using the zoom feature in Opera, but realistically this is too fiddly for day to day use. When compared to the overview/minimap in S60's browser or the overview mode in the new Opera Mini 4 (a separate, sister product), the absence of such a feature is noticeable. It is a real shame because the 3G speeds (especially with HSDPA) mean that even the largest sites download quickly.
However, if you stick to the ever increasing number of mobile optimized sites and your operator's portal then you'll find a very positive experience. Rendering is generally very fast and problem free and the companion functions of the browser, such as multiple window support, page zooming, bookmarks, history and the ability to save pages are well implemented.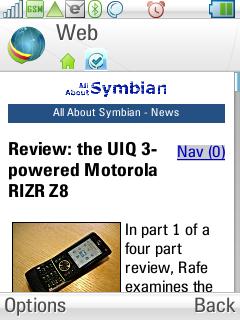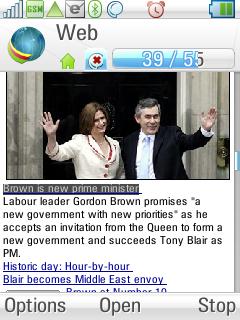 Other
There are a number of other applications available on the Z8. These include Time (alarms and time management), Calculator (basic functions only) and File Manager (fairly comprehensive). A game, in my case Asphalt2 (a racing game from Gameloft), is also included, but this may vary by market.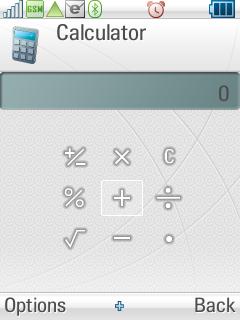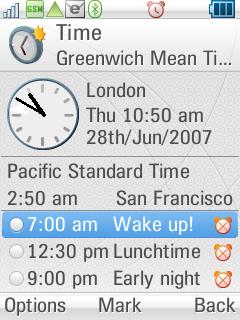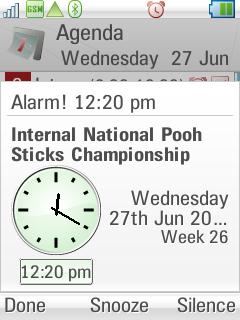 Kill Filter, which allows you to set up list of 'allowed' and 'blocked' numbers, is accessed via the Control panel and is a potentially very useful application. 'Allow' lists can be associated with and activated by specific phone profiles. This means it is possible to create a weekend or emergency profile which, when activated, also activates an 'allow' list, limiting the people who can call you to a pre-approved list (e.g. an emergency 'allow' list might only allow family members to call you). This is a potential solution to the problem of combining a work and a personal phone without being always available.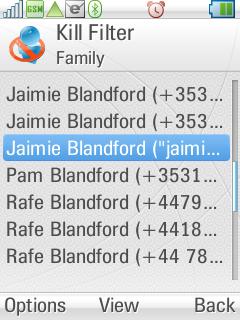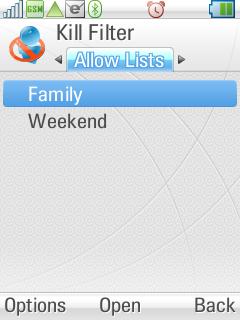 There are also a number of other mini-applications and applets within the Control Panel folder, such as the previously mentioned Profiles (see part 1), Speed Dial, Call Timers and Storage Wizard. Storage Wizard aims to help you free up memory space by showing currently installed applications and the space used by media items and other data files. There are also applets for setting the behaviour of the slide (e.g. to auto-answer a call), control device management (including over the air firmware updates), and so on.

Rafe Blandford, AllAboutSymbian, 28 June 2007
---
Part 3 of my Z8 review will focus on its multimedia, support for third party applications and draw some overall conclusions about the application package with part 4 summarising the overall package.
See also:
Motorola RIZR Z8 Review (part 1: Design, Hardware and UI)


Reviewed by Rafe Blandford at