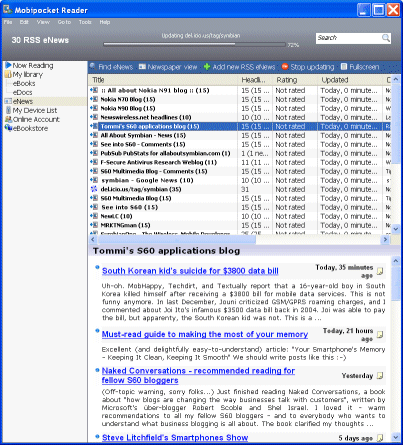 The Mobipocket Reader Desktop enables you to manage your existing eBook, buy new ebooks and transfer (with one click) eBooks to a mobile device. It can be thought of as the iTunes for eBook for mobile devices. Many popular books, including recent and current best sellers are available in Mobipocket format from the Mobipocket store (also accessible from the Mobipocket Desktop Reader). The PC application transparently handles DRM issues (books purchased through the Mobipocket store are protected).
You can create reading lists with various eBooks in them and transfer entire reading lists to your device in one go (similar to playlist functioanlity in media players).
You can convert existing files (in HTML, Adobe PDF, Word, and RFT formats) to eBook format for use in both the Desktop and Mobile Mobipocket Readers. These are referred to as eDocs and this system enables you to take your important documents with your on the road.
The new eNews System is based on an RSS feed reader / browser. Previously custom channels had to be created but the new version is based on the popular syndcation formats RSS and ATOM. User can add and remove feeds as they wish (or import / export via OPML). The program will retrieve subscribed feeds and they can then be read in the desktop application. As with your eBook collection they can also be automatically sync'd to your mobile device where they can be read in the S60 / UIQ / Series 80 version of Mobipocket Reader.
The desktop program inlcudes the capability to extract articles from their source web page. This mean that it is possible to read a full article on your mobile device even if only a partial (headline or summary) syndication feed is provided.
The eNews system is therefore effectively an offline RSS reader for mobile devices (in the same style as AvantGo, but using RSS feeds).

The beta of Mobipocket Desktop Reader is available here. The usual warnings about using beta products apply.