The N78, N96, 5800, 5320, 6210, 6220 and E63 are restricted to the Anywhere service. However the N79, N85 and 5630 are able to use both VoIP and Truphone Anywhere services. The VoIP service availabaility is limited due to the changes in the SIP software stack on the S60 platform. However Truphone say they will support both options where ever possible and support for additional phones will be made in due course.
"We first introduced Truphone on a Nokia device so we are pleased to be able to increase the range of compatible Nokia devices and extend our loyal Nokia customer base further," said Truphone CEO Geraldine Wilson. "Nokia is still the largest mobile handset manufacturer in the world so ensuring that we're on as many of these devices as possible means more and more people can take advantage of Truphone's fantastic rates to make international calls."
There are a number of applications and services (e.g. calling cards) that aim to offer cheaper call costs, but the attraction of Truphone is its deeper integration into the existing call handling UI and service.
Truphone Anywhere
Truphone Anywhere is a call-through / call back service. It is aimed at cutting the cost of international calls when calling from your home country. It works by rerouting international calls to a local number, which then forwards them, via the Truphone network, to their intended destination. The advantage is that calls will be charged at a local rate (and will likely come out of an inclusive call allowance), plus a Truphone fee (typically a few pence per minute), rather than a full cost mobile to international call (typically 50p per minute upwards).
Here's what Truphone Anywhere looks like on the Nokia 5800: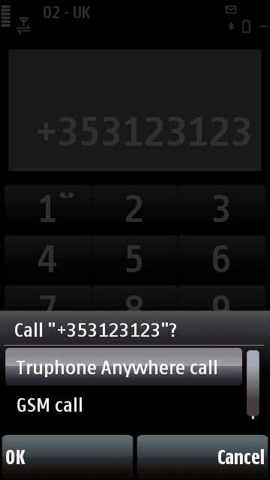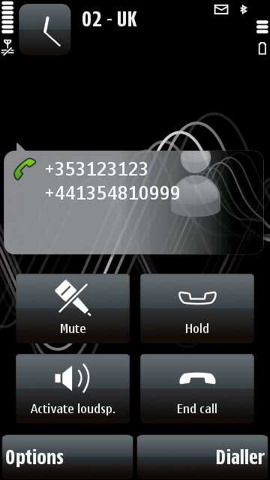 When making an international call Truphone 'intercepts' the call request and asks you whether you wish to use Truphone Anywhere or your regular GSM provider. In the second screen you can see the local number (call through) being called, with the International destination number below it.
Truphone WiFi Calling
Truphone WiFi calling offers a full VoIP over WiFi service. When in range of known WiFi hotspots calls can be made over the Internet (with WiFi as the connection bearer). Calls to other Truphone users are free and other numbers are charged at Truphone rates. This is typically cheaper than the standard rate of calls for both international and local calls.
Truphone WiFi calling offers a fuller service than Truphone Anywhere and avoids using call through (which may have a cost associated with it). However it is worth noting that it for users on contracts with inclusive call allowances (e.g. for local numbers) it will be cheaper to use these 'free' calls then switch to Truphone. For calls that are not included in allowances (e.g. free phone numbers and international calls) Truphone will likely always be cheaper.
Here's Truphone WiFi Calling running on the Nokia N85: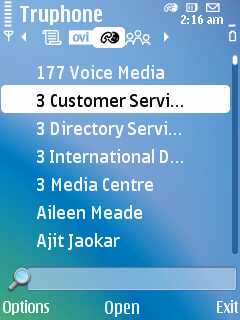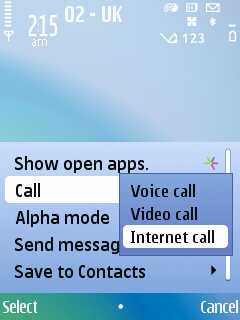 With Truphone WiFi calling the service is made available as an Internet telephone service tab in the Contacts application. An 'Internet call' option is added to all call menus. By default the automatic call type is switched to Internet call (i.e. if you dial a number and press the green call button an 'Internet call' will be made.
On phones that support TruPhone WiFi calling Truphone Anywhere is used as a fall back when you are not in range of a WiFi hotspot.
Other
If you regularly make International calls from your mobile then Truphone has the potential to offer significant costs savings. For phones that support Truphone WiFi calling there's also the potential to save money on local calls too. Further cost savings are available by adopting a Truphone calling plan. For example there's a £10 per month tariff for unlimited calls (some restrictions apply).
On other platforms Truphone offers an instant messaging service as part of its client application. However this is not present on the Nokia phones partly because the deeper integration makes it unnecessary to encourage users to switch to a dedicated Truphone application (IM acts as a carrot to encourage people to use the application more often). IM was also used as a way of improving placement in the app store. Furthermore on Nokia devices there are more multi-headed IM clients available and Nokia has its own plans in this area.
From talking to Truphone it is apparent that Ovi Store has been a significant motivator for Truphone to expand the number of Nokia phones they support because it significantly improves the distribution channel. Truphone have enjoyed considerable success in both the iPhone App Store and Android Marketplace and are hoping to replicate this on the S60 platform.
Truphone can be downloaded from the Truphone website.
Truphone continues to support the E51, E60, E61, E61i, E63, E65, E66, E70, E71, E90, N80ie, N81, N81 8GB, N82, N95, and N95 8GB. All of these devices support both VoIP and Anywhere services.