In one sense, there's little in the way of new functionality, but the new look and feel does provide a feeling of freshness and a number of key functions are now more readily accessible. Moreover, with Ovi Suite 2.0, Nokia have radically changed direction in their desktop software thinking. Rather than having many different applications, everything is done through a single application; the key functionality of existing stand-alone applications, including Nokia Map Loader, Nokia Software Updater, Nokia Photos and Nokia Music, have been rolled into a single piece of software, which also handles the standard PC Suite tasks such as PIM sync and connectivity.
This does mean that the functionality of the music and photos portion of the software is significantly reduced compared to their standalone equivalents (and from the previous version of Ovi Suite). For example, there is currently no timeline view in the Photo portion of the Suite, nor any way of editing tags and other meta data.
From the Nokia Bulletin Board:
"Designed using Nokia's Qt cross-platform application and UI framework, Nokia Ovi Suite 2.0 brings together only the essential features from Nokia's past and present desktop applications.

In due time, when Nokia Ovi Suite is ready to cater to the essential needs of all Nokia desktop software users, the application will replace the all popular Nokia PC Suite. Until then Nokia PC Suite continues to exist alongside its next-generation cousin."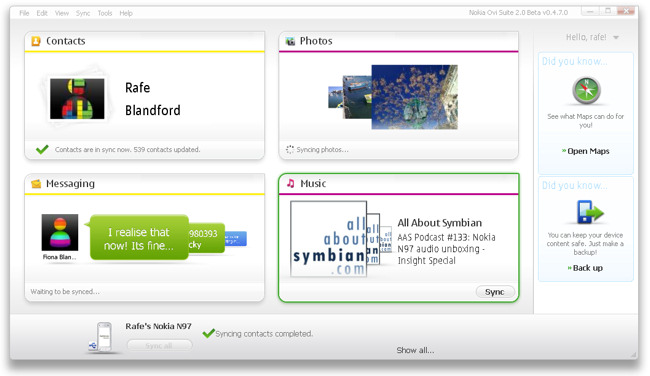 The home view of Ovi Suite 2.0. From here you get a summary view of information and are able
to access key functionality. The emphasis in Ovi Suite 2.0 is on syncing various content to and from the phone.

As a an early beta release, Ovi Suite 2.0 is still unstable at times, it has crashed on a few occasions for me. However, in the context of a beta release, the overall performance of the software is very promising. Ovi Suite 2.0 does still use a significant amount of resources, but it is much less sluggish then previous versions and seems to behave better in the background. The re-designed UI makes it quicker to move around and, crucially, there's no waiting time as external applications start up. But what really stands out is that Ovi Suite 2.0 represents a much clearer vision for Nokia's desktop software.
Installation and set up
Both the installation and set up procedures have been simplified and streamlined, which should make the whole process less intimidating for new users.
It interesting to note that the setup process now includes an optional step for you to provide your Ovi username and password. Currently this is used in the Photos section to link in with Share on Ovi, but is likely to be extended into other areas in the future.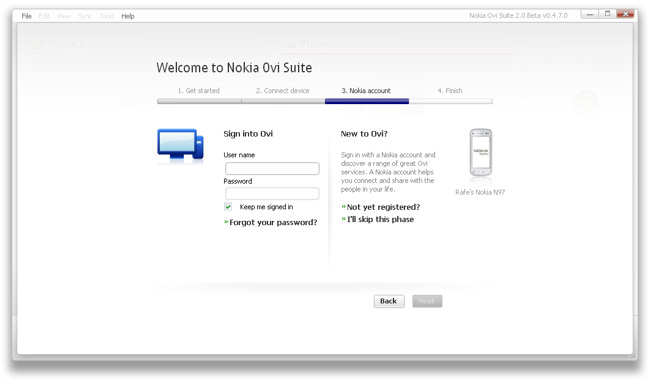 Contacts and Messaging
Contacts are probably the single most important piece of user data on the phone (and can be difficult to replace). An easy to use and seamless contact solution is therefore a must for any PC Suite. Previously, there was a greater emphasis on sync to third party applications (such as Microsoft Outlook). Contact editing was included in earlier versions, but was given a relatively low profile. With Ovi Suite 2.0, Contacts are given greater prominence. Sync options for Outlook (and calendar, tasks and notes) are still available and can be configured and activated via settings dialogs.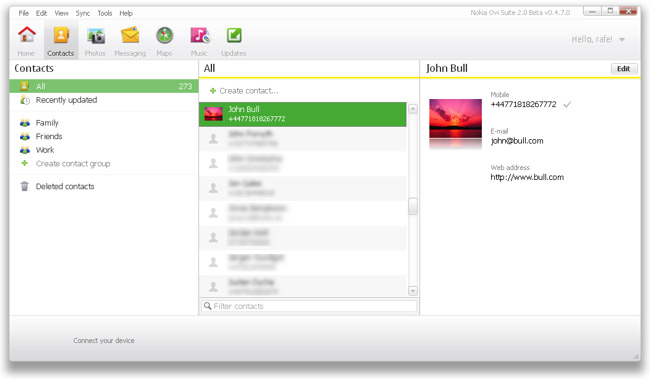 Similarly Messaging, which focuses on SMS and MMS, have been given increased prominence in Ovi Suite 2.0. Messages can be viewed either by time and date (a linear list) or by contacts and in both cases a threaded (chat) view is shown on the right hand side, as shown in the screenshot below. As well as syncing (backing up) messages from your phone, it also includes the ability to send messages while your Phone is connected to Ovi Suite.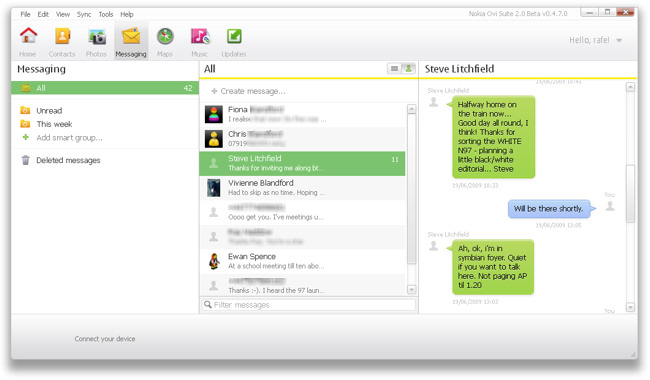 Photos and Music

Photo functionality in Ovi Suite focuses on getting images from the phone onto your PC. If you've arranged captured photos into albums on the phone, that information is also pulled across. There's tight integration into Share on Ovi; albums on Share on Ovi (which are referred to as shared albums) are displayed in the album list on the right hand side of the screen. This blurs the line between albums stored on the web and those stored locally. Photos can be transferred between the two by a simple drag and drop.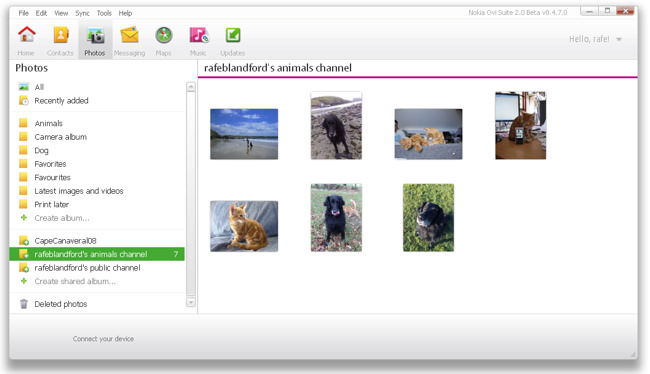 Music also focusses on the core transfer and sync functionality. Ovi Suite automatically scans your PC for music, which is then listed either via artist or via album. Music can be transferred automatically using playlists or manually via drag and drop. Nokia Music Store (in applicable markets) is available via a shortcut, which opens up a web browser window. The browser approach does work, but I do not think this is as elegant as the in-application approach that Nokia Music takes.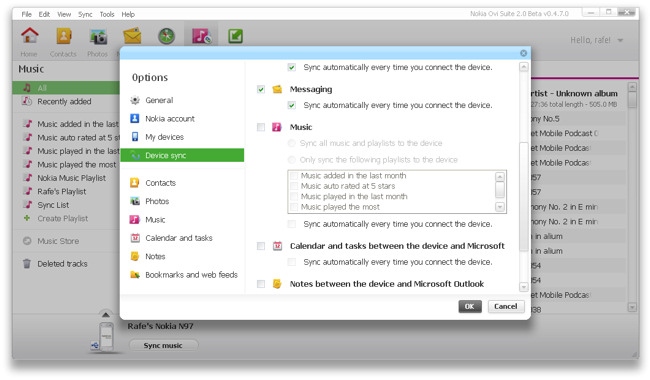 Maps, Software Updater, Other

The Maps section integrates the previously separate Map Loader application in Ovi Suite 2.0. It allows you to copy maps to your phone. The advantage of this is that maps no longer have to be downloaded over the air, potentially saving time and money.
Nokia Software Updater has also been integrated into Ovi Suite. While the functionality is identical, it will help promote the availability of software and firmware updates.
Also integrated into Ovi Suite, although not as individual sections, are the Backup and Connect to Internet tools (for tethering).
Notes
While the UI of the new suite is architected using the cross platform Qt, the underlying connectivity is based on the Windows-only connectivity from PC Suite. However, Nokia do plan an Ovi Suite for the Mac and we may see a similar UI utilised. It would certainly make sense for Nokia to fully address the growing Apple desktop user base within the same product, rather than as a separate item. Currently there are no plans for Linux support, however Nokia will listen to feedback.
The first beta version of Ovi Suite is not feature complete. Functionality not included in this release includes the application installer and video conversion, transfer and playback. Additionally, the beta is only available in English. The Beta Labs blog indicates that additional functionality and language support will be added in later beta releases.
As ever, you should note that this is a beta release and therefore you may encounter software glitches, crashes and bugs. Beta Labs is looking for feedback, which you can submit via any one of the feedback channels on the website.
In the video below, Kalle Ojala, head of Ovi Desktop product management says that, "over time Ovi Suite will become the only desktop application by Nokia".
Here's an introductory video:
And here is a background video from Nokia Beta Labs:
Further reading and information
Ovi Blog - Making of Ovi Suite 2.0
Ovi Suite 2.0 blog post on Nokia Beta Labs