The reasons are historical, and while it may be familiar to some of you, let's go down this road one more time. In the versions of Symbian OS before S60, it powered the Psion Series 5 (and compatibles) and had a built in Agenda application that is, to this day, still regarded as the perfect PDA diary application. With a built in to-do list view, category support, and a huge amount of flexibility in displaying information, I was more than happy to use the Agenda for all my needs. Looking back I was pretty much using the GTD principles of "action or file as soon as possible" and "keep projects organised together."
When the Nokia 9210 came along, running Epoc Release 6 (and had a name change to Symbian OS 6) the Agenda application was still there, but the handling of the display had been compromised, and less information could be placed on show – the power was still there, but just had another layer of abstraction between it and the frustrated user. But still usable.
It was when Series 60 became the standard that it all went wrong. Moving to a one handed, limited input device meant all the base applications including the PIM suite needed reworking. And in that reworking a huge amount of functionality was removed. Essentially the Agenda (now called Calendar) was neutered. It lost all category support... it lost a huge amount of flexibility... it lost the custom views...
In short, it lost the ability to be anything more than a list of things on a specific day at a specific time. And pretty much every time we review a new S60 handset, the calendar gets a wistful look...
Looking back, I held on to the Series 5mx for a bit longer to manage my life, but eventually that was superseded by what I use now. A Filofax.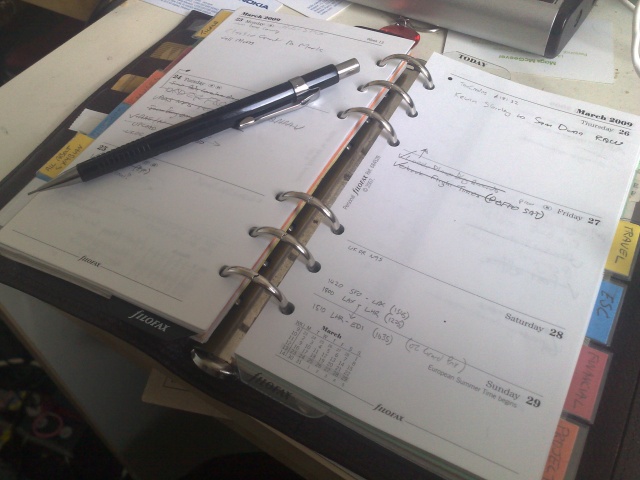 Yes, for all the living in a digital world at the forefront of Web 2.0, I'm a paper and pencil man myself. There are a few reasons that the old fashioned way is still far superior.
Let me start with speed. My filofax has a diary section, which has a bookmark so I can flip to this week straight away. Writing down an appointment or note of something to-do on that day takes a matter of seconds, and I can get an overview of upcoming days and weeks in a single glance. On your smartphone handset you are still a few buttons away, but you're limited in terms of overview in the amount of data presented on screen. For me what's on screen is not enough.
Keeping projects separate is another area. I have sections put aside for various projects, including All About Symbian. These can take the form of detailed notes, scribbled ideas or quotes from a meeting, or weird line drawings, flow charts and diagrams. Let's see any smartphone application provide me that flexibility.
And then there's the weird stuff – being able to take a piece of paper and create a custom tool, be it a grid of of how much work I have done (and need to do) for various bits of writing, a mileage chart for my cycling, or a map of America showing all my flights and times?
There are very few applications on any platform that can offer this flexibility – even the aforementioned Agenda on Series 5mx had its limitations and would struggle with what I use my Filofax for. Should our smartphone calendar applications aim for a full feature set (as I know I would want them to) or a more limited 'portable' set? I think the answer lies in the companion desktop/services calendaring applications, such as Entourage or Outlook(or Ovi or Google Calendar)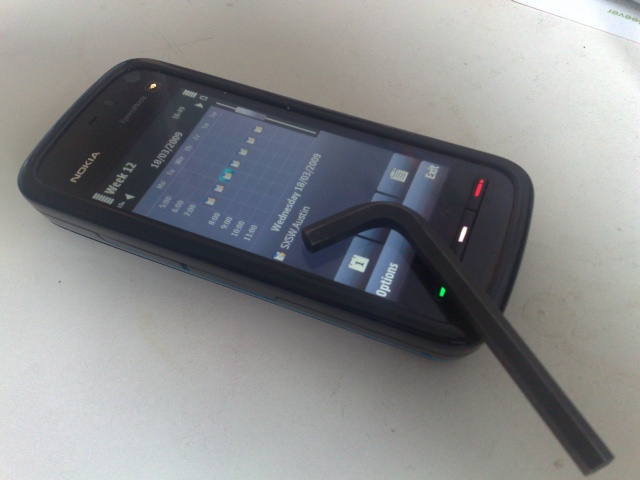 With the smartphone gunning to replicate all the desktop power you need on a small package, you need to replicate the functionality that people expect of a calendar application. While Outlook may still be regarded as 'the standard' for enterprise, if even Google Calendar can have category support (in the form of different colour coded calendars for different topics) then there 's no reason for the S60 calendar (and also the online Ovi version) to have the same baseline facilities.
Alas it seems that Nokia has decided, somehow, that people can live without category support and filtering in their PIM applications. I couldn't when the 7650 was released (and I seem to recall many of us said the same thing at the time) and I still can't. Nor can I see Nokia altering their applications at any point in the short or medium term.
In the kingdom of the limited functionality pim apps, it appears that paper is still king.
-- Ewan Spence, April 2009.