The Symbian Foundation brand and logo is a marked departure from typical corporate branding. It is designed to reflect the new direction of the Symbian Foundation - with openness, community and collaboration at the core.
The reaction to the new brand has been mixed, but, on a personal note, I rather like the departure from the norm. Being different is a good thing and the Symbian Foundation needs to communicate its radical ideas and processes to the rest of the industry; branding seems a sensible place to start.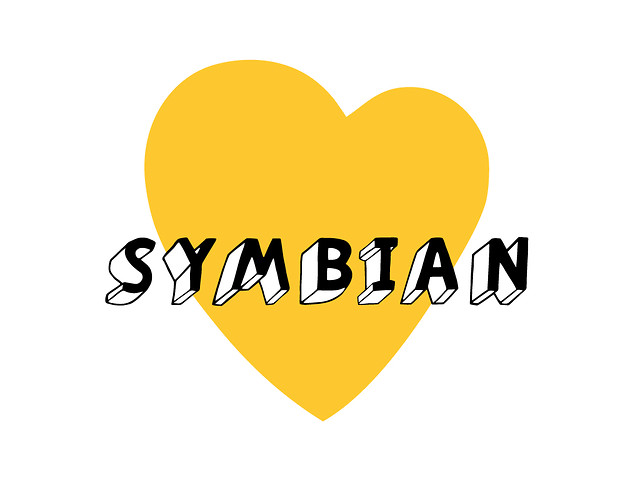 Yesterday there was also an assets transfer from Nokia, with office leases, IT equipment, trademarks and Symbian-related domains being passed over to the Foundation from Nokia. The offices, including a much needed reception, are being refitted at 1 Boundary Row. This will draw on the Symbian Foundation brand themes - watch out for ducks of doom, rocket-powered reindeer, deaf fish, unicycle-horse cross breeds, ray-gun wielding tentacles and the idea-generating toaster.
The Symbian Foundation Blog has provided a number of desktop wallpapers, featuring a number of the brand elements, including the new logo. They can be downloaded from Share on Ovi.
From the Symbian Foundation press release:
The Symbian Foundation today announces the start of its beta website test programme marking a significant milestone in the launch of the Symbian Foundation. Community involvement is paramount to the evolution of the Symbian Foundation platform and as such several thousand friends and members of the Symbian community are being invited to feedback on the website which will launch as a public beta in this quarter.
The website will include a full developer offering which includes platform release information, council charters, wikis, forums as well as access to the SDK, code repository, tools, documentation, wiki, bugtracker and forums.
If you haven't already, now would be a good time to update your bookmarks from Symbian.com to Symbian.org.
The press release also notes:
The foundation continues to receive encouraging support from companies across the industry. Since the membership programme first opened in February, 81 companies have applied for membership and are either going through the formal process or have become members, 50 of which are first time endorsers.
To put this into perspective, seventy-eight organisations had endorsed the Symbian Foundation, as of 12th February 2009.