Either install our handy All About Symbian-made widget (BBCTVlive.wgz, 12k) or point your mobile browser to http://www.bbc.co.uk/mobile/live/tv/ You'll get an informational message about having to use Wi-Fi, which is fair enough. Hit 'Continue' and you'll see the channel list, as shown below. Hit a channel and you're watching live TV. Note that RealPlayer will show "Buffering 0%" for about 15 seconds before playback starts. This is normal.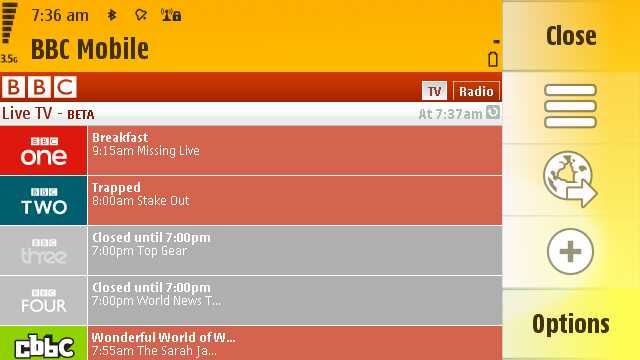 Watching on the Nokia 5800, one of the compatible handsets
Thanks to ccraig and others in our news forum for the heads-up.
Compatibility seems limited to the N96 among S60 3rd Edition phones, possibly because of the need for tighter Web/RealPlayer integration (introduced for the N96)
Steve Litchfield, All About Symbian, 3 April 2009