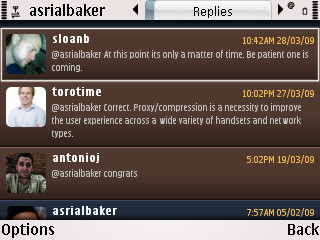 Gravity has a strong feature list, many of which will be familiar to Twitter users with other mobile clients, including:
Compatible with Twitter and Laconica
All functions available on your S60 phone: tweet, reply, DM, follow & unfollow, create favourites, search, auto-update and many more …
Tabbed view of your Timeline, Replies, Messages, Friends, …
Setup and use as many accounts as you want at the same time
Twitter-Search section with multiple search tabs and Twitter Trends
Post pictures via TwitPic
Open URLs from any Tweet
Kinetic scrolling on S60v5 ( Nokia 5800 and Nokia N97 )
Theme support on S60v3 ( fixed dark and bright theme )
Looking at it, I wonder why it took so long for developers to produce a native S60 Twitter client? Previously, there were other mobile solutions for Twitter but all were J2ME, not native S60 code. And while we're still talking about social networking, where is the S60 native client for Facebook? The mobile Facebook site (http://m.facebook.com) is cool but there is huge scope for innovation
- Asri al-Baker
A Quick Thought From Ewan
Having also been part of the Gravity beta test group (and also recalling Mobileway's implementation of Twitter in their WirelessIRC client) I have to say I'm supremely impressed with this Twitter client. If there was ever a case of software improving a web product, then Gravity is up there on that list. For those of you used to using Twitter on your desktop, Gravity is as revolutinary on S60 as Tweetdeck is for the desktop clients. If you use Twitter while on the move, there really is no reason to not try the demo of Gravity.