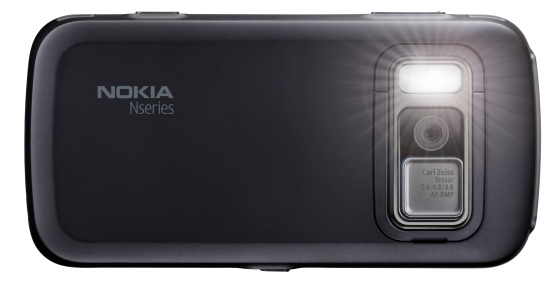 The device is called the 'N86 8MP' to make its camera stand out, name-wise... rather than because it's one of a range.
It's reported as having a '3rd generation dual LED flash', rather than the N82's Xenon. This is about the only downside of the N82 to N86 8MP transition, but maybe the LED flash will surprise us? Nokia claim that "Xenon flash would have increased the thickness by 4mm" and that even Xenon flash has a limited range whereas the specially-optimised optics inside the N86 8MP can handle greater low light distances on their own. This is one I'm VERY much looking forward to testing.
The N86 8MP has a mechanical shutter, operating at 1,000th of a second. It has 'Wide angle Carl Zeiss optics', with f2.4-4.8 'large variable aperture' (F2.4/3.2/4.8) meaning better photos in all light conditions - the first camera phone to seriously challenge standalone cameras?
8GB of internal flash memory
Lens has been "engineered to offer sharper image contrast and better colour representation"
OLED QVGA screen, 2.6"
Assisted GPS and Compass
Standard 3.5mm headphone/TV out socket
FM transmitter for sending songs wirelessly to your in-car stereo
Dimensions: 103.4 x 51.4 x 16.5 mm
Weight: 149 g
Supports up to 16GB MicroSD memory
Talk time: Up to 3.9 hours (3G), 6.3 hours (GSM)
Video playback: Up to 7 hours

Music playback: Up to 25 hours

Availability: Q2 2009. 375 Euros before taxes and subsidies.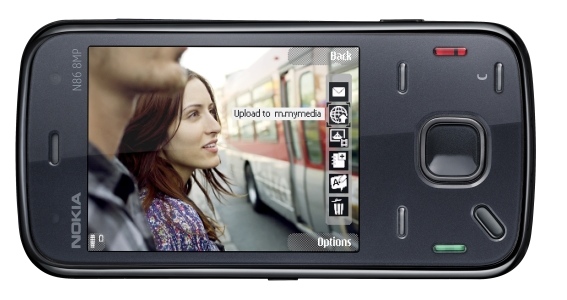 Availability is also in black or white, as shown here. The overall form factor is almost identical to the N85.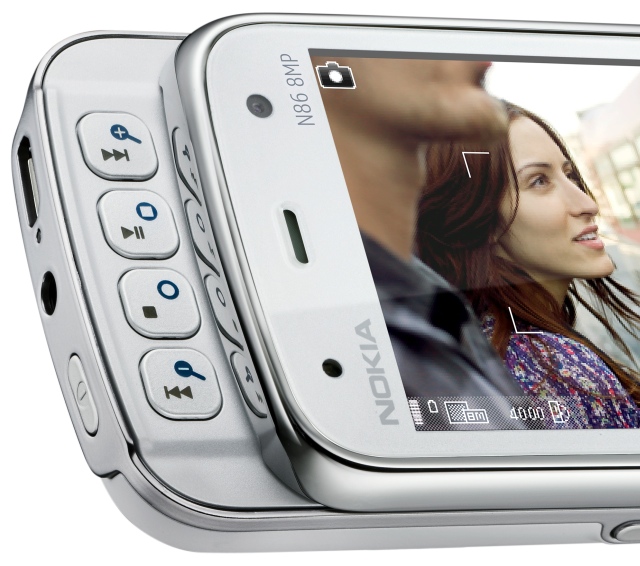 I think it's fair to say that this handset has got me, for one, fairly excited. The low-res screen and the lack of Xenon flash are tempered by the use of AMOLED again and by Nokia's enthusiasm for the optics used here - I need some serious hands-on time with the N86 8MP in order to assess it properly.... 8-)
Steve Litchfield, AAS, 7.45am Feb 17 2009
PS. Two videos for you, both well worth watching, both presented here in HQ versions, and both courtesy of the Nokia Conversations team.
Interview with the N86's product manager:
Hands-on with the N86: